First of all, why don't you introduce yourself to those of us unfortunate enough to not already know you?
Sure thing! My name is Kaylee Williams and I am best known as an indie horror actress from Chicago, but I also do theater, burlesque and modeling as well.
What got you into acting in the first place, and did you receive any kind of formal training on the subject?
I got into acting on a dare. Growing up, I had always been very shy. So in High School some friends of mine dared me to try out for the school play. I was terrified to get on stage, but once I got up there I felt surprisingly comfortable. All my stage fright went away and I felt at peace. I felt like thatís where I belonged. So after that I started to pursue a career in acting. Iíve never had any formal training, Iíve learned everything I know from experience.
As far as I know, before you went into movies, you did quite a bit of theatre. So what can you tell us about your experiences on stage, and how does stagework compare to acting in front of a camera?
I actually only did a little theater before getting into film. I did a couple school plays and some local community theater and then I got into films and left theater behind for many years. A couple of years ago, I realized that I really missed being on stage so thatís when I decided to start pursuing theater gigs again. For over a year now, I have been performing in shows every weekend here in Chicago.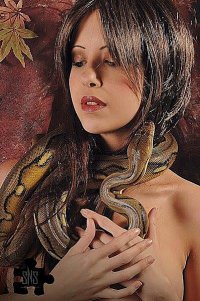 Being on stage is definitely quite different than being in front of the camera. Some things that differentiate the two are when youíre in front of the camera, all your actions and emotions need to be subtle, but on stage you need to be larger than life. When youíre doing film, if you mess up you can do it again, but when youíre on stage if you mess up you have to cover up the mistake and keep performing like nothing went wrong. Also, when youíre performing in front of a live audience you get an immediate reaction on your performance, whereas in film you have to wait sometimes a year or more for an audience to see your work. For me, there is also more of a feeling of excitement and thrill performing on stage.
What got you into films, actually, and do you still remember your first time in front of a movie/TV camera, and what was that experience like?
Getting into films was just a natural transition from theater for me. While I was still doing community theater, I started auditioning for student films. I remember getting cast in two films. One was a lead role and another a background role. I had so much fun on both of those sets that I decided to stop doing theater and start seriously pursuing film work.
Especially of late, you have starred mostly in horror movies. Coincidence, or is that a genre you're actually fond of, and why (not)?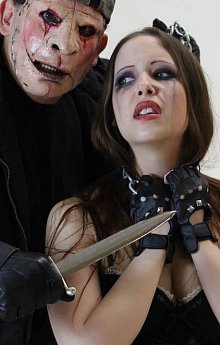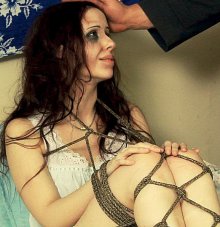 Psycho Street
I actually am genuinely fond of the horror genre, but honestly itís a coincidence that I do mostly horror films. I would LOVE to branch out and do some sci-fi, action, comedy, drama, fantasy, and heck maybe even a romantic comedy, haha. The reason I do mostly horror is because after I did Slices of Life a lot of people in the horror community saw that and really enjoyed it and started sending me horror scripts. So Iíve been doing mostly horror since then. Which Iím certainly not complaining about! Horror films are a blast to work on and I really do enjoy the horror genre, but Iím also definitely open to branching out and doing other things.
Women in horror are almost automatically labelled "scream queens" - is that a label that at all bothers (or on the other hand honours) you, and your personal thoughts about women in horror?
It doesnít bother me when someone refers to me as a scream queen, however I donít consider myself to be one. I feel like thatís a title that belongs to actresses like Debbie Rochon, Linnea Quigley and Jamie Lee Curtis, among other horror veterans. I feel like I just havenít been around long enough and done enough horror films to have earned that title just yet. So I just refer to myself as a horror actress :)
If you don't mind, I'd like you to say a few words about a few films (and your roles in/experiences on them) I've picked from your filmography:
Psycho Street?
We shot the segment (Iím in Anti-Bodies) in Ohio during my birthday weekend in 2012. It was a very intense shoot, but it was definitely worth it. And at the end of the shoot, the cast and crew brought me cake and cupcakes and sang Happy Birthday to me while I was lying naked, tied to a bed! Hahahaha. Best birthday ever ;-)
Iím very glad that I got to work on this project. Working on this film forced me to finally face some of my body image issues and started me on a path of recovery and self acceptance. And for this I am extremely grateful to the entire cast and crew. Iím a better, happier, more confident person because of my experience on that set. I finally learned how to start being comfortable in my skin. And thatís because of the love and acceptance I felt from the cast and crew. I canít thank them enough for making me feel comfortable and safe.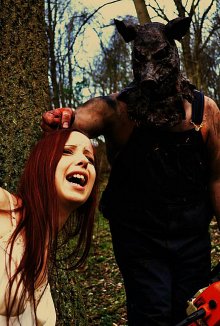 Porkchop 3D
I worked on this in Kentucky in the summer of 2010 and it was HOT. It was definitely one of the hottest shoots Iíve ever been on. But everyone worked really hard and I feel like the film is going to turn out great. Iím not sure when itís going to be released but hopefully soon!
Porkchop II: Rise of the Rind and Porkchop 3D?
I was really excited for my character to be brought back in Porkchop 3D so that she could seek revenge against Porkchop. In Porkchop II: Rise of the Rind, you really donít get to learn much about my character and she really doesnít have much of a chance to grow. But I feel in Porkchop 3D you really get to learn a lot more about her and you see that sheís definitely a fighter. So Iím glad that I got to explore that character a bit more and show off a different side to her than what people saw in Porkchop II: Rise of the Rind.
Mediatrix?
I got to work with so many awesome people on this. I had a chance to play a character that I feel is definitely different from what Iíve played in other films. Iím really glad I was a part of it. People that have seen the film said that they really enjoyed it!
Cut/The Family, Disciples and A Blood Story by Joe Hollow [Joe Hollow interview - click here], and what can you tell us about your collaboration with him?
I LOVE working with Joe Hollow! Iíve worked with him on four different projects now and Iíve loved every minute of it. Iíd happily work with him on anything and everything :) The Family was the first film I worked with him on and that film was just released a couple months ago. People seem to love it so far!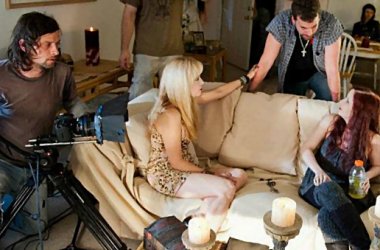 Wolfgang Meyer, Linnea Quigley, Joe Hollow, Kaylee Williams
on the set of Disciples
Disciples was the third film I worked with Joe on and I had a much larger part in this one than I did in The Family. We shot half of the film in Florida and half in California. Gorgeous weather and gorgeous locations. I got to team up again with some of my Mediatrix family (Joe, Shannon Lark [Shannon Lark interview - click here], Matt Ukena, Tom Lodewyck [Tom Lodewyck interview - click here], and Paula Duerksen) and I also had the opportunity to work with horror legends Linnea Quigley and Bill Moseley. This film had a killer cast! I really enjoyed working on this film and canít wait for it to be released!
As for A Blood Story, I had a very small cameo in that one. I actually was already planning on being on vacation in Florida while they were shooting so I hit Joe up and asked if he could use me for anything while I was out there and he found a spot for me :)
Model Hunger, and what was it like to be directed by horror icon Debbie Rochon [Debbie Rochon interview - click here]?
Debbie Rochon is amazing!! It was an honor getting to work with her. She helped me develop my character in ways I never thought of on my own. I feel like she brought out the best performance possible from me and for that I am grateful. Sheís an amazing director. Iíd love to work with her again and again. Iím super excited about this project. Iím honored to have gotten to work with not only Debbie, but also Lynn Lowry and Tiffany Shepis [Tiffany Shepis interview - click here], who are both phenomenal actresses.
Like I mentioned earlier, Slices of Life is actually what helped catapult my career in indie horror. Once that film was released, it helped get my name and face out there to a very wide audience.
Zombie Babies?
This film is hilarious. Enough said. I LOVE comedic horror. Itís one of my favorite sub genres of horror. So this script was definitely my cup of tea and I had a blast filming it. Iím not the type thatís easily offended but this film is definitely offensive to some viewers. SoÖ viewer discretion is advised. Haha.
In Fear of - Merinthophobia: Fear of Being Bound or Tied Up?
I had a great experience working on this! Great cast and crew. Director Scott W. Perry [Scott W. Perry interview - click here] and I have not stopped talking about when and what weíre going to work together next on. The In Fear Of web series actually just got distribution in Italy, which is SUPER exciting news!!
I've learned you're also cast in the upcoming The Undead - anything you can tell us about that one yet?
I canít give you much information about that at this time. But I can tell you that itís a great script with a great cast attached!
Any other films of yours you'd like to talk about, future projects you'd like to share?
Hereís where you can view/purchase some of my films:
The Family
Buy it here: http://www.thefamilyofficial.com/SHOP.html

Porkchop 3D
Buy it here: http://eamonhardiman.wix.com/porkchop3d

Psycho Street
Buy it here: http://www.amazon.com/exec/obidos/ASIN/B009M72122/

Mediatrix
Watch it here: http://vimeo.com/ondemand/mediatrix

The Many Monsters of Sarah Roth
Buy it here: http://kaylee-williams.wix.com/home/store#!__store/page-3

Zombie Babies
Buy it here: http://www.amazon.com/exec/obidos/ASIN/B008I5OIEI/

Porkchop II: Rise of the Rind
Buy it here: http://kaylee-williams.wix.com/home/store#!__store/page-3

Slices of Life
Buy it here: http://www.amazon.com/exec/obidos/ASIN/B004QSQMKY/

Banana Leaves
Buy it here: http://www.amazon.com/exec/obidos/ASIN/B003BEE7JC/

Assisted Living
http://www.koldcast.tv/video/make_up_sex
http://www.koldcast.tv/video/coffee_tea_or_me
http://www.koldcast.tv/video/sweet_sixteen
Besides making movies, you're also involved with the Gorilla Tango Burlesque-troupe - you just have to talk about that aspect of your career for a bit! And how do these performances compare to, well, more traditional forms of acting?

Gorilla Tango
Burlesque
Iíve been performing nearly every weekend with Gorilla Tango Burlesque for over a year now and I love it! We do geek themed burlesque shows. Right now Iím performing as Princess Leia and Han Solo in A Nude Hope: A Star Wars Burlesque, Princess Leia in The Empire Brings Sexy Back: A Star Wars Burlesque Sequel, and Monkey in Temple of Boobs: An Indiana Jones Burlesque. Doing burlesque has definitely given me a boost in my self esteem. I work with so many great girls who are all genuinely supportive of and encouraging towards one another. Itís definitely a great environment and I hope to be working with this company for a long time! Here are the links to where people can purchase tickets to my shows if they happen to be in Chicago:
Your favourite movies?
Oh, I have so many. Some of my favorites include Serenity, Young Frankenstein, Spaceballs, Lucky Number Slevin, and Robin Hood: Men In Tights.
... and of course, films you really deplore?
I HATE the Twilight series.
Your website, Facebook, whatever else?

Feeling lucky ?
Want to
search
any of my partnershops yourself
for more, better results ?

The links below
will take you
just there!!!

Find Kaylee Williams
at the amazons ...

amazon.com

amazon.co.uk

amazon.de
Looking for imports ?
Find Kaylee Williams here ...
Something naughty ?
(Must be over 18 to go there !)

Hereís where you can find out more about me!
Facebook: www.facebook.com/actresskayleewilliams
Fan Site: http://kaylee-williams.blogspot.com/
IMDb: http://www.imdb.me/kayleewilliams
Anything else you are dying to mention and I have only forgotten to ask?
Nope, I think you covered everything! Thank you so much for the interview!! You rock!!
Thanks for the interview!