We have of course talked about this before [click here], but do bring us up to speed: Your new movie Angel of Reckoning - in a few words, what is it about?

Thanks for having me back, always appreciate it. Angel of Reckoning is about female war veteran Rachel Baldwin (played by Jessica Kabasinski) who returns to her family after military tours overseas. After a short time, there is a death in her family and some mystery around it. Rachel launches her own investigation and uncovers a web of crime lords, drug runners, arms dealers, and pornographers. The picture is a revenge/vigilante/action/thriller with some subtle horror tones to it.

The film is unrated but would be a "Rated R" equivalent for violence, adult situations, and brief foul language.

When we last talked, production of Angel of Reckoning was still in its early stages, now it's finished - so how has the project evolved over time?

Yeah when we talked before we had just started filming and only had a handful of scenes completed. The finished film clocks in right around the 90 min mark. In comparison to my other films, I think this one stayed closest to the script without any re-writes or large adjustments in the filming stage. With it evolving from my past films, it really starts in three phases that I believe KillerWolf Films has drastically improved in (1) lighting. We have some spectacular lighting in this film. It's one of the things I studied and worked hardest on going into this film was to be able "to tell stories" through lighting as well. Something done well in a film like Suspiria for example. (2) Directing actors. We had a good "team attitude" for the most part and everyone bought into the project. I had this film written months before production began so I was able to work with actors/actresses well before shooting to mold their characters and really tell them what I was looking for from each character. (3) Photography. I'll keep it brief, but this is by far my most beautifully shot work. We keep it simple, yet have a glidecam etc too which we use in many shots. Angel of Reckoning doesn't look like a "Len film", but as your question stated… it's about evolving.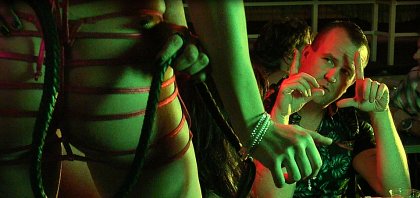 Do talk about the look and feel of Angel of Reckoning for a bit, and how does it compare to your earlier films?
It's drastically different in terms of feel from my previous works. Angel of Reckoning has a "more serious" tone to the picture than say a Fist of the Vampire or Apocalypse Female Warriors. Angel of Reckoning has a dark feel, sometimes even bleak and I have not done a picture like that to this point. It was actually very refreshing to me to do a film like this and I could see me doing more in this genre.
I actually even thought of making "Rachel" a character à la Charles Bronson in the Death Wish-series, where we have 2 or 3 sequels to Angel of Reckoning and put Rachel in different circumstances each time but of course the vigilante/revenge theme would be the backbone of each story. Though that direction seems unlikely as Jessica isn't available to reprise her role as Rachel and I just don't see anyone else in that role. So as it turns out, Angel of Reckoning may be its own "moment in time" and just really serve as a quality project that propelled us going forward to bigger and better films.
You also have to talk about your key cast once more, and has the line-up at all changed since we last talked? And what was it like to work with these people?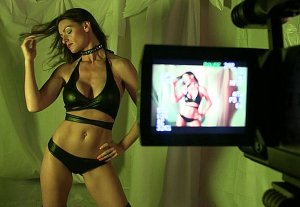 Jessica Kabasinski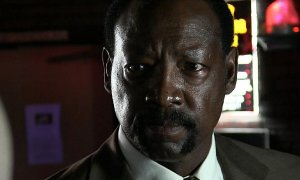 Frederick Williams

No, line-up hasn't changed at all. So here goes:

Jessica Kabasinski as "Rachel Baldwin". I'm not sure this story has a real protagonist or antagonist… but I do suppose she could be considered the protagonist. I worked with Jessica on Blood Mercury and really felt she had a good screen presence. Charismatic, tough, beautiful, and whenever she is onscreen your attention is drawn immediately to her. She had a supporting role in Blood Mercury but I knew immediately I wanted to develop a project where she could be the lead. She was perfect for Angel of Reckoning and I wrote the character specifically for her. She has a good, hard-working attitude and I don't believe there would have been a better fit for "Rachel" than her. She was attached to Bite of the Mummy but I had to go in a different direction for that film.

Donna Hamblin [Donna Hamblin interview - click here] as "Beverly". Beverly is a crime boss in the city the story takes place. She is a woman to be feared by local drug runners, pornographers, and other assorted criminals. She's a no-nonsense, iron-fisted woman. I love working with Donna and she came in as I expected her to and that is with a clear understanding of the character and what I was asking of her. I'm certain we will work together in the future on Bite of the Mummy.

Jasmin St Claire as "Smoothy". Smoothy is an underground arms dealer. Smoothy has some "business codes" to which she adheres by and has a "no BS" attitude towards her business dealings. It's been 10 years since I worked with Jasmin, whom I first met on my first film Swamp Zombies. Jasmin, like many others, got clear direction by me about her character long before she ever stepped foot on set for this one. So she came in prepared and ready to roll for the part of "Smoothy". I'm certain I'll have her involved with Bite of the Mummy so stay tuned!

Lisa Neeld [Lisa Neeld interview - click here] as "Reagan". I don't want to give too much away with her character, lol. But I've had the pleasure of working with Lisa a few times now and I have no doubt I will work with her again in the future. In my opinion a very underrated actress. My working relationship with her began on my most popular film to date, Skull Forest, shot a few years ago now.

Debbie Dutch [Deborah Dutch interview - click here] as "Bobbi". Bobbi is sort of an ally to Rachel in the story, even if she doesn't directly know it. Bobbi is a veteran go-go dancer at a large club in the city. Bobbi provides Rachel with information on drug runners, arms dealers, pornographers in the area. Debbie is such a nice person and is well-loved by my cast & crew. She's just a happy, pleasant person to be around.

Frederick Williams [Frederick Williams interview - click here] as "Detective Trufont". Trufont is a detective assigned to the case of a plethora of dead criminals piling up. Trufont is a veteran on the local police force. Frederick is an experienced local actor to Northwestern Pennsylvania and is super professional. His vast array of talents extends from motion pictures to live theatre to commercial spot work. Especially with the combination of Fred's talent plus him living very close to my productions; I see us of course working together in the near future.

What can you tell us about the shoot as such, and the on-set atmosphere?

On set a typical day would go like this: Me, associate producer Ruth Sprague, and editor Chris Young [Chris Young interview - click here] would arrive to set and get everything together. Get our lighting, our blocking, our shots etc etc all together. Typically the performers would arrive to set about an hour after us and after an initial briefing and some direction, we would start rolling camera.

The cast was very dialed in to what we were looking to achieve with this film. We only averaged maybe 3 scenes per day shooting but this allowed us to concentrate on quality in each and every shot instead of trying to rush the day's shoot to just fill a quota.

As in my previous films, I don't get to socialize much with extras, production assistants, location owners, etc as I'm just too busy keeping us on task for the day. I always regret this BUT… I'm not there to be a friend, I'm there to direct and shoot a picture that 60 people are involved with and I need to be on point. When something fails? They don't fail. I fail. I'm the head of the dragon so to speak. When something succeeds? We all succeed. Angel of Reckoning definitely had a crew that adopted the "three musketeers" mantra of "all for one, one for all". Everyone was out to make everyone else look good, not just themselves.

The $64-question of course, when and where will the movie be released on the general public?

Angel of Reckoning will open with a private showing 2/28/16 in my hometown of Erie, PA. That showing is already sold out. After this showing im sure we'll do a showing a month or two later for the general public. After that point, we'll make a determination if we are going to submit to a festival or two or bypass that route and go directly for a home video release. I'm not a big festival guy, as with the types of pictures I do I feel it's best to get my works into viewers' hands as quickly as I can and move on to the next KillerWolf Films project.

Any future projects you'd like to share?

The next film I'm doing is a collaborative effort between myself and the gang at Red Letter Media entitled Bite of the Mummy. At first, it was a joke kind of thing but then got some legs from their fans and there appears to be a good-sized audience for this picture. Red Letter Media is handling the concept and script writing and I'll be producing, directing, and casting. In terms of casting, I'm sure fans of Red Letter Media will be happy and on my end fans of my previous efforts should be happy as well. You'll see some KillerWolf Films mainstay actors and actresses while some I had to move on from as we try to increase the quality of our productions in front of the camera and behind the camera. More information on Bite of the Mummy will develop here over the winter time.

After Bite of the Mummy I just might delve into a more dramatic film I'm writing currently entitled Yellow. Yellow is a drastic departure from my previous works but I believe I'm just about ready to do that. I know I'll need a great group of actors/actresses to pull this one off. It centers around an autistic boy with family problems (divorced parents, trouble in school, etc) who uses martial arts to focus and goal set in his life. It's a dark film, like Angel of Reckoning, but without the "action component" of it. It'd be more along the "feel" of films like Out of the Furnace or Buffalo 66… but as I said, I feel just about ready for this one.

Your/your movie's website, Facebook, whatever else?

Pretty much we just use Facebook to keep in touch with the "fans" (I hate that word, lol - "viewers" maybe better… idk) - https://www.facebook.com/len.kabasinski. From there you can go to a page like https://www.facebook.com/angelofreckoning (the specific page for Angel of Reckoning).

Anything else you're dying to mention and I have merely forgotten to ask?

About a month ago, we re-released an older film of mine, Warriors of the Apocalypse and re-titled it Apocalypse Female Warriors. The new DVD is loaded with extra features like 2 audio commentary tracks (one by Red Letter Media and then another one by myself and special edition producer Chris Young [Chris Young interview - click here]), a still gallery, trailers, and more. Apocalypse Female Warriors has been moving well on Amazon currently and they've had trouble keeping it in stock (which is nice! Lol). Chris Young really put together a great DVD and the film is also about 12-15 mins shorter than the original version.

Feeling lucky ?
Want to
search
any of my partnershops yourself
for more, better results ?

The links below
will take you
just there!!!

Find Len Kabasinski
at the amazons ...

amazon.com

amazon.co.uk

amazon.de
Looking for imports ?
Find Len Kabasinski here ...
Something naughty ?
(Must be over 18 to go there !)

I have another older film that is nearing completion and its called Blood Mercury. This film involves a renegade agent who goes on the run with a deadly chemical warfare virus. This film really will serve as the end of the "old way" of doing things for me. It was filmed in FREEZING temperatures in Northwestern PA. this picture has been editing off and on for going on 2 years now but it looks like it will be completed any week now. No DVD release is in sight just yet but im anticipating it to be summer time. Of note for this DVD release will be the bonus feature of Bridal Party Massacre, a 30 min short film I did before Skull Forest that a great editor (Kameron Devine) came aboard years after filming and finished it up. It's the only short film I've ever done to date. So the Blood Mercury DVD should be worthwhile then. For fans of my films like Ninja: Prophecy of Death or Skull Forest… they might enjoy Blood Mercury.
Thanks for the interview!
Thanks again for having me and I hope to talk to you again as Bite of the Mummy starts!