Your upcoming movie Disregard the Vampire - in a few words, what is it going to be about?
Disregard the Vampire is a story about two Vampires, Edgar and Valentine, who host two civilians for a dinner party and then seduce their guests into a bit of a partner swap. The guests, Joe and Ginger, go along with this, but as the evening unfolds and the Vampires' intentions are revealed... and there is our conflict. There is also conflict within Edgar himself, as Edgar is his human side and Cryptor is his Vampire self.
Why a vampire movie, and how will Disregard the Vampire stand out of the huge crowd of vampire films?
The aspect of Vampires that intrigues me the most is the immortality aspect. That can really be played with. The sensuality and perhaps perversion is also of interest. Disregard the Vampire will stand out because of the unique story structure and depth of emotions in this piece. It is not a "I've come to suck your blood"-type piece... not that there's anything wrong with that.
What were your inspirations when writing Disregard the Vampire, and what can you tell us about the writing process and your collaboration with co-writer Court Fisk?
I was originally inspired by the location we shot our film at, The Courthouse Center for the Arts in West Kingston, Rhode Island. I was leading some acting workshops at the venue and the vast building triggered some thoughts... this was also around Halloween time so that helped inspire me I'm sure. I initially wrote thirty-six pages without any type of outline, treatment or analysis. I had a simple character breakdown, with the four characters' name and a one sentence description. Looking back on the those thirty-six pages, I realized there was a Vampire storyline developing.
Originally, the piece was titled simply Disregard, and I sent the pages to my writing group WOW - Writers of Wickendon, a feisty group that meets at Cafe Zog in Providence. The group gave feedback and one of the members, Court Fisk, was motivated and took it upon himself to do some additional writing to Disregard. That's a bit unusual for a writer to take that action, but Court and I have worked together on another script (Cage) so his input was welcome.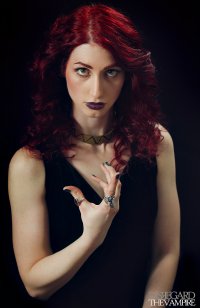 Geena Matuson
As Court was writing, I was already in meetings with DP/Editor Chris Hunter and 1st AC James Russell DeMello about actually producing the piece and what we would need to make this a reality. We needed a bit of funding, a cast, and a more fully developed script. I was on my trusty laptop one night when Court messaged me that he had done some re-writing. I was intrigued. Court sent along his draft and I was impressed. From there, we worked very hard, putting in a lot of hours both together and separately.
As far as film inspirations, I was motivated by the works Bob & Carol & Ted & Alice, The Ice Storm (an early Ang Lee film) and Interview with the Vampire.
What can you tell us about the intended look and feel of your movie?
Shevon Young aka "Muffin" contributed an epic set design with contributions from Lily Spencer, Katie Ciampa, Loraine Craig Lesniak and Raeshelle Cooke [Raeshelle Cooke interview - click here]. This team conceived and developed a highly unique look to our sets. We had artwork from Romeo Steven Ellorin and sculptures from Eric Legacy. Our lighting team, led by Chris and James, really made this come to life.
The audience will feel that they are in this spooky, wonderful, elaborate and eccentric Castle. We tried to honor the Courthouse Center for the Arts, as run by Loraine Craig Lesniak. The Courthouse features plays and music and arts classes. It's a hidden treasure in South County, Rhode Island. We want our audience to feel its magic.
I wanted the movie to "feel" like something from a different time, perhaps the 1960s or 70s. The Hammer films were also an inspiration.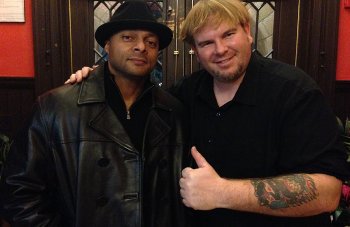 Jose Guns Alves with Mike Messier
You also want to include a few animated sequences in Disregard the Vampire - so how do you plan to make that work?
The animated sequences by Tammy Kim will establish some of the back story of the relationship between our Vampires.
You shot a bulk of the movie at the historic Courthouse Center for the Arts in West Kingston, Rhode Island. Why there, and what were the advantages but maybe also challenges of the location?
The location inspired the script so this was meant to be.

'We couldn't have had more support from Loraine and assistant Scott Stuyniski at the Courthouse. Loraine was very understanding and supportive to the process. We also appreciate the cooperation of the Courthouse Board Members. Our production was outside the parameters of the usual goings-on so to speak and they understood. The South County, Rhode Island community gave us support and local media coverage. Even the suspected "ghosts" at the Courthouse were co-operative and I'm not kidding!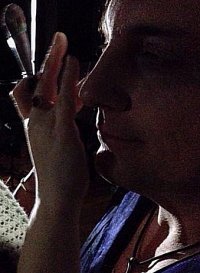 Scorpio getting his makeup done
There were plenty of challenges of course, but I don't think there were many challenges unique to our location, as having a central location was very helpful. I did learn that time is more important than money.
What can you tell us about your cast, and why exactly these people?
Scorpio plays Edgar. Scorpio is a poet and recording artist who was brought to my attention by his drummer/producer JoJo Gator, a long-time friend of mine. Scorpio understood fully the duality of Edgar and his dark side, known as Cryptor. As Scorpio has his own "Clark Kent" self, so does Cryptor have Edgar.
I just experienced Scorpio and The Hot Side of Zero in concert. Fans called out "Jim Morrison". That is accurate. The guy is Mojo Risin'.
Jose Guns Alves also understands the duality of his character Joe - described as "an average Joe with a chip on his shoulder". Jose brought many elements to his character and a real determination to the whole piece. His energy is palpable. This is the third piece Jose and I have worked on together. He's become a "go to" Actor.

Geena Matuson [Geena Matuson interview - click here] plays Valentine, Edgar's Vampire protege. I refer to Geena as the "girl genius" because her intelligence and creativity is off the charts. Geena directs her own films, and I was happy to introduce her to my friends Lindsey Elisabeth Cork [Lindsey Elisabeth Cork interview - click here] and Jocelyn Padilla [Jocelyn Padilla interview - click here] which lead to their work together on Amor Sangre. We also used Geena's original poetry in Disregard the Vampire. Geena was also very helpful as a social media ambassador for our film. She has a big future ahead.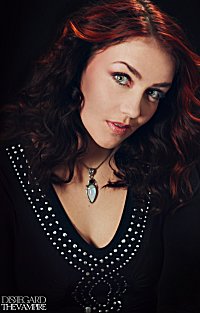 Anna Rizzo

Anna Rizzo is a fearless actress who has a glow to her. She lets her work speak for her. I had known Anna for some time but never worked with her before and I was happy when she nailed her audition. She took on the tough challenge of playing intoxicated very well.

Any idea when the movie will be released onto the general public?

We're working towards Halloween 2014.

Any future projects beyond Disregard the Vampire?

Chris and the Coffee Girl (www.chrisandthecoffeegirl.com)

Wrestling with Sanity (www.wrestlingwithsanity.com)

American Luchador (www.americanluchador.com)


All of the above projects are at various stages of development and could use financial support. They all feature elements of professional wrestling. So please check them out and contact me if interested.


I'd also like your readers to check out Short Film Showcase, a show that I host, produced by my friend Bryan Casey. We feature short film and interview actors and directors.

Here is a link to a recent episode https://www.youtube.com/watch?v=7tklo-K_jt0

Your/your movie's website, Facebook, whatever else?

Feeling lucky ?
Want to
search
any of my partnershops yourself
for more, better results ?

The links below
will take you
just there!!!

Find Mike Messier
at the amazons ...

amazon.com

amazon.co.uk

amazon.de
Looking for imports ?
Find Mike Messier here ...
Something naughty ?
(Must be over 18 to go there !)

www.facebook.com/disregardthevampiremovie
and also www.mikemessier.com
Anything else you are dying to mention and I have merely forgotten to ask?
I want to thank the hard-working cast and crew behind Disregard the Vampire. People like our script supervisor Mary DeBerry, 2nd AD Chris Esper [Chris Esper interview - click here], our sound team of "CJ" Scot Land and Chris Boylston also deserve mention. Anne Patricia Murray and Stacey St Edmunds helped us out so much as did all of our producers and associate producers. I don't have space to mention everyone; but everyone is greatly appreciated. This was a team effort and I'm very thankful.
Thanks for the interview!
Thank you Michael, for your continued support.