Your new movie Crisis Function - in a few words, what is it about?
Crisis Function is about Andrea Knight, a quiet woman living with diabetes who, unsatisfied with the inaction of the police, decides to investigate the murder of her best friend Daniel. As she finds clues in his home she suddenly finds herself the victim of violent confrontations with a group of people she doesn't know.
I've read that Crisis Function was shot in three days during downtime from another film of yours, The Perfect Letter - so was it always planned to pretty much squeeze the film in there, and how did you come up with the idea and the script and all?
I really wanted to make something quick and dirty, like a back to the roots run and gun thing. My last movie, Epitaph: Bread and Salt took about three years, and even The Perfect Letter is even taking longer than planned. I wanted to know if I still had it in me to knock out a movie all by myself and create something from nothing. While The Perfect Letter is more of an exercise to see how much I can do by myself and on a small budget, Crisis Function was more of an editing exercise to see if I can take a loose plot and come up with something worthwhile.
I wasn't planning on shooting Crisis Function when I did. I told Anita Nicole Brown [Anita Nicole Brown interview - click here], the lead, about the idea, but was expecting to shoot further down the road. Anita wrote me back and said she had two weeks off beginning that next week so I got to work. The goal was to create a movie from a bunch of sequences in a week or less. There were very few scripted parts. I knew Anita could ad-lib from some a scene she did with Kelsey Zukowski [Kelsey Zukowski interview - click here] in Epitaph so the plan was to build on that.
There was never a full script. I made up with situations and told the actors what they were usually a few minutes before the scene, maybe a night before if the scene was complex. And when they asked questions I simply reversed it, like an actor would say, "How does character X feel about this?" I would say, "I don't know, how do you think they would about feel about that?"
Crisis Function is very labyrinthine in its structure - so was there ever a time even you ran the danger to lose the plot, and what can you tell us about the movie's storytelling techniques to begin with?
I employed a tactic I used when I used to run role playing games. I would fill one person in on information, while leaving the other person (usually Anita) out of the loop. I would also feed lines to certain actors with various instructions. Some of these moments altered the feel of the film. I gave Valerie Kessler instruction that she toss out random cryptic statements as long as she ended it with "follow the butterfly". One of the lines Valerie added was "the wolf is waiting". That became the theme of the film suddenly making it into a twisted Red Riding Hood-tale. That fit right in with a movie about a person being hunted and watched. Since I was handling everything, shooting, editing and writing (the little there was) I could simply throw out anything that didn't work with the plot which wasn't much as I was pretty specific when giving instruction.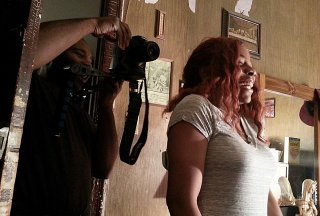 Nathyn Masters shooting Anita Nicole Brown
How would you describe your directorial approach to your story at hand?
Run and gun and better than ever. We had access to some nice places, because we came in with small pocket cameras. I used Kodak Playfull ZEs for several scenes allowing us to move around virtually unnoticed. If someone noticed they simply saw a guy with a tiny camera making a video with some friends. Nothing to see here. And we were shooting multiple fight scenes in a day whereas usually a really good fight takes a day or two, but this was all about time. Normally a fight is planned then acted with some choreo beforehand. This we choreographed as we shot. I shot as much coverage as possible to string the fights together based on a few signature moves I gave the Andrea character, spinning and slamming into the attacker, throwing and striking then taking them down for a ground and pound. Every fight consisted of these elements. Plus the hook was Andrea would fight with skills she didn't particularly know she had. Also I relied a lot on their skills more than my directing. It was about what they could pull from the situation and as much as a challenge for them as it was for me.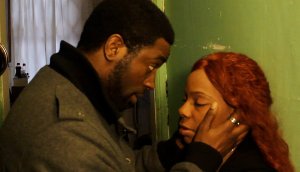 Shavar D. Clark, Anita Nicole Brown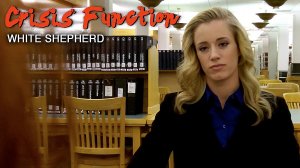 Shannon Lee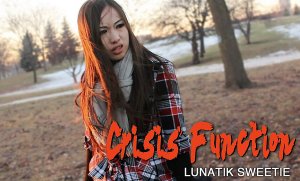 Meiling Jin
What can you tell us about your cast, and why exactly these people?
I worked with Anita Nicole Brown [Anita Nicole Brown interview - click here] and Shavar D. Clark before in Epitaph. I wanted to get Anita used to action because I wanted her to be in the Wages of Sin-sequel, so there would be a heavy focus on the fights. I also needed the lead to be able to play a range of emotions from being extremely vulnerable to being a strong action heroine, to slightly off not to mention the need to be able to ad-lib. Anita fit all of those qualities.
The Black Shepherd character had to be handsome and have a very masculine presence. Shavar was good for that and also turned up the creepy vibe on the character too so we kept that in. White Shepherd had to be the female equivalent to Black Shepherd, with a quiet seductiveness and the ability to create and use hypo agency to accomplish task even if that means using her husband seduce an intended target. Shannon Lee and I had been talking about getting her involved in a project. She was free at the time. I explained it to her and she was in.
Valerie Meachum is an actress I met on the set of a movie I was working on with JR2 Films. She was also in Epitaph and is a geek girl at heart which is awesome, because she understands my kind of movie and can add to it as she did.
Meiling Jin is acting in The Perfect Letter, and she was excited about the prospect of being in a fighting film and since I was unsure about the other film I had in mind for her I threw her in this.
Christian Creasy was an actor I met on Epitaph. He played Arcus Fallen. He's a martial artist and stunt fighter and generally always down for a showing off some martial arts moves on screen. His height and size also make him an intimidating villain so I cast him as one of the main antagonist. Latoya Glaves had a small part in Epitaph and she wasn't busy so I contacted her and she wanted in too.
Dragan Nikolic was one of the stunt fighters on Epitaph. He played one of the demons at the end. He was a great kicker and had a strong face. He was open so I added him to the cast also.
I had never met Dora Santillan Hulihan, Marc Peurye or Ricardo Estrada before. Dora and Ricardo wanted to get their acting careers started and Marc, I hear, has been around a bit, but this was my first time working with him.
Do talk about the shoot as such for a bit, and the on-set atmosphere?
It was a lot of fun. We all knew each other and enjoyed each other's company. I tend to keep working with many of these people because of that. If they're able and willing I like to work with people who know me and I know them and they know how I work and vice versa.
What can you tell us about critical and audience reception of your movie so far?
I really don't know. People liked it, it got a lot of thumbs up initially. It got to about 2000 view then it became randomly unmonetized. I re-uploaded it and it now has over 2000 views. So far it's 6 likes to 1 dislike so I'm assuming people are enjoying it. A lot of the viewers were fans of Anita and they seemed to enjoy it. You were the first person to review it on a website. But it's open to the public and free for anyone to review.
The $64-question of course, when and where will the film be released onto the general public?
It's out now on YouTube. Viewers can check it out here at https://www.youtube.com/watch?v=E-MvZx4MhsA and please share and subscribe. The DVD with extras can be purchased from our site www.timecodemechanics.com for $9.95 so if people want it they can get it there.
Any future projects you'd like to share?
We're still working on The Perfect Letter, we just finished some scenes with actress Claire "Fluff" Llewellyn [Claire "Fluff" Llewellyn interview - click here] who's playing one of my character's confidants and his addiction sponsor. And I'm slated to shoot with Kaylee Williams [Kaylee Williams interview - click here], who plays my ex-girlfriend, and Rebecca VanSickle in the role of her sister. We should be finished by the end of spring and out by the end of summer, hopefully. Then we hope to move on to the Wages of Sin-sequel starring myself and Anita, and then hopefully a sequel to Epitaph: Bread and Salt which I think will be focused on Victor Locke and maybe Decoy from Abiding Lilith.
Your/your movie's website, Facebook, whatever else?

Feeling lucky ?
Want to
search
any of my partnershops yourself
for more, better results ?

The links below
will take you
just there!!!

Find Nathyn Masters
at the amazons ...

amazon.com

amazon.co.uk

amazon.de
Looking for imports ?
Find Nathyn Masters here ...
Something naughty ?
(Must be over 18 to go there !)

All of our movies can be seen on our YouTube page at www.youtube.com/
timecodemechanics and bought from our website www.timecodemechanics.com, and fans can follow me at www.facebook.com/
nathynbrendanmasters on Twitter @nathynmasters or on Tumblr at nathynbrendanmasters.tumblr.com.
Anything else you are dying to mention and I have merely forgotten to ask?
My novels Blackrayne and the sequel Midrash Express are both on Amazon as well as my newest books The YouTube Producer's Handbook and IOS Filmmaking Quick Guide.
Thanks for the interview!
Anytime. Always a pleasure.