Your new movie The Jones - in a few words, what is it about?
It's a zombie film about a zombie family who find out one morning their daughter has suddenly fallen ill and "turned" human. The story revolves around their struggle with the realities of that revelation on many levels.
With The Jones being a zombie movie - is that a genre at all dear to you, and how did you come up with your rather original approach to the undead?
I wouldn't go as far as to say the zombie genre is necessarily dear to me, but I've had an issue with zombie films being very one dimensional and having very little in terms of dealing with human issues. So often they are just scare fests, gore fests, surviving apocalypse type stories that don't strive to go past the surface of things. With this film and The Zombie Effect, I wanted to take things in directions nobody's done before, telling stories about human issues using the conventions of the zombie genre as the backdrop because that is the story that interests me.
Other sources of inspiration when writing The Jones?
I used a combination of sources when writing The Jones. The history of the zombie genre as well as family drama conventions were employed in the construction. I guess you could say I used the zombie genre and its conventions to tell a human story.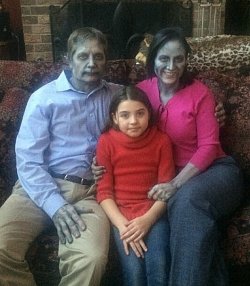 Lance Eakright, Gracie Whitton, Sheri Davis
What can you tell us about your directorial approach to your story at hand?
My approach as a director comes primarily from my screen writing/story training. Understanding story construction and the use of imagery, subtext and the ability to communicate exposition in a visual way are the primary tasks. So my goal is to coach my actors to teach them what the scene they're shooting is really about, the subtext, and give them the opportunity to flex their skills to bring it into the scene.
Do talk about your cast, and why exactly these people?
Our goal at the start of the anthology was to bring the best cast to the project based on the parameters of the anthology setting (using the same cast for all the films). Sheri Davis was the catalyst in bringing the cast together, and she did a fantastic job! Each person brings their strengths. Gracie Whitton is hands down one of the best young actresses I've ever seen. I was convinced when I told Sheri to offer her the role that she'd turn it down. I was shocked when she accepted. Her experience on bigger budget projects including Scary Movie 5 sold me she had the skills, but watching her audition, I was blown away. Lance Eakright brought his extensive background in drama and action to the project, and his audition was also very impressive. Sheri's resume speaks for itself. April Dawn Hartman was actually cast sight unseen at Sheri's recommendation, and she was spot on. Blew us all away! And Robert Johnson was cast the same way, and again exceeded our expectations. So I would have to credit Sheri with bringing this cast together. She did a great job!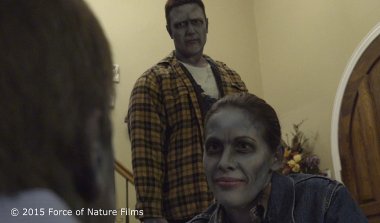 Robert Johnson, April Dawn Hartman
What can you tell us about the shoot as such, and the on-set atmosphere?
The atmosphere for The Jones shoot was very laid back and yet serious. It was the second film this cast shot together, and they were getting much more comfortable with the surroundings and each other. But the subject matter was rather serious, in spite of the reverse approach to the genre. We weren't without our challenges, but the team banded together and got it done. An amazingly professional crew and they were on top of it.
A few words about audience and critical reception so far?
So far the response has been very positive. Some view the speaking family oriented zombies should be more humorous, which I gather comes from the stereotype films which have come before us. We took the more serious tone, and everyone thus far has supported the choice as working based on the direction the story takes. The film actually touches on some rather sensitive human issues.
The Jones is part of the Forces of Horror Anthology Series, right? So what can you tell us about the series as such, the idea behind it, past episodes, and what the future might hold in store?
The anthology was born out of an idea to put together a series of shorts from different horror genres to provide visual resume material for us to prove what we were capable of as filmmakers. Making it an anthology was primarily based on the blessing of having the same location to shoot the films and later to only use the same cast in all 4 films. We have two films left in the series. Rawhead is our monster in the closet tale and The Origin of Species is our vampire tale. Given that we wanted experience in various genres, the genres we chose were just random stories that popped in my head, I didn't give too much thought into which genres to go with. But I think the stories we came out with work very well within the confines of our short film cast and location. The other aspect that was crucial was having the right crew. The first cog in that wheel would have to be my good friend and DP, Aaron Sparks. He brings such an artistic touch to the camera and his vision through the lens makes these amazing images possible. Then we were so blessed to have Kristal White, our effects creator and makeup artist, who is an absolute special effects goddess! She has literally been a Godsend for us and I'm so thankful for her. I am equally blessed to have master sound mixer and effects editor Michael Head and our production manager Jeremy Mitchell, who both help me keep my head screwed on straight. Could not do this without them. Our production designer, Trena Sparks, has also been such a joy to work with. Her vision on set design has made all of our jobs easier by her creative touch. Our wardrobe supervisor, Sheril Rodgers, is absolutely amazing and makes my job so much easier by brainstorming looks long before they get to me. And our films would not have half the impact they do if it weren't for our composer Ryo Utasato, who is simply another blessing we don't deserve. I cannot say enough amazing things about the team we have on this project!!
Any (other) future projects you'd like to share?
The anthology is actually a pre-cursor to our first feature project, called The Zombie Effect, which will also be a zombie feature, but unlike The Jones will be more a thriller that turns into a zombie film rather than starting with an apocalypse and forcing a group of people to survive. We're going to plot out a scientific road map (with some science fiction thrown in of course) to explain where these zombies come from, and what's going to be scary is how plausible it actually is. We also have in development a thriller about a submerged bullet train from New York to London called The Abyssal Plain among other projects. So we have a very busy slate upcoming.
What got you into filmmaking to begin with, and did you receive any formal training on the subject?
I started out as an actor 18 years ago and studied acting both in Dallas and then in Los Angeles. While in LA, acting opportunities were very few and far between at times, so I started studying screen writing. I had actually written a romantic comedy but after my manager at the time said to me "Roger, everyone is a writer. If you really want to be a good writer, you have to study, just like any other discipline." At first, I was dejected at the notion, but the more I thought about it the more it made sense. Plus I had plenty of time on my hands. So I started studying and kept on studying for 10 years. I trained through the story screen writing training of Robert McKee. Then I met a producer in LA who was working on a project, and after several talks came on board to rewrite it, and that comedy got pitched to Comedy Central with Glenn Morshower attached. Later we wrote a web series that had James Kyson seek us out to attach. So it was very positive. I also wrote a feature that is currently under option in Florida, another horror film called The Ritual. Once I left the production company in LA and moved back to Texas, starting writing for myself and the anthology is my narrative directorial debut.
What can you tell us about your filmwork prior to The Jones?
Prior to The Jones, we made the first film in the anthology called Revelations. We also produced a short weight loss documentary called The Hunger Stat as our first film under Force of Nature Films.
A few words about your company Force of Nature Films, and the philosophy behind it?
We started it because we wanted to start producing original documentary and narrative content, especially stories I've written. We have a lengthy slate of material to produce, and at the moment are in the phase to gain experience and material as film makers to attract investors and distributor interest in our projects. The anthology has turned out so much better than I anticipated, and our plan has a real shot of accomplishing our goals. Time will tell.
How would you describe yourself as a director?
I am a focused and somewhat demanding director. But at the same time its important that the actors on the project understand what we're trying to accomplish so they are able to give us what we need. I've been very blessed thus far with having some remarkable talent.
Filmmakers who inspire you?
There are many filmmakers who inspire me. In no particular order, Steven Spielberg and George Lucas are masters of the craft. I've also been inspired by Steven Soderbergh and Clint Eastwood. In horror of course masters like John Carpenter and George Romero have paved the way for the next generation of great horror storytellers of today.
Your favourite movies?
There are so many. Not sure I can label favorites. There are tons of movies I've seen dozens of times. I tend to gravitate to all kinds of films. Everything from Notting Hill to World War Z. Others include Saving Private Ryan, The Matrix, The Breakfast Club, A Walk in the Clouds and films from so many genres. I'm all over the map. The Lord of the Rings trilogy was awesome. Star Wars, Aliens and Event Horizon are among the list. Just so many amazing ones to choose from.
... and of course, films you really deplore?

Feeling lucky ?
Want to
search
any of my partnershops yourself
for more, better results ?

The links below
will take you
just there!!!

Find Roger Sampson
at the amazons ...

amazon.com

amazon.co.uk

amazon.de
Looking for imports ?
Find Roger Sampson here ...
Something naughty ?
(Must be over 18 to go there !)

This list is pretty long too, and strangely from some of the same franchises as my favorites like Alien 3, The Matrix 3, and a lot of badly done horror films.
Your/your movie's/your series' website, Facebook, whatever else?
Our Facebook pages for Force of Nature Films, the anthology, The Zombie Effect and The Abyssal Plain:
https://www.facebook.com/forceofnaturefilmsco
https://www.facebook.com/forcesofhorroranthologyseriesvolumeI
https://www.facebook.com/thezombieeffectmovie
https://www.facebook.com/theabyssalplainmovie
Our Twitter page: https://twitter.com/forcesofhorror
Anything else you are dying to mention and I have merely forgotten to ask?
I think you about covered everything. You can watch both Revelations and The Jones on YouTube. We shoot Rawhead in June, and we're not sure at the moment when The Origin of Species will be up and running. But watch out for Rawhead. Kristal is literally outdoing herself on that film and you will never be able to tell its a micro budget project!
That's about all I can say about that for now. But you've been warned! LOL!
Thanks for the interview!