Your new film Won Ton Baby! - in a few words, what is it about?
The quickest summary of the film is that it is about a parasitic twin that murders and eats people. For the most part, the film follows the story of Madam Rachel Won Ton (played by Debbie Rochon [Debbie Rochon interview - click here]), who has transformed her former brothel into a restaurant. In 1975, she gets impregnated during a wild night of sex and drugs, and gives birth to a deformed daughter, Little Wing Won Ton (played by Suzi Lorraine [Suzi Lorraine interview - click here]). Jumping forward thirty years, the deformity on Suzi turns out to be a cannibalistic, murderous, thieving fetus-in-fetu, or parasitic twin. Once the doctor removes the baby from Suzi, all hell breaks loose. So, of course, that's when all the gore, blood, and twisted humor that independent horror film fans will most likely enjoy kicks in.
What were your inspirations when writing Won Ton Baby!?
The first thing to inspire me was Suzi's idea for the story. She came to me with the idea and things sort of took off from there. Obviously, the first film we both considered was Basket Case. It's always been one of Suzi's favorite films, so she'd want humor along those lines. When writing a story about a mischievous baby, I tried to keep in mind a lot of the films from the 80s that featured little antagonists like Child's Play, the Puppet Master-series, Stuart Gordon's Dolls, Gremlins, and even the Leprechaun-series.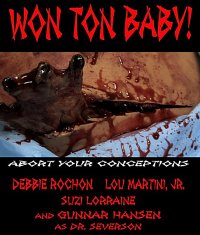 We draw a lot of comparisons to It's Alive, and though I love Cohen's work [Larry Cohen bio - click here], I think that's largely because we're both about killer babies. I remember watching a lot of Peter Sellers films at the time as well, so having one actor play more than one role appealed to me. Of course, a Bubba Ho-Tep-influence also creeps in – both in terms of subject matter and humor. And I also remember thinking a lot about other indie "horror-comedy" films like Evil Dead, Dead Alive, and, of course, anything by Troma.
Overall, I was drawing from a lot of films because I wanted the film to be for indie horror fans. I know that sounds rather cliché, but Suzi and I really wanted to do something that was different, that would be fun to make, and that would be enjoyable for fans to watch.
How would you describe your directorial approach to the subject?
One of my pet peeves with low budget films is when the acting is horrible, so Suzi and I were very particular about casting, and then working with the actors during rehearsals to get what the film called for. There are so many talented out of work actors, that we didn't feel we needed to settle, so we sifted through literally thousands of headshots and resumes that were sent to us. I think it really paid off as everyone gives a great performance in the film.
Visually, we wanted something similar to the 1970s or early 80s. We knew we wouldn't have access to a high end camera, but it's amazing the quality that you can get with today's technology. Since this was my first attempt at a feature, I relied pretty heavily on our cinematography, James Fazzaro, to get the shots we needed. Overall, I think we did a hell of a job.
A few words about the actual Won Ton Baby, meaning the special effects creation?
The baby is a latex puppet designed by Paul Mafuz. Basically, it's a demonic muppet. Any blinking or other movements you see that you can't get on set, we added digitally thanks to our compositor James Todd.
Our fx team, in general, did a great job. Our FX supervisor, Ingrid Okola, has won an Emmy for her work on a soap opera - a job she landed because she did such an incredible job on a train wreck scene when she was called on as an extra artist for the gig, so we knew we were in more than competent hands with her at the head of the project.
How far did you go in terms of gore and violence, and was there ever a line you refused to cross?
As Joe Bob Briggs might put it, the film had two severed heads, five mangled bodies, one dead mouse, and some intestinal chewing. We had plans to push a little farther, but had to cut some scenes out due to time constraints. I don't know if I ever consider there to be boundaries someone should refuse to transgress when working on a horror film. When you work on a horror film, you've already made the conscious decision to work on a genre that is generally considered "unacceptable" by various people and for various demographics. To put a constraint on yourself and say, "Oh, well we can't go THAT far because that would be TOO far" seems counterintuitive to me. What is too far? How is the "too far" meant to interact with the audience? Is it meant to make them uncomfortable and why? Serious horror is about pushing down on people's pressure points, so I didn't see why a "horror-comedy" should be any different.
How would you describe Won Ton Baby!'s brand of humour?
Warped. There's definitely an element of camp to the film that comes being a fan of John Waters, but probably the humor that comes in some of the juvenile antics of the baby that's reminiscent of some of Troma's early films. I was born and raised in New Jersey, and both Troma and Kevin Smith movies were the films that many of my friends were into, so I'd say the New Jersey ethos before Jersey Shore came into existence is where a lot of my humor comes from, which, of course, gets reflected in the film. I also have always loved shows like Beavis and Butthead, Celebrity Deathmatch, South Park, Robot Chicken, and pretty much anything on Adult Swim, and I think that comes through as well.
Your film has been described as a horror film in the grindhouse tradition. Is this something you can at all live with, and some of your genre favourites?
Sure, I can live with it. For better or for worse, without the era of the grindhouse theaters, horror wouldn't have taken the turn that it did in the 70s and 80s. Being marginalized as it was allowed directors like Wes Craven to experiment with themes they felt were significant and worth delving into without the blowback from a major studio. Could you imagine trying to pitch that to a studio head in 1972? "So, after the mother bites the guy's penis off, you intend to have the father of the raped and murdered girl chase the patriarch of the gang of rapists around the room with a chainsaw? Yeah, I think we, here at Universal, are gonna have to pass on this one. But best of luck to you, Mr. Craven."
My grindhouse favorites would depend on your definition of "grindhouse". I'd have to include films like The Last House on the Left, Don't Look in the Basement, I Spit on Your Grave, The Last House on the Edge of the Park, Cannibal Holocaust, and a lot of Jack Hill's films.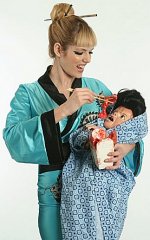 Suzi Lorraine
A few words about Suzi Lorraine [Suzi Lorraine interview - click here], who not only stars in the film but was also involved in writing and producing Won Ton Baby!?
Suzi's an incredible talent. She's sick, twisted, and incredibly funny. I am also in awe of how much she accomplishes – but I think a lot of her success comes from never sleeping. We met ten years ago and have been friends ever since, so I'm beyond delighted that my first feature film has come as a partnership with her. To have that padding of a friendship to absorb the blow of any disagreements, I think, has been really beneficial to us.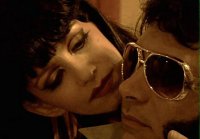 Debbie Rochon with Lou Martini jr
The film also stars genre veteran Debbie Rochon [Debbie Rochon interview - click here]. A few words about her, and what was it like working with her?
Debbie's one of my heroes. Working with her on the set was incredibly memorable. I have not met anyone who is more professional on a set and more helpful to up and coming filmmakers. She's unbelievable at working with her director and cast to get the best possible performance, and somehow always maintains her sense of humor. We pulled some seriously long hours on the shoot, and no matter how late we went, Debbie not only gave her best performance, she was always a huge support to the other actors on the set no matter how disgruntled, hungry, unshowered, and dehumanized they felt. Without her, this film wouldn't be half as entertaining as it is.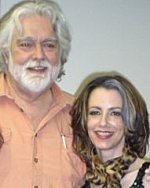 Gunnar Hansen with Debbie Rochon
Of course, you also have to say a few words about genre icon Gunnar Hansen, who makes an appearance in Won Ton Baby!!
Gunnar was great. He plays the doctor that removes the baby from Little Wing (Suzi Lorraine), and was a lot of fun to work with. He came right in and built a rapport with the other actors. You'd think a guy of his physical stature (and of some of the roles he's played in the past) would intimidate folks, but he's a really nice and down-to-earth guy.
What can you tell us about the rest of your cast and crew?
I'm really proud of the group of people we got together for the film. The music was composed by Mars of Dead House Music. He did a phenomenal job nailing the sort of 80s horror/B-movie soundtrack I was looking for. He and I talked a lot about the exact style we were looking for long before the film was ever shot, and he happened to be a fan of Richard Band's, so we were right on the same wavelength from the get go. Our editor, Ken Yankee, has done a great job as well. He's been nominated for two Emmys for his television work, so I knew that between him and Mars alone had a great post team in advance.
As I said above, the casting is something I'm really proud of as the rest of the cast was landed almost entirely from stage actors and comedians from New York City. Harry Terjanian of Upright Citizens Brigade voices the baby and also plays one of Gunnar's assistants. Harry is one of the funniest standup comics I've come across as I first came across him when casting for a short film. Nick Raio plays Detective O'Reilly and is a fixture of collegehumor.com – most people would recognize him from the web series Street Fighter: The Later Years where he played Guile. And, of course, our male lead is played by Lou Martini, Jr. who is most well-known for his role as Anthony Infante from The Sopranos.
I also have to credit my wife, Jen, who busted her ass on the set design. She transformed an Italian restaurant into an Asian one for every night we shot at the restaurant. She also created a beautiful brothel bedroom and really brought the apartments of each character to life.
And finally, again, I can't credit the fx and makeup team enough. Ingrid Okola is the best person to work with ever.
What can you tell us about audience reaction to Won Ton Baby! so far?
I've been really surprised at all of the love we've received. We knew going into it that the film was going to be a niche film and that people will either love it or hate it. Independent, low-budget horror-comedy is a highly narrow focus, and yet the film seems to really work. Without exception, we continue to have people come up to us after screenings to tell us how original a concept the film is and how much they loved it. At our most recent screening, I had one fan tell me he loved it because the characters were so likable for him whereas, for him, a lot of horror films have nothing but unlikable characters nowadays. I thought that was an interesting comment because it speaks to what we were aiming to do – which was to make the film enjoyable and entertaining for those who grew up as genre fans in 70s and 80s. What has really taken me by surprise was that when we announced we were working on a script to a sequel, the room erupted with applause.
The $64 question remains of course: When and where will the film be released to a wide audience?
We don't have a street date just yet, but later this year the film is set to be released by R-Squared. Fans can check out their website at rsquaredfilms.com. In fact, they just released Alan Rowe Kelly's The Blood Shed, which several people have recommended I check out.
You have also recently completed Guy with a Camera. What can you tell us about that movie?
GWC stars Harry Terjanian as Guy Hart – an aspiring photographer. I've had a lot of friends who have wanted to become either models or actresses over the years, and there's been this ongoing phenomenon called "GWCs" or "Guy with camera." It is what it says it is. A guy with little to no equipment other than his camera. So these guys will hire models to pose for them, and will either ask upfront for a nude shoot or try to coax the young model out of her clothes. In some cases, it's just some guy with a fetish he's acting on. In other cases, these guys can force women into situations they rather not be involved in. I decided this would be excellent fodder for a film – especially if we could chart the involvement of one "photographer" who is just starting out and trying to climb the ladder of the independent photographer/GWC realm. So, I hired stand-up comedians and improvisational actors to make the film based on some loosely scripted scenarios. What the actors wound up providing us with some hysterical sequences.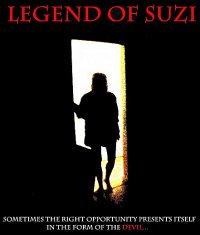 ... and you have written and produced Legend of Suzi, a short starring Won Ton Baby!'s Suzi Lorraine [Suzi Lorraine interview - click here]. A few words about that one?
Coincidentally, it was on the Legend of Suzi set where Suzi approached me about the idea for Won Ton Baby!. Suzi and I first worked together years back on a project that wound up never being finished. We remained friends for years after that, and I always felt bad that the thriller/suspense we tried to work out didn't get finished. I felt especially bad since it contained some really strong scenes for Suzi that showcased her acting. A couple years ago, I was collaborating with my friend Jamie Shuali and we were talking about shooting something on Super8, and I thought it would be great to offer to Suzi a role in a short film directed by a female artist. So I wrote up the script with Suzi in mind, and when we offered the project to her, she was delighted. Fortunately, the film just got picked up for the compilation DVD Cult Volume 1, put together by Devanny Pinn [Devanny Pinn interview - click here].
What can you tell us about your filmmaking experiences prior to Won Ton Baby!, and did you receive any formal education on the subject?
I first became interested in filmmaking in high school. I took a film course and, at the end of the year, we had to make a film as part of our final project. I wrote the script, directed the film, gave myself a cameo, and then edited and dubbed it with a two VHS recording deck that our teacher allowed us to use. I was fascinated with the process at once, but I felt it was too late of a start to do anything substantial with it. I had always been a writer and was going to be going to college for accounting, so to add filmmaking and directing into the mix felt like there was no time in life to accomplish anything. When I went to college, I continued work on a film here and there but my only serious aspirations were as a writer and an accountant. When I got out of college and realized just how much I hated the life of an accountant, filmmaking became attractive again. I went back to school, took film classes and worked as an editorial assistant at Cineaste Magazine which exposed me to filmmakers I never would've come across otherwise. Fast forward a few years and now I have a feature film that's played at international festivals, a couple feature scripts in preproduction, and am in a doctoral program for literature and film. To make the drastic career change was really frightening and intimidating, but my friends and family have been both extremely supportive and, at times, have served as catalysts to go forward with it. I've read about guys like Wes Craven (who came from a conservative family and was originally a college professor) and Tobe Hooper (who was also a professor), it's really helped. It's also been a huge help to talk to filmmakers and people who have been in the business for a while at various levels. Stuart Gordon, Mitch Kapner, Michael Granberry, and Michael J. Hein have all lent me an ear and given me really valuable advice. And, obviously, Debbie and Suzi have been really supportive and helpful as well. When you can build a support network, things don't feel so intimidating and you don't feel as isolated in what you're doing.
Directors who inspire you?
Too many to really list, and for different reasons. I love a filmmaker like Spike Lee for his way of tackling race in films like Do the Right Thing and Bamboozled. I also love Todd Solondz, John Waters, and the Coen Brothers for their dark sense of humor. Then someone like Paul Thomas Anderson I love because of his aesthetic and character studies. Hitchcock is another love of mine, and many of the horror directors who followed him in the 70s and 80s like Romero, Craven, Carpenter, Cohen, Gordon, Garris, Hooper, et al. have always been favorites of mine for various reasons.
But I also admire filmmakers like Lloyd Kaufman and Paul Naschy [Paul Naschy bio - click here]. Lloyd's survived the indie horror film market for a very long time now, and no matter what anyone wants to say about Troma, Lloyd's always been a huge supporter of and advocate for independent media. Although Naschy didn't necessarily make the same schlock as Lloyd, I admire his dedication and love for the genre. Despite much of the crud that gets made and has gotten made over the years, Naschy's films still entertain me.
Then there's a whole slew of indie horror filmmakers I've come across over the past couple years who inspire me because of what they're willing to dedicate to the genre and to the fans. People like Michael J. Hein of New York City Horror Film Fest, Jimmy O. Burril, Anthony Sumner [Anthony G.Sumner interview - click here], J.D. Lifshitz, Stacy Ponder, Shannon Lark, and the Soska sisters [Soska twins interview - click here]. As a result of attending the New York City Horror Film Festival each November and from working as Director of Media and Distribution for Viscera Film Festival I've come across a lot of filmmakers who are under the radar. Anyone willing to follow through on their creative impulse and see a project through to completion is worth admiration on some level.
Your favourite movies?
Again, way too many to try to list all of them. I tend to go through fads of favorite films and then watching them to reinforce my favoritism. For awhile I was on a string of Sergio Leone films and Hitchcock films. Just recently though, I've been watching a ton of Elia Kazan films – Splendor of the Grass, East of Eden, On the Waterfront, Streetcar Named Desire, Viva Zapata! – and all of them are so good I'm beginning to wonder if the guy ever directed a "bad" film. I feel that way about a number of directors actually. Tarantino, John Waters, Paul Thomas Anderson, Romero, to name a few. If I had to create a short list, I guess I'd go with Day of the Dead, Apocalypse Now, The Godfather I & II, Magnolia, Rojo Sangre, Cronos, Shadow of a Doubt, The Big Lebowski, Un Chien Andalou, Wes Craven's New Nightmare, Un Chien Andalou, and Stuart Gordon's The Black Cat.
... and of course, films you really deplore?
Hmmm… it might be cliché to say remakes, in general, are deplorable, but I've seen some I've liked such as Last House on the Left, The Crazies, and The Hills Have Eyes. It's when a film is stripped down to basics and remade into empty calories that I get bored
I just find it difficult to watch a film that had a massive budget that feels wasted. For example, I just finally saw G.I. Joe: Rise of Cobra, and I think that was quite possibly the biggest waste of money I'd ever seen. The dialogue was awful, most of the characters were poorly cast, and even the fight sequences were missing something. There was so little in it to redeem it for me. But what do I know, they're making a sequel aren't they?
Your/your film's website, Facebook, whatever else?

Feeling lucky ?
Want to
search
any of my partnershops yourself
for more, better results ?

The links below
will take you
just there!!!

Find James Morgart
at the amazons ...

amazon.com

amazon.co.uk

amazon.de
Looking for imports ?
Find James Morgart here ...
Something naughty ?
(Must be over 18 to go there !)

Our website is www.wonton-baby.com and our FB page is www.facebook.com/wontonbabyfranchise
Anything else you are dying to mention and I have merely forgotten to ask?
I also have to mention that we're currently working on Won Ton Baby in Midnight Snack, which is a short stop-motion animated film by Michael Granberry and his company Red Hatchet Films in collaboration with my company Morgue Art Films. I originally met Michael after we hired him to do some composite work on Won Ton Baby! Unfortunately, his harddrive crashed and he couldn't finish up the job for us. Fortunately, however, he and I kept in contact. We finally hit upon this idea for the short spinoff which reimagines the baby's overnight stay at the hospital. Michael's dayjob is working as an animator for Robot Chicken as well as for Frankenhole, so the work he's been putting together has been absolutely incredible. We've also been talking about a couple other projects on the side. In particular, we've been discussing a short film adaptation of a short story by a well-loved horror author, so I'm expecting we'll see more out of our working relationship.
Furthermore, my wife has her first short film in postproduction and is scheduled to be released sometime this year. It's titled Loose and is a twisted rape revenge film starring Deneen Melody [Deneen Melody interview - click here] and Jesse Hicks. Jen also got some tremendous performances out of Casandera Lollar, Damon Cagnolatti, and Charlotte Schioler (who also plays a role in Won Ton Baby!) I helped to write the script while Jen directed, co-produced, and handled the production design. We used a 35MM adapter and had plenty of time to shoot the short, so the footage has looked fantastic so far.
Thanks for the interview!