I know we have talked about this before [click here and here], but do bring us up to speed: Your new film Save Yourself, what is it about?
Save Yourself is five women on a road trip who cross paths with a deranged scientist hellbent on using them for his twisted experiments.
Now for most people, from the synopsis alone Save Yourself might sound like pure torture porn, yet your approach is very different ... care to elaborate?
Sure. The fact that it sounds like it should be pure torture porn is the perfect reason why not to make it a pure torture porn. Growing up watching horror and being a lifelong horror fan where every day is Halloween in my home, the first thing I want to see in a new horror film is something different. So rule number one is it shouldn't be predictable.
I love watching all sub genres of horror and there are some great torture porns out there. The Collector was one of those films that when I first saw it, I was on the edge of my seat and when it was done, all I could think was, "damn, I wish I made that."
All that being said though, torture porn isn't really my preferred style. To me, mood and atmosphere is scarier than shock value. And when it comes to blood and gore, there is always going to be another film that comes out that is bloodier, or gorier or has a higher body count, so my focus is usually on a more cerebral approach. Leave a lasting impression instead of just a one night stand.
So with Save Yourself I wanted to make sure it was sophisticated and more about a creepy macabre story than about the typically expected shock value.
With Save Yourself featuring one of horror's oldest mainstays, a mad scientist, you just have to talk about your take on that genre cliché for a bit, and how much fun was it to play with the character and create your own version? And given that there are mad scientist movies a dime a dozen, what makes yours stand out?
I grew up on and have always loved the old school mad scientist films. Dr. Phibes, Dr. Caligari, or even with The Fly, it was great to watch that descent into madness and how obsession overcomes a person. There is not as many mad scientist films these days, sure there is The Human Centipede, but Save Yourself is more of a classic style of villain, and I always wanted to bring that sophistication I grew up on back.
The most important thing about having a mad scientist kind of character is I didn't want him (played by Ry Barrett) to be too much like another mad scientist out there. I didn't want him to be like Vincent Price as Phibes or Jeff Goldblum in Cronenberg's The Fly. I wanted Ry Barrett to be his own deranged scientist. I had Barrett doing research for over a year on the role before going to camera, and while he and his wife (played by Elma Begovic from Chad Archibald's film Bite) play their characters with a certain calmness and sophistication, there is definitely a layer of twisted evil to them as well. One minute they're calm and borderline American Gothic-like and they have this neat and tidy home and then with the snap of the finger, they're suddenly so menacing and so violent, it's shocking.
The film being about filmmakers on a roadtrip, I guess the whole thing's very close to home (apart from the mad scientist bit I hope) - so how much of this was based on real experiences and anecdotes, and were any of the characters (and this includes the mad scientist and associates) based on actual persons?
The story was created by myself and Chris Cull while we were traveling through the USA to a film festival, but luckily none of it was based on real experiences. While Mitch Lackie and I worked on re-write after re-write of the script, there were small anecdotes that worked their way into the screenplay from our lives in film and knowing so many filmmakers, but we really were all just focused on coming up with the best story.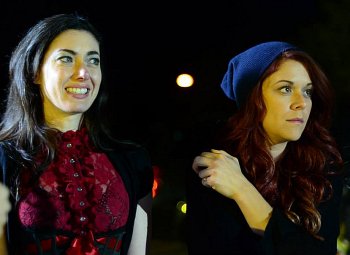 Tristan Risk, Caleigh Le Grand
None of the five women or the mad scientist are fully based on actual persons. Pieces of them may be inspired by people I know or events that have taken place, but their specific characters are fictional. For example, Caleigh Le Grand, who is such a solid actor with perfect timing and delivery, plays the writer in the group. She's not based on any specific writer but we play up the stereotypes of that kind of person. Someone who's a loner, who's awkward, maybe a little neurotic. And we also play that up with a stereotypical woman in a horror film character. So there are so many influences for every character.
Specifically for the villains, my first inspiration for a mad scientist and his wife came from a video game I used to play in the mid 80's on the Commodore 64. You had to break into the house of a mad scientist to save your girlfriend. I obviously expanded on Ry Barrett's character giving him a full back story and specific details for his experiments, so I've taken a lot of inspiration from many different things to create the ultimate final girl and the ultimate villains.
You of course have to talk about your great location for a bit, and what were the advantages and maybe also challenges filming there?
We had four locations in the film and I was beyond thrilled with all of them. And on top of great locations, our production designer Ashley Hrivnak did a phenomenal job with them. There are so many little details in all the scenes. She is amazing.
Producers Allen Ormerod, Pino Halili and Chris Cull and myself worked together on getting the locations. The rest stop was the hardest to find, because I wanted something that looked very specific and Chris, Allen and myself would drive around for hours at night, looking to see if we could find something. We were still looking a couple weeks out from shooting, but luckily we found the perfect place and I just told Chris and Allen make this happen. We've got the perfect house and the perfect theatre to shoot in, we need this place. And we got it.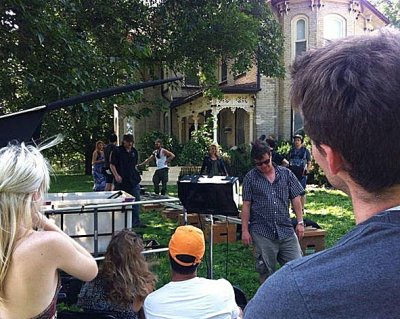 Pino Halili got us the house. It was located about just under an hour outside of Toronto in the small town of Port Perry, which I was already familiar with. What I loved about the house and the whole property out there was how beautiful it was. Something that I did on purpose in the script was while it starts at night, all the horror that takes place at the house happens during the day. So all the horror wasn't taking place in shadows and in the dark, it was in the beautiful summer sunlight, so I really needed to capture a certain look for it. And the location was perfect for that. My cinematographer Michael Davidson and I created a specific colour pallet for the film and with it shot with anamorphic lenses I'm really happy with how it turned out.
The only real challenges were the same challenges you get anywhere. Like dealing with weather and things like that. And we had some issues, I think most indie films do, but more importantly we overcame every issue as a team, and got the entire film in the can on time. And we only had 12 days to shoot the film too. And I'm not talking twelve 18 to 20 hour days, I'm talking twelve 12 hour days. I personally want everyone on set to always be rested and at their best, so we would shoot 12 on, 12 off. I think maybe once we went over time by an hour and so the next day we pushed call time by an hour. I've done sets where you do 18 hour days and that's fine because I do believe in "by any means necessary", but I think people work their best when it's a more regulated schedule.
Anything about the shoot as such you haven't told us yet, any on-set anecdotes that just need telling?
You'll have to wait for the special features on the DVD for that :)
The $64-question of course, when and where will your movie be released onto the general public?
Well we begin with our world premiere on Friday The 13th of November in New York City. It's part of the New York City Horror Film Festival, which is taking place at Times Scare in Times Square. It will be great premiering on Friday The 13th and the creator of Friday The 13th Sean Cunningham is receiving a lifetime achievement award from the festival immediately after my film.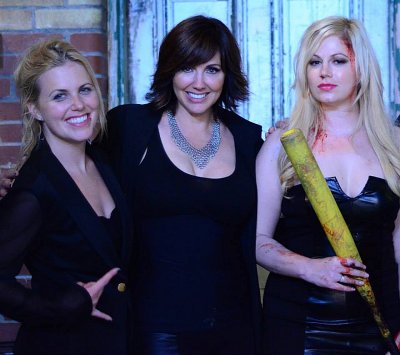 Tianna Nori, Bobbie Phillips, Jessica Cameron
We are then going to be playing Toronto for our Canadian premiere at the Blood In The Snow Canadian Film Festival. Our screening sold out so an encore screening was added the next day.
As far as a DVD release of the film, that won't be happening until after we play the festival circuit, so if you wanna see it, let your local film festivals know about it and maybe we can play there too.
Anything you can tell us about audience and critical reception of your movie so far?
I am really humbled by the reception we've received so far. Since we haven't even premiered yet, it's not like we've gone to get dozens of reviews yet, but all the reviews we have gotten so far have been really positive. It's been some of the best feedback I've ever gotten for any film. So I'm really excited. I know the film isn't for everyone, but we worked really hard on creating a very atmospheric and creepy film that looks and feels like a 70's horror but takes place in present day, so for everyone who worked on the cast and crew, I am thrilled to share the reviews we've gotten so far with them.
Any future projects you'd like to share?
I have a film called Desolation [Ryan's Desolation interview - click here] that was shot last year as part of Jessica Cameron's [Jessica Cameron interview - click here] road trip/filmmaking experience called Kill The PA. I got the chance to work with some great new actors I had never worked with before. Especially Carlo Mendez and Ali Ferda, who are both just unbelievably talented. They each have such a unique look and the camera loves them both. But just as great as they look, they also have the chops to back it up. I really hope to work with them both again.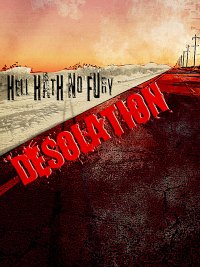 I took time off during post production on Save Yourself to be able to fit the shooting for Desolation into my schedule, so after it wrapped my focus needed to be on Save Yourself before getting to Desolation. And at the same time, Jessica Cameron (who produced and stared in the film) was focused on the other film shot on the road trip, Mania, which she directed. So now that Mania and Save Yourself are finished and heading out to festivals, I would like to get Desolation ready for festivals soon too. Cinematographer Josh Chiara did an amazing job capturing the film and the actors nailed it. Ryan Kiser, Teresa Parker, they were all wonderful to work with. There is still a lot that needs to be done and I would like to do it right. So I don't care how long something takes, once it's out there it's out there, so I hate rushing anything. I just want to make sure it gets the attention it deserves because the cast and crew worked so hard on it.
The film is about a hitchhiker (played beautifully by Tristan Risk [Tristan Risk interview - click here]) who wreaks havoc along the famous Route 66, but it's not just a typical straight forward horror. It's far more cerebral, like a David Lynch horror.
I have some new scripts ready to go to camera and I have a couple things in the works that I'm really excited about, but my main focus at this point is premiering Save Yourself.
Your/your movie's website, Facebook, whatever else?
Facebook: https://www.facebook.com/SaveYourselfMovie
Twitter: @saveyourselfmve
... and I'm on Facebook at https://www.facebook.com/DirectorRyanMAndrews
Anything else you're dying to tell us and I've merely forgotten to ask?

Feeling lucky ?
Want to
search
any of my partnershops yourself
for more, better results ?

The links below
will take you
just there!!!

Find Ryan M. Andrews
at the amazons ...

amazon.com

amazon.co.uk

amazon.de
Looking for imports ?
Find Ryan M. Andrews here ...
Something naughty ?
(Must be over 18 to go there !)

Usually I spend any chance I get pushing how great the Canadian indie horror scene is. And why wouldn't I? With Luchagore, the Soskas [Soska Twins interview - click here] and Karen Lam [Karen Lam interview - click here] out on the west coast and with Black Fawn Films, Tricia Lee [Tricia Lee interview - click here] and Foresight Features in Ontario, there is some of the best and most original horror stories coming out of this country. But you know what, it's not just Canada, indie horror all over is kicking ass. Todd Nunes has a film called All Through The House that I am really excited about. It stars Ashley Mary Nunes and it looks like an instant Christmas horror classic, like the original Black Christmas. Ellie Church and Tristan Risk also star in a new film coming out soon called Frankenstein Created Bikers, which looks like such a fun grindhouse kind of film. So you know what, if you're tired of all the remakes and sequels that mainstream horror turns out, stop complaining because you can find some great horror stories in the indie world. And it's always been that way. Horror is like punk rock music. The indie world brings you passionate raw and original stuff like Dead Kennedys and Black Flag while mainstream is poppy pre-packaged post Green Day crap.
Thanks for the interview!
Thank you.