You have recently starred in no less than three episodes of In Fear of's second season. So how did you get involved with the project in the first place, what attracted you to it, and were you aware of the series before getting cast in it?
It was love at first screening! I stumbled upon In Fear of when I was scoping out the latest batch of indie horror films at the Macabre Faire Film Festival in Long Island [Macabre Faire Film Festival interview - click here]. I heard a resounding positive buzz about In Fear of and was told it was the MUST-SEE of the weekend. Everyone agreed it had the potential to be the stand out of the season. Though the feedback was initially what drew me towards the series, the end product was the clincher. The concept was brilliant and it allowed for infinite storylines. I was mesmerized within seconds. I stayed after the screening to talk with the series creator, Scott W. Perry [Scott W. Perry interview - click here], and we instantaneously became good friends. I got involved a few months later when Scott asked my opinion on the script for Dysmorphophobia: Fear of Deformity. I read it and fell in love. He surprised me by telling me it would be included in season 2 and he wanted me to play the lead. We have become great friends since.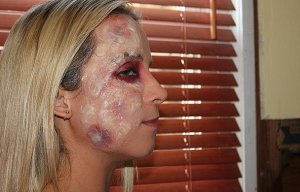 I'd like you to talk about each of your episodes, your respective character and your approach to your role for a bit?
Dysmorphophobia: Fear of Deformity?
Preparing for Dysmorphophobia: Fear of Deformity was a very visceral experience. We filmed it in a house that was devastated by the Hurricane in LI. It wasnít hard to feel empty when I looked at the watermarks on the wall and tattered Teddy bear left behind. It was truly dilapidated. On the date of filming, I literally trapped myself in one of the rooms for 10 minutes, laid down on the floor, and cried my eyes out. It crushed me knowing that these poor people had lost their homes, cherished belongings, and what was once their Ďsafeí place. I tapped into very dark and hopeless thoughts for the role. I used memories of feeling inadequate and damaged. We may not want to admit it but we all have allowed these toxic ideas to invade our minds at one point or another. In Dysmorphophobia: Fear of Deformity I used those memories as the Ďcreatureí that was stalking me. A fear I canít seem to face or shake.
Glossophobia: Fear of Speaking in Public?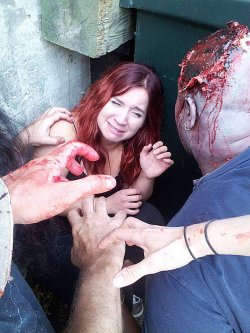 Glossophobia: Fear of Speaking in Public
Glossophobia: Fear of Speaking in Public was a case of being in the right place at the right time. I have been a huge fan of Debbie Rochon [Debbie Rochon interview - click here] for years and was invited to watch her work. Something happened and one of the actresses had to be recast on the same day. Luckily, I was on location already and everyone on crew knew my work.The lead actor, David Marancik, was comfortable with me since we had worked together before. I just tried to fall back on my four years of horror/sci-fi classes at the ActorsConnection NYC, taught by Pamela Kramer (producer, CD, owner of Bradley Baron). I was prepared for the physical work due to my studies with Pamela. My character was the survivor girl who realizes that she may have just run into a dead end.You have to watch to see.
Merinthophobia: Fear of Being Bound or Tied Up?
The approach to this role was simple. I knew I had to get to know Kaylee Williams beforehand [Kaylee Williams interview - click here]. I wanted to find a mutual connection so I could be her supporter, friend, and truthful voice of reason. I was cast in the role the day before, so Kaylee and I talked that same evening. I learned my lines overnight and used the context of our previous conversations to help mold our relationship on screen. The wardrobe did the rest of the work in finding character and mannerisms.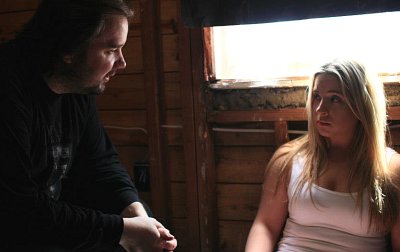 Heather with Scott W. Perry
What can you tell us about your collaboration with your director Scott W. Perry [Scott W. Perry interview - click here] on these shorts, and how did you two first hook up?
Scott is one of my best friends in the world. I believe in his work and writing. He has created not just a network of over 150+ people that have worked on this project, but he has managed to create a talented family who support one another. As a director, he is very hands-on. He will sit with the actor for 5 minutes before every scene and discuss situations to reflect upon. He uses memories and emotions to evoke an innate reaction within the actor. I believe in his writing and he believes in his cast and crew. We bonded after the In Fear of - Season One-screening and his scripts inspire me. Being a part of his work has been a blessing and it is an incredible feeling to cheer on a friend that is on the rise.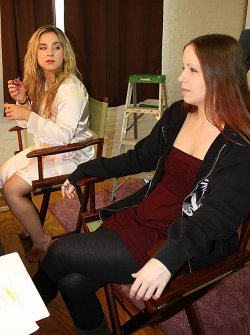 with Kaylee Williams in Merinthophobia: Fear of Being Bound or Tied Up
Do talk about your respective shoots for a bit, and how did the experiences on the three episodes compare?
I chuckle at this question because they were all polar opposites.
On Dysmorphophobia: Fear of Deformity, I had to crawl under a house, wade through woods, and be covered in SFX. I felt secluded and was on the verge of wanting to puke from my emotions.
It was the complete opposite for Merinthophobia: Fear of Being Bound or Tied Up. I got completely pampered in a lavish NYC photo studio. The location was a huge, beautiful, white studio in Astoria. We even filmed it on my birthday! Filming with friends is the best way to celebrate! They dolled me up in high fashion makeup and I felt like royalty. Playing a model was definitely a blast and filming it on my birthday put it over the top. After, I even got a photoshoot from the amazing DP Steven-Mark Glassner as a birthday gift [Steven-Mark Glassner interview - click here]. Iím a big geek so Scott and Steven brought in a Samurai sword for me to pose with!
Lastly, Glossophobia: Fear of Speaking in Public was just a whirlwind. It was an unexpected dream come true. I just came to meet Debbie Rochon [Debbie Rochon interview - click here] and I was lucky enough to be in a short scene directed by her! Debbie is HYSTERICAL. There was this one scene we shot in a U-Haul Iíll never forget. Instead of revealing her shooting zombies, Debbie lifts the back of the U-Haul open and she is fake humping her co-star. We all cracked up laughing for 10min. We had to take a break before we shot again.
The fear of deformity, of speaking in public, of being bound or tied up - at all phobias you can relate to in your real life, and what are you, personally, afraid of?
I am totally afraid of funeral homes and wakes.I hyperventilate and have panic attacks. I literally feel like my skin is crawling and I feel an immense pressure all over my body. I just freak. One of the reasons I like this series is because we can all relate to at least one, if not all of the episodes. Everyone is afraid of something. I am not really afraid of public speaking but sometimes I get nervous before interviews so in a way I am. As for deformity, I can relate to not feeling perfect. I had my awkward phase like everyone else. I went through braces, glasses, acne and the extra few pounds. I also know what it feels like to come in last for something you gave 100 percent at. There are some groups of people you just canít connect with in life. One of the things I like about the indie film Industry is that we accept each otherís quirks and differences. We are all here because we love what we do. As for a fear of being bound, if it is followed by some Saw-like torture: Hell yes!
You have also worked behind the scenes on quite a number of episodes of In Fear of that you have not starred in - so what can you tell us about your work on those, and how did your involvement come about?
I worked on about 8 episodes behind the scenes. Iíve been working in production for years. My resume is filled with credits ranging from PA to associate producer. Iíve worked for the government numerous times and worked with Netflix as a PA and art department. I worked mostly as a PA on In Fear of but I filled the void wherever they needed help because of my vast background. I even ACíd for a day. Scott W. Perry, Steven Glassner, Tony DeBenedetto, and Bob Brodmerkel [Robert L. Brodmerkel interview - click here] hired me because of my experience and because we have become like a big family. Besides, they say they need me. Apparently I am their good luck charm and they refer to me as the official In Fear of-mascot.
Based on your experiences on In Fear of so far, would you return for a third season if there was one?
ABSOLUTELY! Family reunion: check box for YES please! I am so proud of our team and this series is something Iíd want to watch. It would be an honor to continue to grow with this series. I enjoy making and watching every new episode. It has been a very humbling experience to work with such great talents.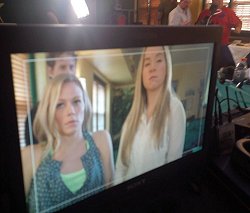 screengrab from Absent Witness
Any future projects beyond In Fear of you'd like to share?
I currently co-teach a class at the ActorsConnection in NYC. I am a death scene coach/consultant, which means I coach actors how to properly die on-camera. I am very proud of this class and I work alongside acting coach and CD Pamela Kramer. She teaches the horror/sci-fi acting class at the same school (ActorsConnection.com). I am also working on a paranormal TV drama called Absent Witness based on the true accounts of Karl Petry. (Google that man! His abilities will floor you.) I will be acting in 3 short films this summer and a feature called Slaughterhouse, where I will be working both in front of and behind the camera. I am also working on revamping a comedy web series called TrueStorytheWebSeries.com. Look out for A Place In Hell hitting theaters later this year too. I was the assistant to the director and on-set death coach. I also helped behind the camera for Flesh For The Beast which is making its festival rounds.
What got you into acting in the first place, and did you receive any formal training on the subject?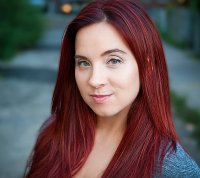 I grew up believing the myth that you had to be born into the career. I got my B.A. in Contemporary Arts but I still never knew acting could be a career for a normal girl. I couldnít shake the feeling I had gotten performing in school so I decided to audition for a play in Hoboken just for fun. I got the leadÖ and then I got the lead in my next two shows. After hearing great feedback, I was referred to a school in NYC. I took a class and it changed my world. After seeing my first musical, I snuck up on stage and looked out at the empty audience. I felt like I belonged. I felt that same feeling in class when they yelled ACTION. I decided to make acting a career move and began studying On-Camera with some of the best coaches in NY. I have taken 4 years of Horror Acting Classes and am now privately coached by the teacher. So my formal training is 10+ years of Theatre, 4 years of Script Analysis in College, and going on 4 years at the ActorsConnection.
Can you still remember your first time in front of a movie camera, and what was that experience like?
It was exhilarating. I was doing a show in Hoboken when a friend of mine referred me for a role. They needed someone in Brooklyn that weekend to film a commercial to be inserted in a movie. I remember being pampered, getting free wine and gourmet food, and then being handed a check for something I would have done for free. Acting is the best feeling in the world and being able to pay my bills with it is absolute heaven. Acting makes me feel alive.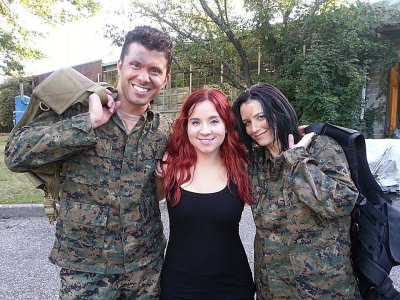 with David Marancik and Debbie Rochon on the set of
Glossophobia: Fear of Speaking in Public
What can you tell us about your filmwork prior to In Fear of?
Before In Fear of I had done over 20 indie horror films. I was lucky to have made some wonderful connections through film festivals. I was also the spokesperson for Readorium.com and you can find me in many middle schools around the Tri-State area teaching Science on a program used to assist kids with learning.
How would you describe yourself as an actress, and some of your techniques to bring your characters to life?
I use a coach to help me bring each character to life. Every character has a posture, a range of facial expressions, and a backstory. I try and find who they are and how they are related to their surroundings and friends. As an actress, I am told that I have no filter. I go all out and have no boundaries. Someone flicks a light switch in my head when "Action" is called I will do anything the character would do even if ĎHeatherí would never dare. It is almost out of body. I totally enjoy creating voices and mannerisms. My demon voice and possession death in The Locked Room is a great example. Iím told my comedy is compared to Cheri Oteri and Annie Potts. I also have a very expressive face.
Actresses (and indeed actors) who inspire you?
Katheryn Winnick. You all know her from Vikings but I have been following her since a little movie called Amusement. She has always inspired me and I hope to have a career like hers.
Your favourite movies?
Laugh all you want, but Queen of the Damned and Final Destination 3 are some of my favorites. Akasha is one of the best characters ever! I am a huge Soska sisters fan [Soska sisters interview - click here] and James Wan fan. American Mary and Insidious are masterpieces. I also love Forget Me Not and the new Indie smash hit Wrath of Crows starring my friend Suzi Lorraine [Suzi Lorraine interview - click here], Debbie Rochon [Debbie Rochon interview - click here] and Tiffany Shepis [Tiffany Shepis interview - click here]. I also love Jacob (Larry Wade Carrell [Larry Wade Carrell interview - click here]), Stay Alive, Ceramic Tango (Patricia Chica), and anything by Alfredo Arcilesi [Alfredo Salvatore Arcilesi interview - click here].
... and of course, films you really deplore?

Feeling lucky ?
Want to
search
any of my partnershops yourself
for more, better results ?

The links below
will take you
just there!!!

Find Heather Drew
at the amazons ...

amazon.com

amazon.co.uk

amazon.de
Looking for imports ?
Find Heather Drew here ...
Something naughty ?
(Must be over 18 to go there !)

I try to find something good in most films. I recently saw a film that was so not my style that I loved it. I saw a midnight screening of Time To Kill. It was fantastic because the audience jeered and made comments at the screen. It is the new Rocky Horror of festivals.Thumbs up with the right crowd. Oohhh and I snoozed through Twilight and hated Funny Games and The Strangers.
Your website, Facebook, whatever else?
My website is Heatherdrewacting.com.
My FB is https://www.facebook.com/HeatherDrewActing
The acting school and death class: ActorsConnection.com
Anything else you are dying to mention and I have merely forgotten to ask?
The first half schedule for In Fear Of Season 2, coming June 13th to Vimeo On Demand! I also want to give a special shout out to Michael Christopher Jones for writing the article naming me one of the Top 5 Rising Scream Queens of 2014 for HorrorSociety.com and Living Dead Magazine. It was a pleasure to be a Deadly Beauty: Rising Talent in 2013 and I hope to make you proud. Also a thank you to Michael Gingold of Fangoria and a special thanks to all of you for reading this and air hugs for allowing me to have this interview!
Thanks for the interview!