With the second season of In Fear of to launch in only a few weeks, do bring us up to speed on the concept of the series!
WellÖ itís been exhausting but we are nearly done with the 14 episodes of the new season. We started in December 2012 and we just finished the last day of shooting the season, the reason why was because of the brutal winter we just experienced. With the first season being only six episodes, we more than doubled the episode count. The episodes are longer, more structured, and feature fully drawn out stories. The shortest episode this season is 7 minutes while the longest is 25, with the average length being 12 minutes. Overall, if you were to play them all in order youíre looking at over 3 hours of content for the new season, which is amazing considering the first season is only 40 minutes total. As of now, we have 9 completed, with 7 about to be launched to the public.
You have directed no less than five episodes of In Fear of's season 2 - so what made you pick exactly the phobias you did cover in your episodes?
I had originally intended on directing three, but wound up writing and directing five, Dementontophobia and Autophobia were not meant to be part of the season as two other episodes were slotted instead, but some unfortunate things happened where those had to be removed and when I had people interested in being a part of the series, those were the phobias they were interested in being a part of. So in the case of Autophobia and Dementontophobia, thatís what I did and it was a terrific challenge.
I would like you to talk about all of your episodes for a bit, about your approach to the respective subject, about your cast, about the actual shoot and the like ...
A fun episode to do and was written specifically for Suzi Lorraine [Suzi Lorraine interview - click here], having worked with her on Thantaophobia: Fear Of Death. Suzi has a gift for comedy and I wrote the part of Annabelle, a woman who doesnít age, for her. Sheís not immortal and sheís not a vampire, and it was fun to see Suzi give such life to that role. Suzi worked with Doc Dougherty on Captured Hearts, a fine actor, and recommended him for the role of Sean, a guy who just refuses to grow up. It was eerie when I met him because he is full of life, a free spirit, funny as hell, and gave a hell of a performance. If anything, I feel this episode has a Tales From The Crypt vibe and now that itís complete, am very happy with it. I decided to go against a traditional score and got all public domain tunes from the 1930s. It really fits in with the quirky atmosphere.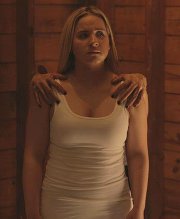 Written as a stand alone project 4 years ago, I tried to make it into a film right before I decided to launch In Fear of, and the script stuck with me. I looked at what fear it could be represented with and upon checking the list found that it was Dysmorphophobia, or a Fear Of Deformity. What I admire about it is that itís the closest from concept to screen of any project Iíve worked on in terms of visual style and looks, and Steven-Mark Glassner [Steven-Mark Glassner interview - click here] did a magnificent job capturing the tone on screen. Ekaterina Sknarina was cast when I first tried to get it made and was happy when she was still interested and available to do the episode. She brings a great balance as a contortionist and worked well with Heather Drew, who did a lot to convey her emotions without words. It was also great to work with Chris Alexander, who provided such a dark, brooding score to the film that it gives it an added layer as a character onto its own.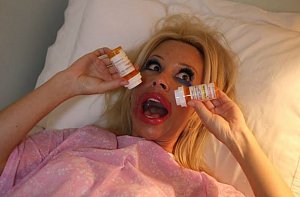 I donít think an episode was easier to put together than Dementophobia, and I mean that in a good way. As I stated before, when I had to remove two episodes, Suzi Lorraine [Suzi Lorraine interview - click here] came to me and recommended her good friend Rachael Robbins [Rachael Robbins interview - click here] for an episode. After an initial phone conversation we talked about phobias and the one that interested her the most was Dementophobia: Fear Of Insanity. When Rachael told me about her background as a Playboy model, her comedic background, and her sex appeal in general, the idea for the episode was simple to put together and probably the only pure comedic episode of the series. I had spent 4 years as an interviewer and have been to many press events, so I know how it gets when you are asked the same stupid question over and over and over again. Add in some innuendo and it was a very funny episode to do. Rachael has impeccable timing and even taught me a few things about timing while making it, coming up with brilliant ideas and improvising some really funny lines. Iím happy that those who have seen it laugh out loud and have a good time with it.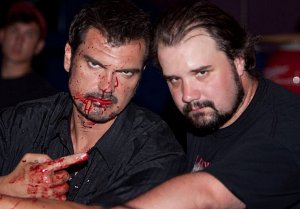 Autophobia
Autophobia?
This episode I will always cherish making it for many reasons. It came about upon meeting Larry Wade Carrell [Larry Wade Carrell interview - click here] at the Macabre Faire Film Festival last year. We met again at Monster Mania where we were putting the new season together. Without hesitation, he wanted in after seeing the first season and wanted to do Autophobia: Fear Of Abandonment. Larry is a brilliant actor but also a fantastic writer and director, so I knew that I had to write a good script with it in mind. The one thing he told me is that the city of Beaumont, Texas was mainly deserted and we could film there without any problem. That and talking about lost loves in both of our lives we came up with the story idea of this lost soul who is waiting for the love of his life to return that he doesnít see everything crumbling around him. I went down to Texas for three days to shoot the episode with Larry, Mayra Leal (from Robert Rodriguezís Machete), Matthew Carter, and Nick Nicholson, who just landed a role in The Avengers: Age Of Ultron. It was an eye-opening experience, and one Iíll never forget. Everyone brought their ďAĒ game for Steve and I when we went down there and came back to NY with a new appreciation for film in general.
Merinthophobia?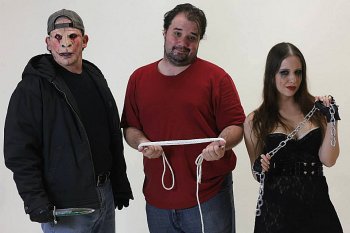 Merinthophobia
This was initially written for Season 1 in a different format and a phobia that has intrigued me because thereís so much you can do with it plus itís not a well-known fear. However, the premise of being absolutely helpless while watching someone you love get murdered in front of you frightens me. Iím glad I waited until this season because the story became much better and was somewhat based on a real life experience. I dated a fetish model a long time ago and one time when I called her right after a stalker showed up unexpectedly at her house. I stayed on the line with her until police came and he was eventually caught, but I wondered what would of happened if I wasnít on the phone. Iíve also wanted to work with Kaylee Williams [Kaylee Williams interview - click here] for a long time since I saw her in Slices Of Life, plus Debbie Rochon [Debbie Rochon interview - click here] had glowing praises of Kaylee from working with her on Model Hunger. Kaylee was a real trooper. A great actress, a sweet person, and I basically tied her up for two days and tormented her. To contrast, Adam Ginsberg, who I met when In Fear of played at his Macabre Faire Film Festival, is a terrific actor in his own right, and brought a level of creepiness in his two roles as Kayleeís creepy photographer and her abductor, a style he created all his own. When he showed me the mask and character he created, it scared me and I donít scare easily. Overall the episode has a certain uneasy feeling to it and it was good to do a straight up horror film with no strings attached for a change.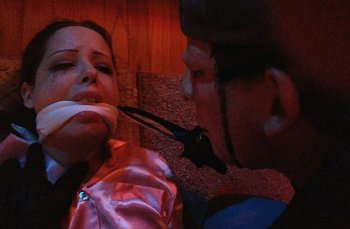 Merinthophobia
Your episodes range from mood-piece to outright horror to twisted comedy - so how did you choose your approach to each subject, and which do you feel you work best in?
I never attempt to make the same film twice. I try to do something different each time. While my earlier works were mood-pieces, I felt that the story was varied enough to try different areas. I think that all changed with Monophobia, because it really showed that I do have a sense of humor and I am willing to go wild with it. I get bored with filmmakers who make the same film over and over because I see a willingness to be content with where they are or a fear to gain success over where they are at. I definitely see it in some filmmakers who spend too much time trying to emulate their filmmaking heroes. My favorite director is Martin Scorsese. Heís mainly known for the gangster film, but if you look at his filmography he does something different each time. David Lynch is another that filmmakers try to emulate and while he has the same themes in his films, he takes a different approach each time. I feel I have to be at my best in all because itís all about delivering the best story possible on film, whether it be done in a serious way, a horrific way, or in a comedic way.
As far as I know, you've also been quite actively involved in quite a few of the episodes of In Fear of's season 2 you have not directed - so do tell us about your involvement in those for a bit!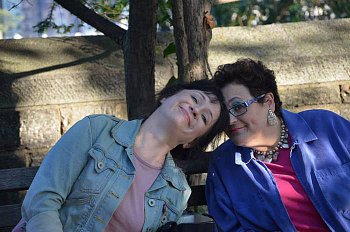 Disposophobia
One of the main goals in doing In Fear of was to bring a collective group of filmmakers to showcase their talents and work with a great team to create a phobia-based episode within the confines of the series. In order for an anthology series to work, it has to show how wide the genre can stretch, and each filmmaker and actor can bring their own unique flavor to an episode. With that said, the remaining episodes I served as producer for many of them, edited a few, but there were two episodes I didnít produce: Hydrophobia: Fear Of Water, which was an episode that Steven-Mark Glassner [Steven-Mark Glassner interview - click here] wanted to create and he took over producing reigns on that one. In addition, Anne Bobby [Anne Bobby interview - click here], who we hired for Robert L. Brodmerkelís [Robert L. Brodmerkel interview - click here] Agoraphobia: Fear Of Leaving Home, loved the concept so much she wrote and produced her own episode, Disposophobia: Fear Of Throwing Things Away, and got Barbara Rosenblat from Orange Is The New Black to co-star. What impressed me most, in addition to Anneís script, was that Anne chose In Fear of alum as part of her crew. Steve Glassner was cinematographer, Lauren Slattery, who ADíd Agoraphobia, served the same job, and Keith Chernin, who did sound design on Scotomaphobia: Fear Of Blindness, did the sound. I really enjoy producing because itís fun to put many elements together and oversee the production, and seeing the results work wonders on set makes it all worthwhile.
How did you find the writers/directors for the episodes you haven't whelmed in the first place, and what was your collaboration like?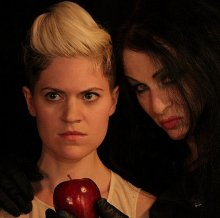 Toxiphobia
All the collaborations were fun in different ways. I touched upon this more in the last interview, but at that time, many of the episodes havenít been filmed yet. Now that we are in post-production on all, with 9 completed as of April 2014, it is nice to look back at each shoot and like them for different reasons.
I liked the energy that Thomas Norman [Thomas Norman interview - click here] brought to Toxiphobia: Fear Of Being Poisoned and his reason of doing the episode based on a friend with that fear.
Agraphobia: Fear Of Sexual Harassment was fun not just to play Arnold, but being a child of the 1980s, thought it was fun to do an homage to the early 1980s schlock horror films of the time.
Taphaphobia: Fear Of Being Buried Alive was written by my writing partner and friend PJ McIlvaine, and brought in Stolis Hadjicharalambous, a terrific director, to helm the episode. Technically, that was the most difficult and it took longer than we originally planned but it was well worth it because everything worked well and we took the time to prepare for it.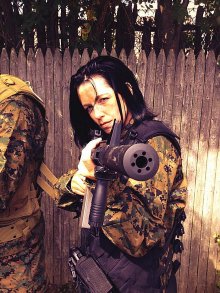 Glossophobia
One episode, Glossophobia: Fear Of Speaking In Public, I co-directed with Debbie Rochon [Debbie Rochon interview - click here], and was a huge undertaking. For one, I always wanted to do a zombie movie. Two, it was such an honor to work with Debbie as a director and we bounced ideas off of each other. It was a two day shoot and the first day was mainly my directing day, and the second day, with the zombies, was all Debbie. After Monophobia, it was such a thrill working with her again and the first thing I said was ďMonophobia was the first, weíre now filming the 19th episode!Ē The extras brought in as zombies were great and the location we secured was like we built a Hollywood set. It was an awesome time.
The $64-question of course, when and where will In Fear of - season 2 drop?
Weíre still working on distribution deals in some international countries. We landed one in Italy and are in negotiations for it to air on a prominent VOD channel. For America, the UK, and parts of Europe (including Austria), we are launching In Fear of on many outlets, beginning with Vimeo On Demand, beginning Friday, June 13th with Gerontophobia: Fear Of Aging, and adding an additional episode every Friday for seven weeks. We will give an option to buy one episode or a ďmovie versionĒ at a discounted price. We return September 19th for another seven week run with the season finale premiering Halloween night.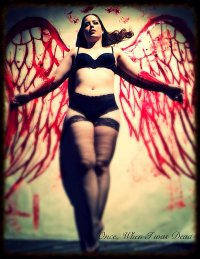 Feeling lucky ?
Want to
search
any of my partnershops yourself
for more, better results ?

The links below
will take you
just there!!!

Find Scott W. Perry
at the amazons ...

amazon.com

amazon.co.uk

amazon.de
Looking for imports ?
Find Scott W. Perry here ...
Something naughty ?
(Must be over 18 to go there !)

Should there ever be one, what are your plans for In Fear of's season 3 - and any other future projects you'd like to talk about?
There are plans for a third season of In Fear of but I am not ready to talk about that yet. I am working on a stand-alone short film which I am excited about, itís a dark drama art film called Once, When I Was Dead, a joint production from Slick Devil Entertainment and Javelina 98 Productions, headed by Tony DeBenedetto and Tim Powell, the first of many projects we are slated to collaborate on. Starring in the film will be Gabrielle Stone, a rising name in Hollywood and the daughter of E.T.ís Dee Wallace, Tiffany Shepis [Tiffany Shepis interview - click here], who I am excited to be working with, Kiva Dawson, a veteran of stage and film, and happy to be working with Kaylee Williams [Kaylee Williams interview - click here] again. Any artist with feelings of self-doubt or failure must see this film.
Your/your series website, Facebook, whatever else?
Official website: http://www.infearoftheseries.com
Facebook: http://www.facebook.com/InFearOf
YouTube: http://www.youtube.com/user/infearofwebseries
Personal Twitter: http://www.twitter.com/scottwperry1977
In Fear of Twitter: http://www.twitter.com/InFearOfSeries
Once, When I Was Dead Facebook: https://www.facebook.com/OnceWhenIWasDead
Anything else you are dying to mention and I have merely forgotten to ask?
You can view the first season in its entirety for free at https://www.youtube.com/user/InFearOfWebSeries/
Thanks for the interview!
Thank you again. I appreciate your interest and support in the series and I hope everyone enjoys what we have all put together.