Your new movie The Last House on the Street - in a few words, what is it about?
It is a film about trauma and the choices people make when faced with difficult situations. A fun jaunt into the realms of predation and victimology with a dash of blood and gore and a smattering of T & A.
From what I know, The Last House on the Street is your first feature as a writer/director - so what made you pick exactly this story to bring to the screen?
My friend and business partner Clay Moffatt and I were sitting around talking on a Wednesday afternoon. This is usually our big day of the week to talk shop and brainstorm ideas. We were talking about what our next big idea should be. Clay is a very wholesome kind of guy and I have always enjoyed walking a bit more on the darker side of things. I pitched a half-assed idea about a slasher film where a female could be the antagonist. I am really tired of females always playing the victim. SO, I wanted to play around and come up with something that could challenge that idea.
What were your sources of inspiration when writing The Last House on the Street?
I have always been a fan of Hitchock. The first feature I ever watched as a child was Psycho. My parents promptly went out and got me Psycho II. I loved it! I loved the dark humor of the second film and the closing scene (when Norman hits his mother with a shovel) tickled the hell out of me. Of course, I am a fan of films from the 80's as well. I love the work of Ivan Reitman, Joe Dante and Chris Columbus, and Savage Steve Holland. When I finally get that big Hollywood type budget, I want to swing for the fences like these guys did. Every aspect of their films are accounted for. Every character is so colorful and every set is a character within itself. I love how they evoked so many different feelings while telling one story.
To what extent could you actually identify with the film's lead Chad, and is he in any way autobiographical?
Chad is actually an amalgamation for several different people that are near and dear to me. I don't want to give away my inspiration in regards to that. I will say that I can relate to his unwillingness to be in public. I have a really hard time in crowds myself. Unlike Chad, I manage to make the best of it. Though. Chad suffers from depression and anxiety. He attempts to self medicate rather than getting help from a professional. He continues to spiral into that dark place as some do in his situation. I have seen it many times in my life.
A few words about The Last House on the Street's approach to horror, and is that a genre at all dear to you?
I wanted to make a horror-hybrid type of story that was awkward and fun, yet still scary at times. I have never really seen a film that has attempted it this way. I love horror. If I am having a bad day, I can always watch a horror flick and at the end I know that life could certainly be worse! I also have a sick sense of humor, so most of that stuff makes me laugh.
The Last House on the Street also has its funny bits - so do talk about the movie's brand of comedy for a bit!
I have a really dry sense of humor. When my wife, Heidi, read the first draft, she pretty much told me that most of my jokes didn't hit the mark. I reworked it and put several other bits in there that we thought could be more relatable to the audience. I really fought her on it, but in the end I think we came up with a nice compromise. I'm glad she caved a bit and let me off my leash. After all, she is the big boss on this thing, so I'm happy that she is happy.
What can you tell us about your overall directorial approach to your story at hand?
It is really difficult to get the type of realism you want out of any actor, regardless of the type you cast. It is just a fact of life. I wrote the story with certain types in mind, and I believe that we did a great job in casting. I really asked all the cast members to drop the bull-shit that goes along with the craft and find themselves in the character. I think it worked most of the time. If I felt that something wasn't going to translate the way I wanted it to (like the final bathroom scene ), we would intentionally schedule scenes like that at real times, or as close as we could get to them. That scene was shot in the middle of the night ( I think around 1 am) and everyone was exhausted. Mary Kate McCormick and Ashley Rene were both super frustrated with me and I hope with each other. They really gave that scene their all though, and I think it came out nicely. Kudos to their professionalism under pressure.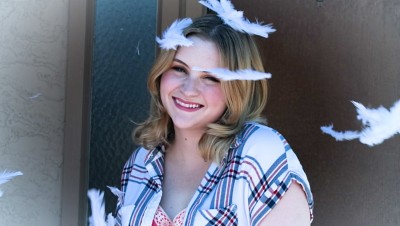 Do talk about The Last House on the Street's cast, and why exactly these people?
I have had the opportunity to work with some amazing Hollywood icons. There were budget constraints, but one of these wonderful people actually offered to do it for a plane ticket and a high-five, after I sent him the script to give me notes. In the end, I really wanted to use a cast of exceptional talent that nobody has seen before. Aside from Jeremy Behie, who I had the privilege to work beside for years, I believe everyone else was still cutting their teeth to some extent. Don't get me wrong, I know that they are all up-and-coming in a real way, and I have to say that they all are experienced and extremely talented. I just wanted people who had all of those great qualities yet still had something to prove to the world. They definitely delivered for me in that respect.
A few words about the shoot as such, and the on-set atmosphere?
It was an odd shoot. Various locations for sure. On a budget as limited as we had, we couldn't shoot inside of a bubble. There were plenty of people window shopping, while we were on set. One thing that I learned from Clay is to make it "fun". He has always run his sets as if everyone is part of a big extended family. As if you were going to a family reunion cook-out. I tried my best to make this happen on our sets. The kind of thing where everyone knows everyone's name. A place where all people on set are equally important and a nurturing place where people can really shine. That and a few buckets of fake blood.
The $64-question of course, where can The Last House on the Street be seen?
It can be watched on PLEX and Vimeo right now. Soon, we are expecting to release on TUBI, Amazon, XUMO, and a handful of other streaming platforms within the next few weeks.
Anything you can tell us about audience and critical reception of The Last House on the Street?
It really is for those who are 13 or older. There is a lot of adult subject matter in there. Also a lot of people running around in their underwear.
Any future projects you'd like to share?
I am currently working with Clay Moffatt on another family-friendly action packed film titled Pocketman and Cargoboy III : The Wrath of the Viper Sniper. We have just released the former, The Rise of Sir Longbottom. It is available everywhere streaming and it is in theaters right now. It is a bit different than the usual thing. Lots of karate and action. Fun stuff. We are also collaborating on a new horror film slated to start shooting in early spring.
As far as I know, you entered the movie world as an actor - so what can you tell us about that aspect of your career, and how would you describe yourself as an actor?
I love acting. I absolutely love it. After 25 years of doing the job, I really wanted to paint my own work of art. Let me tell you, it is WAY harder than it looks. It is super rewarding, though.
I have worked as a child on television and the stage. As I grew up, I took a break to have a life. Thank God I did, because I met a wonderful woman along the way. Her support and encouragement gave me the courage to jump back into it after a long time. I love all the amazing people I have met along the way. It has been a wild ride.
If I had to describe myself as an actor, I would have to say that I am just a guy that can portray a real person. I have done over-the-top characters, villains, and all that fun stuff. However, I really enjoy playing a character that can show off the subtle nuances of the slings and arrows we all face in real life. I think that is the best way to make the most profound connection with each individual viewer. To give them something that they can see in themselves.
What made you branch out into directing eventually, and did you receive any formal training on the subject?
The only formal training I have had have been the text books on film I read in college and living a full life on set. It is wonderful watching the people behind the scenes work. It is a village of tremendously capable people with the director at the helm. All these cogs working together to create something special. I really want to continue to always be a part of that. I also really wanted to tell my own story. Something that is out of the ordinary.
What can you tell us about your filmwork prior to The Last House on the Street, in whatever position?
I have been a contributing writer on several scripts. Most of the time, I work as an actor. I have directed one short titled Almost Alone (you can watch that on TUBI, XUMO, PLEX, Amazon, and a handful of other platforms too), and like to edit from time to time.
Actors, writers, filmmakers, whoever else who inspire you?
The list is too extensive. I love film and there are so many people. I will stand behind my original directors list on that. As far as actors I would have to say Tom Hardy, Tom Hiddleston, and Anthony Hopkins. I love how they own the character. When you look at these guys on screen, they actually force you to believe in what can sometimes be utterly unbelievable. Oh, and Steve McQueen. The work he did with his company, Solar Productions is the stuff of legend.
Your favourite movies?


Feeling lucky ?
Want to
search
any of my partnershops yourself
for more, better results ?

The links below
will take you
just there!!!


American Psycho, Gremlins, Fear and Loathing in Las Vegas, Psycho II, and Superman II.
... and of course, films you really deplore?
Films with no redeeming qualities. I won't list them. Films that show abuse of women and children with no message or purpose. Films that just show carnage and gore with no reason other than to make the viewer uncomfortable.
Your/your movie's website, social media, whatever else?
We are still working on the website! But anyone can always reach out to me personally on social media. I'm on all the platforms.
Anything else you're dying to mention and I have merely forgotten to ask?
Things like anxiety and depression, any mental illness, are real illnesses. We should all do better at recognising the signs and understanding the people who suffer from it are just like the rest of us. So many of us treat mental illness as something a person can just "walk off". Nobody is expected to walk off a broken leg. A broken leg requires professional attention and time to mend. The mind is no different. Also, people that suffer from these things are, again, just like the rest of us. They have fun, they are funny, and they have hopes and dreams. It is time to start normalizing this notion.
Oh, and that I regret not adding more fart jokes into the film. I really do.
Thanks for the interview!
Thank you so much for having me. I have really enjoyed this interview. And thanks to all of the fans who are watching our little film.