It is about a highschool bully named Mercy, pulling off a prank on Sally at the senior prom which has catastrophic consequences. In a nutshell, Carrie meets Ginger Snaps.
With The Moonlight Feels Right being a werewolf film, is that a genre you're particularly fond of?
Yes, I grew up terrified of An American Werewolf in London and Silver Bullet, both are on the list of my favorite horrors of all-time. The werewolf is one of my favorite Universal horror monsters only second to gill-man (The Creature from the Black Lagoon).
(Other) sources of inspiration when writing The Moonlight Feels Right?
The short story for Valentine's day featured in the anthology horror Holidays. Mostly the feel and aesthetics.
What can you tell us about The Moonlight Feels Right's approach to horror?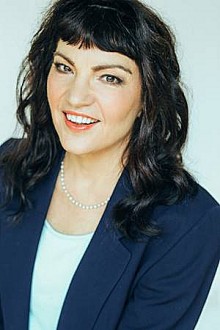 Brinke Stevens
It's meant to revitalize the tropes of the past or what has become typical of horror while at the same time taking a modern approach. By modern I mean the "high-brow" horrors like Hereditary, Saint Maude, or The VVitch.
You also have to talk about the creature effects you've planned for The Moonlight Feels Right for a bit!
I plan on giving the audience two looks for the werewolf, mid-transformation and a full-transformation. We are going practical and designing a suit for one of our actresses to wear. Full-on prosthetics for the face. While I am a fan of not showing too much, I plan to give enough to see the she-wolf in all her glory.
A few words about the intended overall look and feel of your movie?
I like a burgundy red aesthetic for the film that is reminiscent of The Crate from the anthology Creepshow. The film is going to have slow, drawn out and sometimes strange shots. Something different and unique.
Anything you can tell us about the projected cast of The Moonlight Feels Right, and why exactly these people?
First off we have legendary scream queen Brinke Stevens [Brinke Stevens interview - click here]! She is known for Slumber Party Massacre and is playing Mrs. Kessler in The Moonlight Feels Right. Then we have Angel Bradford (Slumber Party, Slaughter Party), who is moving up quickly in the horror ranks appearing in a few horror films currently in production. Cassidy Burroughs, Amanda Renae, and Demaree Wiitala, who are up-and-comers that I have worked with and are excellent. We are also working on one more big casting announcement, stay tuned for that!
As far as I know, you're currently running a fundraiser for The Moonlight Feels Right - so what can you tell us about your campaign?
The campaign is on IndiegGoGo and we have a ton of wonderful perks, three of which get you in the film as an extra or in a scene with Brinke! Majority of the budget is going toward the practical effects in both the werewolf and gore. Anything helps us out including a share of the website.
https://igg.me/at/1MGuyA1lygY/x/23091498#/
Once the budget's in place, what's the schedule, and any idea when and where The Moonlight Feels Right might be released yet?
We plan to shoot in November. The film will be part of an anthology horror, not a lot is out there on this as we are planning. However, the release of the short could be in mid-2022, and the anthology a bit later.
Any future projects beyond The Moonlight Feels Right you'd like to share?
I do have something on the back burner that is going to tap into my fascination with Jack the Ripper. That's about all I will say.
What got you into filmmaking in the first place, and did you receive any formal training on the subject?
I grew up with films my dad exposed me to, Ray Harryhausen flicks, Godzilla, and Star Wars. Over the years my fascination with film only grew. At a young age I would create outlines for films and imagine who I would cast in what, but I didnít really jump at filmmaking. I thought it was too far to reach. Then about three years ago I decided to go for it. Wrote up a short script and made my first short titled The Box. Since then I have studied videos on YouTube and practiced with shorts. I was also mentored by Michael S. Rodriguez [Michael S. Rodriguez interview - click here] and cut my teeth on a short with Jeremiah Foila.
What can you tell us about your filmwork prior to The Moonlight Feels Right?
I have always worked on horror and creatures or the psychological. One of my shorts titled It Calls won a competition, and Prey by Night won Best Sci-Fi and Best Make-Up. For me it's about evolution and getting better at the craft to tell better stories.
How would you describe yourself as a director?
Involved, I tend to be right behind the camera watching closely and often donít look at what the camera is capturing but the scene in front of me. I am not as hands-on as some but definitely not distant. Finding my voice and vision has been the greatest struggle but I am finally getting there.
Filmmakers who inspire you?
A multitude, Quentin Tarantino for his love of cinema, Ari Aster for his brilliance with the horror genre, Steven Spielberg because he is simply the best, Stanley Kubrich for the performances he got and camera movements, M. Night Shyamalan because even though he fell from grace he still managed to make some intense and captivating movies, and Zack Snyder because he truly knows how to make an epic film.
Your favourite movies?
Star Wars, Jaws, Signs, Unbreakable, Midsommar, An American Werewolf in London, and Zack Snyderís Justice League.
... and of course, films you really deplore?

Feeling lucky ?
Want to
search
any of my partnershops yourself
for more, better results ?

The links below
will take you
just there!!!


Anything made by Uwe Boll, Rob Zombie, and Eli Roth. I will admit I love Eliís love of horror and cinema but not his films.
Your/your movie's website, social media, IndieGoGo, whatever else?
You can find me on Facebook and Instagram at Anthony Piseno.
The movie's website is on Facebook at https://www.facebook.com/groups/210127131113856
IndieGoGo: https://igg.me/at/1MGuyA1lygY/x/23091498#/
Anything else you're dying to mention and I have merely forgotten to ask?
Hope everyone can check out the IndieGoGo and get involved on Facebook, thatís it.
Thanks for the interview!