Your new movie Sirena's Gallery - in a few words, what's it about?
It's about an art gallery owner coming back from a research trip in El Salvador only to find that her husband has killed himself. Just as she's learned this, the Covid lockdown happens. She's forced to pay for his funeral and pivot her business online, all while processing her overwhelming feelings of loss.
Quite obviously, Sirena's Gallery was informed by the Covid-19 lockdowns - so to what extent was the film based on your own experiences during that time, and was the concept of the movie a direct result of the lockdowns or have you dreamed it up in parts at least pre-Covid?
I dreamt up a lot of it pre-Covid and itís truly a work of fiction. Iíve never been a gallery owner or widow. During my MFA, I had a campus gallery to myself. I spent hours and weeks and ultimately a couple of months re-tooling and installing my thesis exhibition. It really put me in the mindset of a gallerist and how hard that job must beóor at least from what I imagined from what I knew about the art market. By the time lockdown happened, I already had the character and general story in mind. The conditions of the pandemic forced me to refine it, such as not having on-set cast, but I worked with those constraints.
Other sources of inspiration when writing Sirena's Gallery?
Right before lockdown, I finished making a short film called Bottled. It's about a young woman grieving the death of her grandfather and finding herself desperate to communicate with him. The concept is actually quite simple. There's only one on-screen actor (me) and one off-screen one (Deniz Ataman). I didn't know it at the time, but creating that film prepared me to fine-tune the story for Sirena's Gallery.
You just have to talk about the art shown in Sirena's Gallery for a bit, and have you created these artwork especially for the film or made them for their own sake? And what can you tell us about your artistic style and influences?
I made some of these pieces while teaching in-person art workshops at a human services organization before the pandemic. Several came from Zoom workshops I began hosting for the organization during quarantine. But the bulk of the pieces were made during film production. The style of art shown in Sirena's Gallery is representative of my small, simple watercolors from that period. They are abstracted figures and very colorful, sometimes garish, and I make use of mixed media: Ink, pencil, even lipstick.
What can you tell us about your overall directorial approach to your story at hand?
I wanted the story to be emotionally driven and resonant. More invested in poetics than plot, I hoped to draw the viewer into Sirenaís life of the mind. Watching the film should feel like stepping into someone elseís nightmare or fever dream.
You also play the lead in Sirena's Gallery - so what can you tell us about your character, what did you draw upon to bring her to life, and have you written her with yourself in mind from the get-go?
Sirena is thoughtful but pragmatic. Sheís also highly self-sufficient and resourceful. Iíd like to think these are all qualities I possess to some degree. Thatís one of the reasons I wrote Sirena for myself: I knew I could rely on myself to play the part. Unlike me at this point in my life, Sirena is timid about her art. Itís something she very nearly gave up altogether. I was inspired by a former classmate who was almost a decade older than me at the time. She had stopped painting for years and resolved herself to commercial graphic design. Things changed when she got bored at work and began making digital illustrations that turned to animations. They had nothing to do with her job. After committing more and more to this hobby, she decided to return to her art practice.
Do talk about the rest of your cast, and why exactly these people?
These are just buddies! A couple are professional actors in New York City, but most of them are other kinds of artists. I basically chose folks who were interested and available. Most were ones I was communicating with via text or social media during quarantine, anyway.
You also have to talk about the gallery this was filmed in, what was it like filming there, and how did you find the place even?
I was awarded a solo residency at 1708 Gallery in my former college town of Richmond, VA. They had an idea for how to provide studio space for selected artists during quarantine and I benefitted from it. It was a contactless experience, whereby I had the gallery to myself. I'm pretty comfortable working on my own and, despite the isolation, relished it. During a time when New York City felt so hopeless, I was glad I could escape for a couple of weeks. I had lost my studio space because of the pandemic. Words cannot express my gratitude for having a place to make art again.
A few words about the shoot as such, and the on-set atmosphere?
It was me! In the gallery! By myself! I only had the person I was quarantining with in there very briefly for one day. The rest of the time, I filmed in the gallery with my DSLR and iPhone. I also set up Zoom and FaceTime calls and recorded them on my laptop for additional footage. All of this amounted to hours of silence, interrupted with some online conversations here and there. Honestly, I was processing a lot of what was happening in New York at the time. I needed those hours to think through things, while channeling my anxiety into a creative project. The stars aligned with that residency.
The $64-question of course, where can Sirena's Gallery be seen?
It's distributed by Summer Hill Films. It is or will be streamable and/or available on Blu-ray via Amazon, Hoopla, Tubi, Plex, Vudu, and elsewhere. Start googling, start finding!
Anything you can tell us about audience and critical reception of Sirena's Gallery?
People are digging the lo-fi! I didn't doubt my ability to move people; I've proven that in my writing. I've received many compliments on how stirring the story is. But I wasn't sure how audiences might react to such a simply made, largely one-woman band film full of technical ďflawsĒ. I'm happy to hear folks gravitate toward the stark, almost crude aesthetic. I wanted to create a sense of intimacy with Sirena, a home video quality that matches the frenetic energy and exhaustion of the quarantine Zoom era.
Any future projects you'd like to talk about?
I am currently filming the first television season of my feminist, New York-centric talk show Badass Lady-Folk. This show originated as a podcast and now airs on Manhattan Neighborhood Network. Watch episodes on YouTube - @Badassladyfolk. Audio-only airs on Radio Free Brooklyn on Fridays.
Iím the co-host of Donít Mind If I Donít, a new comedy show created by Aaron Gold. Basically, guests try to convince him to like things heís not a fan of. Our first episode is on bagpipes and in the final stages of post-production now. Follow along on Instagram @dontmindtheshow for release info!
Her Garden is my next feature-length film and it's currently in post-production. Itís about a young womanís complex relationship with her mentally ill aunt, who believes she was kidnapped by mermaids as a child. I'm the director and lead, acting alongside my co-star Aaron Gold. Meagan Meehan is the writer. Jacob Baron is the cinematographer, editor, and sound designer.
What got you into filmmaking in the first place, and did you receive any formal training on the subject?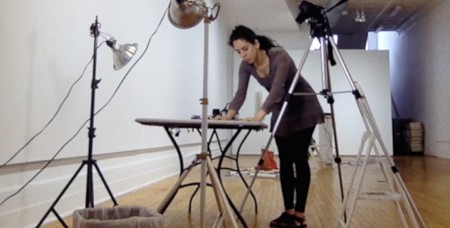 My father is a documentary filmmaker and director photography for the news. Both of my parents are huge cinephiles. Unsurprisingly, I started writing my own stories and took interest in the arts from a young age. I graduated from the VCUarts Cinema program and earned a BA in English/Creative Writing and a certificate in Product Innovation from Virginia Commonwealth University. During my VCU days, I interned for the Virginia Film Office and the VCU/UR French Film Festival, which is the biggest Francophone festival in the United States. As if that weren't enough, I had short-term opportunities with Lifetime, PBS, UniFrance, and National Geographic's All Roads Film Festival, too. This early-life foundation allowed me to spend a few years after college working full-time and juggling my own creative projects, such as my multimedia publication Quail Bell Magazine. Then I got to the point where I wanted to develop more ambitious creative projects on my own. So I applied to a single graduate program: The MFA in Digital & Interdisciplinary Art Practice at The City College of New York. I spent two years pursuing my own art projects, with artist videos, short films, theatre scripts, photography, and more in the mix. I didn't pay a dime for that excellent education and I still can't believe it. To reward me high performance during that rigorous experience, CCNY gave me the Helen & Sydney Jacoff Scholarship for further graduate study. I am now in a one-year MA Oral History program at Columbia University, where I am concentrating on non-fiction storytelling.
What can you tell us about your filmwork prior to Sirena's Gallery?
This is my first feature as director. I had directed narrative shorts, documentaries, poetry films, music videos, film essays, and artist videos before this point. Iím looking to realize more long-form film and TV projects, including adapting some of my stage scripts. I was prolific writer in college and still have so much unused material from that time.
Besides making movies, you've also successfully tried yourself in many other artforms - so do talk about your other artistic ventures for a bit, and how do they inform you as a filmmaker (and vice versa)?
I'm best known as a writer and do consider myself one first and foremost. I've written several published books, both fiction and non-fiction. Some greatest hits include Belladonna Magic, Desert Fox by the Sea and Hispanic & Latino Heritage in Virginia. I've written produced stage plays. Most recently, my drama Mi Abuela, Queen of Nightmares premiered at The Tank Theatre in New York City in September 2023. I've written for magazines and newspapers, such as Bustle, Cosmopolitan, Teen Vogue, The Huffington Post, Yes! Magazine, Native Peoples, etc. I founded the aforementioned Quail Bell Magazine, which has involved a lot of writing and editing over the years. I make paintings, sculptures, conceptual works and performances, too. My comedy act Art Bitch is something I'm pretty excited about these days. My visual work has been presented at the New York Transit Museum, The Old Stone House of Brooklyn, the Queens Botanical Garden, and elsewhere. My performance work has been presented at the Broadway Comedy Club, The Players Theatre, The People's Improv Theatre, and beyond. I don't see too many clear divisions between my artistic ventures, as you call them. They are all interrelated. Many of my projects are multimedia and generative. I'm not too interested in traditional Western borders defining art forms. In fact, I refuse them. I make what I want to make as an artist. Sometimes that is film. For my own soul, it's important to me to pursue both individual and collaborative projects.
How would you describe yourself as a director, and how as an actress?
My directorial style has been described as magical, poetic, playful, and charming. My acting has been described as intense and, while it doesn't really show in this film, comedic. I would agree with all of those words.
Filmmakers, actresses, artists, whoever else who inspire you?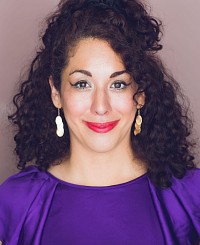 Feeling lucky ?
Want to
search
any of my partnershops yourself
for more, better results ?

The links below
will take you
just there!!!


Miranda July, Josiane Bolasko, Louise Bourgeois, Carol Burnett, Lucille Ball, Guillermo Del Toro, Meryl Streep, Sally Mann, Camille Henrot, Shonda Rhimes, Nan Goldin, LaToya Ruby Frazier, David Bowie.
Your favourite movies?
It changes! Sabrina, Cleo from 5 to 7, Amťlie, The Dark Crystal, The Virgin Suicides and Eternal Sunshine of the Spotless Mind are some favorites.
... and of course, films you really deplore?
I'll give a lot of things a chance, but I can't stand Avengers: Infinity War.
Your/your movie's website, social media, whatever else?
The distributor's webpage is the official site - summerhillfilms.com/sirenas-gallery/
Before the film got distribution, I made a site at sirenasgallery.weebly.com, which I still update sporadically.
The Facebook page is www.facebook.com/sirenasgalleryfilm
Check out my website at www.worldofchristinestoddard.com
Anything else you're dying to mention and I have merely forgotten to ask?
I'm just really happy and grateful that my work is reaching an audience. Thanks for the support! I'm excited for new folks to experience my creations.
Thanks for the interview!