Your new movie The Man in Room 6 - in a few words, what is it about, and what can you tell us about your characters in it?
Of all the films Iíve done, The Man in Room 6 is the most difficult to explain in just a few words. In the plainest sense, it is about the concept of death versus immortality. The film spans a very long period of time, as do the three characters I play in it. Every character and time period has a vastly different tone, making the scope of the film pretty epic. Iím still amazed Trevor [Trevor Juenger interview - click here] was able to bring a story of this scale to life.
What did you draw upon to bring your characters to life, and how much Jackie Kelly can we find in Carrie, Charlotte and the mermaid?
With highly emotional stuff, I tend to draw from real life wounds that Iím trying to heal from. Thatís why I love the character of Charlotte so much. I canít identify completely with her personal plight, but I was dealing with some of my own personal demons when we shot that portion of the film, and I poured all of that into her. Charlotte is one of my all-time favorite characters, and playing her was an incredibly freeing experience.
There is not a whole lot of Jackie Kelly in Carrie and the Mermaid. Carrie is a very stoic young woman. Sheís not very emotive. Iím an actor and Iím inherently emotional and dramatic. It was a challenge toning that down with her. As for the mermaid, just about the only thing we have in common is that we both love swimming.
Playing no less than three characters in the same film, does this put any extra strain on you as an actress, and how easy or difficult is it to switch from one to the other?
Because of the way the shooting schedule was designed, there were really no complications in regard to my portrayal of multiple characters. The shoot spanned a long period of time, and these characters were shot separate from one another. Carrie was obviously the character I spent the most time with. The mermaid was shot over the course of a few days and Charlotte was shot out in approximately 24 hours. I was given ample time between each character, so the shifts were not too jarring.
How did you get involved with the project in the first place?
I worked with Trevor and Carrie Juenger for the first time in 2015 on the pilot episode for a series called Dope. Dope was a vastly different animal. Itís kind of a punk rock crime thriller with lots of guns and drugs. We had a blast filming that and I loved the finished product, so when they approached me about playing the lead (and other characters) in The Man in Room 6, I was immediately all in. Carrie and Trevor are two of my favorite creative collaborators and friends. I will work with them forever, if theyíll have me.
What were your first thoughts when you read the script, and to what extent could you identify with The Man in Room 6's approach to horror?
I was completely blown away by the ambitious nature of the script. I watch ambitious films all the time, but they are rarely ever made at this budget level. The themes are vast, as are the characters, locations, and time periods. Thereís just so much going on in this story. I was thrilled to come on board, as it is easily one of the most creative, innovative screenplays thatís ever been put in front of me.
Regarding The Man in Room 6ís specific flavor of horror, I was immediately connected. There is absolutely a time and place for traditional horror, but I have an especially soft spot in my heart for arthouse horror. Itís a strange tale that I have never seen before on the silver screen. I donít think the film will connect with everyone, but I am so excited for the arthouse crowd to see this one. Itís definitely offbeat.
Do talk about The Man in Room 6's director Trevor Juenger [Trevor Juenger interview - click here], and what was your collaboration like?
Iíve known Trevor and Carrie Juenger for quite a while and I truly love them both. Because weíre all friends, the collaborative experience of working with them is really special to me. They both have such specific strengths as artists and it is truly a team effort. They both work so insanely hard to make the vision come to life, and I admire how much attention to detail is evident in everything they create. Every film set is a unique experience, and educational in its own way. I learned so much making this film, and had a blast getting to do it with my dear friends.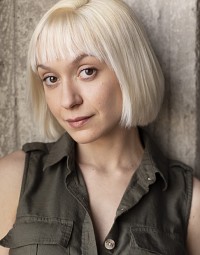 Feeling lucky ?
Want to
search
any of my partnershops yourself
for more, better results ?

The links below
will take you
just there!!!


A few words about the shoot as such, and the on-set atmosphere?
The shoot spanned approximately two years. Because of this, a lot of individuals were involved in it. There were of course staple cast and crew members, but a lot of the people involved weaved in and out of production. This certainly affected the atmosphere of this shoot, as different personalities were present throughout its duration. But the drama was minimal on this one, which is always a blessing. Independent filmmaking can sometimes take a toll on your attitude and relationships. Youíre bringing so many different personality types together to create a single thing, and sometimes tensions can run high. But that wasnít the case on this one. Everyone got along and had a passion for the project. Trevor and Carrie did an incredible job assembling the team behind this film. Iíll always cherish making The Man in Room 6.
Any future projects you'd like to share?
I have quite a few projects in the pipeline, but Iíd like to spotlight a couple! One Iím particularly excited about is Oscar. Tango. Hellwater, which is a contemporary retelling of Shakespeareís Othello. Iím really looking forward to seeing the final cut of that one, as itís easily one of the most beautifully shot films Iíve been a part of. Another one Iím really excited about is a film I recently wrapped in Nashville, TN called That Old Misery. I play a character unlike anything Iíve ever played before and I canít wait to see it come together. Itís definitely a weird, subversive one.
Your website, social media, whatever else?
You can find me on Instagram: @actressjackiekelly
Thanks for the interview!