We have talked about Truth or Dare only recently [click here], but do bring us up to speed, what is it about?
We have completed principal photography on Truth or Dare and have begun the post production. We just got to watch the first rough cut of the edit and couldn't be happier with what we have created :)
Here is the synopsis:
6 college kids find internet stardom when they make Truth or Dare-videos with violent twists. It's all fun and games until their number one fan decides he wants to play...
Truth or Dare is your directorial debut - so what was that experience like, and based on it, could you ever be persuaded to direct another movie?
It was interesting to be on the other side of the camera. I always knew that actors had the easiest job on set and this certainly confirmed it. It so much more work, so much more time-consuming when you are the director. I would not have changed the experience for the world and was blessed to have assembled an amazing team of people behind me. They all brought there own experience and expertise to the shoot and we have a great film because of them. It was nice though to have everyone listen to my opinion - sometimes as an actor people (depending on the set) don't so much listen as they placate.
It would have to be the right project for me to want to direct again, I don't have this NEED to direct. Though I certainly have a NEED to act. But I have a bunch of stories that NEED to come out and if I can't find the right director for them (so long as Truth or Dare goes well) then I will do whatever it takes to bring those stories to life.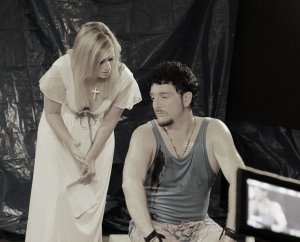 Jessica Cameron with Brandon Van Vliet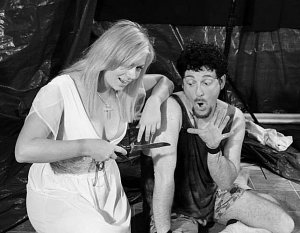 You also being the co-writer of Truth or Dare, I'm almost sure you must have had a vision of the look and feel of your movie - to what extent has that changed during filming (for better or worse), and how true did you manage to stay to that vision?
As we (my co-writer Jon Higgins and I) were writing the script we wrote it with very specific actors in mind, and luckily they wanted to come on board. We really worked to craft believable characters that were true to life and were in direct contact with the actors (in most cases) for months in advance, letting them connect to their characters and such. We also were very aware of our limited budget, so we wrote the story around few locations, all of which we knew we could get for reasonable costs, and worked closely with a make up artists early on to ensure that our practical effects would look great and fit within our budget. At the end of the day we didn't stray much from our vision at all.
Not only co-starring with them but also directing them, what was your collaboration with your cast like, and from a director's point of you, how has that influenced the perception of yourself as an actress? And quite honestly, how did the actress in you like that Jessica-Cameron-director-woman?
Most of my cast I had worked with before, so I knew how they preferred to work, which is very helpful when you have a tight shoot. I assembled a very talented cast who really were able to feed off each other's performances, it was beautiful to watch and translates great to the screen. I loved watching the performances from the other side of the camera, sometimes things that might work in person just don't translate as strong as another choice. HA HA - I like to know any- and everything about my passion - so I am totally thrilled with whatever hybrid I have become ;)
As far as I know, things do get pretty bloody in Truth or Dare quite a few times. Care to talk about the gore effects and their conception for a bit?
We always knew it was going to be one heck of a bloody film, but I don't think anyone thought it would be half as bloody as what it actually was. Having worked on so many sets, some with AMAZING practical effects and some with… um… less amazing practical effects ;) I knew that I wanted everything to look real and authentic in the camera lens. We brought on special FX artist Carrie Marcado early on so that she could help us while we crafted the story to ensure the best effects for the scenes. I really wanted to do everything practical - to me they are always more believable when done right.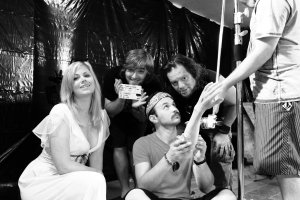 Jessica Cameron with the Truth or Dare-crew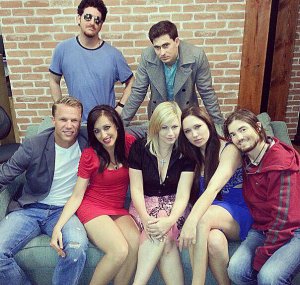 As we re-wrote the script we tried to keep the gore aspect the same or at least similar since we wanted to stick to the original FX budget and much of the FX are things that I as a horror fan LOVE and never get to see :)
Do talk about the shoot for a bit, and any good on-set anecdotes you'd like to share?
We decided to video our crew watching the play back on some of the torture scenes - and it is quite entertaining to see their reactions. Even though they know it's coming, we started releasing those videos and they have been getting a great response. Makes me very eager to see what audiences who have not read the script will say.
At one point during an intense action/torture scene, my AD Joshua Lou Friedman started yelling out "no, no,no…" and the actor looked at him and asked if he should stop… Josh said no, it was the person that was yelling, not the AD. We knew that if we could get him to instinctively respond in such a vocal manner mid-scene that we really have something special. He would later tell us that although he has worked on dozens and dozens of horror films, our was by far the most disturbing :) - I consider that a badge I will wear proudly!
As far as I know, there has been a bit of a problem with your fundraising campaign just prior to filming Truth or Dare, but it's now up again - so do talk about your fundraiser for a bit?
Yes - sadly our IndieGoGo was placed on a 10 day hold when someone made a false claim against the film. Obviously their claims were proven false and the campaign is now back up and running - but it's sad when you see grown ups acting so childish and lying out of jealousy. This person considers him/herself a filmmaker, and the sad reality is if they put half as much time into their own films as they did obsessing over ours then they might actually make a decent film. I am honestly happy for my fellow filmmakers when they get press, and when horror audiences (including myself) are eager for their film, sadly not everyone can accept other's successes.
Overall our funding campaign has been a GREAT experience allowing us to really connect to the fans that WANT this film - it's been really encouraging getting in touch with them all. We set out trying to raise some finishing funds since we had the money to shoot the film itself, and we have found this wonderful group of supporters who are so encouraging. I will definitely do more crowd-sourcing in the future - it's just great to be able to connect with the audiences so closely. And $25 gets you a signed copy of the film, a poster and a thank you on all the social media. I think that's pretty cool since you often pay $25 for just the film itself in the stores - the fans deserve MORE and this is a great way to give it to them :)
http://igg.me/at/truthordare/x/2053176
Any idea when and where Truth or Dare will be released onto the general public yet?
We hope to test it in August (first test screening will be at the Calgary Horror Con Aug 2 2013). We will start to submit it to some film festivals then as well and hopefully after a successful convention and fest run we will lock down distribution details :) Stay tuned!
Presuming the first one's a hit (and why wouldn't it be), will there ever be a Truth or Dare II - and other future projects you'd like to share?
We actually have started on the sequel - just mapping it out. It's going to be a very different type of film and I don't want to direct it since it was honestly too much to star in and direct. I learned that with the first one ;)
A film that you can expect to see soon that I produced and have a small role in is Clone City 2064. Set in a futuristic city, Clone City 2064 chronicles the journey of one detective who must unravel the mystery behind the serial killings of his own clones.
Intrusive Behavior is a film that I starred in and where I first met actress Heather Dorff [Heather Dorff interview - click here]. I shot it in Florida with Brian Troxell and his kick ass team. Its the story of a little girl with a bad temper!

Feeling lucky ?
Want to
search
any of my partnershops yourself
for more, better results ?

The links below
will take you
just there!!!

Find Jessica Cameron
at the amazons ...

amazon.com

amazon.co.uk

amazon.de
Looking for imports ?
Find Jessica Cameron here ...
Something naughty ?
(Must be over 18 to go there !)

Save Yourself is a cool, grind house film written and directed by Canadian horror master Ryan M. Andrews [Ryan M. Andrews interview - click here]. You are going to have to sit tight for more updates on this on though since we are keeping it under lock and key. Ryan is one of my favorite filmmakers and people, he just won a bunch of awards for his latest film Sick, including Best Director, so be sure to keep an eye on him!
Your/your movie's website, Facebook, IndieGoGo, whatever else?
Truth or Dare IndieGoGo: http://igg.me/at/truthordare/x/2053176
Truth or Dare website: http://truthordarethemovie.com/
Truth or Dare Facebook page: https://www.facebook.com/TruthOrDareTheMovie
Anything else you are dying to mention and I have merely forgotten to ask?
Nope - but I wanted to take a moment and THANK YOU for all your support! I really appreciate it!
Thanks for the interview!