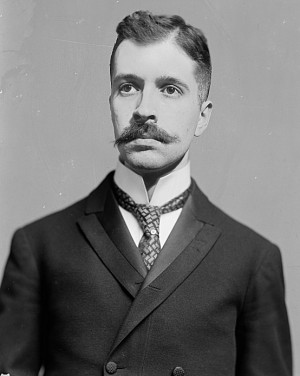 J.G. Murphy in
Your new movie Garthwaite: A Film by Ben Kurns - in a few words, what is it about?
Garthwaite: A Film by Ben Kurns follows the story of late 19th century, early 20th century fictional business tycoon Rufus Garthwaite from birth through his short lived presidency and death.
What were your sources of inspiration when writing Garthwaite: A Film by Ben Kurns, and what part did the pandemic play in choosing your subject and approach?
I am a huge fan of Ken Burns documentaries, particularly Baseball, The Vietnam War and The Roosevelts. In fact, The Roosevelts served as our main inspiration for this film. Nolan Pugh [Nolan Pugh interview - click here] and I had made the short film Coaster: A Film By Ben Kurns in 2019, which had a similar concept of spoofing Ken Burns, but had less structure than Garthwaite: A Film by Ben Kurns does. When the pandemic hit, we obviously couldn't do much. But we wanted to make something and build off of the success that Coasters had in the festival circuit. That's when we decided another mockumentary in the Ken Burns style might be a smart way to go, but this time we decided to swing for the fences and do a feature instead of another short film.
Do talk about your co-writer and co-director Nolan Pugh, and what was your collaboration like?
Nolan and I met in college at AMDA College for the Performing Arts. We were both cast in a staged reading of a play called Dead End. For any old movie fans out there, that play was made into a film starring Humphrey Bogart. About a year after we both graduated, we had started talking about making our own movies - I had since stopped acting and he had thrust himself into writing. That's when we started writing together and since then, it's been a pretty easy collaboration. The general idea was we'd write the script together, I'd direct and he'd act. We decided to share directorial duties when we made our sketch comedy webseries Look Ma, No Helmet, and have shared directorial duties ever since. It's pretty seamless, I'd say. We're both really good at different aspects of the process and that balances us out. For example, he's great at crafting a narrative and my skills lean more towards composition and visuals.
A few words about Garthwaite: A Film by Ben Kurns's look and feel?
The best way to describe the look and feel of Garthwaite: A Film by Ben Kurns would be this: If it was 2:00 AM, and you came across this on TV - and maybe you were under the influence of some sort of drug - you'd think this is a real documentary.
You actually appear in the film in photographs as the titular character confidant/boyfriend Tacitus Clements - so do talk a little about the production of these "vintage" photographs!
The photographs are, to borrow a phrase from hall of fame baseball player Reggie Jackson, "the straw that stirs the drink." They tie the whole movie together. Without those photos, the joke doesn't work. Our credibility would be shot. So it was really important that we got that element right. Luckily, we had a solid team at our disposal. K.C. Peña, Ben Froedge, and the leader of the team, Lindsey Weed, did an absolutely incredible job on the photoshopping end. I spent God knows how many hours combing through the internet searching for public domain photos of the time period. After that, Nolan, Meghan Coates (who plays Beatrice Garthwaite), and I got together for a photoshoot. We'd look at each photo I picked out and tried to match the posture as close as possible. I handed all of the assets over to the photoshop team and they did their magic, putting our faces onto these bodies. I would come in at the end of the process and touch some things up, age Garthwaite and Tacitus for the middle-aged and older photos, but it was all the work of Weed, Peña, and Froedge. I honestly cannot thank them enough for their herculean effort.
What can you tell us about Garthwaite: A Film by Ben Kurns's cast, and why exactly these people?
I couldn't have asked for a better cast. Nolan and I have spent the last few years meeting a host of amazing people. What really allowed us to even attempt this project was knowing that we had some incredible improv actors with whom we had worked with before. A lot of the people you see were in Look Ma, No Helmet or Coasters. This movie is essentially the improv game "world's greatest expert" on a much larger scale. So this was like a game to the actors. What's really great about this format is that everyone has a chance to shine. Everyone has their signature moment in the movie. And they all play it seriously. None of them play it with a proverbial wink to the camera. To them, to their characters, Rufus Garthwaite is the single most important man in their lives... somehow. That's where the humor comes from. Adam Whittington, Tim Portnoy, and Maxwell Myers really carry the movie with how honest and serious they are. And then you get great moments from people like Michael Owens (playing Troy Phillips) talking about reading a book on the psychology of Garthwaite and claiming "it felt like I was reading a biography that I wrote... but I didn't." The great Blake Everett rolls off some truly bizarre one liners in a Southern drawl. Sionne Elise came up with the great line of "hap-... but the birthday never came." I've never laughed so hard on a set, and I've directed mostly comedies.
From what I know, Garthwaite: A Film by Ben Kurns was shot during the height of the pandemic with lockdowns in place and all - so how did you actually direct your actors remotely, and since many of their lines were improvised, how much guidance did they have and how much freedom did you grant them?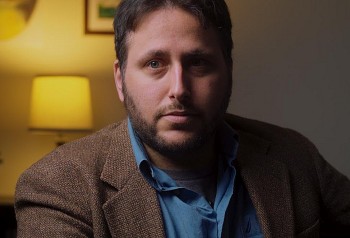 Timothy Portnoy
Filming primarily took place after the strictest lockdown rules had been lifted. That being said, we wanted to minimize the risk. Since I had all of my own gear for filming, I'd pack up my car and travel to each of the actors' homes and set up the interview. Nolan would join through Zoom and generally take on the interview duties while I'd focus on the look and concentrating on making sure we got all of the information we needed. So in the room, it's just me (wearing a mask) and the actor.
In terms of freedom, the actors had near total freedom. Nolan and I talked about ideas we wanted for the film. We talked about life events, mirroring those of William Randolph Hearst, Abraham Lincoln, and Teddy Roosevelt. Nolan wrote up an 11 page biography of Rufus' life. After we edited the biography together, we sent it off to the actors. We told them to study the biography and create their own characters - are they a Garthwaite expert or do they hyperfixate on one aspect of his life? That's a lot of trust to put in a group of actors. But they all got it. Without talking to each other, they each came up with characters that balanced each other out. You have Adam Whittington, who plays Dr. Richard Fleeb. Fleeb has essentially dedicated his entire life to studying Rufus Garthwaite and idolizing him. Then you have Tim Portnoy who plays the old money Edwin Fairweather III. He absolutely hates Garthwaite for what he did to the Fairweather family, and his only goal is to make people hate Garthwaite just as much. Whittington and Portnoy had no idea what the other was doing, yet their characters are a perfect yin and yang. You'd have Kyle LaCross II playing Bryan Hamperdell, where he kept pitching us screenplay ideas in character. TJ Wong [TJ Wong interview - click here] plays Lewis Lovelace who hyperfixates on secret societies like the Bowl of Scones. It helped make the movie feel bigger when you had a couple characters who were present throughout and the rest of the characters weaving in and out of the plot, coming in when they had the "expertise". It was truly amazing to us how well everyone bounced off each other and complemented each other.
I think, if we were to make another mock, we'd definitely create a list of characters we need and cast that way. But we could not be happier with the results we got in this case where we gave them virtually complete freedom.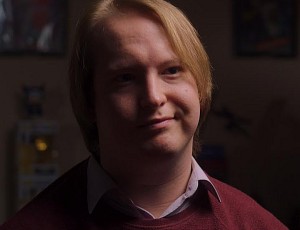 Kyle LaCross II
The $64-question of course, where can Garthwaite: A Film by Ben Kurns be seen?
Currently, the film is in the festival circuit. After that, and after the WGA and SAG-AFTRA strikes end, who knows what the future holds? The goal is to get as many eyes on this as possible.
Anything you can tell us about audience and critical reception of Garthwaite: A Film by Ben Kurns?
So far, all of the feedback we've got from the film has been overwhelmingly positive. People get it. They notice the tongue-in-cheek references to the modern political climate. If they're history nerds (like I am), they catch the references. They especially love Tim Portnoy, and I don't blame them. I keep hearing that people love how realistic it looks and feels. We've even had some people comment on the trailer on YouTube thinking it is a real documentary.
Any future projects you'd like to share?
Currently, I'm working on a solo avant-garde short film called Variations. It deals with the different sides of human beings and how they all make up one person. Other than that, Nolan and I have some ideas coming down the pike... perhaps another mockumentary in the style of Behind the Curve.
What made you want to go into filmmaking in the first place, and did you receive any formal training on the subject?
I never got formal training as a filmmaker, but I have a BFA in Acting. As a kid, I was always fascinated by filmmaking, and being a director specifically. But I got so involved in acting that it sort of fell to the background. It wasn't until I finished college that I rediscovered my love for filmmaking. So, I taught myself. I read books, took online classes, and just started making my own work - which continues to prove to be the best way to learn.
What can you tell us about your filmwork prior to Garthwaite: A Film by Ben Kurns?
I've had the privilege of working as a director, writer, editor, DP or producer for a wide range of projects. With Nolan and our production company TMK Pictures, we've made two short films (Whatever We Want and Coasters: A Film By Ben Kurns), the web series Look Ma, No Helmet, and a few other smaller projects. I frequently work with the comedian Paige Gallagher on her YouTube sketches like Chelsea's Choice and Dating On The Rocks.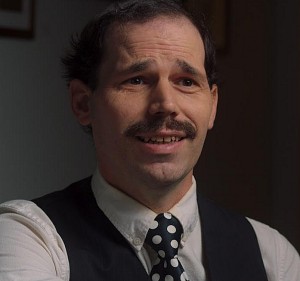 Adam Whittington
How would you describe yourself as a director?
I like the image of a captain and crew building a ship together. That's how I like to work as a director. Any idea from anyone in the crew has potential to be a good idea. I think especially when you're working in low budget independent cinema, you need that sort of synergy and creative community or else you can lose respect from the cast and crew real quick. I like giving my actors space to place and I don't like doing many takes. As a former actor, I know how stale a performance gets after doing it too many times. I want to keep people on their toes and move on to the next thing. Constantly keeping the set in motion so that no one feels like we're stuck. On the other hand, I've developed a sense of detail. I want to make sure that everything in the frame has a purpose. I used to direct like free form jazz, keep it loose and fast. I still like working fast, but I want to make sure the image tells the whole story.
Filmmakers who inspire you?
That's a loaded question... let me list 50... okay, no. Spielberg, Scorcese, and the Coen Brothers are obvious staples. I love the work of Greta Gerwig. Robert Eggers creates some of the most chilling movies without the use of jump scares. I love the works of Robert Altman and Hal Ashby, who are both criminally underrated. Going back even further, I love George Roy Hill, Billy Wilder, and Michael Curtiz. Ingmar Bergman fascinates me. But I'd say my bread and butter lies in German Expressionism. Fritz Lang, Robert Wiene, F.W. Murnau have made some of my favorite silent films. Oh, and special shout out to Abel Gance. See, just 15.
Your favourite movies?
I'll spare you a long -winded answer with a simple top 5:
1) Butch Cassidy and the Sundance Kid (1969)
2) Napoleon (1927)
3) Goodfellas (1990)
4) Sunset Boulevard (1950)
5) M (1931)
... and of course, films you really deplore?
At Eternity's Gate (2018)... don't get me started.

Feeling lucky ?
Want to
search
any of my partnershops yourself
for more, better results ?

The links below
will take you
just there!!!


Your/your movie's website, social media, whatever else?
Instagram: @thetmkpictures, @garthwaite.movie and @thejgmurphy
Twitter: @thejgmurphy
Threads: @thejgmurphy
Anything else you're dying to mention and I have merely forgotten to ask?
I'd just personally like to say thank you so much for taking the time to watch our movie and for the kind words you gave us. It's been a pleasure to talk with you.
Thanks for the interview!