Your new movie All You Can Eat - in a few words, what is it about?
As a 'stand-alone' piece, All You Can Eat is a short story depicting the grizzly fate of the staff at an obscure Mexican style fast food restaurant, after a suspicious and malignant ingredient is introduced into the menu. Nola Gombo and her colleague Gurdip Chutney are the unsuspecting victims of a gore-soaked, vicious killing spree, brought about by the diner management's nefarious dealings with an ancient blood cult. It's about eating... and being eaten!
Basic question, why burritos, and some of your personal worst burrito experiences?
The honest truth is, I can't remember what was our initial thinking behind having a sentient blood thirsty burrito as our central creature. Many years ago I'd meet up with a friend at an American style diner on the outskirts of West London where we would discuss horror movies over a burger. It was at one of these meets that the 'killer burrito' idea first came about... still don't know why though, I can't remember ever having a burrito there. All You Can Eat was screened at Screamfest in LA during its festival run and one of the many comments I got about it was along the lines of assuming the film (and the concept of 'killer burritos') was conceived during a massive drug and drink binge. A crazy idea that didn't end there!! Sadly I can't blame the drink, or the drugs.
I'm afraid I don't have a 'worst' burrito experience. I love them! In fact I believe everyone loves them, they are globally revered as fun, tasty and enjoyable. It could very well be for this reason that our whacky idea of flipping them on their heads and making them vicious, nasty little bastards had such lasting appeal.
With All You Can Eat being a creature feature - is that a genre dear to you, and some of your genre favourites?
I don't know if I have a particular favourite horror subgenre, but creature features are usually great fun as there will inevitably be a moment where the creature is exposed to the viewer, and these moments are the genre's 'money shots'. We were definitely inspired by the creature feature subgenre, but outside of the all time classics, like the Alien xenomorph, Gillman from Creature from the Black Lagoon, the most memorable, and influential creatures for comedy horror were Aylmer from Brain Damage (that little critter is f#*king OFF THE SCALE crazy!), the 'mini-spawns' from Deadly Spawn (mama-spawn as well, but mainly the smaller ones), the critters from Critters and the parasites from...er, Parasite. All brilliant fun, but nasty little buggers.
(Other) sources of inspiration when writing All You Can Eat?
Besides knowing that All You Can Eat was going to pull inspiration from pulp creature-features, the look and feel I drew influence from was a mash-up of a retro 1950's shabby, run-down 'Americana' and 1980's seedy grindhouse grit. Film-wise the tone of such films as Street Trash, Basket Case, Motel Hell were great bits of reference for that grotty, sleazy aesthetic.
You of course have to talk about the effects work in your movie!
It was also these type of films that we looked to when we were building all of comedy horror's practical and creature FX. The FX guys spent a long time developing special effects rigging or blood gags using exactly, or as close as possible, the techniques of 1980's horror. We did this because were very keen to stick within our style, even down to the fact the we had to 'scale back' some of the effects, as they were a little too good! It was quite a tricky balance to get the effects to look great but also have an element of that 'old school cheesiness' to them. The FX guys worked for several months 'prepping' the largest percentage of the special effects as we knew we would need to shoot as much of it as we could, either before or after (both as it turned out) we got the full cast and crew in for principal photography. This was because each single effects shot took at least a whole day on its own to shoot. This caused a massive headache when it came to shooting for continuity and meant we had to really understand the shots we needed and stick to a very strict storyboard or shots list, but we didn't have the budget (or ANY budget!) to have unnecessary cast or crew hanging around while we worked on the effects. This process of shooting the effects work as an independent pass was not always possible as, obviously, we needed a victim. Our lack of any budget, and the time scale required to build the effects, meant we needed an actor that would be available for sporadic shoots over a long period of time, which was a worry. Luckily one of the creature FX crew (Matt O'Toole) was also an amateur actor, having appeared in a few creature based short films previously, he was perfect for our needs (and our budget) so he became Gurdip Chutney... our victim! I'm really happy with how the effects look and I'm glad that we went that extra mile to use old practical methods. They were certainly more fun to work on and I think (hope) that the viewer also has a little bit more of a 'visceral' experience when watching them.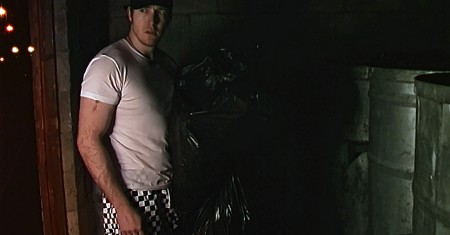 A few words about your overall directorial approach to your story at hand?
I had an idea of what All You Can Eat was going to be, as a whole package (and a stand-alone film) but it was really tricky for me to fully explain my vision, so when it came to pitching the project to people I wanted to work with, either cast or crew, I would open the pitch by telling them that it was a 'comedy horror'. This, along with the whacky concept of spicy Mexican food as the central creature, was usually enough for everyone to get an initial grasp, comedy horror, as a subgenre, for me brings a lot of stigma with it. It is very easy for comedy horrors to cross the line into the ridiculous, or play it for laughs too blatantly, and lose any actual horror to them... I'm not a fan! I used the term 'comedy horror' when opening a conversation about what I intended for All You Can Eat, but I very quickly made it clear that we were shooting it totally straight!.. It was to be a proper nasty, blood, guts and filth horror. The comedy (which was less 'comedy' and more 'schlock cheese') comes naturally from the absurdity of the thing causing the gore splashed chaos to actually be a burrito!
What can you tell us about All You Can Eat's cast, and why exactly these people?
Probably the most crucial member of the cast and crew, that I had to explain the film's vision to, was the actress who was to play Nola Gumbo. All You Can Eat (again, as a stand-alone) is pretty much the character of Nola's story, so I needed someone who could take the 'whackiness' onboard but was also capable of playing the role totally straight. I eventually found Verity Hayes through an online casting agency, and from the very first table-read I knew she was perfect. When we got on set she already had her own written 'beat sheet' for the emotional level the part required for whichever scene we were shooting. I did need to direct her to some extent, primarily because she, for the most part, was acting (or re-acting) to nothing, the effects having already been shot, or were scheduled to be shot after we wrapped principle photography. I really think we were lucky with Verity. It does pay to get the best actors you can, within your means, because at the ultra-low (no) budget end of film making, you are running on the bare-bone crew, so to be able to have the cast understand and work the shot with limited character direction allowed me to focus a little time during each set up to making sure the DOP, lighting and sound crew were all happy. This also holds true for crew. From the offset I explained the concept for the film to all the crew members, and showed them concept art, reference and storyboards in the hope that it would get us all on the same page. This was only ever a guide though. Even though I do believe that a project does need to have one single person (usually the director) to make sure that what is being worked on fits within a pre-defined narrative or visual style, I was very keen to emphasise to all the crew that any thoughts, suggestions or input they had should definitely be put on the table. I know for certain that there were elements in the shoot of All You Can Eat which were ideas brought forward from crewmembers (and there were probably some that I flatly turned down!?!). The openness and my faith in their abilities brought out the best in all the cast and crew and made for a really fun shoot, which was great because we shot for three solid nights in the coldest April I've experienced for many years.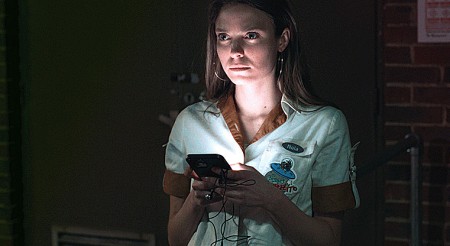 The $64-question of course, where can All You Can Eat be seen? And what can youi tell us about audience and critical reception?
When All You Can Eat was finally completed I wanted to give it a limited run on the horrorfilm festival circuit. It had a pretty good reception from the festivals, I learned a great deal about how film festivals work, and met some really fine horror fans and creators through them, but I was always itching to get the film out to everyone. It's possibly the best feeling to actually meet and chat with someone who has just watched your film, especially if they had a good time with it, and I am very thankful to have had this happen several times, but festival audiences (especially horror festival audiences) are there to have a good time, meet friends, have fun, maybe grab a few drinks, and watch a bunch of films. This is all really cool (that's exactly what I did myself) but you never really know if the kind words you hear about your film is the result of folks having a great time in general, and your film was an entertaining small part of it, or if they actually did like it. I hope it is/was the latter, but horror festival fans are some of the nicest folks you could meet, so the last ting they are going to do is bitch if they thought a film sucked... that's where the internet comes in!!! I am really looking forward to getting feedback from the film being made available to watch by being released into the wilds of the untamed internet. I know even less about how to promote it and get people to hear about it, and watch it, than I did about getting the film into the horror festivals, but I will try to work it out. I made All You Can Eat to be watched, and hopefully enjoyed, by everyone and anyone. As of this minute the full film can be found either at the official All You Can Eat website (along with the trailer and art downloads) - https://www.flyingeyeball.co.uk/AYCE/ - and on the Flying Eyeball Pictures YouTube channel: https://www.youtube.com/@toxicburrito/videos. I'm in negotiations with a couple of dedicated horror shorts channels, so hopefully it will soon also be available through those as well.
Any future projects you'd like to share?
Once I have some traction behind the promotion of All You Can Eat, and I've hopefully got some constructive feedback, I hope to then have time to get back to work on a couple of projects that have been simmering in the background. All You Can Eat began life as a short sequence in a feature length script that I wrote. It is the same 'universe' as the short but much more fleshed out, with a deeper dive into the surrounding story, that is only really hinted at or hidden in the narrative of All You Can Eat. The feature script give the full mythos behind the killer burritos, where they come from, the sinister forces behind them, and it takes us beyond the short film, bringing in further characters and different permutations of the evils that have been unleashed. It is quite a wild and ambitious script, and needs a bit of actual funding behind it to do justice to the production design and twisted creature effects that I hope to bring to the production of it. It was because I needed to begin developing the world of this script that I decided to put together a proof of concept, which eventually became All You Can Eat. This I why, when I have spoken about the short, I have always commented on it as if it was 'stand-alone', when in actuality there is a much bigger, mush nastier, narrative that surrounds it. I would love this feature script (working title Toxic Burrito) to go into production, and I will be bad to work on the pitch-deck and promotion of this within the next few weeks hopefully.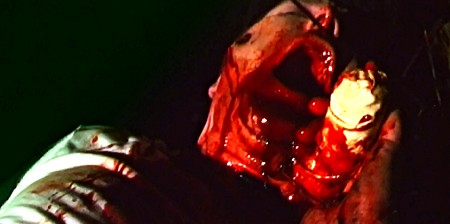 Alongside this I am writing another short film that I'm hoping to begin shooting at the end of 2023 or early 2024. I might seek the help of possible crowdfunding for this one, as it would be really nice to be able to pay the cast and crew for their time, as much as we had a great time on All You Can Eat... I don't want to take the piss!! I'm also co-writing and working on the development of an additional feature script, with a really talented young lady (sorry I can't mention names yet) horror author. Her style is a million miles away from All You Can Eat (or Toxic Burrito), she has a deeply sinister but magical fairy-tale horror in her writing, it really is beautiful. My input is to mix in a little grit, gore and ultra-nastiness into the project. It's still a way off, though we are close to a first draft, but it already has something special going on... watch this space.
From what I know, you've entered the filmworld as a special effects designer - so what can you tell us about that side of your career, and did you receive any formal training on the subject? And what made you switch to directing eventually, and how do the two jobs compare?
A little bit about me (and it will be "a little", because, who wants to know about me?): After working as a freelance illustrator, I landed some work in the film industry at a creature effects company at Pinewood Studios, where I worked for several years on independent horrorfilm FX, on some really fun, but really low budget films. For the past few years I have been freelancing as a SFX designer for some major studio 'blockbusters', which can be fun but the pressure and expectations are a lot higher. I think IMDb has a reasonably up to date(ish) list of the films I have been involved with. All You Can Eat was my first solo narrative directing project, but I do have small list of credits for joint directing projects and producer roles. These include a road trip documentary focusing on the special effects industry in America (Channel 4 UK), A psychological thriller shor shot entirely on location in Poland, and several music videos and live performance recording promotional pieces.
I love film and I'm deeply interested in all aspects of production and have been fortunate enough to have worked in, and with, everything from concept design, traditional/practical special effects, through to high end visual effects, editing and post-production. All of which have been invaluable in allowing me to understand and bring this knowledge to my directing projects.
Your/your movie's website, social media, whatever else?

Feeling lucky ?
Want to
search
any of my partnershops yourself
for more, better results ?

The links below
will take you
just there!!!


You can catch All You Can Eat streaming from the films official website (along with the trailer, which is worth a watch, and a bunch of poster and art downloads): https://www.flyingeyeball.co.uk/AYCE/
You can also find it, along with the theatrical (festival) cut at the Flying Eyeball Pictures YouTube channel: https://www.youtube.com/@toxicburrito/videos
As a little extra, check out the All You Can Eat Instagram account for a bunch of tasty bits of artwork: https://www.instagram.com/toxicburrito_ayce/
Anything else you're dying to mention and I have merely forgotten to ask?
Thank you so much to the fine folks at Search My Trash for allowing me to ramble on about my film. Please check it out and please get in touch with your thoughts (good or bad... I can take it).
Thanks for the interview!