Your new movie Rust Belt Driller - in a few words, what is it about?
Aaron Krygier: Rust Belt Driller is about what happens when the line blurs between truth, fiction, and what can't be avoided. It's about mental health, isolation, anger, rage, and perception.
David R. Williams: At its most basic, Rust Belt Driller is about an artist, who had lost his grip on reality long before the film starts, and depicts his descent into full blown psychosis and homicidal rage.
Now how did the project come into being in the first place, and how did the lot of you get attached to it? And what drew you to it to begin with?
Aaron: Dave and I have worked together on and off for about 15 years at this point, and we were discussing how Driller Killer was on Amazon Prime back in April of 2020. I had found that it was in the public domain and suggested we could modernize it and rework it. Someone else had actually done that focusing their flick in Detroit for purportedly under $1000! Dave, having more production experience than I, suggested I should write a more unique story, and by June we were in pre-production.
David: I've known Aaron for over 10 years. I think we first worked together on Red Scream Vampyres. But he came to me wanting to do a remake of Abel Ferrara's Driller Killer. He was under the impression that the film was out of copyright. Now, I've done quite a bit of research into copyright years ago for another project I was working on, and that just didn't sound right to me. So I did some digging, and while it looks like the film itself may not be under copyright - and that's not at all certain - the script is definitely under copyright, so you couldn't remake the film without running into some major issues. But I liked the basic idea of doing some sort of old school, 42nd Street grindhouse horror film. So I suggested that we could make a film that could pay homage to Driller Killer but also to the whole no budget splatterpunk genre. And Aaron took that concept and ran with it.
What were the challenges of bringing Rust Belt Driller to the screen from a producer's point of view?
David: For me there was always the issue of time and money. So we knew we had x amount of D-ollars and y amount of time. So especially during the writing and subsequent rewriting of the script, top of my mind was always, can we shoot this in the allotted time and within the available budget. So really, this was no different than any other film I have made (laughs). Now luckily, over the years, I've been able to build a solid production team of people who I can call on, and even though they know I may not be able to pay them much, I will pay them something, and they know that if nothing else, it's going to be an interesting project. Also through co-director Tilke Hill, who is well connected within the Buffalo film community, we were able to bring in a few new players who helped us keep travel costs down and who really stepped up and delivered.
Aaron: 4 months is a pretty insane pre-prod time, and pre-production was done entirely by myself, Dave, and then Tilke about a month or so into it.
The biggest challenge obviously, was dealing with COVID, especially pre-vaccine. We got incredibly fortunate that the restrictions had eased a little in October of 2020 here in Western NY, because just a few weeks later everything was tightened back up. So obviously just keeping a modicum of safety on set was a must.
We had one of our lead actresses cancel out on us literally 6 hours before I was supposed to pick her up at the airport. 24 hours later we had her replacement, Veronica, who ended up being so much more than just a replacement. She was not only so much stronger of an actor, she also crewed and helped with everything. Blessing in disguise.
Finally, shooting this over 9 days, we worked 12,14, 15 hours a day for those of us at the top of the production.
Aaron, what were your sources of inspiration when writing Rust Belt Driller, and is any of the movie based on personal experiences?
Aaron: Oh boy. A lot of this film came out of my own struggles with mental health, and the frustration surrounding something that's been thematic of a lot of my life - having all the ambition in the world but lacking the execution. That comes in a lot of different ways, from being let down by other people, fear dictating my life, being comfortable in misery, looking back on regrets... and like many people I think their 30s looking back and saying what could I have done when I was more fearless and not so jaded by reality.
From a film perspective, my recommended viewing for our team was in a lot of places, but obviously Driller Killer, Videodrome and Cronenberg in general, Lost Highway, Perfect Blue, Blade Runner, Cruising, and Session 9. Those were major influences that we were able to work into a lot of the story, and some homages in there as well, but from a thematic approach that was a lot of my influence.
David, what can you tell us about your directorial approach to your story at hand?
David: I approached this as I do all of my films, knowing what I need to make a scene work before I hit the set. I don't do a physical storyboard, but I have a shot list in my head. And that list is constantly being updated and sometimes changed even while shooting. So I know, I want to start with this shot and then I need that shot and then I need this other shot, and I edit in my head. Knowing how those shots come together and how they flow. Of course I always leave room for input from actors and camera, and if I can make those pieces fit, and if there is time, I will definitely give it a go. It's often been said, and I agree, that you make a film three times. The first time is when you are writing the script, which is sort of the dream vision version - if all goes well we can do this version. The second is when you are shooting, and there are times when what worked on paper just does not work in reality and so you need to "fix" it on the fly. Or once you are on location or wherever, you suddenly realize, oh, I can do this instead of that, and this will be so much better. Because I work with a cast and crew that is flexible, that happens quite a bit on my shoots. The last time is the edit where you take all the pieces of the puzzle and put them together and finally see what you actually have. In this case much of what is on the screen is what was in the script.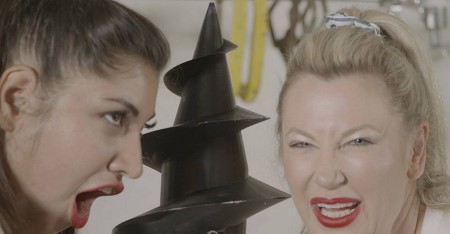 What can you tell us about the collaboration between the two of you, and also with co-director Tilke Hill, on Rust Belt Driller? And based on that experience, could you ever be persuaded to work with one another again?
David: Aaron wrote the script and I offered some input on certain aspects of it. Mostly in areas where there was concern on my part about the aforementioned time and money. At one time there was a restaurant scene which would have added a third location, and of course the time needed to breakdown and get there, then breakdown again and get out of there. Essentially a whole day that unfortunately we didn't have. Aaron worked with Tilke on casting and I gave some thoughts on that as well. During the shoot there were times when I would discuss with Aaron, whom I knew was going to be editing, how he wanted a scene shot, making sure he had all the material he needed to make the scene work in the edit. There was less collaboration between Tilke and myself - because we had three cameras, we were often able to break out into two teams, and so while she was shooting one scene, I would be shooting another. What I find interesting is that, while we both have very different directing methods, I would challenge anyone to look at the film and be able to tell me which scenes I directed and which scenes Tilke directed. Though in truth, if there's gore involved, it was probably me (laughs). In terms of whether I would work with them again, it would depend on the project. But overall, it was a good experience.
Aaron: This was a 3 person, 4 month pre-production! So everyone is going to have a fit every now and then, but we really worked in concert. I've worked with David and Tilke so many times over the years that there was definitely a natural understanding for me with both of them. Tilke with an acting perspective and David with filmmaking in general. Tilke came in after about a month and did so much with the performers, she was our acting coach and my sounding board, and helped a lot with finalizing casting as well.
David and I are a true yin and yang. We have very similar sensibilities about a lot of things, but branch off quite a bit in the middle. Having everyone just go along with the flow I think takes the passion out of it, and even though we had a few disagreements, I still go over and have dinner with him and his family.
I've worked with both Tilke and David so much over the years, it's not even a question if I would again.
Rust Belt Driller is a film that doesn't exactly shy away from explicit violence - so what can you tell us about the gore scenes in your movie, and how were they achieved?
David: Right from the beginning we knew we were not going to shy away from the gore. We were lucky in that I was able to call on Roy Knyrim of SOTA FX. I have known Roy for years, since back in the day when he was pouring latex in this basement in Rochester, New York. He now lives in LA and his resume is crazy impressive. He's done work for Disney, Paramount, all of the big movie and television studios. He's worked with DEVO and Twiztid. So while he was unable to be on set, he sent one of this team and he provided most of the practical fx, all the heads we drilled. And he designed and 3D printed the drill.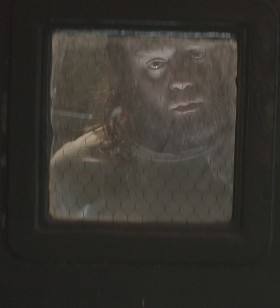 Aaron: 99% of the gore is practical effects and lighting. SOTA FX built everything for us, and we wanted to use that gritty, 70s/80s/grindhouse aesthetic as much as possible. One thing I really emphasized was that I think too much in modern horror films there's too many cutaways just when you can push it that little bit further. Some people have commented to us that the scenes are intense, mostly just because we unabashedly just...kept the camera there, and they just kept going. We manipulated the sound to be over the top too during the fun stuff. David had mentioned that we needed my closeup after the first kill sequence with Madison, and I told him I didn't want it, we needed to keep focus on the mayhem, and also the fact that the story isn't really just about Renn, but what's going on around him and this (not at ALL, obviously) giant phall - err, drill.
You just have to talk about the rather creepy paintings you used in Rust Belt Driller, and were they created especially for the movie or pre-existing art?
Aaron: Dave's daughter, Rowan. I'll let him extrapolate but wow. Just wow.
David: Those were created by my daughter Rowan who is quite an accomplished artist in her own right. We knew that Renn's art needed to reflect his mental breakdown. It needed to have a strong impact. I was doing research on art for the film, looking for inspiration, and stumbled on the work of Francis Bacon. I sent a few examples to Rowan and asked if she could possibly do something in this style. She said sure, and a couple days later we had the first painting. I showed it to Aaron and Tilke and they went wild. Rowan did a total of about 15 paintings for the film.
Do talk about Rust Belt Driller's approach to horror!
David: On a very basic level, as I said, it's a homage to Driller Killer and the whole no budget, 42nd Street, splatterpunk, grindhouse aesthetic. But at the same time, for me, it talks about the cult of celebrity. It talks about toxic celebrity. Renn has been driven insane by the insanity of the world around him. The constant barrage of the "if it bleeds it leads" media. Social media algorithms that weigh in favor of the tragic and the profane. 24 hour 7 days a week information overload. He has so far managed to pour it into his work, but eventually even that isn't enough.
Aaron: We wanted that throwback, that little bit over the edge of the 70s/80s, but we also wanted to tell a story. It's gratifying everytime someone says they not only enjoyed it but that they got that we were trying to dive a little deeper. A cry for help, taken to the extreme, everything so many people are dealing with from an emotional perspective. The goal was to make the splatterfilm of the century with a message!
Aaron, you also play the lead in Rust Belt Driller - so what can you tell us about your character, what did you draw upon to bring him to life, and have you written Renn with yourself in mind from the get-go?
Aaron: As I said, there's a lot of me in this character. I always expected to play Renn. If not, I'd have been Larcen the detective, which is my favorite overall scene in the film with Mike Argenteri. I've had a lot of struggles with depression, anger, betrayal, all that. I take things very deeply personally. I came from a fairly strict Baptist Christian upbringing where a lot of things I should've been able to do as a kid were never going to happen. I was a good kid. But everything was repressed and then I'm 21 in college and have no idea what to do with all that. I think there's a lot of that idea in Renn, where he has some modicum of success, people that care about him more than he does, and he can't deal with it, and so little matters to him.
You can call it artist imposter syndrome, apathy, fear, everything the Sith feed on... but I think that my specific amalgamation of an upbringing has done just as much damage to me as good, and I've had to accept that and deal with it and finally say, what are you doing? Because otherwise at this stage I might as well just find a job I can draw a pension from in 25 years and get a mortgage and... yeck. No.
I think we were able to make Renn a somewhat sympathetic character even when he's losing his marbles and is so unaware of what he's doing around him. I think we did a good job of conveying this guy and how far he's slipping, and he just can't hide it anymore. I think a lot of people come to that point somewhere in their lives. He just... drills people in the face... or does he?
Do talk about the rest of Rust Belt Driller's cast, and why exactly there people?
Aaron: We couldn't have asked for a better group. Even our day player extras were just such a great bunch of professionals. Jillian Geurts and I met through Dave's previous endeavors, and I just knew that I had to have her be Carol. It was selfish and I don't care who knows it. She 's an incredible artist and we have developed a close bond over the last few years. She gets me, is wonderful in every way, and just does the work. Veronica Knightly I've already talked about, and how she saved us. Steve Jakiel and I have worked together on stage in Buffalo before, and when he submitted, I knew he had to be that guy. So many people really just showed themselves to be the right fit immediately. Derek, Alycia, Ro and Kristina, Anthony. All of them just immediately brought something to their auditions. And Andy as Benji. I mean, no one else had it. Period. That was a constant theme. So blessed!
A few words about the shoot as such, and the on-set atmosphere?
David: There were two locations. One was a house on the lake which doubles as Renn's home. That we found through airbnb. The other was the Niagara Food Terminal where we had access to a couple workshops, an incredible basement with long halls, another room that had been some sort of slaughter house I think... so any scenes that did not take place at the beach house were shot at the food terminal. Very grateful to the owners of those spaces for allowing us access and putting up with the usual film production nonsense (laughs).
Aaron: Crazy, long, days. As guerilla as it gets without it being hidden cams in crowds. Everyone on the crew did 5 jobs. Tilke and Veronica formed Team Tokyo and did 2nd unit with Nick Green. The film wouldn't have gotten done as it did without that. It was all business, but we had our laughs too. Everyone enjoyed the breaks, lunch, and no one was ever just isolated. It was a good group.
The $64-question of course, where can Rust Belt Driller be seen?
David: The film has played a couple festivals so far, but we were recently picked up by Bayview Entertainment and so should be available on various streaming platforms this year (2022).
Anything you can tell us about audience and critical reception of Rust Belt Driller?
Aaron: Our reviews are out there on the Googles. We've had a mostly positive reception, and a lot of people have really 'gotten' it. Even the reviews that haven't loved us weren't two thumbs down, they're more tepid than anything because the writer isn't a fan of the material or the genre. Even those reviews have something generous to say about the acting, editing, cinematography, etc. Those are the reviews that make me personally want to watch something more. You don't like it, but you can't just say NO!
David: The audience reactions so far have been mostly positive. We've gotten some amazing reviews. Film Threat gave us a great review. Morbidly Beautiful just waxxed poetic about it. Of course there's been some less than stellar reviews as well, but that goes with the territory. I do have to say that, those who were... less enthusiastic let us say, seemed to miss the point. I don't have a problem with a bad review as long as it's well written and well reasoned. But when I read something that was clearly just tossed off with little thought, that's just pathetic.
https://filmthreat.com/reviews/rust-belt-driller/
https://morbidlybeautiful.com/rust-belt-driller-review/
Any future projects you'd like to share?
David: I just wrapped post on Abject, which is more of a psychological drama with supernatural elements that flat out gore fest. That's making the distributor rounds now. I'm looking at shooting something in November. A script is in the works, but it's far too early to tell.

Feeling lucky ?
Want to
search
any of my partnershops yourself
for more, better results ?

The links below
will take you
just there!!!


Aaron: Currently working on 3 other projects, my own script set in the same universe as Rust Belt Driller, and 2 collaborations that are in various stages.
Your/your movie's website, social media, whatever else?
Aaron: Rustbeltdriller.com exists but isn't too filled out yet.
facebook.com/rustbeltdrillermovie and aaronkrygier.com
Anything else you're dying to mention and I have merely forgotten to ask?
Aaron: Is it real or in his head? Thanks Mike!
Thanks for the interview!