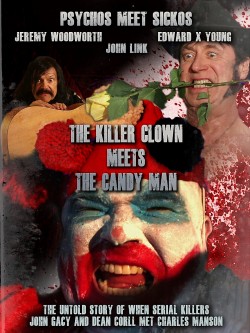 Circa 1972, Chicago, Illinois: Serial killer Dean Corll (Edward X. Young) a.k.a. the Candy Man, who has just flown in from Texas with his helpers Wayne (Eric Fleising) and David (Seth Leighton Hale), has just set his eyes on a young man whom he plans to kidnap, torture and kill next - who's unfortunately the same young man local serial killer John Wayne Gacy (Jeremy Woodworth) is after, so it's inevitable that the two clash ... but when they do, they find a liking to each other and decide to kidnap their victim together and keep him tied up in a hotel room next to them while they are having a few drinks and talk shop - with each getting a kick out of the others murderous anecdotes, with Gacy's story about his alter ego Pogo the Clown doing regular events with small children pretty much between murders probably taking the cake. But as entertaining as their tales are, they also make them less and less at ease with their respective other - after all, we're talking multiple sadistic murders here - until they can't help but going at each other's throat ...
Incomparable genre weirdo makes a cameo appearance that doesn't really have any narrative function but is pretty entertaining nevertheless.
Now even if both Dean Corll and John Wayne Gacy are historical characters who operated in the same era, it is less than likely that they have ever actually met, and if so, certainly not in the way depicted in the film - and The Killer Clown Meets the Candy Man does leave no doubt that it's a work of fiction even in its opening credits - but why let historical accuracy stand in the way of a fun story? And even if this movie is about two of the vilest serial killers of their generation, it's actually also pretty funny, as it refrains from going into too much explicite detail about the men's murders but instead finds and/or creates punchlines in their stories, and makes the both of them if not likeable then at least relatable in the process. And the finale really takes the fun approach to some heights, abandoning realism altogether for a cartoon fight. The result is a rather weird experience - but actually also a very entertaining and enjoyable one.