Your new movie Cold Feet - in a few words, what is it about?
Itís about the importance of being honest with yourself and your loved ones and how it can all fall apart when you donít open up and just say how you feel. Itís also about what one should or shouldnít do when trapped in a haunted house because youíre pinned down by snipers while also having a mysteriously murdered stripper inside. So, yeah, it covers a lot of ground!
What were your sources of inspiration when writing Cold Feet - and even if it might sound silly, was any of it based on personal experience?
As far as any cinematic sources of inspiration go, I donít recall any particular movies that I thought of when writing it, but I guarantee a lot of influences were at play subliminally. Oh, actually, one movie that I thought about early on was John Carpenterís The Thing, mostly in regards to the scene where they wonder who killed the stripper and another scene that I donít want to say too much about for fear of spoiling anything. I kind of wanted to do comedic versions of the scenes where characters are paranoid in The Thing and questioning whoís been taken over. As for other influences, I always listen to a lot of music when Iím writing, and there were a bunch of songs from Mason Jennings, Josh Ritter, and Deer Tick on my playlist for this one. As for being inspired by personal experiences, whatever Iím going through and thinking about at the time always has a major impact on what Iím writing. I wrote this one just before I started dating my wife, so back when I was single and dating around. At the time I was asking myself a lot of questions about my willingness to fully commit in a romantic relationship and whether or not I actually wanted to get married one day. The story for Cold Feet sprung from my anxiety and confusion about all of that.
Do talk about both your movie's approach to horror and brand of comedy for a bit!
My good friend and frequent collaborator Brad Ellis and I had wanted to make a comedy/horror film for a long time, and the desire to do so was one of the reasons that I came up with this story. Brad is a little bit more of a horror guy, and Iím more of a comedy guy, but we each have a lot of love for both genres. Each genre allows for stories that can be a lot of fun while also letting you kind of sneakily explore deeper themes and relatable emotions, and the comedy/horror subgenre creates even more possibilities.
What can you tell us about your overall directorial approach to your story at hand?
Piggybacking off of my answer to that last question a bit, I love it when a movie can skillfully balance different tones, and I have a lot of fun striving for that with my own work. As for my overall directorial approach, Brad and I tried our best to be as resourceful as possible with a very tight shooting schedule (16 days total) and to manage our time wisely by prioritizing the shots we wanted and making sure in advance that we were on the same page about every moment of the story. As for how we tried to manage the various tones and keep it all feeling cohesive, we approached every moment of the story from the same place of truth and directed the actors to keep things grounded, as if they were in a completely realistic drama. I had each of the guys write a bio for their character, and we had meetings where we discussed each characterís relationship to everyone else in the film. That shared understanding of the various dynamics at play in this group gave Brad and I a really solid foundation to build upon with everything we did as directors. Of course, teaming up with the right crew, led by Mike Testin on the picture side of things and Sean T. Faust on the audio side, and a wonderful editor, Laura Jean Hocking, and incredible composer, Paul Vinsonhaler, really helped us make it all sing.
A few words about you co-director Brad Ellis, and what was your collaboration with him like?
Brad has been one of my best friends and key collaborators for 26 years now. We are incredibly different while also having a lot of common ground, particularly when it comes to our passion for movies and our shared sense of humor. To put it simply, Brad is the pessimist, and Iím the optimist. Back in high school, we argued about EVERY LITTLE THING, especially when we worked together. We then grew up (gradually) and started opening up and communicating more clearly and honestly with one another, and now our collaboration is pretty damn harmonious! I love that guy, and I certainly intend to co-direct quite a few more movies with him. Many more, hopefully!
You also play one of the leads in Cold Feet - so do talk about your character for a bit, what did you draw upon with to bring him to life, have you written him with yourself in mind, and to what degree can you identify with him?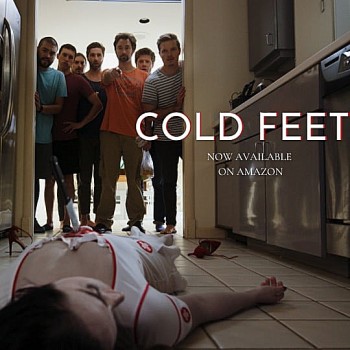 One of the fun things about putting this movie together is that when I first came up with the basic idea, I decided that I wanted to create eight lead roles for myself and seven of my closest friends and collaborators to play, but I wanted us to draw names to decide who would play who. I outlined the whole story and then wrote a little over half of the script before I knew who would be playing each part. Then, when we were all in Memphis for a screening of the last movie that Brad and I had directed together, Bad, Bad Men, I staged a cold read. We each drew a name, and thatís how I cast the lead roles. MAN, it was so exciting! Ha! It was a great show of trust on all of our parts. I wanted to let the guys know that I thought they were each more than capable of playing any of these roles, and they all came aboard a project that they knew essentially nothing about and to play roles that were assigned to them randomly. I was thrilled with how that all turned out. As for whether or not I identified with Eddie, at the time when I wrote it, I certainly did in regards to his confusion about whether or not he could commit to one woman for the rest of his life. Before I started dating my wife, that was a running theme with a lot of my work. I started believing that it would change when I met the right woman, and that certainly wound up being the case, but I didnít know for sure at the time. Also, I think Eddieís a good guy who wants to make sure that heís being a good guy, who tries to hold himself to a high standard, and thatís something Iíve always related to. Ever since I was a little kid, it was so important to me to be kind and a good person that I was terrified that I would somehow wind up being a jerk. I think thatís the thing I feared the most! So, yeah, I definitely put a premium on kindness and compassion and try to be vigilant about not being an asshole.
Do talk about the rest of your cast, and why exactly these people?
As is the case with all of my productions to some extent, the cast is a great mix of friends and actors who we bring into the fold through casting and recommendations. I came up with the core idea on a layover to Memphis, and right away I knew that I wanted my friends and I to play the eight leads. Everyone else was either an actor whom weíd worked with before, someone we met through casting out of Memphis, or someone whose work weíd admired and wanted to bring on board. In all instances, we just knew that each of them would give us exactly what we needed and be a blast to work with, and, hey, we were right!
What can you tell us about your location, and what was it like filming there?
That location is the home of one of our dear friends and executive producers, Mr. Adam Johnson. Adam is one of the kindest and absolutely most gracious guys youíll ever meet. Heís the ultimate host, so much so that he allowed us to shoot our entire film at his house, where he was living the whole time. Itís not like we could afford to put him up somewhere else, so he just had to deal with us being there. We tried to shoot a lot while he was at work, but when heíd get home, he had to put up with us calling for quiet on the set before a take. MAN, he was a trooper! Itís an absolutely incredible home that gave us a lot to work with. I actually first saw that house a day or two after I came up with the concept for this film. I had mentioned the core idea for the film to Brad, and when he and I went over there, I told him I really hoped that Adam would let us shoot there when the time came! Ha! I just had an immediate feeling about it, so Iím extremely grateful to Adam and really glad it worked out.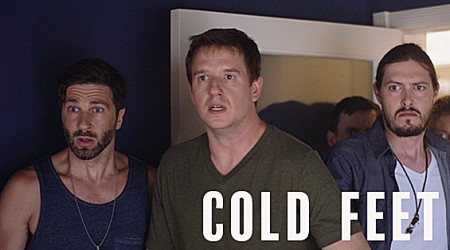 A few words about the shoot as such, and the on-set atmosphere?
Overall, the shoot went incredibly well, and the atmosphere was amazing. There was a great go-go-go energy, as there is on pretty much any indie production thatís on schedule and moving right along, and most people on board had a lot of fun, myself certainly included.
Anything you can tell us about audience and critical reception of Cold Feet?
So far the reception has been very positive overall! No movie is for everyone, so there will always be some negative feedback. Thatís just part of the deal! The more films you do, the more it seems that you learn to accept and eventually even embrace that fact. Anyway, itís definitely the movie that I wanted it to be from the outset, and itís been a lot of fun seeing it connect with its audience.
Any future projects you'd like to share?
Right now Iím editing the most recent film that we shot, Baby Come Home, and Iím in the very early stages of pre-production on my newest script, Breaker Breaker. Weíre going to stage that one as a play first and then shoot the film adaptation. Iím also writing a new thriller, a horror film, a romantic drama thatís set a few years in the future, a sci-fi miniseries, and a young adult novel. Iím very excited about all of them!
What got you into the filmworld to begin with, and did you receive any formal education on the subject?
Iíve loved movies for as long as I can remember. The first film that I recall falling in love with was Ghostbusters, back when I was three, maybe four. Iíve just always been drawn to storytelling, and, all in all, movies have been my medium of choice. Whether or not I would be a storyteller and filmmaker was never a question for me. Itís just part of who I am. As for formal education, I took a film class in high school that was very inspiring, as well as theatre arts and acting classes that meant a lot to me. I definitely learned a lot in those classes, and everything else I learned by watching and absorbing movies and then going out and making films with my friends.
What can you tell us about your filmwork prior to Cold Feet, in whatever position?
I have been writing and producing for a long time and have acted in a variety of productions over the years, including the ones I made with my friends. I started directing and editing as well in my early 20s and have been doing a lot more of each over the last few years. The most recent movies that I wrote, directed, edited, produced, and also acted in are Being Awesome, Save Yourself, and We Got Lucky. Those are each very grounded and stripped down comedy/dramas, and Iím really proud of them and grateful to everyone involved. Here are links for those films:
Being Awesome
Tubi: https://bit.ly/BeingAwesomeTubi
Vudu: http://bit.ly/BeingAwesomeVUDU
Save Yourself
Amazon: http://bit.ly/saveyourselfmovie
Tubi: http://bit.ly/SaveYourselfTubi
We Got Lucky
Amazon: https://bit.ly/WeGotLuckyPrime
Google Play: http://bit.ly/WeGotLuckyGooglePlay
iTunes: http://bit.ly/WeGotLucky
YouTube: http://bit.ly/WeGotLuckyYouTube
The last film that I wrote, produced, acted in, and co-directed with Brad was the previously mentioned Bad, Bad Men. That oneís a flat-out comedy that we made with a lot of the same team that we made Cold Feet with. Itís a lot of fun, and if you like Cold Feet, you should definitely check out Bad, Bad Men.
Bad, Bad Men
Amazon: http://bit.ly/badbadmen
Google Play: http://bit.ly/BadBadMenGooglePlay
iTunes: http://bit.ly/badbadmenitunes
YouTube: http://bit.ly/BadBadMenYouTube
Vudu: http://bit.ly/BadBadMenVUDU
Judging from your filmography, you feel as comfortable in front of the camera as behind it - so what are some of the jobs you enjoy the most, what could you do without?
Iíll say this, I donít know who I would be without writing. Iíve written my whole life, and itís something that I do every day in some capacity. Thatís just an absolutely defining part of who I am. As for acting, I love the process, I love being on set and working off of other actors, and I love doing what I can to help writers and directors bring their visions to life. Producing is something I started doing in high school in order to make our projects happen, and I get a lot of joy out of assembling the team and putting the pieces together for our productions. In the ultra-indie world, which is very much the world that my collaborators and I have made our movies in, producers tend to take on a lot of positions that bigger productions would hire in the mix with every aspect, including budgeting and scheduling. As for directing, Iím definitely hooked one to map out a vision and a plan of attack and then rally the troops and lead the charge. When I write, I start envisioning the whole movie, plus I love leading a team, so it just made a lot of sense for me to start directing when I did. Editing is a very cool and rewarding part of the process as well, and I get a lot of satisfaction out of having everything I need to piece the story together right there at my disposal, to have it all be so tangible, and to then just continue revising and exploring every last little nuance that I can and stitching it all together with precision. So, yeah, I love it all! Ha!
Actors, writers, filmmakers, whoever else who inspire you?
There are so many, and I know that my previous answers have been pretty long-winded, so Iíll try to keep it brief here! Regarding actors, Iím a massive fan of Jeff Bridges, Matt Damon, Connie Britton, Margot Robbie, Mark Ruffalo, Amy Adams, Denzel Washington, Kyle Chandler, Ben Affleck, Frances McDormand, Ryan Gosling, Brad Pitt, Kathryn Hahn, George Clooney, Leonardo DiCaprio, Emily Blunt, Rachel McAdams, Michael Keaton, and so many more. As for writers and filmmakers, and this is REALLY just scratching the surface, but Richard Linklater, Cameron Crowe, Kenneth Lonergan, Aaron Sorkin, Kevin Smith, and David Fincher have loomed large and been particularly influential at various points of my life.
Your favourite movies?
My top ten favorites are The End of the Tour, Almost Famous, Jerry Maguire, Good Will Hunting, Moneyball, About a Boy, Before Sunrise, Dazed and Confused, Swingers, and Up in the Air, but again, that is really just scratching the surface!
... and of course, films you really deplore?
Ooohhh, this is a tough one. Iím going to risk being cowardly here in favor of being diplomatic and simply say that I only ever deplore a movie if I consider it to be morally repugnant. For the record, saying ďmorally repugnantĒ just then made me feel incredibly lame. Ha! I always try to find things to like about any movie I watch, but, yeah, when I think a movie is just rotten in terms of its morality, thatís when I turn on it.
Your/your movie's website, social media, whatever else?
Here are links to the movie on platforms where itís currently available:
Amazon: https://bit.ly/ColdFeetMovie
YouTube: https://bit.ly/ColdFeetYouTube
Google Play: https://bit.ly/ColdFeetGooglePlay
Here are our social media links:
Facebook:
www.facebook.com/AllenCGardner
www.facebook.com/coldfeetmovie2021
Instagram:
www.instagram.com/allencgardnermovies
www.instagram.com/coldfeetmovie
Twitter:
YouTube:
https://bit.ly/OpenDialogueProductionsYouTube

Feeling lucky ?
Want to
search
any of my partnershops yourself
for more, better results ?

The links below
will take you
just there!!!


Hereís the link to my Vimeo page, where you can see trailers for my recent films, amongst other things:
https://vimeo.com/allencgardner
Anything else you're dying to mention and I have merely forgotten to ask?
No, these questions were great, and I just really appreciate your time and interest in my work!
Thanks for the interview!