Your new movie H.P. Lovecraft's Witch House - in a few words, what is it about?
A graduate student flees an abusive relationship. She takes up residence in a house with an anonymous past; and she unwittingly awakens an 18th century coven of witches.
With H.P. Lovecraft's Witch House being based on a short story by H.P. Lovecraft (duh!), how close did you remain to your source material, and what inspired you to adapt a Lovecraft-story (and this one in particular) in the first place? And to what degree is H.P. Lovecraft influencing you as a horror filmmaker to begin with?
We used the basic building blocks of his story and to make it feature length, we embellished on certain elements. We switched the gender of the lead as I enjoy films with strong females (Alien). Our budget was definitely a deciding factor in how we would play out the strong nightmares and their descriptions. We had to really get creative. I chose Lovecraft's work to adapt because Brian Yuzna (Re-Animator) suggested I look into his work. I have always believed in standing out from the crowd. I wanted to do something more advanced than the typical American studio formula of 5 kids in a van getting knocked off one by one by a masked killer. My producers and I settled on Dreams in the Witch House because it felt like a relatable story and we were very blessed to have the use of a magnificent real haunted mansion here in Indianapolis. I have adapted Stephen King's work and I wanted a challenge. Boy, did I ever get what I asked for.
Other sources of inspiration when writing H.P. Lovecraft's Witch House?
ALIEN! It has been my favorite horror sci-fi film since I was a child. It genuinely still creeps me out. I love the isolation and metamorphosis of the alien. H.R. Giger and Carlo Rambaldi were influenced by Lovecraft when they designed the creature for that film. I'm also a big fan of Rob Zombie's work. His frantic kill scenes really make you feel as if you are in the middle of the action. For the overall look of the film, my DP and cinematographer James Brenton and I chose the 1970's Italian horror giallo films by Mario Bava [Mario Bava bio - click here] and Lucio Fulci [Lucio Fulci bio - click here]. Very creepy stuff with wild colors. We used that as a vehicle for our multiple dimensions. We have since gotten quite a bit of praise from European critics and film festivals for James's use of color.
What can you tell us about your co-writer Ken Wallace, and what was your collaboration like?
Ken and I met and worked together on Belly Timber some years back and I really wanted to work with him on a project where we had more creative control from the beginning. The guy literally will take the story to bed with him and wake up with all sorts of great ideas. He writes when he's awake and asleep. I get excited when he calls and starts the conversation off with… HEY! CHECK THIS OUT… He writes about medical body horror, sci-fi, comedy, and just about anything you can think of. We are currently tossing story ideas around for our next projects. He also has a killer golf swing.
How would you describe your movie's approach to horror?
I want to open up the viewer's mind to the fact that there are things in this world we weren't meant to understand and probably shouldn't for our own good.
Do talk about your overall directorial approach to your story at hand!
I'm just one part of the machine that is Horror Wasteland. I wouldn't even be on set if it weren't for my team of very talented actors, producers, writers, cinematographers, art department, sound, light, etc. All these people are very creative and specialize in what they do. I really enjoy watching them do what they do. I'm a cheerleader of sorts. I keep everyone motivated through the long shoots and am open to their suggestions. Many times they can see something beyond the frame that lets me take a second look from a different perspective. It truly becomes a tight knit group and everyone feels great that they are trusted and valued.
What can you tell us about H.P. Lovecraft's Witch House's key cast, and why exactly these people?
We have been active in the convention circuit for over a decade with our previous films and are very lucky to have great relationships with a lot of talent and their management. We can literally walk around a convention and shop for talent. We've known/worked with Andrea Collins, Portia Chellelynn and Julie Anne Prescott, and these ladies can handle the subject matter. I've had difficulty casting roles with conventional talent agencies, especially with older talent in a very religious, conservative region.
From what I know you've shot large parts of H.P. Lovecraft's Witch House at what's supposed to be an actual haunted house - so do talk about your location, and why did you choose to film there, and did you experience any first person hauntings yourself?
We shot the film on location at the Hannah Historic Mansion in Indianapolis. We immediately realized our batteries were draining very fast. A lot of our cast members have individual stories. We spent almost three years in that house and got very intimate with the setting. One night we all heard an infant crying that sounded as if it came from within the walls.
A few words about the shoot as such, and the on-set atmosphere?
We loved it. Even though it was a bit creepy. The stairs were a challenge as we were constantly shooting in the attic and everything had to be brought up and down 2 very long steep flights of steps. Shooting in all seasons was challenging, especially for Portia as she was in her night clothes for most of the sleeping parts. The caretaker of the house Scott Longere didn't charge us one dime for three years. I can't begin to thank him enough. Our crew returned the favor by doing landscaping ,and our line producer Beth Hale would make home cooked meals downstairs in the kitchen and that really brings a team together especially when we missed home on the long shoots.
The $64-question of course, when and where will H.P. Lovecraft's Witch House be released?
H.P. Lovecraft's Witch House will be released in North America on July 5th through Walmart, iTunes, Amazon, Tubi, Barnes and Noble, and more coming soon!
We will be released internationally this year at American Film Market in November through Screenbound Pictures in the UK, after that… the sky is the limit.
Anything you can tell us about audience and critical reception of H.P. Lovecraft's Witch House yet?
Well that's a really good question as the film has had its mix of reviews to be honest. We've won 18 awards internationally, with a handful of nominations in some really great festivals. Being selected for H.P. Lovecraft Film Festival was major for us and it's just mind -lowing to know our film crosses so many cultural regions and is enjoyed by the horror world. It's a film we made more in the vein of a European style, and it hasn't quite caught on in the US yet, but hey Black Sabbath, Led Zeppelin, Def Leppard, and the Beatles got their underground followings from the UK before American audiences opened up to it. Let's hope team USA. enjoys it on July 5th! Our world festival run continues until March of 2023.
Any future projects you'd like to share?
We do have some things cooking. Ken and I are working with our sales team currently on a fresh title that was shopped around at Cannes. James is currently wrapping a script for an exciting anthology. I'm working on some music myself and some very delinquent home repairs. Haha!
From what I know, you've entered the filmworld as an actor - so what can you tell us about that aspect of your career?
I started off in high school making videos, then took a long break from it during a stint in the Marines. I got back into acting and print work through the Helen Wells Agency and have just stuck with it. I've been very fortunate to have been able to work with some real legends. Robert Redford, Richard Dreyfuss, Louis Gossett, Sissy Spacek, Bruce Willis, Zac Efron, Sasha Cohen (Borat), Aaron Sorkin, Joe Berlinger, and so many others.
What made you want to pick up behind-the-camera work eventually, and did you receive any formal training on the subject?
Living in the Midwest we don't have as many opportunities to make films. You have to be proactive. Grab a camera, cellphone, go tell your story. It may not be the best, but it's a start. All great journeys start with a single step. I was cast back in 2006 in Hell Walks the Earth. A great friend and mentor friend of mine Terence Muncy was one of the first filmmakers in our state to really do some solid fun indie horror flicks. I was a zombie that he kept asking back to be in additional scenes. Our friendship took off from there and when he finished that film I approached him with a story and he agreed to take me under his wing and we co-directed X, my first feature film.
What can you tell us about your filmwork prior to H.P. Lovecraft's Witch House, in whatever position?
I've worked on numerous productions both in front of and behind the camera. I can relate to the actors, writers, production assistants… I'm able to help in all those areas. I see a lot of great actors in Hollywood writing, producing… staying proficient in your craft. One of my favorite films I directed was The Devil Dogs of Kilo Company, a feature length WW2 stop motion animated film starring Kane Hodder and Bill Moseley. Phil Anselmo of Pantera did some voice work too. It was such a fun exercise working with humans and plastic soldiers and tanks. Great stuff.
How would you describe yourself as a director?
I spent some time in the Marines as an infantry squad leader. I can keep a group motivated, while accomplishing a mission, but I like to have fun on set and really pull great performance art from everyone on set. I understand a great deal of every aspect and individually approach each crew member everyday and let them know they did a killer job. I'm also a jokester too. When you have very long night shoots, you can get a bit delirious at times and the laughter helps pull off those last few miles.
Your favourite movies?
I love all kinds of cinema. My dad took me to the movies a lot as a kid so it stuck with me. I love 70's grindhouse, sleaze and blaxploitation, 70s, 80s horror and sci-fi, Godzilla films, jeez. The films that made the most impact were the ones that terrified me as a kid: Alien, Texas Chainsaw Massacre, The Elephant Man, and The Howling.
... and of course, films you really deplore?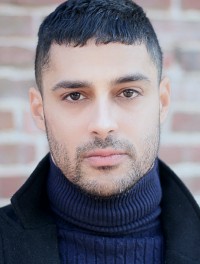 Feeling lucky ?
Want to
search
any of my partnershops yourself
for more, better results ?

The links below
will take you
just there!!!


That's a tough one. Well I don't deplore anyone's work unless it is morally fucked up. The films of the past that really degraded people's dignity and their humanity. I would say D.W. Griffith's Birth of a Nation and anything with white actors in blackface making people of color look like bafoons and monkeys. The John Wayne films with white actors horribly depicting Natives, Latinos, and Asians as savages… any film that makes a blatant mockery of someone's race and culture. Film really has a powerful impact. There are stories to tell that are painful, but those films really left a disgusting black eye in the history of cinema. They made whole groups of people think and act differently toward others for years, and thankfully that has changed. People of color, immigrants, and the disenfranchised are now able to tell their own stories and get the credit they have long since been due.
Your/your movie's website, social media, whatever else?
Facebook: H.P. Lovecraft's Witch House
Instagram: @witchhousethemovie
Anything else you're dying to mention and I have merely forgotten to ask?
Thank you for a great interview!
Thanks for the interview!