Your new movie Screwdriver - in a few words, what is it about?
It's about social contracts. It's about the way population centers are fed and what they generate, and the deal they make with their outlying lands. It's about very desperately wanting to be loved and what that leads one to. It's about self-indulgence. It's about cowardice. It's about tools for getting through life and how we find them.
What were your sources of inspiration when writing Screwdriver?
Well, at the time I wrote this, I had just moved away from Los Angeles to a relatively small town after having lived in LA my whole life. And I think a lot of this film came from looking back on LA and, more than that, speaking with people who had never been to a big city or never spent time there, and watching the way they interpreted Los Angeles and the way they interpreted me for having been forged there and all of the things that went along with that.
Do talk about Screwdriver's approach to the thriller genre!
I think the big thing that defines the approach in this film is the idea of getting in over your head or getting lost in something by degrees. It's fascinating to me the way we can progressively sink into something that we never would have just jumped into wholesale at the beginning, whether you want to call that a descent or however you want to draw your metaphor visually. A lot of people have called the film a slow burn, and I'm still trying to figure out what that means. I think it means that it's not bombastic, or maybe they're just trying to say that it's slow but good anyway. I think the thing about a thriller that makes it work is ultimately, regardless of how that fire starts, so to speak, it needs to end up with a huge blaze. A structure fire can be a slow burn in the beginning when it's just a kettle or an electrical outlet smoldering, but you reach an inflection point where everything is catalyzed, and then all of a sudden you have an inferno. Credibly getting to that inferno with an unsettling smoothness was what we wanted to achieve.
A few words about your overall directorial approach to your story at hand?
Well, I knew we needed to have the actors completely set as far as their understanding of the material and what they needed to do before we even got to set if we were going to move quickly enough. So we had a little over a week's worth of rehearsals, and we basically ran the whole thing through like a play, which is sadly not very common for film, but I think it was very necessary. Even then, we had something like a 10 to 1 shooting ratio, which means for a two-hour film we shot about 20 hours of footage, which is not astronomical, but it's fairly high. Luckily, digital lets you achieve that. I was lucky enough to have a very strong director of photography who was very aligned with me on the aesthetic vision for the compositions and the camera movements, and we did just enough work together before production that I was confident he would frame it and shoot it the way we had both envisioned, which really freed me up to focus on the talent. I like running long takes, especially when an actor needs to get to a very heightened place because I think it's useful to have that lead time. So we shot some 11, 12, even 13-minute takes, and you can see that in the film where we hold on a certain shot for quite a long time. There was usually a standing ovation from the crew when we finished one of those takes, and that wasn't planned, it just happened because the performance was so phenomenal. So the most important thing for me was giving the actors the space to do their best work and make sure they could achieve that.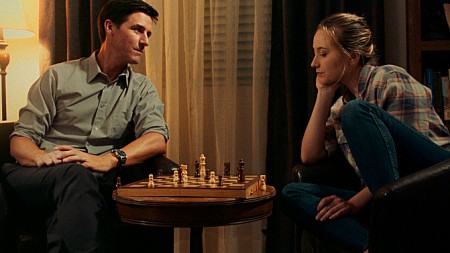 What can you tell us about Screwdriver's cast, and why exactly these people?
All three of our leads are absolutely fantastic, dynamite top-of-the-line actors. Really, they could hold their own against anyone. I'm fairly sure that this was the first lead role in a feature film for any of them, and I'm really honored that I had the opportunity to direct them for that, and also that they trusted me with their talent and their time. And I hope that they're happy with the result that we achieved. I know they came up to me at the first reel screening and said they were surprised by how the film came out. Specifically, they were surprised by how funny it was, and that, in turn, was surprising to me because I thought the stiff humor of it was pretty evident. But I don't know, maybe it feels different when you are immersed in the role. And regardless, they achieved exactly what I hoped for, and even more. I hope to work with them again, and more than that, I hope that other directors are smart enough to take the chance with these actors because they certainly won't be disappointed.
You of course also have to talk about Screwdriver's main location, and what was it like filming there? And how did you find the place even?
The location was a rental, and it was found at pretty much the last minute because the previous location fell through. That was really a blessing because in retrospect, the previous location was too small, and it would not have worked out. So, I'm very glad things happened the way they did. It was the single largest expense on the production by far. But we knew how much time we needed to get everything done, and there's really no getting around that if you want to make something of quality. It was a townhouse, so it actually had shared walls with other tenants. So the whole time I was terrified of getting shut down over some kind of noise complaint, but aside from a couple scenes of yelling, which we did at reasonable hours, we stayed very quiet. And did our best to make it feel isolated, which I think is the main thing you need for this script.
Do talk about the shoot as such, and the on-set atmosphere?
I think I personally was very stressed. I lost probably 10 pounds in three weeks because I was going up and down four flights of stairs all day, every day, and I was too busy to eat. I hope that nobody else on set was that worked up. I tried very hard to create an environment where everyone could focus on doing their best work and having focus. We had a good amount of film student volunteers on set. I myself was a film school senior at the time that I made this, so I knew a lot of other people around that age who were willing to very generously share their time in exchange for working on a feature in a level of responsibility that they hadn't had before. I think even though the script is very intense and isolated, there was a very warm sense of camaraderie on set. In between takes, we listened to a lot of music. We laughed a lot. It was almost impossible to imagine the film seeming lonely because, of course, there were 10 to 15 people all crammed around the camera just off the edges of the screen, and yet when you watch the finished film, it is completely isolated, and I suppose that's one of the special qualities of cinema, to make you forget the artifice.
The $64-question of course, where can Screwdriver be seen?
If you are in the United States, you can watch it on Amazon right now for rental or purchase. We are working on certain overseas markets, so hopefully that will expand soon.
Anything you can tell us about audience and critical reception of Screwdriver?
There's a moment at the beginning of the film where we literally give the audience permission to laugh. That was a pretty late-in-the-game decision, but I thought it was important. And, sure enough, when there's a theatrical screening, some people pick up on that. And they do start to laugh, and soon others join in, and I think that's pretty wonderful. Critically, it's had actually a much warmer reception than I anticipated. I don't think any film should try to be for everybody, and this certainly isn't. But despite that, I think well over half of our reviews have been very glowing, which is amazing, especially on this budget. A good percentage of the people who didn't connect with the film seem confused as far as the way the plot unfolds. And to a certain degree, I take that as a note as far as how hard to drive plot points and how obviously to billboard key elements so they won't be missed. However, on the other hand, I think when you are building a story that has a richness and a density of information and rewards really close engagement, it's inevitably going to have things that are missed if you're giving it a cursory viewing, so I don't know that I would change anything based on those responses.
Any future projects you'd like to share?
I have about six feature screenplays right now in great condition that are ready to shoot at various budget levels, so whoever decides to fund those I think is going to be very happy with their decision whenever that does come about. In the meantime, I'm continuing to write, and I have a short film going into production quite soon as proof of concept for another micro-budget feature. It'll be good to get back to the festivals when that short is done and move on to larger things.
What got you into filmmaking in the first place, and did you receive any formal training on the subject?
I've been shooting films since probably 8 or 9 years old. I started with stop motion with Lego, which I think is a very excellent medium for a kid when you're trying to figure out plot and composition because Lego figures are very patient and you can move at your own speed. And you don't necessarily need to know how to talk to people, which I don't think I did at that age. Hopefully I learned along the way. I think I'm alright now. And from there, it just sort of naturally progressed. I knew I wanted to be a professional writer by 15, and by 17 I knew I wanted to direct as well. I did go to film school. I was in the screenwriting program at California State University, Northridge, which is a pretty great program. But I actually didn't do any physical production in that major. A lot of my physical production training was at the University of Oregon. Funny enough, I didn't go there, but my fiancée went there and I would literally sneak into classes in order to shoot. And the rest was just on my own time, reading and scraping together money and getting friends together to go out and make something happen.
What can you tell us about your filmwork prior to Screwdriver?
Well, this is my first feature. The last thing I did before this was a short about the history of my hometown, which was a very fun chance to work with historical costumes and different periods and languages. I somehow talked a local realty organization into giving me $3,000 to make that, which is probably the most successful I've ever been at getting free money for a project. It's not a skill that I excel at. Before that, I did a few other shorts, genre shorts with a comedic element. I think genre film with both satire and heart is something that will always be dear to me, and I'm sure I'll return to it pretty soon. I guess you could even argue that Screwdriver falls into that category, although the heart is pretty icy in this one.
How would you describe yourself as a director?
The director has two very important jobs. The first one is to keep the entire picture artistically in his head so he can make sure all the departments and elements are cohesive at every stage when they are only focusing on their own domain. The second is to speak the language of the actors and be on a team with them so they can feel comfortable and guided and empowered to do their best work because they are doing an incredibly difficult thing and really putting themselves out there vulnerably and they need to be supported in that. I think if you maximize your effort to do both of those things as well as you can, you're already in a good place. Secondarily, you need some degree of taste to guide your decisions, and you also need technical literacy and film history literacy to communicate with the other departments and to understand how your work will fit in to the existing and evolving canon. So as to how I would describe myself, I would just say, I'm doing my best to accomplish those things according to my own taste and judgment.
Filmmakers who inspire you?
Paul Verhoeven, George Lucas, Brian De Palma, Greta Gerwig, Hal Hartley, Wong Kar Wai.
Your favourite movies?
You can see this in all too much detail on my Letterboxd account. I think my top four currently are In the Mood for Love, The Apartment, There Will Be Blood and 3:10 to Yuma, the one with Christian Bale. Also in contention are Showgirls, The Thing, Jaws and Aliens.
... and of course, films you really deplore?

Feeling lucky ?
Want to
search
any of my partnershops yourself
for more, better results ?

The links below
will take you
just there!!!


That's a hard one, because even if I have strong opinions, I don't think I really deplore too many films. The Star Wars sequels are such an incredible disaster, but I don't deplore them. I mostly just feel pity. I think the only reason to really deplore a film is if it's bringing some kind of incredibly tangible harm into the world. But I don't think there are too many films that fall under that umbrella.
Your/your movie's website, social media, whatever else?
I'm most active on Instagram. It's just my name, @cairosmith. I have a Twitter, and I read a lot, but I don't tweet. Someone years ago said don't tweet, and I think that's wise.
Anything else you're dying to mention and we have merely forgotten to ask?
No, I just want to thank you for taking the time, and I'm really flattered that people are taking an interest in the film and in the process behind it.
Thanks for the interview!