Your new movie Witness Infection - in a few words, what is it about?
A mob boss' son is trying desperately to get out of an arranged marriage bewteen two families in witness protection. Suddenly the whole town is taken ill by bad sausage, and a zomcom with a third wheel ensues…
How did the project come into being in the first place?
I had read a few of Jill-Michele Melean's scripts [Jill-Michele Melean interview - click here] and noticed how great she was with story and structure. We already had a trusting relationship with our stand-up touring dates. I came to her with this lump of clay which was a zombie/mob story movie. We gelled pretty quickly and the script was done in about 3 months from start to first table read.
What were your sources of inspiration when writing Witness Infection?
Tremors, Shaun Of The Dead, Tucker And Dale vs Evil, Dead Snow, Sopranos, Godfather and Goodfellas.
What can you tell us about your co-writer Jill-Michele Melean [Jill-Michele Melean interview - click here], and what was your collaboration like?
Jill is ALL focus and hard work and super-accepting of my continued rambling. I would pace and blabber and she would type and say, "wait, stop." She lent so much strength to all the roles, particularly the female characters. She was solid on story!
Do talk about Witness Infection's brand of humour!
We are definitely a mixed bag with quotable lines, Blazing Saddles fart humor, gore humor and great character comedy!
What were the challenges of bringing Witness Infection from a producer's point of view?
As always with a low budget we had to make sure we had the right crew and that all of us wanted to succeed and chip in outside our primary roles, and we got that from top to bottom. Everybody liked the script and we really supported each other on set!
You also appear in front of the camera in Witness Infection - so what can you tell us about your character, what did you draw upon to bring him to life, and have you written him with yourself in mind from the get-go?
I wanted Carlo to be Chaz Palmenterri light. We wrote Carlo for me but Robert Belushi played him so differently and really made him the anchor of the story
Do talk about the rest of Witness Infection's cast, and as a producer, how deeply involved were you with the casting process?
Jilly and I cast it from our cell phones with texts and emails. We wrote the characters based on the cast we wanted, and by and large got them all! They were all so skilled and gifted that they added to what we had already written.
What can you tell us about Witness Infection's director Andy Palmer, and what was your collaboration like?
I met Andy Palmer through Ben Begley on a series he and his wife Renee Dorian wrote called Cluedless. I liked his style right away. Then Ben and Andy cast me in Funhouse Massacre in Ohio. I saw how Andy was the calm captain on that set and how he handled the comedy and the horror. He is amazing!
A few words about the shoot as such?
The shoot was challenging with a few days getting rained out - a beast on a 15 day shoot. We scrambled a couple of times, almost got kicked out of a location for our hunter scene, and found last minute locations thanks to Andy and Jill - but it was a blast! I was shaking the hood of cars at 3AM in the morning after I was done shooting. We all scrambled and went above and beyond and we never got too intense - we REALLY liked each other!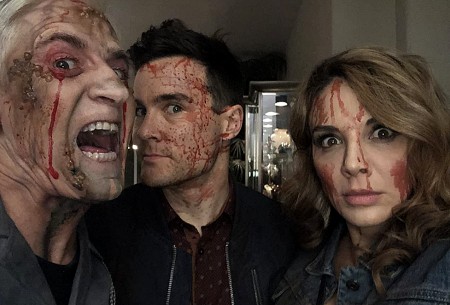 Carlos with Robert Belushi, Jill-Michele Melean
The $64-question of course, where can Witness Infection be seen?
You can go to our website witnessinfection.com and check out all the formats and reviews - iTunes, Amazon, Walmart etc.
Anything you can tell us about audience and critical reception of Witness Infection yet?
We won the Audience Choice Award (Envy) at the Sin Horror Film Festival - I would say 90 percent of the reviews have been very positive. It's a fun ride. We wanted this movie to be like a jaunt through a haunted house. Pure fun!
Any future projects you'd like to share?
Jilly and I finished our first draft of a family style comedy, and we are looking forward to writing the outline for a Witness Infection prequel or sequel. I continue to work as a voice actor in animation as well.
What got you into acting in the first place, and did you recieve and formal training on the subject?
Rocko's Modern Life pulled me into the acting arena. and then I began scene study classes in SF and LA with Cliff Osmond as I was doing stand-up. I cam late to the acting game as I was a total sports junky, jock growing up! It all started with stand-up comedy in college in 85'.
Having a career in both live action acting and voice acting, how do the two compare, and which do you prefer, actually?
My preference is relative to the project. Rocko's Modern Life was a blast to record, and being on the set of Reno 911 and our movie was too. I would say If I ever became super busy in the on-camera world as an actor, writer or producer that I would never give up my voice-over!!
Even before Witness Infection, you've taken on extra behind-the-camera duties every now and again - so in a nutshell, why is that?
I am at a point in my life where I just love making things, and I do not have to be the star. I am a lot like Carlo in the film. Whatever makes the project the best it can be is what I am all about!
What can you tell us about your filmwork prior to Witness Infection, in whatever position?
Most notably Reno 911! Miami. This Is Meg with Jilly - Take The 10 with Anthony Revolori, Dirt Merchant a while back…The Book Of Life, Inside Out.
How would you describe yourself as an actor, and some of your techniques to bring your characters to life?
I would definitely say I am a character actor but I always try to NOT play on top of the comedy. I have had a few dramatic roles as well, CSI, Bone - that type of stuff.
Actors, writers, filmmakers, whoever else who inspire you?
Simon Pegg, Jill-Michele Melean [Jill-Michele Melean interview - click here], Sacha Baron Cohen, the Reno 911 cast!
Your favourite movies?
The Exorcist, Raising Arizona, Alien, It's a Wonderful Life, Love Actually, Shaun Of The Dead.
... and of course, films you really deplore?
I thought the performances in Bohemian Rhapsody were excellent but the movie as a whole was an 11 in every scene!!

Feeling lucky ?
Want to
search
any of my partnershops yourself
for more, better results ?

The links below
will take you
just there!!!


Your/your movie's website, social media, whatever else?
www.witnessinfection.com, @carlosalazraqui on Twitter and Instagram.
Anything else you're dying to mention and I have merely forgotten to ask?
Just wanted to say I am blessed to know and work with such dedicated and talented friends. I love my family and I can't wait to make the next movie!
Thanks for the interview!