Your new movie Witness Infection - in a few words, what is it about?
2 rival mob families in the witness protection program get relocated to the same town.
How did the project come into being in the first place?
Carlos Alazraqui [Carlos Alazraqui interview - click here] and I toured as stand-up comics together for years. We would ghost hunt in random cities when touring and had a love for horror and mob movies. So one day Carlos suggested we should write a mash-up of mobster films and horror films. I loved it and we ran with it.
What were your sources of inspiration when writing Witness Infection?
Shaun of the Dead, Tucker and Dale vs. Evil, An American Werewolf in London, Fright Night, Scream, Goodfellas, Reservoir Dogs, Kill Bill, ...
What can you tell us about your co-writer Carlos Alazraqui [Carlos Alazraqui interview - click here], and what was your collaboration like?
Carlos is like my brother but we get along, lol. Our humor is very similar and there's a mutual respect for one another, which is key when collaborating ideas and being creative with someone.
Do talk about Witness Infection's brand of humour!
The humor is reflective of our personalities. As comics, we story-tell, do oneliners, impressions, characters… so this film is how our brain works. Comedy, horror, suspense, romance - you get it all in Witness Infection.
What were the challenges of bringing Witness Infection from a producer's point of view?
The challenges were finances. If we had more money then there's so much more we can do. Hopefully, this shows studios and investors that "if we can make this indie gem with a little money, give us more and see what we can do!"
You also appear in front of the camera in Witness Infection - so what can you tell us about your character, what did you draw upon to bring her to life, and have you written her with yourself in mind from the get-go?
Yes, I wrote Gina in my voice with hopes to play her. She was written as the stabilizer for Carlo and Vince. That's a tough character because they don't get all the jokes and have to stay more grounded, but every character got an arc whether it was large or small. If a sequel happens, I'll get to use more of my martial arts skills with her character development.
Do talk about the rest of Witness Infection's cast, and as a producer, how deeply involved were you with the casting process?
When Carlos and I wrote it we had our friends in mind. Thank goodness our director Andy Palmer trusted us and we got the whole cast from our contacts on our phones.
What can you tell us about Witness Infection's director Andy Palmer, and what was your collaboration like?
He was a fantastic choice because he brought his horror knowledge to our vision and was able to wrangle a bunch of comedic actors to a grounded level to combine the two genres in a fantastic way!
The $64-question of course, where can Witness Infection be seen?
AT&T U-Verse
DirecTV
Dish Network and Sling TV
iN DEMAND (70% of cable market – Spectrum, Comcast)
Vubiquity (Verizon Fios)
Allin Media (hotels)
Hoopla (libraries)
Amazon
iTunes
Vudu
Xbox
Google Play
YouTube Movies
FandangoNOW
The DVD will be available via Amazon.com, Bestbuy.com, Walmart.com, and Barnesandnoble.com.
Anything you can tell us about audience and critical reception of Witness Infection yet?
So far, 90% are loving it! They say "what a ride", and that's exactly what I wanted. I wanted the audience to feel like they are in line for a haunted house. Excited, nervous, scared, giggly…
Any future projects you'd like to share?
Carlos [Carlos Alazraqui interview - click here] and I have written a family/comedy that we'll be putting together soon. Also, I have a thriller that's in the hands of a few key people. And a comedy pilot I wrote that Emmy award-winning production partners have acquired.
What got you into acting in the first place, and did you recieve and formal training on the subject?
Yes, lots of education in this craft since a kid. BFA program in college, toured with multiple stage plays and sketch comedy troupes.
Even before Witness Infection, you've taken on extra behind-the-camera duties every now and again - so in a nutshell, why is that?
I got tired and frustrated of waiting to be "cast" in something. I love television/filmmaking so much. Being on set is where I feel like I'm at my best. Grateful to continue learning and creating projects that I'm proud of.
What can you tell us about your filmwork prior to Witness Infection, in whatever position?
Been making movies since a kid, just didn't have a YouTube back them to showcase them on. Started making short films about ten years ago, and now it's grown to indie feature films. My dream is to eventually do studio films!
Besides acting, you also have a successful career as a stand-up comedian - want to talk about that aspect of your life, and how does it influence your film and TV work, and vice versa?
Stand-up keeps me in the loop of what audiences think is funny and what they want. Traveling to cities where one might normally not vacation to helps a lot with character development and ideas. Filmmaking takes a long time for audiences to see, and you have to wait for reviews and messages to know if it's well received. Stand-up is immediate gratification. Two completely different worlds but both needed in my life.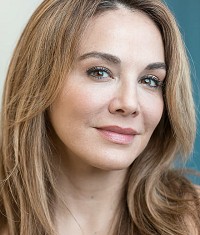 Feeling lucky ?
Want to
search
any of my partnershops yourself
for more, better results ?

The links below
will take you
just there!!!


How would you describe yourself as an actress, and some of your techniques to bring your characters to life?
First, I take on their physicality, then I create a back story and future wants before I start to write their voice.
Actresses, comedians, writers, filmmakers, whoever else who inspire you?
Tracy Ullman, Carol Burnett, George Lucas, Duplass Brothers, Jordan Peele, Patty Jenkins, Jodie Foster, Nora Ephron, just naming a few…
Your favourite movies?
Amadeus, Dumb and Dumber, Christmas Vacation, any John Hughes movie, Bonnie and Clyde, oh there's so many movies that I love! I just love film!!!!
Your/your movie's website, social media, whatever else?
Follow me on Instagram: @jillyonline
Thanks for the interview!