Your new movie Double Threat - in a few words, what is it about?
Itís all about a straight-laced guy making a trip across the US who runs into a mysterious girl working in a convenience store and gets caught up in her wild situation where sheís being chased by the mob.
With Double Threat being about a road trip gone somewhat sideways, what were some of your own worst road trip experiences, and did they in any way inform your movie?
I once did a road trip all the way up and down the United Kingdom in just 48 hours; London to John o' Groats to Land's End and back to London non-stop. If that wasnít tough enough, it was in a 1960ís Triumph Spitifire! What I hoped would be like my own Cannonball Run turned into a two day nightmare as the clutch seized, the fold down roof constantly flapped, the heaters spewed oil vapour into the cabin, and a gas station egg mayo sandwich played havoc with my intestines. To top it all off, the trophy I got at the end of it had my name spelled wrong. That experience really taught me about keeping going against the odds and maintaining a friendship with your companions along the way. My co-driver and I never let the exhaustion and moments of futility get between us and, while there were points where I would have happily had us breakdown and taken home on a recovery truck, there were also some of the best driving moments of my life when we got to the backroads of Wales in the early hours of the morning and had to keep up with a much faster Triumph GT6 through the twisties.
(Other) sources of inspiration when writing Double Threat?
The basic premise of the film is inspired by a time my director and producing partner Shane Stanley visited a small convenience store in some remote area of Mexico while filming a TV pilot. The girl that served him seemed completely out of place for the location and he couldnít help but wonder what put her there; was she part of a drugs racket, was she working for the authorities, was the whole store a front for something more sinister?
What can you tell us about Double Threat's approach to the action genre?
Iím a stickler for real stunts in film and even more passionate about actors doing everything they can on camera to help make things feel even more realistic. The action scenes in Double Threat arenít huge in scope like youíd see in a modern day blockbuster, but they are gritty and 100% executed for real by the lead actress herself, Danielle C. Ryan. Thatís incredibly rare to see and harks back to older martial arts movies that would put your heart in your throat. I was very much inspired by the stunt work of Cynthia Rothrock during the writing stage, and a lot of that tonality made it into the action.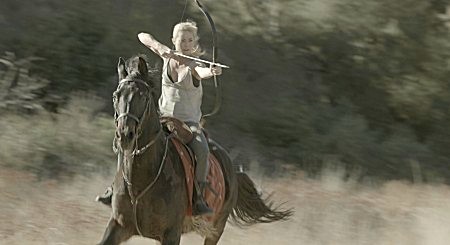 Being a writer, I also wanted there to be some meat to the story and say something meaningful through it rather than contrive a load of situations where a fight would take place. This all said, Double Threat is inherently a satirical take on vapid action movies (particularly female-led action movies) at its core. The tropes it seems to default to are very much deliberate and, if you take some time to digest whatís being said between the lines, youíll see the critiques being made.
Now how did the project fall together in the first place, and how did you end up on the producing side of things as well?
Despite being in the midst of the pandemic, Shane and I were determined to make something happen by the end of 2020. Iíd written (and re-written) a few scripts after Break Even that we felt stood a good chance of getting made but seemed to hit a cruel roadblock as soon as they hit their stride. Double Threat itself started as a thirty page dump of consciousness by Shane under the title of ďGypsy RoadĒ that he sent to me in the hope it would inspire me to jump in and develop it further. Admittedly, I was hesitant at first due to mental exhaustion, but a micro-investor came along and my faith in something actually going into production was rekindled.
While Iíve never chased the role of producer or aspired to become one, Iíve wanted to help out and learn about every aspect of film-financing, production, and distribution since Iíve had the chance to. Although I was just the writer on Break Even, I wore every hat I could from casting, to bringing cast members their food and condiments, to sitting with Shane through the post-production process. From the day we started looking at making another movie together, he wanted me to be a co-producer which was a wonderful, unexpected surprise. In the case of Double Threat, Iím actually a producing partner as it simply made sense from a budgetary point of view. We potentially had less money to play with than the average WGA writer gets to write a studio feature, so it was clear to me that, while Shane desperately wanted to compensate me with something, taking a fee was going to take vital dollars away from the production and thus I suggested I participate. He was going to suggest the same anyway, so that was that - I went from writer on my first ever feature film to partner on my second!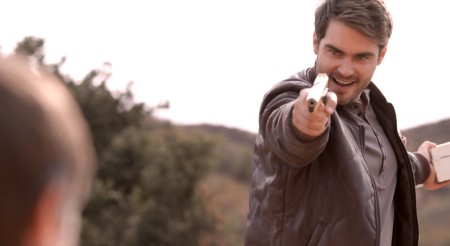 Things really did fall together too. It was remarkable and we felt blessed. Following a conversation we had about wanting to work with Danielle C. Ryan specifically, we contacted her manager the next day to find out theyíd been having the exact same conversation about us. Then, despite our original investor going AWOL on us, we secured funding just a week later, and I turned around the script in six days. From soup-to-nuts, we went from initial concept meeting to wrapping principal photography in only three months!
What were the challenges of bringing Double Threat to the screen from a producer's point of view?
The biggest challenge by far was Covid and how that was impacting life on set. The unions were doing their best to manage the situation but, due to the rapidly changing landscape, couldnít project very far ahead at all. The greatest fear was a shutdown, as you canít really survive that with a small indie production - even so much as getting an extra shooting day with your leads can be next to impossible. Then there was learning about all the safety policies and making sure we implemented them correctly. It was a bit of a wild west at that time. Many testing companies, PPE providers, and certified safety officers were milking producers dry by capitalising on the situation, just like civilians were hoarding and reselling toilet paper. Doing everything by the book brought about logistical constraints at even the writing stage, as we had to use a minimal cast and skeleton crew in locations where we could ensure suitable air quality.
Do talk about Double Threat's director Shane Stanley, and what was your collaboration like?
Shane and I are like a left and right hand at this point, weíre on exactly the same wavelength and often know what each otherís thinking before we say it. That said, weíre very different people with him the eternal optimist and myself the pessimist - imagine Winnie the Pooh and Eeyore making films together. Heís learned from going all the way to the top (Shane executive produced global box office #1 Gridiron Gang starring The Rock) that he has to be careful who he lets into his life, but those who do make the cut are treated like family.
Writing a script for Shane is perhaps even easier than writing a script for myself. We brainstorm the basics and I rapidly deliver something that requires little more than typos and fits in with our logistics. He does his best to honour the script too and rarely deviates unless itís impossible to deliver exactly whatís on the page. That makes the process fun and respectful.
We only had one little bit of friction with Double Threat, and that was over what I personally wanted out of the fight scenes. I was really worried they would feel (as they often do) like the female lead was being fed one assailant at a time in an unrealistic manner so she could easily win. I was really struggling to put across the tonality and Shane was growing frustrated over how to communicate all this to the stunt team led by the legendary Doc Duhame. Eventually I used the term ďcat likeĒ to describe her fighting and it all clicked into place. We were on the same page and I think it shows in the results.
What can you tell us about Double Threat's cast, and as a producer, how much of a say did you have or demand when it came to casting?
With only a cast of five, we didnít have high demands but Covid was making this one of the hardest areas to move forward. Many actors chose to bunker down at home and didnít want to come out and play, especially for a small indie. Others were itching to do what theyíre passionate about doing so it was a case of finding them and reaching out. We had Danielle C. Ryan, so the most critical role (from a stunts point of view) was fulfilled. Shane had wanted a Patrick Bateman type actor for the male lead and Matthew Lawrence turned out to be the perfect pairing, especially since heís an indie producer himself and thus ready to run-and-gun as needed. We attached Kevin Joy as one of our antagonistic duo on the strength of a read he sent in that just blew us away, and we also brought back Mo Gallini for our mob boss after working with him on Break Even was such a pleasure.
The tough part was the other half of that antagonistic duo, our surly henchman named ďAskĒ. We couldnít find the right guy and, at the eleventh hour, threw a hail Mary. Shane loved Dawn Olivieri after seeing her in House of Lies, and it turned out she was eager to come out and play ASAP. We threw her the script with the male role unchanged and she accepted it! Thatís Dawn in a nutshell and why sheís such a good get. One quick re-write later and I tweaked all the dialogue to better match her tone of delivery.
As a producer, Iím not demanding when it comes to casting. The process is typically a logical business decision over all else as you want the most recognisable star power you can afford within your budget. Thatís what low budget movies sell on and thus Iíd rather rewrite a role to suit desirable talent than miss the opportunity to work with them. The only time Iíll put my foot down is if I feel weíre in danger of what I call ďtaking the jam out the donutĒ. There was a time we had the offer of funding on a fun female led action comedy about a couple of co-eds where the potential investor wanted to replace one of the best young adult characters Iíve ever written with his middle-aged wife. That was no bueno for me as it would have inevitably taken a lot of market appeal out of the core concept.
A few words about the shoot as such, and the on-set atmosphere?
Sadly, perhaps cruelly, I wasnít there as a guest on set this time. The travel ban put in place from Europe to the US ensured I had to watch production take place from the confines of my bedroom in the depths of winter here in England. That said, Shane would call me every morning as he drove the box truck in full of joy for what was the easiest shoot heís ever had. Everyone brought their A-game and I think many were just so happy to be out working on set during such tough times of uncertainty.
We pride ourselves on running a kind set where individuals have a lot of autonomy that empowers them so all our productions are fun and rewarding to be a part of. Sure, the masks and distancing certainly took the edge off and the daily testing each morning eventually became tedious, but spirits were high from start to finish with not a single positive test for the duration.
The $64-question of course, where can Double Threat be seen?
Due to the ongoing situation with movie theatres, Double Threat is going out on VOD from Fri June 3rd and will be available in the US and Canada initially on iTunes, iNDEMAND, Vudu/FandangoNOW, Vubiquity, DISH, Hoopla, Microsoft Store | Xbox, Google Play, DirecTV, and Redbox.
Anything you can tell us about audience and critical reception of Double Threat?
Everyone loves the action scenes and are blown away by the stunts Danielle C. Ryan can perform on top of putting in a brilliant job of playing our female lead. They love the comedy too and describe the whole movie as tremendous fun. However, it is a low budget film made during the pandemic, and you have to be prepared for a lot of superficial criticism that comes with that. What we were aiming for here is something more edgy than a Lifetime movie but still family friendly enough to play on mainstream television, and I think we hit the mark with that. One reviewer describes it as ďgrindhouse liteĒ which Iíll take as a badge of honour as we really wanted to pay homage to those old exploitation movies we love while also making a movie which can secure distribution in todayís tough marketplace. What Iím particularly looking forward to is watching people pick up on the more satirical elements and core message behind the story.
Any future projects you'd like to share?
My next feature film collaboration with Shane has just come back from Cannes where it was swarmed with screening requests. Itís called Night Train and itís about a single mom struggling to make ends meet as a Hollywood teamster who evades capture by a ruthless FBI agent while running black market medical supplies in her legendary souped-up pickup truck. We went straight back to collaborating with Danielle, who does all her own stunt driving in this one and was pretty much born to play her character. Itís all based on a script I wanted to write that actually got the greenlight at the synopsis stage, so itís very close to my spec portfolio and the closest thing weíve made to my own personal brand. I really got to flex my petrolhead muscles with this one, and itís remarkably rich in terms of message. Production was tough out there in the heat of the palm desert and Covid still stalking everyone, but the results have blown me away.

Feeling lucky ?
Want to
search
any of my partnershops yourself
for more, better results ?

The links below
will take you
just there!!!


Your/your movie's website, social media, whatever else?
The best place to keep track of me is via my personal site www.cjwalley.com which links to everything else.
Double Threat can be followed on both Facebook (https://www.facebook.com/DoubleThreatMovie) and Instagram (https://instagram.com/doublethreatmovie).
Anything else you're dying to mention and I have merely forgotten to ask?
As ever, if you are reading this as an aspiring screenwriter yourself then please donít forget that I created and run one of the biggest script hosting platforms out there Script Revolution (https://www.scriptrevolution.com/) as a place for you to get free exposure on your work and also have a well reviewed book on craft you can check out called Turn & Burn: The Scriptwriter's Guide to Writing Better Screenplays Faster (https://cjwalley.com/turn-burn-book/).
Thanks for the interview!