Your movie For the Love of Godzilla - in a few words, what is it about?
For the Love of Godzilla is a labour of love. Godzilla and kaiju fans getting together from all over the world to talk about the infamous monster franchise. I edited it together as a documentary and produced it.
What inspired you to make a documentary about Godzilla fandom in the first place?
I wanted to try and film and put together something meaningful for kaiju & Godzilla fans. A raw documentary style film of myself and other Godzilla-enthusiasts seemed the way to go. I knew a number of them through social media like YouTube, Twitter & Facebook.
Being a Godzilla fan yourself, how did you first encounter the franchise, and what were your initial thoughts on it?
I believe it was a combination of watching the VHS home video release of Godzilla 1985 and Channel 4, here in the UK, showing late-night Showa era Godzilla movies. To a younger experience, it was that Hanna-Barbera Power Hour (in the USA) cartoon on TV as well. I'd covered a bit about Channel 4 showing Godzilla movies in the past, on YouTube.
Your favourite Godzilla movies - and some you could do without?
I like them all, Gamera and Ultraman as well.
Back to For the Love of Godzilla - what can you tell us about your directorial approach to the subject matter?
I believe my approach was guerrilla-style, in a sense, but I tried to make something nice and polished for Godzilla fans to enjoy and come back to watch again. It was a group effort, indeed. During making the 55 minute documentary in 2017 sadly Haruo Nakajima had passed away, so I hope I made the King of the Monsters, himself, a nice send-off. Nakajima, of course, played Gojira (Godzilla) for most of the Showa era film series, starting in 1954 – rest in peace.
Do talk about For the Love of Godzilla's guest contributors, and how did you find them even?
It was a great honor to work with other Godzilla fans through social media. Matt Jacobson aka GOJIRA851 was already a huge x-plus kaiju figure collector and I'd always liked his videos. There was the younger, Will Krebs, who spoke fondly about doing the documentary and let me use his stop-motion cartoon bits as indents between Godzilla-fans being interviewed or talking to the camera. It was nice to get genuine Godzilla-fans in there, like film critic David Gelmini, and a few female Godzilla-Fans like Barbara Guilard (kaiju & Asian-film enthusiast) and Bane Hellborne of EMZT Radio. Thank you to everybody that got in on the film.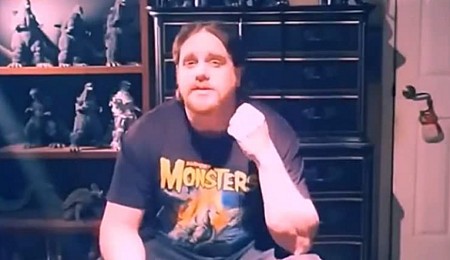 Matt Jacobson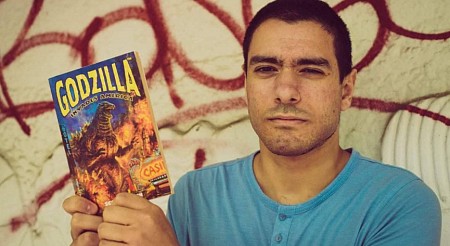 David Gelmini
Any stories about Godzilla fandom that didn't make it into For the Love of Godzilla?
I'd have loved to have gotten Will Krebs to speak on his love for Godzilla, but time ran out. He did a lot of his own work at the time, so these things kind of happened. It was a nice time frame of Shin Godzilla (2016) getting released too, and having my friend Alex Reed (of Doctor Slime [2018] fame) join me in a look at the film as it was being released in UK cinemas that summer.
The $64-question of course, where can For the Love of Godzilla be seen?
It should be on Vimeo & YouTube, but atm, the film has been picked for South Africa's Kaiju Film Festival. It'll be online in the near future after the festival, in which it can be seen in 2022 – if all goes to plan.
In 2021, the Kaiju Film Festival was hosted by Dawna Lee Heising aka the "Queen of Kaiju" [Dawna Lee Heising interview - click here] – just to add.
Anything you can tell us about audience and critical reception of For the Love of Godzilla?
To Godzilla fans reasonably positive, and I think we all had fun filming our parts for the finished production, back in 2017.

Feeling lucky ?
Want to
search
any of my partnershops yourself
for more, better results ?

The links below
will take you
just there!!!


Your/your movie's website, social media, whatever else?
Please, keep your eye on the Kaiju Film Festival: https://kaijufilmfestival.wixsite.com/comiccon
As usual, I'm on YouTube: http://www.youtube.com/MrSheltonTV2
Thanks for the interview!