Your new movie Don't Sell Me a Dog - in a few words, what's it about?
Itís a film about how people conceal the real them to be more acceptable to the people around them and to fit into the life they think they belong to. In a sentence it's about the lies we tell ourselves to fit in with our peers. Adele is hiding from herself and trying to be what CD wants her to be, but inside she is struggling with being true to herself.
How did the project come into being in the first place?
Iíve been making films for around ten years now and Iíve had excuse after excuse not to make a feature film. We all use the same excuses not to make a feature, no money, the wrong camera or if only I had Ö So, when Covid struck I decided it was either now or never. I rang Mark Hampton, and we had a chat about a few ideas, and we finally settled on a car, 3-4 actors, and most of the action takes place around the car. Mark went off into his writerís cave and over the next 2 months Don't Sell Me a Dog was born. We started down the road of casting then as we rewrote the script, and that rewriting continue right up until the end of editing our film.
What can you tell us about Don't Sell Me a Dog's writer Mark Hampton, and what was your collaboration like?
I met Mark about 5-6 years ago after I put a call out for a short script to make. He sent me this wonderful Christmas story and I jumped on it, but not as a short but a feature. We reworked that script and from there we started working on other ideas and trying to get that elusive funding. Weíve collaborated on about 5 scripts before Don't Sell Me a Dog and each one got a little closer to been made.
Don't Sell Me a Dog came about due to Covid as I was saying earlier. Our process is fairly simple. Sometimes I ask Mark to write something to a brief or Mark will have an idea and weíll run with that. Our next project, Am Fear Liath (The Grey Man) is a good example - I wrote a first draft and sent it to Mark. He then deconstructs it and puts it back together in a far better way. We have an easy working relationship with no deadlines or pressure to create. The best stories come from listening and talking about what we would like to make and if we can make it with what we have.
Do talk about Don't Sell Me a Dog's approach to the thriller genre!
I donít think I have an approach per se! I take the story at hand and try to make sure that all the information is there for the viewer, even if that information is hidden in plain sight as is the case with Don't Sell Me a Dog. A good thriller will always have everything you need in it, and everything will make sense for the story. I think delivering that information without drawing attention to it is important or, if it needs to be pointed out then you do that. It's like what Hitchcock said about the bomb under the table. If the viewer isnít aware of the bomb, they get a fright when it explodes, but if they see the bomb, see the ticking clock, then the audience is waiting and waiting to see what will happens, and the suspense levels rise.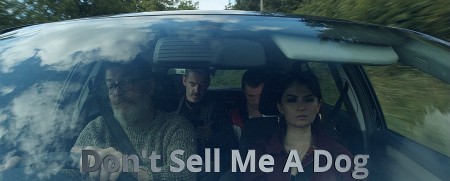 We did that in Don't Sell Me a Dog. We gave all the information needed for the story twist at the end and we tried to do it in a way that it wasnít on the nose or obvious to the viewer, but made complete sense by the end of the film and I think we succeeded in doing that.
Being largely centered around a car, Don't Sell Me a Dog is somewhat limited in terms of locations - so what were some of your techniques to keep things interesting nevertheless?
I think the limitations of Don't Sell Me a Dog made us concentrate on the story and on developing the characters. When you think of other stories set in one location, you generally think of how good and engaging the story was and how strong the performances were and less about the location - unless it was a vital part of the story.
Our initial plan was to shoot everything through the windscreen of the car, even the action that takes place outside the car, but when I experimented with the idea, I didnít like it. If we take CD, played by Mark Agar, and how we framed him, you see he spends a lot of time in the shadow of the back seat. I kept him that way to isolate him from the developing relationship between Joe (Andy Yule) and Adele (Liadh Blake). The long takes keep us very much in the moment and hopefully, make it feel as if itís happening now. The long pauses, the pacing, all were used to bring it as close to real life as possible, like reality TV. I also decided not to shoot singles of the cast, unless it was just one person on camera. This allowed us to have those awkward moments were characters want to say something but decide not to and so it gets uncomfortable to watch, making you feel like you shouldnít be there listening to the characters.
A few words about your overall directorial approach to your story at hand?
Depending on the story Iíll take very different approaches to directing. With Don't Sell Me a Dog I left the cast to it for the scenes where they were driving. I would just say Ďright, weíll go from page 20 up to 50 and then have a chat.í Depending on how the cast felt we either moved on or went back and reshot the parts they felt they didnít get right.
On my current project One Last Time (working title) my approach is very different. With the cast here Iím right in there and weíre looking at the dialogue and how the charactersí past will influence the story, particular Joeís (Gary Swayne) backstory. In One Last Time, Joe has committed crimes in the past and suffered the consequences of those crimes, and now he finds himself in the same place again.
I like to make my sets as fun as possible and make the cast feel relaxed and not under pressure. I always like the cast to have fun while shooting, and this leads to some great performances. Iíll always jump in where I feel a cast member is struggling or they are unsure and ask for help, but mostly I just let them do their job as actors. I can be, at times, in my own head and so I donít always communicate what I want in an understandable way, but by talking with the actor, we generally work it out. I have in the past frustrated actors because of this, but weíve always found that common ground for where I think a character should be, and where the castmember wants to go with the character. I donít dictate or demand a type of performance from actors. Weíre all there to do a job and most importantly to create great stories. Iím a firm believer in if you have 21 people in a room, 20 of them will have good ideas, but that 21st idea could be a cracker and the one you should run with. Film is collaboration, and collaboration is key to a great film.
Do talk about Don't Sell Me a Dog's cast, and why exactly these people?
Andy Yule is an actor I wanted to work with for a while, and so part of the brief Mark worked to on Don't Sell Me a Dog was to include Andy in some way. Andy is from Scotland and is a character in his own way, a good way. He really puts the work in before set and is constantly ringing or messaging you with questions about character, about story, and so he really makes you get to know the story, the characters inside out, and that was something that the entire cast brought to Don't Sell Me a Dog.
Mark and I ran auditions over Zoom and each of the cast, Mark Agar, Liadh Blake and Damien Lumsden, all had sparks of being good actors. None of them had made a feature film before, and so brought a lot of enthusiasm with them to the process. When we started to rehearse, again over Zoom, they all had great ideas about their characters and how theyíd react in the situation and what they felt would be believable in the context of the story. Their ideas helped Mark and myself refine our script and add other elements that set up our final twist. The relationship between Adele and Joe had to be believable as itís central to our story. They both had great insights from each characterís perspective. Liadh felt that her character wouldnít be won over by Joe as easily as we had initially written, and we worked her thoughts on the character into our story.
As a writer or even as a director, you have to be open to what your cast have to say about their characters. Each of our cast in Don't Sell Me a Dog all had great ideas and insights to their characters that helped open up our world.
What can you tell us about the shoot as such, and the on-set atmosphere?
We shot Don't Sell Me a Dog over 8 days, myself been 90% of the crew. The cast and Mark, writer, helped where they could. We had good fun shooting it and we took it easy during shoot days while getting the work done. As I was saying earlier, I let them do their job as actors, helped where they needed help, and guided them when they needed it. I think the long takes helped too as the cast could run the scene 5-6 times and then do it for real and not have the pressure of a director wanting to move to the next take or setup.
The $64-question of course, where can Don't Sell Me a Dog be seen?
It's out on loads of VOD channels including Tubi, Hoopla, PLEX and many other sites. If you check out my website youíll find out where it's streaming, but youíll also find out what Iím up to next - www.pauricbrennan.ie
Anything you can tell us about audience and critical reception of Don't Sell Me a Dog?
If Iím honest weíve got a better-than-expected response from audiences and critics alike. Don't Sell Me a Dog is a first feature made on a shoestring, with no crew and a new cast. We had all done shorts in the past but not features and yeah, itís rough around the edges but itís a story people are enjoying. I think
what gets a lot of people and critics is the twist at the end and how itís all built into our story and not just added on for shock value. Weíve all seen those indie films and blockbusters with an ending that makes no sense or that ambiguous ending, because the filmmaker didnít know how to end it, that leaves you thinking ĎWhat the f!%# was that all about?í or ĎWhere did that come from?í Hopefully our ending isnít like that, and I donít think it is. A lot of the reviews and responses from audiences mention the ending and how it adds an entirely new layer to the story without taking away from it. For me and the cast that means weíve done our job, weíve entertained!
Any future projects you'd like to share?
Iím currently shooting on One Last Time (working title), a feature I wrote a few years back. It's about two friends whose lives go from bad to worse. Kevinís wife leaves him for his boss after Kevin loses his job, and Joe is out of work with no prospects. Kevin wants to spice up his life before he goes off travelling, and he drags Joe into a crime spree as a way of dealing with his midlife crisis. Itís a fun little film about two friends. Iím working with Andy Yule and Gary Swayne on it. Gary worked on a few shorts with me in the past, including The Rosen Bridge.
Iím also in pre-production on Am Fear Liath, written by myself and Mark Hampton. Itís a story about Fred Gibbons (Mark Agar) trying to save his tourist business by giving tours to see Irelandís answer to Bigfoot, Am Fear Liath (The Grey Man) - but as most Bigfoot fans will know, the Grey Man is a Scottish legend but donít tell the tourists. These tours run foul of Rheinhold OíConnor (Andy Yule) an obsessed Bigfoot hunter, set on being the first to find and trap the creature here in Ireland. We have a great cast working on it that includes Mark Agar, Andy Yule, Gary Swayne, and my first time working with Ger Boland and Laura Whelan. Itís a fun little wilderness horror set here in Ireland.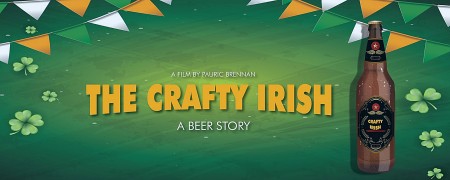 I also have a short mini documentary series in post-production called The Crafty Irish On Tour. This is a follow on from my Crafty Irish Documentary about the Irish craft brewing industry. I visit more Indie breweries here in Ireland to get their stories of how they started and all about their journey to making great beers.
There are two other projects in the works too, a documentary about Brexit - directed by Gabrielle Gordon - that Iím producing ,and then a top-secret horror that Iím currently writing. To find out more youíll have to keep an eye on the website - www.pauricbrennan.ie - and on my social media.
What got you into filmmaking in the first place, and did you receive any formal training on the subject?
For as long as I can remember Iíve been into telling stories in one form or another. From an early age I loved writing stories and always looked forward to having to write them in school. As a kid I used to get friends to pretend they were in plays and would tell them to do this or that and have fun doing it. Back in 2008 I finally decided to do something about it, and I took an acting class. I liked doing it but found I much preferred what was going on behind the scenes. I got work as an extra on some films and I spent much of my time behind the directorís chair watching them work. From there I went out and started writing my own scripts, which Iíd been doing for a while, and making them into shorts. I took a 12-week filmmaking course and never looked back. Iíve been involved in the industry in one way or another since and have worked as an AD, writer, DOP and loads of other roles including actor and body double.
What can you tell us about your filmwork prior to Don't Sell Me a Dog?
Before Don't Sell Me a Dog I had made short films and loads of corporate videos. But Iíve also worked as a trainee AD on several productions. Over the course of the last 10 years or so Iíve written, directed or produced short films. I also have directed stage performances along the way. As a writer Iíve sold a few options and worked as a reader for a company, which taught me a lot. Iíve produced lots of projects from films to music videos and a sketch show. Some have been sent out into the world, others failed and I learned from those failures and kept going.
How would you describe yourself as a director?
Easy going and laid back, I think! Iím very much a listener when Iím on set and in the creative process. Listening to the ideas and views of your fellow creators is important I think, and if you listen you learn. I like to let actors do their job and Iím very much for them brining their own experiences to the process. Iíd never ask an actor to deliver lines that didnít feel right or natural to them. I always tell them to make the dialogue their own, unless it important to the story - like specific jargon used in a job or a community, then we find a way to deliver it in a natural way.
I also like to ask questions on set, especially when it comes to character choices and decisions. I think asking questions is a great way to reveal things about your actor and their process. If you get to learn how they work then communication becomes easier and you know what they like, dislike and that leads to a relaxed atmosphere on set.
Filmmakers who inspire you?
Lots of filmmakers inspire me. Jack Arnold from the B-movie era. His sci-fi was created by someone who loved the genre. The Creature from the Black Lagoon is a favourite of mine. Then you have Hitchcock, but who doesnít love him. From his scene blocking to his building of tension and his story telling, it all added up to a great cinema experience. In more recent years Iíve been drawn to Wes Anderson and his style of storytelling. The symmetry in his shots and the use of colour both in the sets and in the costumes worn. I love how it all adds up to telling his story.
Mendes, Villeneuve, Sollima, Eggers, James Wan, George Miller, they all inspire me on some level. I take a lot of inspiration from how they tell a story and that sometimes can be a visual thing like composition, structure or movement, or how they structure their storytelling. Iíd have to add Roger Deakins into the mix here too. As a DOP he has a great style for story telling, and I take a lot of inspiration from him. His use of visuals and how he lights his scenes all help add to the storytelling process, and as a director I think understanding these elements really help you as a filmmaker and as a collaborator on projects. There are others who I love to watch too.
Your favourite movies ... and of course, films you really deplore?
This is a question that always gets me, and it's really because I donít really have a favourite movie or one that I deplore. Someone early on when I started to enjoy telling stories told me that Ďthereís no such thing as a bad story, just how itís told!í I love to watch movies and Iím not too concerned with how good or bad others think they are. I ran a film festival for a few years, and I saw some brilliant films in there but saw some that were not so great. Watching movies is something I enjoy, and Iíll often go back to them to see how they did that or why didnít that work so Iím always learning from and enjoying the films I watch.
So, when it comes to movies I like thereís a few - The Creature from the Black Lagoon, True Grit, 1917, Sicario, Little Miss Sunshine, Fargo, Juno, Joker and lots of others. The Mad Max series is something I enjoy, as are The Conjuring movies. One I watch again and again is The Maltese Falcon. I love the noir genre and especially the use of hard shadows and the gritty black and white film that lends itself to the moody and shadowy underworld the characters inhabit. Jaws is high on this too. I love this film because of the old school nature of the story telling and how the filmmaker had to use atmosphere and mood to create his fear factor because his creature wouldnít work. I think it's great and I love the use of blocking and visuals to tell the story.
Films that I tend not to watch again are those that rely too much on CGI for scares or to add to action scenes in the film. When itís done right and it doesnít take you out of the moment it's great, or when it suits the movie and itís established from the get-go, like the Sharknado franchise, then go for it and have fun. I love seeing a filmmaker do FX in-camera and come up with clever ways of doing it. The Fast and the Furious films are ones that come to mind here, particularly the last one. They are fun to watch, but when CGI is overused, then it takes you out of the film, and that for me is a no-no. Same with horror films that are filled with tension and have you on the edge of your seat and they go and ruin the moment with a silly looking CGI demon or monster. All in all, I think it's things other filmmakers do rather than films I deplore that end up on this side of the list. Every film is considered worth making by someone and those films all have an audience that enjoy them but not every movie is for everyone.

Feeling lucky ?
Want to
search
any of my partnershops yourself
for more, better results ?

The links below
will take you
just there!!!


Your/your movie's website, social media, whatever else?
A quick search for Pauric Brennan on Google should throw up my social media presence, but Instagram (@bren_brenenterprises) is where Iím most active at the minute along with TikTok (@brenenterprises). Youíll get updates about projects on my website www.pauricbrennan.ie
Anything else you're dying to mention and I have merely forgotten to ask?
If thereís one last thing to add then it would beÖ
ĎStop making excuses and start making movies with what you have!í
Thanks for the interview!