Your new movie Autumn Road - in a few words, what is it about?
To me, Autumn Road is about hauntings. Thereís no ghosts or exorcisms, but there are plenty of people and places in the film that are haunted by the past. And in a more literal sense itís about a woman (played by Lorelei Linklater) looking for her lost sister colliding with these two troubled twins (played by me) that run a small town haunted house. Someone described it to me as a very elegiac film once, and that term has stuck with me.
What were your sources of inspiration when writing Autumn Road?
I drew inspiration from all over the place, but a big one that I keep mentioning is Ray Bradbury. Thereís definitely a ton of October Country and Something Wicked This Way Comes DNA inside of Autumn Road. I love how equal parts wistful as well as tragic his writing feels. He had such a beautiful voice on the page, and I remember telling myself that if this film only lived as a script, as long as it felt in the vein of Bradbury Iíd have succeeded. And someone brought up October Country to me the day this movie was released! It felt amazing.
Do talk about Autumn Road's approach to horror for a bit!
I donít see Autumn Road as a horror film, it truthfully fits as more of a drama with macabre iconography. Which is just the pretentious way of saying itís spooky, not scary. The old hearse, the owls, the haunted house, the spooky mask, and deaths, the autumn atmosphere, the antagonistic brother, I obviously see the connection to horror, I just donít think itís quite the same sandbox. And I love that it feels outside of a genre box, things donít play out exactly how a screenplay template would dictate and that was important to me. I never wanted to make a horror movie (as much as I love the genre). I was more focused on making something weird and unlike movies Iíd seen before. Obviously that creates a few frustrated audience members that didnít feel like they got enough scares for their buck. But if people agree to meet this film on itís own terms, I think thereís still plenty of dark delights for horror fans to chew on.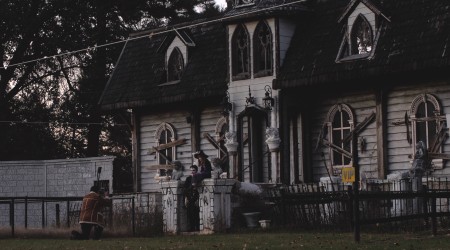 You just have to talk about your film's scarehouse location, and was that an existing place or did you build it from scratch? And what was it like filming there?
Totally pre-existing location. Graystone Manor was very generous to let us shoot on location just after their haunt season. It was a beautiful horse ranch that has been remodeled into a huge scare property and I loved every corner of it. Seeing a haunted house with the lights on is such a wondrous thing because you see it for what it really is, an elaborate art project forged on pure enthusiasm. Thereís so much craftsmanship and quirkiness and hard work that for the most part is meant to be shrouded in darkness and strobe lights. My appreciation for haunts has only grown since filming there. The haunt community is a wonderful place.
What can you tell us about your overall directorial approach to your story at hand?
I try to remain very open and collaborative as a director. I do a ton of prep and then on set itís about just being present and ready for anything. The relationship between acting and directing at the same time is interesting. It creates this unique opportunity to guide things by doing instead of just explaining. If myself or someone else has an idea or gets inspired we can throw the script away and just go for it. It feels very instinctual and playful, Iíd recommend it. The workload is more, but who cares when itís the dream work?
You also play not one but two of the leads in Autumn Road - so what can you tell us about Charlie and Vincent, what did you draw upon to bring them to life, and have you written them with yourself in mind from the get-go?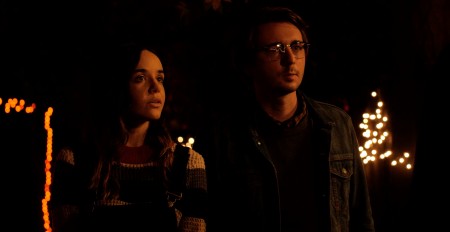 My first focus with the twins was just getting them right on paper. At that point, Iím just trying to write characters that I enjoy spending time with and Iím not thinking of myself playing them. I wouldíve taken a lot less risks with Vincent had I been writing solely for myself. The simple answer is that Vincentís all external whereas Charlieís very internal, and the more they suffer the more they externalize or sink into themselves. Because of that, playing them was a joy because I got to portray such a big spectrum of emotions and reactions. It was a dream for me as an actor, but I also donít feel like Iím just writing to give my acting career a vehicle. And on a technical level it felt dangerous pulling off that dual illusion, like we werenít supposed to be doing it. Movies like ours on our no budget scale shouldnít be able to pull that off. But the fact that we did was a very thrilling sensation, one that Iím still very proud of. Thank you, Parent Trap.
Do talk about the rest of your cast, and why exactly these people?
Lorelei Linklater was my first pick for the role of Laura - so thank God she said yes. I didnít know her personally, but I knew she was another Texas artist and I had a gut feeling sheíd understand the intent of what we were doing. She responded really positively to the script and Iím really happy we got to show off colors to her acting that I donít think people have seen from her before. A lot of the other cast members are friends, or crew members, or real haunt actors (like Maddy Lea, who plays Winnie). I loved the unconventional casting and getting to pull all these people into the mix was lovely. Every actor in this has a story to how we reached them, I could ramble on about it forever.
A few words about the shoot as such, and the on-set atmosphere?
The goal on set should always be to prioritize people. On a no budget film like ours, itís a simple thing that a lot of people mess up simply because they donít prioritize it. You donít have a lot of time or money to throw around so you really need to make sure itís a place people are happy to come to work at. The attitude of the leaders on set trickles down fast. We had a great atmosphere, even in the trenches of filmmaking, made up of people who were all friends prior and have remained friends after. Being able to live in a big set piece like the haunt also really puts people in the right mood and very directly shows them what weíre working towards. Turns out haunted houses are a great bonding exercise.
Anything you can tell us about audience and critical reception of Autumn Road?
Thereís a quote by Ethan Hawke that I use as a bit of a mantra when Iím thinking about the reception of film, ďmost of us really want to offer the world something of quality. Something that the world will consider good or important. And thatís really the enemy, because itís not up to us whether what we do is any good. And if history has taught us anything, itís that the world is an extremely unreliable critic.Ē Okay, maybe thatís too long to be a mantra, but itís still true. And to piggyback, I try not to derive much value from the way my art is received. My value in terms of creativity comes from the process of creating, and thatís a much more sustainable source of happiness than letting others dictate my worth. But even still, I think the audience of the film will only continue to grow with time. Itís a film that was made very genuinely and with a lot of heart, and thereís a home for that kind of thing even if itís not for everyone instantly. Small movies like this donít have the money to reach the exact people they need right away, itís got to find them organically and that requires patience. In the meantime, rolling stone gathers no moss, you gotta keep making stuff.
Any future projects you'd like to share?
Weíre in post production on the next feature, The Wild Man, in which I serve as writer/director/actor again. And I got to make it with a lot of the same people from this one as well as some exciting new faces thrown in the mix. Itís exactly what I want it to be. I feel very lucky to be in this position, a position where the things I make feel personal and unique and strange.
From what I know, you initially entered the filmwork as an actor - so what made you go into acting, and did you receive any formal training on the subject?
Iím not a trained actor. Or at least I wouldnít call myself that. I did theatre growing up and some short films in college, so Iím certainly passionate, but Iím not some Julliard prodigy child. But thatís what is so fucking cool about making movies nowadays! Anybody can do it. If I can do it, you can do it. Your cousin Bill can do it. Thatís exciting. You just have to give a shit.
What made you want to pick up writing, producing and directing eventually as well? And which job(s) within filmmaking do you enjoy the most, what could you do without?
I know it can come across as a bit self indulgent to take all the jobs, or maybe like I have a control problem. But it came a lot more naturally than that. I fell in love with acting at an early age. As a very shy, very introverted person, acting was a necessary way for me to engage with the world. Then as I got older, writing became my main form of expression. And directing is a perfect way to marry the two. But really at the end of the day, I just want to do whatever I can to support the stories I care about, even if that entails doing 100 jobs at once.
What can you tell us about your filmwork prior to Autumn Road, in whatever position?
Thereís not much prior filmwork to talk about. I made Autumn Road when I was 23, I was a student before that. Most of my previous work was learning, making short films, helping others when and where I could.
Filmmakers, actors, whoever else who inspire you?
Other indie filmmakers always inspire the hell out of me. The smaller the budget scale the better. Jim Cummings, the Duplass Brothers, Cooper Raif, Lynn Shelton, Kelley Reichardt, just to name just a handful. Thereís a lot of great movies and upcoming filmmakers to be praised out there, more than I could ever see in a lifetime, but Iím trying anyway.
Your favourite movies?

Feeling lucky ?
Want to
search
any of my partnershops yourself
for more, better results ?

The links below
will take you
just there!!!


I love a lot, but one of my favorites that Iím most defensive about is 127 Hours, Cast aside. I think it gets unfairly reduced to the arm-cutting movie in most discussions, but it was way more than that for me. Itís a good-ass movie. This man was put into a situation where he has to re-evaluate his relationship to himself, to his loved ones, and to nature, in such a poetic and humanist way. Iíll happily die on this 127 Hours hill.
... and of course, films you really deplore?
Iím sorry to disappoint, but Iím boring, and I canít bring myself to deplore a film. People worked hard on these things, theyíre community art. Why piss on that? Itís only going to be rainbows and sunshine from me.
Your/your movie's website, social media, whatever else?
I donít have social media for my movie. Should I? I probably should. You can follow me on Instagram, I try to post updates about the movie and my filmmaking journey.
Thanks for the interview!