Your new movie Fck'n Nuts - in a few words, what is it about?
The film is about my family. Theyíre the proper definition of fucking nuts.
What were your sources of inspiration when writing Fck'n Nuts, and is any of this based on actual relationship experiences of yours?
Fck'n Nuts was the first script I wrote and was initiated by the advice of my mentors to Ďwrite what I knowí. Writing is a skill that doesnít come naturally, and vulnerability is dang near impossible. In order to share my story of how painful it was to be a teenager growing up in an incredibly dysfunctional household, I had to implement my English sensibility to take the piss and laugh in the face of adversity. Fck'n Nuts wasnít inspired by one relationship but by almost all of them; friends, boyfriends, the worst was friends' parents, and the horror and panic I would experience upon introducing them to my family.
What can you tell us about Fck'n Nuts's brand of humour?
Despite being from LA, I was raised by Brits and was brought up on Monty Python, Fawlty Towers, Mr. Bean and all the absurdist English comedies from the 70s and 80s. Still to this day I have trouble understanding the American sense of humor. My momís dad was probably one of the funniest people Iíve ever met. His humor was depravedly dark and disturbed. I always loved when he would come to visit because he would let me do twisted stuff like tie him to a chair and leave him there for hours. He would play along and it helped establish this sick idea that suffering is funny. Life can be brutal, you may as well laugh otherwise itís just too depressing.
You also have to talk about the rather wonderful production design of Fck'n Nuts, and how much of a say did you have/demand regarding that aspect of your movie?
The production design on this film was one of my largest concerns going into production. We filmed in New Orleans and were fortunate enough to get our location practically gifted to us through Joe Badon (our creative producer) [Joe Badon interview - click here] and his connections. The exterior of the house was perfect and conveyed exactly what I wanted for that opening shot but the house had not been lived in and therefore was barren minus a couch and a coffee table. Production design is one of the most important aspects of my films, and after our location scout I had no idea how I was going to get this house to convey the chaotic eeriness that I had originally conceptualized. I didnít admit it but I was slightly panicking. My LA production designer, Candice Molayem, was unable to fly to Louisiana to work on Fck'n Nuts and I didnít know any NOLA-based production designers, so I gave into the idea that I may have to do the production design myself. As we got closer to the shoot date, I was literally drowning with prep and so overwhelmed. I begged Joe to find me a production designer FAST as this set was going to need a lot of work and in a very short amount of timeÖ oh, and for no budget. He introduced me to fellow horror filmmaker Brooke H. Cellars who could not have been more perfect for the job. We procured an insane hook up from SideShow Props prop house and got free reign of their endless selection of set decoration and props.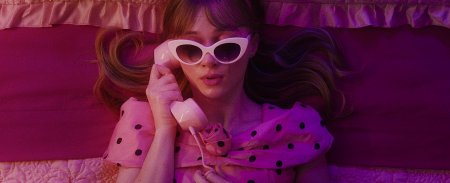 The concept for the house was to make it as messy, strange, and disturbing as possible. I wanted the house to juxtapose Sandyís pristine and immaculate environment and convey the message that this family lives an isolated existence; Mommy lives in a chaotic alcohol-induced mess while still managing to do her duties as a housewife, and Daddyís world is that of controlled and contained madness as he attempts to be a normal doting yet dominating force in the household. Sandyís bedroom on the other hand was to be symmetric, perfect, bathed in a pink innocence, childlike. I won the jackpot because Joe just happened to have the exact bedroom I had described in my lookbook, as his own bedroom ironically. When I arrived to New Orleans to prep, Brooke, Joe and I showed up at SideShow Props, filled 3 cars full of taxidermy animals and random creepy knick knacks and Brooke was able to throw the most insanely perfect set together in a record 6 hours. She saved my life and absolutely killed it on the production design.

Do talk about your overall directorial approach to your story at hand!

I suffer from imposter syndrome so Iím always shocked when something I make is liked by an audience. After my last filmís success, I knew I had to make another film fast and keep up the momentum, but the pressure I felt to make something not only good, but better, was intense. I knew that if Fck'n Nuts wasnít a success, my chances of making a feature in the next few years were slim to none, so I went about prepping for this film like my life depended on it. I put every ounce of my soul into trying to make it the best that I could for the ridiculously small amount of money that I had. I was fortunate enough to have creative geniuses as my collaborators, Joe Badon, Daniel Waghorne, Brooke H. Cellars, producers that supported me both physically and mentally, Desiree Staple and Katie Weiss Porter, and actors who went above and beyond in their performances and enthusiasm, props to Maddie Nichols, Vincent Stalba, Michele Rossi and William E. Harris.

What can you tell us about Fck'n Nuts's key cast, and why exactly these people?

I knew Vincent Stalba was perfect for the role of Dan after I saw him in Joe Badonís short Blood of the Dinosaurs. I needed Dan to be completely love struck and irreverent. A character whose devotion to his intention leads to his demise. Vince was perfect. Iíve never worked with an actor who commits to his choices with such fearlessness and enthusiasm. That commitment to not only the role but the production as a whole, from prep to post, has been such a wonderful asset. Vince also helped me to discover Maddie Nichols who plays Sandy. This was a very specific role for me to cast as Sandy is based on myself as a teenager. The only difference is that I wanted Sandyís trauma to be internal, resulting in a mask of innocence and arrested development. Instead of physically displaying the effects of depression and anxiety, I needed those emotions to be so contained that Sandy is on the verge of explosion. I wanted an actress who on the outside looked sweet and innocent, but her eyes convey her inner suffering. Maddie was everything I could have wanted. She has the range to handle the extreme emotional state that her character is in and the commitment to be an anchor to reality whilst the comedic chaos of the film happens around her.

A few words about the shoot as such, and the on-set atmosphere?

Between the SFX, costumes, puppets, etc, that I needed for this film, I would not fiscally be able to make the movie in LA. I saw what New Orleans-based director Joe Badon did with his last short Blood of the Dinosaurs. He had tapped into this magical style of homegrown indie filmmaking which is pretty much extinct in Hollywood. I approached him with the script for Fck'n Nuts and asked if he and his New Orleans crew could help me make this film for very little money. They obliged and it was truly inspirational what they were able to do for peanuts (pun intended). For instance our camera department consisted of our DP Daniel Waghorne, and his steadi-cam op, an AC, a gaffer and one grip. We executed between 25-30 set-ups a day, with complicated light changes and always wrapped before our 12 hour day. The efficiency of this team left me awestruck. It felt like being back in high school, making movies for the joy of filmmaking, an experience I havenít had in a long time. I was terrified going into this production. I was coming into an already well-oiled machine of filmmakers who had been working on all of Joeís films for the last few years. I was blown away by their balance of professionalism, talent and ability to make the whole experience stress free and playful. I loved filming with the Cosmic Family Films NOLA crew so much that I decided to base my first feature there.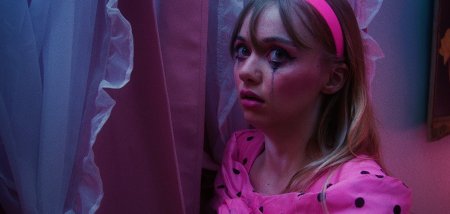 The $64-question of course, where can Fck'n Nuts be seen?
I am about to head to Lisbon for Motel X. Upcoming after that we have The Future of Film is Female in Brooklyn, Fantastic Fest in Austin, Grimmfest in Manchester, FilmQuest in Utah, New Orleans Film Festival, and some other great fests which have yet to be announced. You can keep up with the Fck'n Nuts tour through our Instagram.
Anything you can tell us about audience and critical reception of Fck'n Nuts?
We just had our world premiere in Paris and I was terrified that the film wouldn't be received well in foreign countries because the punchline to the joke of the film does not necessarily translate to other languages. But I am happy to say that people still loved the film!
Any future projects you'd like to share?
I hope that Fck'n Nuts is my calling card on the festival trail and allows me the opportunity to make my first feature by next year. Itís an ambitious goal but I like to dream big. I have a feature film concept for Fck'n Nuts that's Brazil meets All That Jazz meets Phantom of the Paradise rock opera about mental illness... but the one I am currently pushing and have seen interest in is Babalon Ascending, a psycheosexual thriller about a struggling New Orleans street artist who gets sucked into a world of magik and mayhem after being indoctrinated into a cult of artistic hedonists.
I am also producing two features which are currently in prep, Ace Thorís Infinitely Dense and Nathalia Pizzaroís 1996.
What got you into filmmaking in the first place, and did you receive any formal training on the subject?
I grew up on a remote animal farm in the Malibu mountains with very little parental oversight, so much of my time was spent running around outside reenacting scenes from my favorite films. I would tie a handkerchief around my neck and pretend to be Sam Neill in Jurassic Park, or go animal hunting while playing Jim Carrey in Ace Ventura. I knew that I loved the visual aspect of storytelling, and when I was 15 I decided I wanted to be a DP. I signed up for photography in highschool and turned out to be pretty mediocre at it so I transitioned to painting. The goal was to go to art school and be a successful fine artist - but I soon found that there werenít many options for a career as a painter, you had to segue into graphic design or something more marketable. I soon realized that film was the perfect medium for me. I did quite a bit of acting from 18-25 and found that if I combined my love for acting and actors, with my love for painting, I could paint a picture within the frame of the camera. I utilized my iPhone to teach myself how to shoot a film and taught myself basic editing to gain an understanding of what I needed for the cut. Long story short, I am self-taught.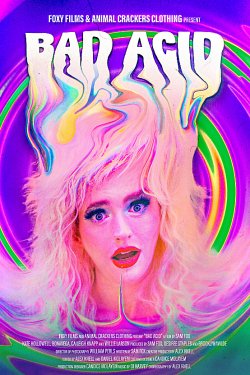 What can you tell us about your filmwork prior to Fck'n Nuts?
I started by making minute long movies on my iPhone as a one woman cast and crew. Most of those can be found on my Vimeo and are quite the throwback. Once I gained the confidence to work with cast other than my chihuahua (she co-starred in a few of those minute-long flicks) I graduated to a 5 person crew and made Unagi, a Kafkaesque short film about a woman who eats irradiated sushi, turns into a giant electric sea eel, and electrocutes her clueless boyfriend. After that I made a branded fashion film/short film alongside my friend and frequent collaborator Candice Molayem titled Bad Acid, which is a colorful ode to the fitness craze of the Ď80s and psychedelic horror cinema. Bad Acid had quite a successful film festival run and set me up with the opportunity to receive a production grant from MovieMaker Magazine and make Fck'n Nuts.
How would you describe yourself as a director?
Controlling, lol. Iím very detail-oriented and I know what I want. I have a clear vision and I do my best to communicate it when conceptualizing a project and bringing on a team. That being said, there is nothing I love more than collaborating. If someone has a better idea, you bet Iíll take it. I love the brainstorming part of prep, meeting with other HODs who share my desire to make the best film possible. Once I am on set, I am extremely prepared. The cast and crew of indie films work so incredibly hard and for no money, and I want to make the most of their time. I am also extremely obsessive. I donít sleep during productions, I wake at 3am with ideas for shots and a small part of me dies after each film. I absolutely believe that filmmakers are masochists. BUT when it goes right and everyone comes together and is inspired and loves the process, itís the most rewarding feeling in the world.
Filmmakers who inspire you?
Any and all indie filmmakers because it is so hard to make a movie, let alone making it with no money and working for years only to subject yourself to criticism. But as for directors whose work has been inspirational to me, there is first and foremost my king, Kubrick, Argento, Lynch, Fosse, De Palma, Terry Gilliam, thereís so many but those are definitely my tops.
Your favourite movies?
Apocalypse Now, Clockwork Orange, Rosemaryís Baby, Suspiria, All That Jazz, Cabaret, Brazil, Jaws and Jurassic Park, to name a few.
... and of course, films you really deplore?

Feeling lucky ?
Want to
search
any of my partnershops yourself
for more, better results ?

The links below
will take you
just there!!!


Making movies is so challenging. There may be films that are not to my personal taste, but I have respect for all films and filmmakers.
Your/your movie's website, social media, whatever else?
My website is samfoxyfilms.com, my personal Instagram is @theothersamfox, and @samfoxyfilms is my production company.
Thanks for the interview!