Your new movie The Surprise Visit - in a few words, what is it about?
The Surprise Visit is film about survival and what lengths we go to realize that. Where do we draw a line, where does our conscience come into play?
The Surprise Visit is your first film as a producer - so how did that come about, and what drew you to the project in the first place?
We had a horror film we wanted to make on this particular estate in Virginia and we were planning to start shooting in March last year. The pandemic hit and this horror film included children and we figured out very quickly it wasnít going to be possible to shoot with kids during a pandemic. So we tried coming up with an idea for a film with a limited cast and crew and minimal locations. The Strangers was our inspiration and what a great film that is (ours isnít similar in any way), and Nathan my then-boyfriend-now-husband kept telling us about this theft that occurred on the property, by a drug addict couple whose father was the groundskeeper. So we decided to explore that, and thatís how The Surprise Visit came about.
What drew me to the project? All 3 main characters are ďbrokenĒ in different ways. I think the audience is going to feel compelled to sympathize with all of them, their motivations and will to survive.
What were the challenges of bringing The Surprise Visit to the screen from a producer's point of view?
Oh yikes - try making a film in the middle of a pandemic (pre-vaccines) in rural Virginia? Hahahaa. It was quite ambitious to say the least, especially for a first time producer. I helped cast the film, that part was fine. Finding crew - not so easy. Iím used to filming in LA where there are 1000ís of gaffers, make-up artists, production designers, you name it. Virginia is not really a hub of film production. There was a 2 week period before we began shooting and I did not have half of my crew in place; I panicked and thought ĎI really have bit off more than I can chew this time, I donít think Iím going to be able to pull it off.í And then I did! Our director Nick Lyon (who also produced and edited the film) was a huge help. Couldnít have done it without his, Nathan and Andrew Feinís support.
You also play one of the leads in The Surprise Visit - so what can you tell us about your character, what did you draw upon to bring her to life, and how much Serah Henesey can we find in Juliette?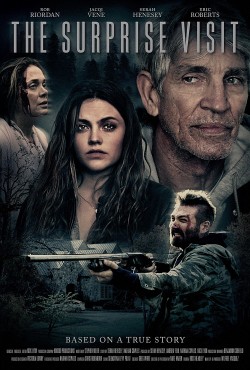 Oh Iím definitely a survivor. I lived and worked in 6 countries over 10 years as an actor and before that I modeled all over. Iíve worked in countries where I had to sleep with a knife under my pillow. Iíve been through things in life that would have probably Ďbrokení a less resilient person. I had two different people, my therapist and my acting coach tell me Ďyouíre the miracle here, the fact you turned out normal, are kind and loving is the miracle.í Unlike Juliette I wasnít born with a silver spoon in my mouth, I had to work for everything. Iíve worked non-stop since I was 16. So I understand survival. I also understand deep pain and grief. I donít carry those things with me on a daily basis, but they are there if I need to access them. Juliette is a survivor. She may come from a privileged background but she is good, kind and smart and she is strong.
What can you tell us about The Surprise Visit's director Nick Lyon, and what was your collaboration like?
Nick and I worked on 2 films before and were good friends outside of work too. Stephen Ross Meier (our writer) and I have been friends for at least 10 years and I just love him. I introduced him to Nick and they collaborated on other projects, yet weíve always wanted to do something the 3 of us together, and Iím so happy we finally made it happen. It was great collaborating with Nick. We kind of champion one another. He pushed me to take things further in various scenes and I trusted his instincts, and he guided me in the right direction with production stuff too. And we finished on time and on budget. Whatís not to love? Iím really happy with the way everything turned out.
Do talk about the shoot as such, and the on-set atmosphere!
I remember the first day of set - I didnít have scenes that day so I was on set as a producer. I got quite emotional to be honest. My first feeling was a sense of pride, not in any egotistic way, more like I could see everyone was doing a fantastic job, the set looked amazing, our actors were knocking it out of the park and I felt a huge sense of relief. We were a tight knit cast and crew, and I think everyone was very responsible and sensible about Covid safety, so that was a relief. The chemistry between ĎCaseyí and ĎAnnabelleí was paramount to the film, and luckily they got on great and were very supportive and trusting of one another. I think there was A LOT of heavy lifting for the crew especially, because we were such a small crew, Iím sure it was very tiring for everyone. From my standpoint as an actor I literally had to run for my life all day, everyday, so there was a lot of physicality, then when I wasnít on set as an actor, I had to be on set as a producer. I didnít sleep much for a month there. We were however, all in good spirits and believed in what we were doing. Everyone gave 110%.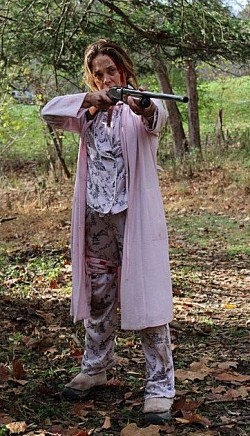 Any future projects you'd like to share?
I have another thriller feature - again based on a true story that Iíd like to do. And a horror film I still want to do (with kids), so letís see?
What got you into acting in the first place, and did you receive any formal education on the subject?
I began in youth theater in Sydney Australia at age 15. We performed in various festivals and such. I had performed a dance somewhere and the theater director pulled me aside and said ďyou are very brave on stage as a dancer, letís see you as an actor.Ē I was a science student with no intention of becoming an actor! But I thought, OK this could be a fun hobby. And 25 years later Iím still acting. Yes I did. I received my degree in London. I completed a class designed for people who had acting experience but wanted a degree. I had already been acting professionally and was somewhat known in my parents' country at that point.
What can you tell us about your filmwork prior to The Surprise Visit?
I was on a very popular sitcom in Turkey for over 4 years - it was and still is phenomenally successful. It ended 13 years ago and the re-runs still land in the top 10 of the day. So lots of comedy. Lots of action too - I kick-boxed and like doing my own stunts. I did a spy-spoof, that was fun, then a cop comedy. Several TV dramas, soaps. Turkish TV shows are 100-120 pages long and we shoot an episode in 6 days (thatís like shooting a feature film every week) and our TV season is 9 months so I literally have 1000s of hours of TV and film work under my belt. Lots of stage work too. I really really love theater.
You seem to have filmed all over the world - so how do filmsets compare from one country to the next, and honestly, where did you enjoy to film the most, where the least?
Well I was a household name in my country when I left, I didnít have to audition for anything - I got offers. I came to America because I wanted to make international films, and when my money ran out I had to wait tables like everyone else. During the height of my career back home I was treated like any A list actor, here in the States, I didnít need to wait tables. So you could say Iím here because I enjoy making films here. I am however forever indebted to Turkish TV and film sets, you cannot get that kind of education or training anywhere. When you are shooting an average of 20 pages a day and you need to cry in a scene, youíve only got time for one take to do it in, if youíre lucky 2. So you better nail it. The sheer volume of production is a huge asset in terms of experience for an actor.
How would you describe yourself as an actress, and some of your techniques to bring your characters to life?
Gritty, fearless and not afraid to get my hands dirty. I like immersing myself in the character. I donít walk around talking in accent for 6 months beforehand. However, when Iím filming, Iím fully in it. For The Surprise Visit I just needed to be really present with whatever fear I was feeling. It wasnít too difficult to be fearful when you have a drug addict swinging a metal fire-poker inches away from your head. I mean, have you seen how Rob Riordan [Rob Riordan interview - click here] looks in this? Scary! Plus I did my own stunts too, so that really is me rolling down the side of the hill, that really is me being strangled.
Actresses (and indeed actors) who inspire you?
Wow so many. Loved Philip Seymour Hoffman & I just watched his son Cooper Hoffman in Licorice Pizza & love him too. Cate Blanchett (sheís phenomenal and a fellow Aussie), Glenn Close and Viola Davis are all actors/actresses that I greatly admire. And then I watch someone like David Strathairn in Guillermo Del Toroís Nightmare Alley and he steals EVERY scene heís in.
Your favourite movies?
OMG, too many to mention hereÖ Oldboy (the original), One Flew Over The Cuckooís Nest, On The Waterfront, Lost In Translation, The Shining, Amores Perros, Panís Labyrinth, The Shape Of Water, No Country For Old Men, Training Day, There Will Be Blood, Boogie Nights, Licorice Pizza. And then I have a huge love for old school musicals, anything with Rita Hayworth, Gene Kelly, Fred Astaire, Ginger Rogers, Esther Williams, these were the films that made me fall in love with movies as a little girl.
... and of course, films you really deplore?
There are movies I donít really love but Iíd never use the word Ďdeploreí. My love for cinema runs too deep and I know the effort that goes into making them. Out of respect I could never deplore anyoneís effort to make a film.

Feeling lucky ?
Want to
search
any of my partnershops yourself
for more, better results ?

The links below
will take you
just there!!!


Your/your movie's website, social media, whatever else?
https://www.instagram.com/thesurprisevisit/
https://www.instagram.com/serah.henesey/
Anything else you're dying to mention and I have merely forgotten to ask?
Watch The Surprise Visit January 14!!!! Hope you love it as much as we loved making it.
Thanks for the interview!
Thank you!