Your new movie Triaphilia - in a few words, what is it about, and what can you tell us about your character in it?
It reminds me of Tales from the Crypt: horror with dark humor... essentially there are three separate stories all revolving around possessed/cursed items found in an antique shop. Different characters buy an item from the store, take it home, and mayhem ensues. My character, Karen, becomes possessed by a mirror. She and her boyfriend give this mirror to her parents, but what she doesn't know is that the cursed mirror will expose who you really are on the inside. Karen is selfish, arrogant, and in some ways immature; so the transformation is very drastic externally (hence me in black out sclera contacts, peeling skin, and devil horns!).
What did you draw upon to bring your character to life, and how much Katie Raulerson can we find in Karen?
I have a dance background and I love to approach all my roles from the physical side first; basically I work from the outside in. For this role in particular I watched tons of animal videos (particularly crocodiles and spiders) and tried to emulate their movement and sounds. I also watched copious amounts of "behind the scenes" moments from The Exorcist, The Ring, and a few others. AND I also watched a weird YouTube video every night for 2 months to help me work on my backbends... Ha! I guess you can say my internet browser was very confused. Let's hope there's zero ounce of actual Katie in this... but you never know!
How did you get involved with the project in the first place?
Joshua Nelson [Joshua Nelson interview - click here] is my acting teacher and he provides opportunities for his students that honestly no other teacher/school offers. I've never seen anyone else create work for their students and then pitch that project. It's truly pretty amazing and I am very grateful.
To what extent can you relate to Triaphilia's approach to horror, and is that a genre you're at all fond of?
I love horror movies. I grew up watching them from a very young age (sorry mom) and have always wanted to be in them. I really like how this movie in particular adds moments of humor and includes different stories. Horror anthologies seem to be popular now; hence, American Horror Stories. This is a neat throwback to something that used to be more relevant and is now resurfacing.
What can you tell us about Triaphilia's director Joshua Nelson [Joshua Nelson interview - click here], and what was your collaboration like?
Joshua is amazing. He's a great teacher and director, but also allows a lot of creativity and freedom. He was upfront with what he wanted from me, but he also let me add input on how I wanted to come across. Something I really admired is that he took into consideration how I was feeling the entire time. I was in a makeup chair for just under 3 hours wearing crazy contacts that drastically impaired my vision and he made sure I was comfortable the entire time. Most importantly, he was and is always there to believe in me when I don't believe in myself.
Since Triaphilia isn't the first time you've worked with Joshua Nelson, do talk about your previous collaborations for a bit?
We have worked together on many short films, but this is the first feature. Josh writes great things for me because he knows what I can do - which is relieving. One recent project of ours, Faces of Dead Women, is currently making the film festival circuit. It's about sexual assault victims joining together to take down a potential predator. It was written beautifully, shot beautifully, and everyone involved had a wonderful time working on it. Beyond this film, other projects of Josh's I've worked on have varied from comedy, to drama, to horror.
Back to Triaphilia - what can you tell us about the shoot as such, and the on-set atmosphere?
It was fun, but exhausting. As I said earlier, I was in a makeup chair for about 3 hours... and that's not including taking everything off which was about another 1.5 hours. I adore everyone I was able to work with, so it was very enjoyable. Overall, it was a very relaxed set. We were all prepared and ready to work. The hardest part of the whole thing was learning how to put in my contacts!
Any future projects you'd like to share?
I am in a comedic short film called, The Change coming out soon. And I am in Joshua's next horror feature, Menopause.
What got you into acting in the first place, and did you receive any formal training on the subject?
When I was a little girl my dad showed me all sorts of black and white movies, musicals, and all the classics. I saw Gone with the Wind and Spartacus when I was about 5 years old, and that's all it took; I knew I wanted to do this forever. I started taking acting classes and performing in plays when I was 9 years old. With regards to formal training I have a BFA in Musical Theatre from the University of Montevallo.
What can you tell us about your filmwork prior to Triaphilia?
Actually it's mostly been comedic work up to this point. I would love to do more horror and feature films. So far I have done mostly shorts and things like that. I come from a very strong theatre background and have only been pursuing film within the past 2/3 years, so I'm excited to see it continue.
How would you describe yourself as an actress, and some of your techniques to bring your characters to life?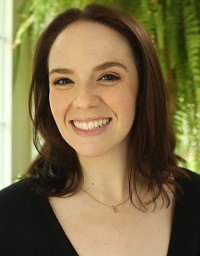 Feeling lucky ?
Want to
search
any of my partnershops yourself
for more, better results ?

The links below
will take you
just there!!!


I know exactly who I am and what I bring to the table, which in a lot of ways is the hardest part. I try to ground every character I play in truth and I am a painful perfectionist, which has its pros and cons. With regards to technique, I use various ones based on the character I'm playing. For this character it was based in Alexander and animal work.
Actresses (and indeed actors) who inspire you?
Woof. There's a lot. I am an old soul so my all time idols are THE Carol Burnett, Lucille Ball, and Marilyn Monroe. I steal as much perfection from them as I can. Modern day actors: Rachel Brosnahan, Catherine O'Hara, Glenn Close... I could go on.
Your favourite movies?
I have a very across-the-board taste. My favorite movie of all time is, Some Like it Hot with Tony Curtis, Jack Lemmon, and Marilyn Monroe. Other favorites: Singing in the Rain, Clue, Titanic, The Rocky Horror Picture Show, Waiting for Guffman, the remake of IT... like I said, it's very across the board!
... and of course, films you really deplore?
Sharknado. Fame. I am not a fan AT ALL of action or superhero movies... my worst nightmare is being forced to watch any of the Fast and the Furious franchise. Things that terrify me?? The movie Signs. I can't handle anything alien-related. There was time in my childhood where I made my parents take the ET VHS box out of our house because I couldn't look at his creepy fingers. I am not making this up.
Your website, social media, whatever else?
Instagram: @katieraulerson
Website: katieraulerson.com
Thanks for the interview!