Your new TV two-parter Scare BNB - The Hosts - in a few words, what is it about, and what can you tell us about your character in it?
Scare BNB - The Hosts is about four friends who go for a weekend away together in Nashville, and they stay at an airbnb whose hosts are perhaps a little creepy. I play June, a sensitive non-binary talent whose music is playing in Nashville and is the reason why the gang get together for the weekend. I also play Scream, the figment with the grin.
What did you draw upon to bring your character to life, and how much Mandahla Rose can we find in June?
I tend to see my characters as what I could be if I lived in different parallel universes. It is also interesting to me that at some point in my life, mostly at the time of bringing the character to life, I find such similar threads of experiences that mirror my own. June is a musically creative soul. I have always had musical talents and love to pick up instruments and try and play them. June was also brought up with a missionary father. I was raised by Dominican Nuns.
How did you get involved with the project in the first place, and what drew you to it?
Director Christin Baker [Christin Baker interview - click here] came to me and asked if I was interested in being a part of a film called Scare BNB - The Hosts and I would be one of four. I said absolutely. I have worked with Christin on a number of projects and I love being on her sets because they are the kind where everyone feels like family. When Christin calls me and says that she has a project, I'm automatically drawn to it.
To what extent can you identify with Scare BNB - The Hosts' approach to horror?
When I was a kid, probably in my 3s, I started watching horror films like Wishmaster and Hellraiser. Chucky, Nightmare on Elm Street. So I was conditioned to grotesque horror at a young age and so my toleration levels for scary are quite high. So, I probably wouldn't call Scare BNB - The Hosts a horror film and that makes sense to me because I also know that Christin is not a huge fan of horror, however the part that I identify with in Scare BNB - The Hosts' approach are the actual airbnb hosts themselves. I always assess my situation and the people whose house I am staying in. People can be unpredictable. Scare BNB - The Hosts is softcore horror =)
A few words about the shoot as such, and the on-set atmosphere?
When I think about the Scare BNB - The Hosts shoots, I have the fondest memories. All four of us being snowed in on the first day and sharing a bedroom and one bathroom. All of us sitting in the lounge room with the fireplace and running through our scenes with Christin and our AD and then finishing the night watching the Harry Potter movies (we got through every single one of them). We had a small crew and it was such a delight to see each of them walk on set each day.
As far as I know, you'll also star in future episodes of Scare BNB, but as a different character - so anything you can tell us about your future on the show yet?
I play Emmie in future episodes, and Lily Richards, who plays Gemma in The Hosts plays my wife, Dylan, and together with our kid, Micah, we go for a weekend altogether to an airbnb to find that it has been double booked!
Any future projects you'd like to share?
I am actually going to Mexico to shoot a film that is going to be... sigh… it is just so incredibly beautiful. Lisa Tedesco (August in the City, Spin) wrote this 9 page short and is also our director. I'm not sure how much I can say… it is called The Paradise Road, and we start shooting in March. What I can safely tell you is that I am very excited to be caught in a bubble of just being on set and working with individuals who have all gathered to bring this story and this representation to life AND I've never been to Mexico! How lucky! And upcoming: BIFL season 2!
What got you into acting in the first place, and did you receive any formal training on the subject?
I have wanted to be an actor since I could remember, and the key reason was because I wanted to be someone else that wasn't me. I took acting throughout my high school years and did classes here and there and went to uni(versity) to study acting, but I dropped out after my first year as academia was never my favourite.
What can you tell us about your filmwork prior to Scare BNB?
That I am so grateful and, I guess, proud. I am proud of the work I have done and how far I have come. Since I arrived in LA (very almost 7 years ago), I have done close to 30 projects and I would say 98% of them are LGBTQ. Back in Australia, All About E was the only project I had done that was queer and now, I predominantly only work on LGBTQ projects. How lucky. How so so lucky to be able to be a part of the representation that we want and need to see in our world, not only in front of the camera but behind as well. I love love love to be on set and sometimes I work as a PA or an AC and whatever I can get my hands on to do to be helpful. Being on an inclusive set where everyone feels seen and heard is somewhere I want to work all my days.
How would you describe yourself as an actress?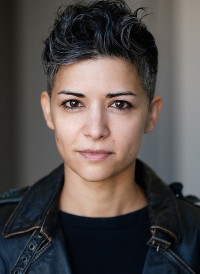 Feeling lucky ?
Want to
search
any of my partnershops yourself
for more, better results ?

The links below
will take you
just there!!!


I would describe myself as an intuitive empath, someone who feels very big and sometimes is unsure how to differentiate my feelings from others. I have learnt to channel it into my work, whether that be my acting, playing music, or with my paints and inks and stuffs. I think that my actor-self is a big part of who I am, just like my artwork and my music, and so describing myself as an actor is being asked to describe myself and I don't have the words to do that. I am me. And I think, I hope (I hope!) that I do my absolute best work . We are all at our core, our biggest critics and also I get mad imposter syndrome.
Actresses (and indeed actors) who inspire you?
Drew Barrymore! I have always admired Drew and even called her my idol for many years. I think what I find most inspiring about her is her tenacity and her survivor strength and her free spirit and kindest heart. One day, Drew and I are going to be mates and I look forward to that day when I am in her presence, and that will be a lucky day.
Your favourite movies?
I grew up loving Beetlejuice and Edward Scissorhands. I love Inside Out and the way it explains feelings. I love the magic of Hook. I watch all the Alien movies at least once a year and also Pirates of the Caribbean (it does not matter in which order). I love movies.
... and of course, films you really deplore?
Honestly? I have to say, now that I live and work in a world where I see so much diversity and representation, I really struggle sitting through another cishet white dude movie. It isn't an accurate representation of enough people's lived experiences.
Your website, social media, whatever else?
My socials are @twiistedrose
Thanks for the interview!