Your new movie Allan Quatermain and the Spear of Destiny - in a few words, what is it about?
After spending some time in prison, Allan Quatermain is recruited by MI5 to track down the spear of destiny that has been stolen by a group of neo-Nazis.
Now what prompted you to make an adventure movie spanning three continents on a rather modest budget in the first place, and how did you make up for the lack of funds?
All of the best adventure movies seem to include some degree of globe-trotting. The film was all shot on a budget of £30, so we didnít actually leave the UK. We had to get a little creative with our sets and stock footage.
How did you actually first stumble upon H. Rider Haggard's Allan Quatermain, and how close is your version of the character to the one depicted in the books?
I first encountered the Quatermain-character in the Cannon Films movie King Solomonís Mines starring Richard Chamberlain, which itself was not very close to the original character in the novels. It was a blatant Indiana Jones rip-off. Our film is a rip-off of a rip-off lol, but hopefully it has its own charm. Plus we have Nazi zombies, so it mixes things up a bit.
(Other) sources of inspiration when writing Allan Quatermain and the Spear of Destiny?
The main influences were Indiana Jones, King Solomonís Mines and The Lost Cities of Gold. Plus a little bit of James Bond.
As mentioned, you've made Allan Quatermain and the Spear of Destiny on a rather modest budget - so in what way was that limiting, challenging, but maybe also freeing for you as a filmmaker?
Yes, the only things that we spent money on were refreshments and a fez hat. The rest was either free, built or borrowed. We raised some additional funds for post-production FX and artwork using crowdfunding.
The challenges are that sometimes the script would need to be modified because we couldnít afford to shoot certain scenes in the ways originally planned. The great thing with a zero budget production is that you challenge yourself to overcome obstacles with creativity.
What can you tell us about your overall directorial approach to your story at hand?
It was a very basic approach. I would try to storyboard as best I could and then get all of the shots I needed in as little time as possible. There was no crew, other than myself, so we could shoot things very quickly. David would get the sets and props ready prior to each shoot. I would set up lighting and call action. We didnít run sound so didnít have to worry about setting up mics etc. We shot in a very short space of time (48 hours in total) and also had to work around cast availability. Most of the film was shot with only one or two actors on set, which makes things easier to control, but also means a lot of editing and calculating. The actors were often not on set together even though they appear to be in the film. This was of course challenging for the actors as they would often be having a conversation with a light stand.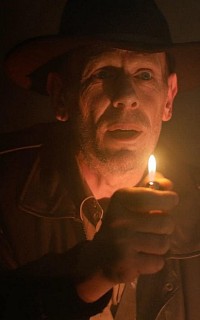 Feeling lucky ?
Want to
search
any of my partnershops yourself
for more, better results ?

The links below
will take you
just there!!!


Do talk about Allan Quatermain and the Spear of Destiny's key cast, and why exactly these people?
The main cast are all actors that I have worked on Roasted Films projects before. We have known each other for many years now and we all work well together. It was great having David Hardware as the lead and producer as he runs 369 Film Studios, and we could shoot a lot of the film with just him and myself. Most of the lead cast have also had prominent roles in my previous films. Weíre like the cast and crew of the Carry On films, but for trash movies. We just change the story and swap the characters around.
A few words about the shoot as such, and the on-set atmosphere?
It was a really fun shoot. It was mainly shot in one location at 369 Film Studios, so it was fast and furious. We could be in an Egyptian tomb in one scene and then 10 minutes later be in an asylum in Yorkshire or Nazi bunker in Argentina.
Anything you can tell us about audience and critical reception of Allan Quatermain and the Spear of Destiny?
Fans of Indiana Jones and trash movies seem to really enjoy the film. Itís essentially a zero budget mockbuster, so fans of either of those things should enjoy it.
Any future projects you'd like to share?
We are looking at making it into a trilogy.
Your/your movie's website, social media, whatever else?
Thanks for the interview!