In 1989 you were involved with the production of a film called The Basement, a film that has been released for the first time on VHS/DVD only very recently. In a few words, what is the film about?
The Basement is a horror anthology in the tradition of Tales from the Crypt and Creepshow. The film was shot in the summer of 1989 on Super 8 film.
How did you get involved with the production of the film, and whose brainchild was The Basement to begin with?
I went to William Paterson University here in New Jersey with the Basement film crew and director Tim O'Rawe. Tim and I were already making short films together when the opportunity to shoot The Basement came up. The short films can be seen on both The Basement collection and the Ghoul School-Splatter University Edition on DVD.
The Basement's director Timothy O'Rawe - is he still around, and what has become of him?
Tim moved from New Jersey to Hollywood in 1991. He worked on a few scripts including the 1995 Julie Strain film Midnight Confessions. He currently lives in Florida with his wife Kathleen. He teaches and is still writing.
You have done the camerawork on The Basement and also Timothy O'Rawe's follow-up Ghoul School. What can you tell us about Michael Raso, the cinematographer?
Cinematography was my concentration all throughout school. During the 1980s and early 1990s I was always behind the camera shooting. As time marched on I realized that in order to make a living making films I was going to have to launch my own releasing company. Frustrated relying on others, I launched ei Independent Cinema in 1994. ei Cinema was a direct-to-video company. We would produce and distribute our movies to video stores. Little did I know that managing such an operation would take up all of my time – leaving me either on the road or behind a desk. For the time being I had to give up cinematography.
As producer and cinematographer, did you have any creative control over The Basement.
I have always worked well with Tim O'Rawe. He would explain his shots and vision and I would make suggestions on how to shoot it. We had already been working together for a few years so he trusted how I would interpret his shot on paper.
The Basement was shot on Super 8, right? In a word: Why?
Tim observed how well J.R. Bookwalter's The Dead Next Door turned out and decided that Super 8 was the way to go. As someone who was already shooting 16mm semi-professionally, I didn't agree but it was Tim's budget so I went with the flow.
Was The Basement ever screened publicly, and what were the audience reactions?
The Basement was shot and quickly shelved (for 22 years)! The film was mostly underexposed (shot dark) and the technology in 1989 didn't allow for a quality transfer to videotape. Tim shelved it and immediately moved on to Ghoul School - thankfully, shot on 16mm.
You have remained in indie filmmaking all the years since The Basement. What has changed over the years?
I started my own production/home video label in 1994. It was all life changing. I entered the business as a filmmaker and I quickly was forced to become a businessperson. "Forced" because if I did not adapt to corporate culture I would not have succeeded. Dealing with big chain stores (Blockbuster, etc) required me to do business on their terms, and that meant adapting. It was very helpful that by the time I started my own business I had already worked for Comacst and was familiar with dealing with customers and clients.
Looking back at The Basement, what are the lessons you've learned from today's point of view?
I have learned to always do a test shoot before undertaking a feature film.
Using new (or old) technology? - Test it before diving into a big project!
What made you think now would be the right time to release The Basement?
The idea to release The Basement came to us (me and Paige Davis here at Camp Motion Pictures) organically. Paige suggested releasing a "Big Box" VHS. VHS releases were mostly released in these oversized (and awesome) packages in the early 1980s. What a great idea, pitched way before the House of the Devil release I might add! The Basement had never, ever been released – the timing was right!
You just have to say a few words about the wonderful VHS/DVD combo box you released The Basement in, and the other films that come with your movie! And what made you choose exactly these movies?
From what I recall, the title selection happed quite naturally. Don't know why it was those titles exactly!
What can you tell us about your company Alternative Cinema?
J.R. Bookwalter founded Alternative Cinema in Akron, Ohio in 1993. By the mid-nineties, J.R. moved to Hollywood to work for Full Moon and sold the magazine and catalog business to me. I re-launched Alternative Cinema and it has been going strong ever since. These days, it has become the one-stop shop for all things cult movies. It's a real, old-fashioned catalog company. We mail out tens of thousands of catalogs in a year and although we're on-line as well, lots of orders come through the mail.
Fortunately for film buffs like myself, Alternative Cinema has released many a cinematic rarity over the years. Now how do you get hold of all these forgotten films? And what can you tell us about Michael Raso, the film buff?
I started my businesses (catalog company Alternative Cinema and home video labels Pop Cinema / Camp Motion Pictures) in the early 1990s, so over the years different producers and content owners have contacted me to see if I wanted to sell their movies. I believe in long-term relationships so almost all of the titles have remained over the years. This has resulted in Alternative Cinema being a huge catalog of cult movies, which is awesome.
I've been a horror film since I was a child and my life was heavily influenced by the many hours of viewing the fantastic horror films from the 1930s through the 1970s. I remain a fan of the classic original films and haven't really kept up on all the re-makes.
Alternative Cinema also has a production arm though. What can you tell us about the films you've produced over the years?
My production and home video labels are a separate company called Pop Cinema. Under Pop I have such labels as Seduction Cinema, Shock-O-Rama, Camp Motion Pictures and Retro-Seduction Cinema. I've produced over one hundred films since the mid-1990s. They're all low budget but have had quite a bit of success with them – here in the US on DVD, playing cable television and cracking international markets as well.
As what kind of a producer would you describe yourself?
I consider myself a practical producer. Filmmaker Brett Piper said it best when he said, "Mike is the best type of producer. He hired me and stayed the hell out of my way."
I trust the people I hire and I'm confident that these folks (people like Brett Piper [Brett Piper interview - click here] or Tony Marsiglia [Tony Marsiglia interview - click here]) are capable of completing their film and doing the best possible job. So, it's true… I allow directors to get their movie made with the minimum of interference from me.
Some of your favourite Alternative Cinema-releases, old and new?
I don't really favor one title over another. Most titles were a joy to produce and I value each experience.
For The Seduction of Misty Mundae, you for the first (and so far only) time moved into the director's chair. What caused that decision, and what can you tell us about the film as such?
Spending all my time producing didn't allow me to have the time to be involved in the creative process of movie making, so I decided to take some time to direct a feature. At the time (early 2000s), most of our erotic features were comedies and I felt it would be interesting to have an erotic drama in our assortment of titles.
In my opinion, The Seduction of Misty Mundae is very much reminiscent of the films of Joe Sarno - a comment you can at all live with?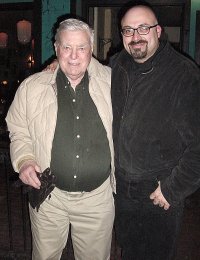 Joe Sarno, Michael Raso
At the time The Seduction of Misty Mundae was conceived, we had just started to distribute the films of Joe Sarno. The film is an absolute homage to Joe Sarno's films, especially his Inga. I specifically made it as a "throwback" film.
Speaking of the good Mr Sarno, you have not only re-released many of his films from the 1970's but also produced his comeback film Suburban Secrets - now how did that come about, and what kind of a man was Joe Sarno?
Joe Sarno was an amazing guy and I miss him dearly. He passed away two years ago. By 2001 I was already buying and distributing a number of Joe's titles. During a screening of Inga at the 2001 New York Underground Film Festival I asked Joe why he hasn't made a film in 20 years. His reply was "no one has asked me to!"
My label Seduction Cinema was already in production on many films, so I asked Joe if he'd like to make a new film. He was excited by the idea and we immediately started planning the feature Suburban Secrets.
Any future Alternative Cinema releases you want to talk about?
Sure thing! Our newest releases:
Stiffed – clever independent undead crime caper directed by Billy Garberina (Necroville, Feeding the Masses).
Trippin – Camp's hilarious stoner-horror-comedy and director Devi Snively are featured in April Fangoria # 312 Notes from the Underground! Coming 04/10/2012
Documenting the Grey Man – this smart paranormal possession investigation tale from director Wayne Capps was praised by Harry Knowle's Ain't it Cool website. Coming 07/17/2012
Ground Zero – called "Blood-splattered and creepy" by the critics, Ground Zero is a visceral new take on the zombie origin genre that will have you on the edge of your seat! Coming 08/14/2012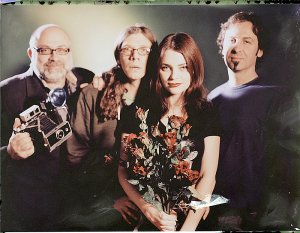 The Alternative Cinema Podcast crew: Michael Raso, Bill Hellfire, Erin Russ, John Fedele
Inga Collection – Joseph Sarno's erotic masterpiece and sequel that propelled Marie Liljedahl to international stardom now available for the first time in a gorgeous new collection! Coming 08/14/2012
A few words about your Alternative Cinema Podcasts?
I started the AC Internet Radio Show in 2009. It's a fantastic way to chat up all the amazing films that are on DVD. Since Alternative Cinema not only carries films from my studio but also Blue Underground, Synapse, Severin and many, many more – there is never enough time to talk about all the movies.

Feeling lucky ?
Want to
search
any of my partnershops yourself
for more, better results ?

The links below
will take you
just there!!!

Find Michael Raso
at the amazons ...

amazon.com

amazon.co.uk

amazon.de
Looking for imports ?
Find Michael Raso here ...
Something naughty ?
(Must be over 18 to go there !)

The AC Podcast has been compared to early morning "Drive Time" radio because of the zany folks on the show. John Fedele, Bill Hellfire [William Hellfire interview - click here] and Erin Russ (star of Porkchop) join me monthly. Please do check it out! www.alternativecinemapodcast.com
Filmmakers who inspire you? And your favourite movies?
George Romero – a solid, hardworking filmmaker, mostly inspired me. I love all the horror classics from Universal to Hammer-Horror to the schlock of the 1970s.
... and of course, films you really deplore?
Don't really hate anything – I'll try to watch anything. If it bores me, I just move on to another show.
Your website, Facebook, whatever else?
The heartbeat is at Alternative Cinema. Search Alternative Cinema via Google or if on The Facebook.
Thanks for the interview!
Thank you for the opportunity!