Your new movie 73 Minutes - in a few words, what is it about, and what can you tell us about your character in it?
I wouldn't call it so much of a "whodunnit", but more of a "who-is-it". A lawyer gets a threatening call from my character who only gives her 73 minutes to deliver a file. This caller threatens her family, and it's up in the air as to what he'll do with her after the file is delivered.
What did you draw upon to bring your character to life, and how much Mike Stanley can we find in him?
I'm a big dude (6'5), so playing the baddie has been in my wheelhouse for quite some time. I worked as a bouncer in my younger, dumber days, so that's definitely something to draw from. As for how much of *me* you can find? I hope not a lot. This guy is horrible!
How did you get involved with the project in the first place, and what drew you to it?
Writer/director Lou Simon [Lou Simon interview - click here], of course, had been working on this script around the time of the pandemic. She told me she had a role for me, if I was interested. I said, "absolutely!" We were all locked down and not working, so I was on fire to do something. I also thought the concept was original and just fantastic. I was also thrilled to be able to do something with her and Aniela McGuinness [Aniela McGuinness interview - click here] again.
What can you tell us about 73 Minutes' director Lou Simon, and what was working with her like?
I love working with Lou. In this instance, it was all via phone calls, Zoom meetings and even using Zoom, FaceTime and just our cell phones on this particular project. So, VERY different. I had it easy… I just sat at home on the phone and followed along with the script, for the most part.
73 Minutes wasn't your first time working with Lou Simon - so what can you tell us about your previous collaboration, 3, and how did the two of you first meet even?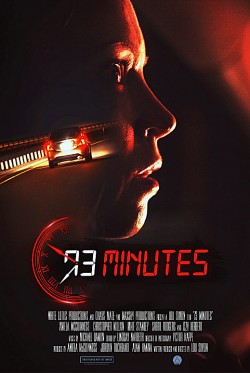 I met Lou when I met everyone else: The first day on set. Our mutual friend Chris Ethridge had suggested me for the role of "It" in 3, so I sent one or two auditions (I forget, now) and then she sent me the script. I absolutely loved it. So many great twists and turns! Everyone was coming up from Florida, so I was the odd man out. It was shooting in Chattanooga, so I worked local since my father lives there. The cast and crew seemed extremely tight knit. Darla Wrigley, our make up artist, also lived in the area and I met her first to do some pre prosthetic work about a week out. But, from day one, I was made to feel welcome. By day 2, I was part of the family. Working with Todd Bruno was a joy. Except for my last day, he was my only scene partner. We were spitting out 8-12 pages of dialogue a day. Sure, it's indie film, miserably hot and all of that, but it was worth it. I'm extremely proud of all of our work. I only got to work with Aniela her first day, my last day. I feel like Bill Schweikert, our DP, had a wonderful, eye and Lou absolutely knew what she wanted as a director. I respect the fact that Lou could just say to me, after a take, "I dunno… I didn't believe you." I love that. We'd make suggestions, then try the scene again. I jokingly call Lou my "favorite ex wife". She was the stand-in "wife" in our picture on 3, and I've called her that since. I loved the group effort and camaraderie. After it was all said and done, we enjoyed doing press and podcasts for the film. I was blown away when I won Best Actor for 3 at HorrorHound Weekend in Indianapolis. I made great friends and colleagues on that film. Actually, I just had drinks with Alan Hanna (Producer of 3 and 73 Minutes) a week or so ago. He was in my hometown on a project.
Back to 73 Minutes - as the film was shot under lockdown conditions, what was the shoot actually like for you, and how did that influence your acting?
Honestly, this was one of my easier shoots, because most of my character was on the phone. Lou came into town and we shot one day for a handful of shots that you'll see in the film. One of my best friends and production partner, Kelly Burke, shot those for her. I work in radio and I've also recorded a few audiobooks for a company out of Indiana. So, focusing solely on voiceover was pretty second nature, for me. In fact, we shot around the radio station area. It's up on a hill that overlooks the city, so no traffic, at all. I had a lot of technical stuff to keep up with. I recorded with an audio app on my phone, a lavaliere mic that was attached to my computer, and a separate audio recorder that I had borrowed from Kelly that I plugged a studio grade mic into. So, after we would "film" (I put that in quotes because *I* wasn't 'on camera'), I went through and labeled all of the different audio tracks so Lou could keep up with what was what. Voice acting IS acting. So not really different or a stretch in my opinion.
Any future projects you'd like to share?
I'm in a short film that's in post production called Duel, with Jordan White, who you may recognize from The Black Phone. It's written and produced by John Martin and directed by Nick Crockett. I also have a really cool scene in the film Breakwater with Mena Suvari and Darren Mann. I don't really know the status of it. We shot it in October of '21. They asked me to do some ADR on it almost 5-6 months ago, and haven't heard any more about it. Darren killed it on 1923, so I'm surprised it's not been scooped up. I play a fun, goofy uncle in the kids movie Treasure Trackers that'll be out around Halloween. Lastly, I'm writing a family crime drama that I'd like to get made within the next year. It's something that's been on my mind that I want to do with my friend and acting teacher from LA, Duane Whitaker.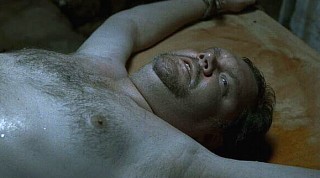 Mike in 3
What got you into acting in the first place, and did you receive any formal training on the subject?
I was always a ham in high school. So I had an English teacher, Ann Gardner (I just said hello to her via FaceTime, back in January. A friend ran into her at the grocery store, and called me. I was thrilled!), who started a drama class my junior year. She encouraged me to take it, so I did. We ended up going to the State level for the One Act Play Festival and I won Best Actor. So acting was in the back of my mind after that. I was accepted to Milligan University on a Music Scholarship. But, I switched to Humanities with an emphasis in acting after the first year or so. I was heavily involved in the theatre while in college. Our professor, Richard Major, was a working actor so we benefitted with him teaching an "audition" class. It's amazing to me how many actors never got that in school. So I auditioned for an equity dinner theatre (they hardly exist anymore, if at all) and swept floors and did children's theatre for $20 a week. I eventually left school… I was bored… and auditioned for the Barter Theatre in Abingdon, VA. I worked there as an intern for a couple of seasons. Jason George, of Grey's Anatomy and Station 19 fame, was my roommate. I devoured their library of plays. I was constantly reading when not working. I was eventually let go from there. Again, I got bored. Yes, I was acting, but as an intern you tech and build things more than act… that's the nature of it, especially when you're 22. I went on to continue work in the theatre, but was cast in my first film, Box of Moonlight, later that fall. I worked with Catherine Keener, Dermot Mulroney, John Turturro and a young Sam Rockwell. That whole experience just changed my world. I also took a job in the art department a few weeks before I shot to get some set experience. It was grueling work, but a valuable lesson. Tom Dicillo, the writer and director, is a social media friend and we've sent each other messages from time to time. He was an amazing mentor for a first time film actor. All of that said, I knew nothing about the business. I had no idea how to market myself for the film. Obviously, this was WAY before the film industry really hit in the South East.
As having both performed on stage and in front of a camera extensively, how do the two compare, and which do you prefer, actually?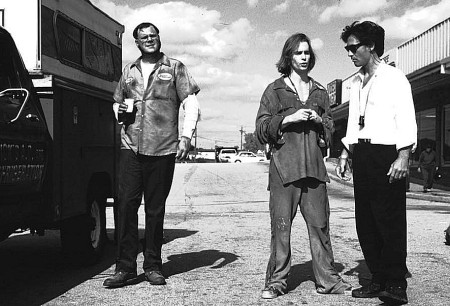 behind the scenes of Box of Moonlight with Sam Rockwell and Tom DiCillo
Stage is the actor's medium. Film is the director's. I love theatre. I loved doing theatre, but unfortunately, I'm still a journey man actor. I'm still carving a career for myself. I'd love to do the whole "do a movie, then do a play" thing, but unfortunately I'm not Liev Schreiber… yet. Haha. I love both versions of the craft. I get a high performing live for an audience. Especially when it really hits. But, I can say the same when you feel an audience moved by a film that you're in. The reality is, stage is not only more concentrated for the actor (depending on the role), but audiences, especially American audiences, don't take to the theatre like they did just 15 years ago, or so. And I partially blame current actors for that. Why do a play when you can make a 5 minute YouTube video? Or, more currently, a TikTok? I saw that change coming when I lived in LA. Used to be, actors would join a house, pay monthly dues, send out postcards to casting directors and hope they bring you in for a read. It certainly still happens in the UK. But, sadly, that's not the norm anymore (domestically). Sure, it happens. But not like it did. I feel somewhat guilty about that. I just don't have the time for rehearsals anymore. Shoot 2-3 days on a film? Great. Done and done. 6 weeks of rehearsals and then 4 weekends of performances? Sadly, I can't do that right now.
What can you tell us about your filmwork prior to 73 Minutes?
Oh, it's all over the place. I'm old! Haha. I took a break for a few years, but I've been doing this for roughly 30 years. Lots and lots of short films. Whether they're competition or state festivals… horror, drama. I did work on a Terry Zwigoff film in LA for a day. I did an independent Christmas comedy and even shot an entire horror film that I wrote that we filmed in Seligman, AZ. I have a whole trilogy mapped out for that story. I've done quite a bit of TV. Most notable and recent, I recurred as a Foreman for the Snell family on Ozark and was on the first two episodes of the Hulu series Dopesick. Both were amazing experiences.
How would you describe yourself as an actor, and some of your techniques to bring your characters to life?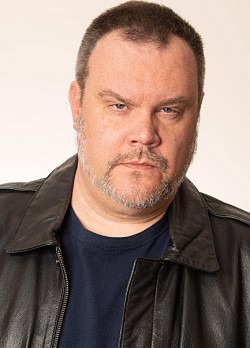 photo by Jeffrey Hass
It's funny. I think how *I* would describe myself and how others would describe me are very different. I like playing the second banana, the strong supporting type. In theatre, I did a LOT of comedy. I love comedy, but I'm rarely cast in those types of roles, professionally. I've done a few of those roles, but not many. And most of the time, when cast in comedy, it's because the writer or director was a friend or knows me. My goal, however, is to always be present. Listening to the other character is so important. Reactions are genuine. One of the simplest ways I can explain acting comes from a dear friend and mentor that I had in my theatre days named Bill Counts. We lost him to cancer in 2011. He would say, "The key is, how do you look like a guy talking?" That made so much sense to me. How DO you stand there, looking like a regular person, talking to someone? Reacting realistically to someone? Can acting be taught? I think some. But in the end, I think you really have to have that instinct. That's how I approach it. Are you listening? Are you reacting? Are you there? It's not as easy as it sounds. Or, maybe it is? I could go on and on about that… Haha.
Actors (and indeed actresses) who inspire you?
Again, I like those second bananas. I love character actors. The entire cast of Deadwood. Brad Dourif is always a joy to watch. His portrayal of Billy Bibbit in One Flew Over the Cuckoo's Nest is an absolute Master Class. Sydney Sweeney is someone who I think gets overlooked because she's so incredibly beautiful, which is a shame and shouldn't matter. Her performance as the reluctant wife in Handmaids Tale just blew me away. I'm also mad over Mia Goth and will watch anything she's in. She's on another plane. Especially in Pearl and Infinity Pool. Barry Keoghan broke my heart in Banshees of Inisherin. His awkwardness was so genuine. I'd probably throw the entire cast of 1883 in there, too. Sam Elliott? Isabel May? Just phenomenal. I know I'm mentioning more modern, recently working actors… I'll always love Gene Hackman and those types of character actors. What a great career and body of work.
Your favourite movies?
Casablanca, The Shawshank Redemption, One Flew Over the Cuckoo's Nest, Amadeus (yes, I realize three of those films are about a guy wanting to escape). I'm a Tarantino fan. Rodriguez… I was a young teen in the 80s, so Spielberg, early Ridley Scott… I watch all of the Universal horror films around the fall of the year, every year. I collect Universal memorabilia and T shirts.
... and of course, films you really deplore?
Anything that tries too hard. Don't tell me something is artistic when it's obviously not. Also, not a big fan of modern comedies. Too many of the actors want to riff and the director lets the camera roll. It usually gets too stupid and silly… and add dance sequences because they ran out of ideas. Why does this happen so often? And, movies that are over 2 hours that don't need to be. 90 minutes to 115 is the sweet spot. I don't count Infinity War or Endgame… they took 10 years to build up to that. They're allowed. Same with Lord of the Rings.

Feeling lucky ?
Want to
search
any of my partnershops yourself
for more, better results ?

The links below
will take you
just there!!!


Your/your movie's website, social media, whatever else?
Instagram: mdstanley1
Website: https://www.talentboom.com/mikestanley
73 Minutes on Facebook and on Instagram!
Anything else you're dying to mention and I have merely forgotten to ask?
Just reminding everyone to support indie film! Remember, just getting the film shot and distributed is an accomplishment, itself. A lot of people are usually involved, seeing it to the end. If you're a fan, respect the work they put in. And support them whenever and however you can.
Thanks for the interview!
Thank YOU!