Your new webseries Red Rooms - in a few words, what is it about?
In the darkest corners of the darknet, there are terrifying places where the abducted are held captive, psychologically tortured and live-streamed. Victims are given the chance to escape if they agree to confess their worst sins to the world, preserving them online for eternity. Paid subscribers watch, listen and vote on who has committed the evilest crimes against humanity. The winner lives. The losers die. These are the infamous "Red Rooms", and this terrifying new web series invites you to take part in this diabolical dark web reality show, where nothing is what it streams to be.
In this limited webseries event of Red Rooms, Hollywood producer Leilah Black, Armenian hit man Alex Terzian, Republican senator Sheila Larkin, former priest Stephen Bishop, and international mogul Ethan Campbell find themselves held captive and streamed live on a popular dark web reality show where viewers vote on who lives and who dies. While enduring psychological torture, the imprisoned contestants reveal they share a diabolical connection in their past.
How did the project get off the ground in the first place, how did you get involved, and what drew you to it?
When Covid-19 hit in March of 2020, I do not think any of us realized what a long and tragic event would ensue in our world. I had actually taken off work for a couple months after being sick myself, and I was super motivated to figure out a way to stay creative and work with an incredibly talented group of creatives in my world. I had been having a conversation with our creator and director, Joshua Butler, about the proof of concept that we had shot for another project in 2019 and had a vision of taking a portion of that piece and adding to it to create a humble virtual webseries that we could potentially bring to fruition throughout our time in isolation. Joshua was completely on board, as he needed his creative soul to be fulfilled during these tough times as well. So, Red Rooms was developed from there. I had pitched Joshua the idea of filming some of my wonderful actor associates completely virtually, then he and I discussed the creative idea of the narrative. I wanted the actors to choose a character that they were inspired to play, then Joshua was able to write the storyline from that point on and he went above and beyond anything I could have imagined! His story was so smart, so deep, so painful! As a producer, I am incredibly hands-on, especially when it is a Philly Chick Pictures-produced project and I am the sole producer. There were professional elements and components that were very important to me, and I knew that Joshua Butler would be able to deliver, as I have always admired the level of his work and creativity. From this point, as the executive producer, I raised financing, and as the producer, negotiated all the cast and crew contracts, set up meetings for rehearsals with our actors, and we even did wardrobe and props virtual tests, etc. We really treated this humble production as we would any other higher budgeted or on-set project or production. Joshua and I are always in agreement that anything we put our names on must be professional.
To what extent could you identify with Red Rooms' approach to horror?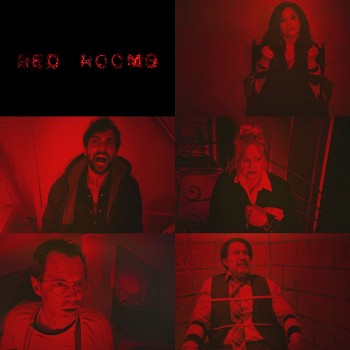 Mike, I absolutely love this question! To me, the horror of a piece like Red Rooms is the most identifiable horror there is! The psychological horror in the story and characters of Red Rooms is real… it is truth… it is found deep within so many of us and our lives. One of the things that I was most excited to collaborate on with Joshua's story was to approach this as not just a horror piece, but a dramatic horror piece, inclusive of the drama, pain, abuse, etc. that we face in real life. I believe that every one of us can relate to the horrific emotional elements of Red Rooms and its characters. I really do believe that anyone who watches this piece can relate in some way to the emotional pain, and even the ugliness, within each of these characters. Even within the ugliness, we can all find relatability, empathy, and some human justification of what made these people who they are today. This is the type of drama horror that I love to watch, and truly love to perform.
What were the challenges of bringing Red Rooms to the screen from a producer's point of view?
Oh… the pandemic! No physical set… pandemic… everyone at their own homes in isolation… pandemic… a very small crew… pandemic… working virtually… pandemic… sound… pandemic… the usual challenges working with a low budget… pandemic… the rapidly changing streaming platforms… have I mentioned pandemic?
You also appear in front of the camera in Red Rooms - so do talk about your character, what did you draw upon to bring her to life, and how much Brooke Lewis Bellas can we find in Leilah?
The character of Leilah Black in Red Rooms was an absolute gift to me! As an actress, I do not always believe in myself or my abilities, as much as others sometimes believe in me. I am always grateful for my writers and directors who believe in my acting talents. Joshua Butler has always been someone who believes in my abilities. He has encouraged me to push myself as an actress and dig into the painful dramatic roles. When Joshua and I had first begun collaborating on Red Rooms, it was very important to me that I, and the entire cast, would have say in our roles and play a character that inspired each of us. As a woman in Hollywood, I have always had to fight hard for respectable opportunities, and to be taken seriously as both a producer and an actress. One of my missions in my life and work is to empower women, and one of my acting niches is power struggles, so it only seemed fitting and inspiring to choose a character that spoke to me in both a power position, and with the ability to express her pain and vulnerability at the same time. As we all know, Hollywood producer Harvey Weinstein was all over the media in 2020 with his arrest, and being accused of sexually assaulting and raping actresses for many years. I felt inspired to go within and see if I was able to feel all the sides and emotions that would come with being this horrific person or character. Joshua and I had very intense conversations about what it would look like to create a character with the role reversal, and have Leilah Black be a very successful female Hollywood movie producer who sexually assaulted, or raped, in a sense, male actors. This was not an easy subject to tackle and brought up a lot of debate and controversy, but we chose to step into this situation and show the different sides, internal struggles, and pain that Leilah Black may have experienced herself. This was not a simple character to psychologically dive into, but when we did, the emotions just came pouring right out of me. Joshua, knowing me as well as he does, was able to get into my psyche and, hopefully, direct me in a way that displayed an honest, painful, and believable performance. I think the viewer will find more of Brooke Lewis Bellas in Leilah Black than I would hope for. I feel like so much of my life in Hollywood has been fighting and struggling to prove myself, to justify my creative choices, and to find the strength to step into my power.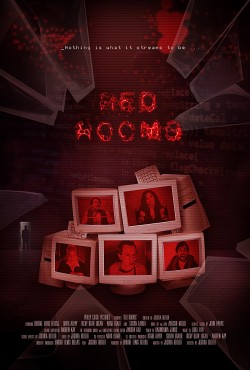 What can you tell us about the rest of Red Rooms' cast, and as producer, how much say did you have or demand when it came to casting?
Red Rooms stars horror film and TV veterans Brooke Lewis Bellas (iMurders), David Alpay (The Vampire Diaries), Susan Lanier (The Hills Have Eyes) [Susan Lanier interview - click here], Ricky Dean Logan (Freddy's Dead: The Final Nightmare), and Noah Blake (Teen Witch). I genuinely do not have enough room on your website to tell you how extraordinary the cast of Red Rooms is! I mean this with all my heart. I am forever grateful for all that these unbelievably talented actors gave, not only during a pandemic, but each of them isolated in their own homes and working with us via Skype every day in rehearsals and meetings to give us location options, wardrobe options, and props from their homes. And, setting up the best captivity scenarios they possibly could with us from afar. They were complete professionals and gave more than we could have ever asked for. I don't even know if they realize the incredibly authentic and generous performances they gave. I was so fortunate, as the producer, to be at home in what I, jokingly, called my "video village" where I would watch our actors via my iPad on FaceTime, through Joshua 's studio via Skype, to be able to give him notes while filming. I would sit in my video village from my house and was moved beyond words. I found myself crying with each performance at some point. It was so extraordinary, and for me, being one of the actors as well, it really felt like I was acting within a seasoned veteran acting troop. Part of my mission with this project really was to produce and facilitate something incredibly creative that we could perform together during isolation, and their performances far surpassed anything I had ever wished for. As the owner of Philly Chick Pictures, and the producer, I am always involved in the casting process. This was a very specific project and situation that offered me the opportunity to go directly to my trusted associates and their agents, which is often not the case. As a producer of many years, it has been a privilege to sit in big audition rooms and watch actors come to audition, and know in my gut who is right for the role. It has been a huge lesson for me to learn as an actress. I really followed my gut with casting Red Rooms. When I first set out to produce this project, one of my goals and visions was to offer each actor the opportunity to choose a role that they either hadn't played, wanted to play, or were inspired to play. I had all my initial meetings with the individual cast members to inquire about which roles they would be creatively excited to play. After brainstorming together, we came up with a few inspired options. I took these options back to Joshua, then he chose them, flushed them out, and built the entire story around these characters. I really wanted to offer the actors an opportunity that we do not always get, including myself, as part of this ensemble cast. It became such a powerful collaboration in every way, and I cannot imagine a more perfect cast for Red Rooms.
Do talk about Red Rooms's director Joshua Butler, and what was your collaboration like?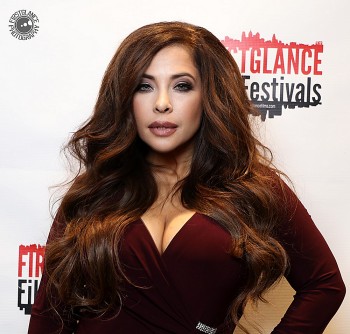 Joshua Butler and I had been in-development on another project and had been reminiscing about our favorite industry days of yesteryear when we met on the horror film circuit. I had already been a superfan of Joshua's work and creative mind for years. We had been discussing a creative horror collaboration for quite some time and we needed our timing and vision to align. In 2019, we shot a proof of concept for our project, which paid homage to his hugely successful film Vlog (2008) from the producers of Saw, that went on to become a hit TV series. I loved being directed by Joshua with his passion and intensity, so we committed to further collaborating. When Covid-19 hit Hollywood and we were all in isolation, I called for a virtual production meeting and suggested we attempt to experiment by filming each character virtually from their homes. This 100% virtual filming was new to both Joshua and I, so we really had to walk through the entire process of production to figure out the most professional and create ways to make this work. As a producer, I respect my director's vision very much, so we walked through all virtual options, including Zoom and Skype, doing various tests, but something in my creative gut told me we should film through Skype, so I really pushed for this. Joshua agreed with my choice and followed with building the red filter, then we were on our way! We really left no stone unturned and I produced through six weeks of isolation pre-production, setting up a ton of phone and Skype meetings, while Joshua fleshed out our story and characters. He wrote an incredible story with depth, connecting the characters in a painfully beautiful way. Once we hit production, it was both challenging and hilarious at the same time, as I was isolated in my home office watching, and giving producer notes, to Joshua via FaceTime, with him isolated in his home studio Skype filming our actors who were each isolated in their homes. What an experience! Then, Joshua and I spent the next year in isolation post-production, because one thing I know we always agree on as veterans in the industry… we will do whatever it takes to make sure it is delivered as professionally as it can be!
The $64-question of course, where can Red Rooms be seen?
Mike, as you and your fantastic readers know, because you gave us a fabulous review, we invited the horror and thriller fans to enter Red Rooms on February 1, 2023, streaming exclusively on Deep C Digital in honor of Women in Horror Month. A later release will follow on Tubi TV, Amazon Prime, and other streamers in 2023.
Anything you can tell us about audience and critical reception of Red Rooms?
I am humbled and honored to share that that we have received an unbelievable reception of Red Rooms. Quite honestly, it has been blowing our minds to see the attention and accolades that this humble webseries has brought to us. We have been blessed to run the festival and awards circuit from 2022-2023 and have wins to proudly show! Although I was unable to attend, due to long Covid, Joshua, Susan, and other cast and crew represented us across the country, and were met with praise from the film festivals and audiences alike. We chose a limited festival run with festivals that welcome content in the new media, television, webseries, and streaming series categories. On behalf of Red Rooms, I would like to thank Catalyst TV Content Festival, FirstGlance Film Festival, Zed Fest Film Festival, and Mykonos International Film Festival for believing in our humble content and welcoming us with open arms! I would also like to thank my Philadelphia Red River Horror family for going above and beyond the call of duty to support us along the way, and representing us when I was not able to attend FirstGlance Philadelphia. Now, that is Brotherly Love! Even with our limited release in February for Women in Horror Month, the reviews were exceptional. Of course, we respect everyone's opinion, and they will always vary, but I don't think I've ever been on a project where so many professional reviewers and viewers have acknowledged the writing and performances as much as they have for Red Rooms. Every time I read a review, it seems to consistently mention how all the acting performances were excellent, and it absolutely melts my heart for all!
With Red Rooms being somewhat open-ended, will there ever be a season 2 of the series?
Red Rooms was such an incredible and challenging learning experience for us all. Now in 2023, it takes us back to a time and memories, during the worst of the pandemic, that I know for sure none of us wants to revisit. I only hope, as the producer of this webseries, that I was able to gift our extraordinary cast and crew something creative during the toughest of times. Joshua Butler and I hope we created something everyone can be proud of. In my humble opinion, the entertainment industry and streaming platforms have drastically changed since before the pandemic, and I can say, with 100% certainty, that I would not want to produce a season 2 of Red Rooms. I for one am very much at peace with where we have landed in 2023. That said, if an investor were to come and offer us $1 million to do a season 2, you better be damn sure I will change my answer! Ha!

Feeling lucky ?
Want to
search
any of my partnershops yourself
for more, better results ?

The links below
will take you
just there!!!


Your/your series' website, social media, whatever else?
Instagram: @brookelewisla
Twitter: @BrookeLewisLA
Facebook fan page: @BrookeLewisLA
IMDb: https://www.imdb.com/name/nm0506989/
Website links:
Press site: https://brookelewisbellas.com/
Philly Chick Pictures: http://phillychickpictures.com/
Thanks for the interview!
I am humbled and honored to be a part of the Search My Trash family for so many years! Thank you!
XO Brooke Lewis Bellas