Your new movie H.P. Lovecraft's The Beast in the Cave - in a few words, what is it about?
It's a movie about the human nature of fear, and the consequences of a rash desicion. It's Lovecraft in his earliest form, and we tried to stay pretty close to the text on it.
What inspired you to adapt especially this one of H.P. Lovecraft's stories, and what can you tell us about Lovecraft's influence on you as a horror filmmaker in general?
It was born out of a desire to get back to work with my producing partner Larry Underwood [Larry Underwood interview - click here]. We wrapped our television show Dr. Gangrene Presents and I went off to make some documentaries, music videos, and ultimately Tailypo. While I was working on that Larry started a new online series called The Fantastic Films Of Vincent Price, chronicling every film by the actor, as well as writing a number of short stories that ultimately ended up in his Tales From Parts Unknown story collection. We were kicking stuff back and forth to each other all the time. He'd send me rough drafts of his stories, and I'd send him rough edits on Tailypo. But we really weren't doing anything together. So we tried to find something we could put together fairly fast. He had found this story that H.P. Lovecraft had written at 14 years old that took place in a cave. It was short enough we though we could knock it out in a day and we just jumped right in.
Do talk about H.P. Lovecraft's The Beast in the Cave's writer and fellow producer (and your longtime collaborator) Larry Underwood [Larry Underwood interview - click here], and what was your collaboration like on specifically this project?
Well, like I said before we always are kicking stuff back and forth to each other. We call and text each other constantly. I value his opinion, and I believe he feels the same about mine. It's a mutual respect. We have a honesty between us that is always good-natured. Larry was involved from concept to final edit on this. He adapted the original story to a screenplay, scouted the location, hiked in with us for the actual production, and had a voice in the editing room. I don't know that we have ever come up on a situation where we couldn't find a path that made us both happy. There have been times I've made directorial choices that he might not agree with but it's rare he has never really pushed back. In the same way, if he feels strongly about something, I may not agree with him, but can always see where he is coming from as a storyteller. If we are both on the same page then we usually know its going to be gold. This one was mostly gold.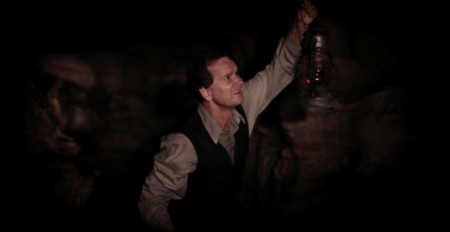 H.P. Lovecraft's The Beast in the Cave gives plenty of room to the literal words of H.P. Lovecraft - now what was the idea behind this?
Well, part of what made this film shootable was that we stuck with the text framing it with the writing of a letter. It allowed us to use a lot of the words as Lovecraft spoke them. This also meant that a majority of the movie could be done in voiceover which helped move shooting along as we didn't have to worry about sound for those parts. We did make a few changes in phrasing and word choice. I remember replacing the word "sepulture" with "mausoleum" as I didn't think a lot of the audience would know that word. But I did have a bit of hesitation, as anytime you mess with a story from someone as notable as H.P. Lovecraft you run the risk of backlash.
But I ran into a bit of luck in Charleston, South Carolina while screening Tailypo at the Crimson Screen Film Fest. Scott Poole, who is a noted authority on Lovecraft and has written the book In The Mountains Of Madness: The Life and Extraordinary Afterlife of H.P. Lovecraft, was giving a presentation on the work of Lovecraft in film and afterwards we talked about the movie, and he seemed excited that I had adapted it. I sent him a copy early and he gave me some insight as well as a really nice quote to use as we began to send it out for festival screeners: "In the flood of short films attempting to interpret Lovecraft's work, Cameron McCasland's The Beast in the Cave rises above them all like Cthulhu from the corpse haunted city. Taking one of Lovecraft's little known juvenile tales and adding his penchant for memorable characters and thoughtfully crafted frights, McCasland's brilliant little chiller places him at the cutting edge of a new kind of horror; brainy, shocking and, haunting the viewer at the edges of sleep. Lovecraft wouldn't have admitted it, but he would have be undeniably pleased." - Scott Poole
With that, I knew we had hit the right tone. And Im excited because we are going back to Carolina this summer to screen it at Crimson Screen. Tommy Faircloth & Robert Zobel run a really cool set up there. It's going to be fun to watch it with an audience including Scott.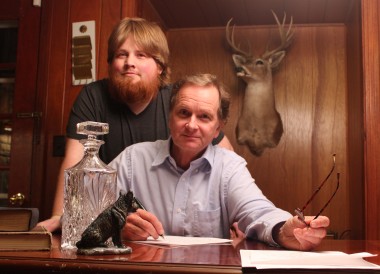 Cameron and Wynn Reichert
Where was H.P. Lovecraft's The Beast in the Cave shot, actually, and do talk about your location for a bit, and what was it like filming there?
We shot the cave scenes in an actual cave in Crossplains, Tennessee. I had worked on a film back in 2005 called Dead Last that shot on the same property and we just kind of happened upon the cave one day. Kind of just had that in the back of our mind, and I think it was Larry who went back out there and looked around again to see if it was in any shape to shoot in. Save for some minor graffiti we had to avoid it was in good shape. We actually left it even better than when we started as we did a bit of a clean up job on some old junk that had washed up.
The house scene was shot right outside of Nashville. I had produced a music video for Florida Georgia Line there a few months back, and befriended the owner who was gracious enough to welcome us back. It had an eerie vibe to it, as it was once owned by the pilot of the plane who perished with Patsy Cline. Patsy had spent a lot of time in the house when she was alive, and I remember just walking around and humming "walking after midnight". I really don't believe in ghosts, except for in instances like these as I think it's romantic. For that shoot it was myself and Wynn Reichert [Wynn Reichert interview - click here] with J. Kyle Kelly (who ultimately edited the film) as well as my wife Jamie. We knew the angles on the room pretty well as it had not been that long ago we had shot a man writing a letter at a desk for the music video.
https://www.youtube.com/watch?v=PgPwpzjRGe4
What can you tell us about your cast, and why exactly these people?
I will say that it was a tougher shoot for our tall guys like Larry and our lead actor Wynn Reichert [Wynn Reichert interview - click here]. The cave is fairly small, and they spent a lot of the day having to crouch down as the ceiling wasn't very high. To top that in its about a mile and half hike to the cave over some fairly treacherous terrain. But that also forced us to plan the gear we took, and we had to be finished in time to pack up and hike out before it got dark. Mark Greenbaum played our guide. He had been on the old Dr. Gangrene show a number of times before I took over the directing reigns but I had got to know him a bit as he was a long-time friend of Larry's and had done a bunch of sight gags in live shows. It was my first time really directing him, other than a TV promo we had done where he played a zombie eating a pile of brains. Both of those guys came ready to work and knew their lines. Joseph Drake played our monster. Joey had been the monster in the suit for Tailypo, and it just felt right bringing him back for this one.
You of course also have to talk about H.P. Lovecraft's The Beast in the Cave's creature for a bit, and to what extent were you involved in its creation?
That was more in the hands of Chuck Angell, who did the creature design on the face of our actor Joseph Drake. Larry did some research on prosthetic pieces and we decided pretty quickly on what the monster should look like. I had Joey do some simple test photos with just covering him in a talcum powder, as we wanted him to be a big ashy looking. Chuck did the prosthetic application, and painted the makeup. And Joey hiked in the woods with make up already on, and sat in it all day as his scenes were later, but Chuck was also shooting for me so I needed him on set. Oddly enough Joey had an allergic reaction to the latex and ended up in the hospital the next day (which I didn't know until later). He got a cortisone shot, and was all good. It makes for a better story that way I suppose.
Do talk about the shoot as such, and the on-set atmosphere?
It was pretty light-hearted. Probably the least stressful thing I had made in years. Like I mentioned we were pretty scarce in the gear we brought along as we had to hike it all in. It was me, Larry, Chuck, Wynn, Mark, Joey, and David Baker who had come to be an extra set of eyes and ears for Joey in the mask. We brought in a picnic lunch and ate in the cave. I think it took about seven hours to shoot the cave scenes. Wynn was pretty wiped out by day's end as I kept stuffing him in little holes and making him crawl around. I think it helps sell his panic well. It was fairly comfortable as caves have a fairly even temperature. We all had little beads of water on us, as the cave dripped a lot. And we may have scared some hikers any time Joey stepped outside the cave to smoke a cigarette as he was almost naked except for a loin cloth and that monster make up on.
The $64-question of course, where can H.P. Lovecraft's The Beast in the Cave be seen?
We still have a few chances to see it on the big screen, and we have made it available for a limited time for screening on the Dr. Gangrene YouTube channel as it's is currently nominated for best short film at the Rondo Hatton Classic Horror Awards, and we wanted people to get a chance to see it before balloting ends. I'll be in Evansville and Charleston to screen it and Larry is heading over to Chattanooga for an encore screening (we won Best Regional Film at Frightening Ass Film Fest in Chattanooga back in October and they invited us back for the big party). And both of us will be on hand here at home in Nashville. We're still booking it so screenings may pop up.
April 6-9 Chattanooga Film Festival - Chattanooga TN
April 6-9 The Alhambra Theatre Film Festival Evansville Indiana
April 23-24 Nashville Film Festival Nashville, TN
May 19-21 Crimson Screen Horror Film Festival Charleston, SC
Anything you can tell us about audience and critical reception of H.P. Lovecraft's The Beast in the Cave yet?
Yeah, for sure. The one thing Larry and I really wanted with the movie was for it to play at the H.P. Lovecraft Film Festival and it did, playing at both the Providence Rhode Island (which is the birth place of H.P Lovecraft) and in Portland Oregon where the festival has longterm roots. In a bit of happenstance the movie premiered both in Rhode Island as well as at the GenreBlast Film Festival in Virginina on Lovecraft's birthday. I was attending Genreblast where they screened both it and Tailypo in the same block. I realized only then that I had made two movies about a shot in the dark. It's funny how seeing it with an audience can do that.
Other than that, it screened in Australia for A Night OF Horror which also celebrates the work of Lovecraft and a handful of other festivals in the U.S. and Canada. It was nominated for a Emmy here in Nashville and it's currently in the running for the iHorror Award and Indieville TV Award in addition to the Rondo. We didn't expect any of that. It's been kind of funny as I've made other things that have done well, but I labored over them more. This one has just been easy from the start. It's had longer legs (or tentacles I suppose) - I chalk that up to Lovecraft more than anyone.
Any future projects you'd like to share?
We just this week put out the trailer for a new western I directed called Prisoner Of Perdition. Larry wrote the screenplay for it off a short story he did. It has played two festivals in Oklahoma already and has a few more booked as of now. I'm really excited about that one. Big cast including Rusty James, John Wells, and Michael Longstreth. Great looking sets from Copper Canyon, which is like a second home after shooting Lashman & Tailypo there. I call it a weird western, as I think it's the kind of story you would have seen on a Twilight Zone episode.
https://www.youtube.com/watch?v=Td9DqjraBdY
And we are currently editing another short that I directed from a story that originated from Larry's short story sabbatical, called Retrieval Service. It's about a pair of graverobbers who get in over their heads. Stars Kenny Garner, J.D. Hart, and Rebecca Lines in another great make up job by Chuck Angell. I'm really excited to show that one off. It's got a few last touches to do, but it came to life really well. We shot that a few months back and the plan is to collect these and some other shorts into an anthology hosted by Dr. Gangrene after they make their film festival runs. We have one more story we want to shoot for that, and that will probably be my next narrative project as a director.
Otherwise I'm writing a few things. Working on some documentary stuff and just deciding what I want to do next. I'd like to tell the story of US Marshall Bass Reeves. Nothing set in stone, but the story is coming together, and Im hopefully we can get it made.
Your/your movie's website, Facebook, whatever else?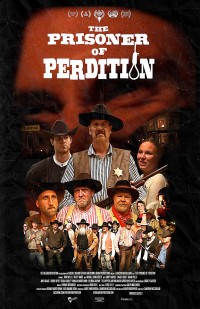 Feeling lucky ?
Want to
search
any of my partnershops yourself
for more, better results ?

The links below
will take you
just there!!!


You can find me at www.redheadedrevolution.com and it has all the widgets that point to my Instagram, Twitter, Facebook, YouTube, etc. You can see a lot of my other stuff over there too. I'm easy enough to find on the web, and usually answer my tweets if anyone has questions.
Anything else you're dying to mention and I have merely forgotten to ask?
Let me just ask that for anyone that loves movies and independent film I implore you to come out and engage with filmmakers at film festivals, conventions, and any other kind of screening. Tweet at people, and write them letters when you like something. It does a world of good to know people are out there in the darkness watching. I don't disparage any films being made in Hollywood, but if you love truly independent art, then make a point to support films and film makers where you can. So many brilliant minds doing good work right now that need the support so they can continue to make films. Guys & gals like Henrique Couto, Jaysen Buterin, Izzy Lee [Izzy Lee interview - click here], Nathan Ludwig, Sannah Parker, Christopher G. Moore, Jill Gevargizian, Jason Tostevin [Jason Tostevin interview - click here], Kelton Jones [Kelton Jones interview - click here], Phil Elam, Ryan LaPlante, Chris McInroy, Dustin Mills [Dustin Mills interview - click here], Wendy Keeling, Tim Hall, Michael J. Epstein [Michael J. Epstein interview - click here], Lynne Hansen, Scott Schirmer [Scott Schirmer interview - click here] & Brian Williams and an ever-growing list of names of filmmakers who are doing great work. If you don't know them, look them up. Find their movies, and engage them in conversation. Don't complain about remakes, sequels, or that no one is making original stuff because all of these human beings are doing just that. Seek it out, and share it with your friends. Buy them dinner and drinks if you can and let them sleep on your couches. If you seek it out I promise you will find something that you like. When you do, hold on to it and help them grow. We need audiences. If you like it tell people. What I'm saying here is the old Daddy Warbucks cry of "Let's all go to the movies!"
Thanks for the interview!