Your new movie Quartz Vein - in a few words, what is it about?
It's about gold's potential and secret capabilities.
With Quartz Vein being a post doomsday movie, is that a genre at all dear to you, and some of your genre favourites?
Yes, there's some interesting work out there such as Cherry 2000 (1987), America 3000 (1986), Tank Girl (1995) and of course the Mad Max trilogy, which seems to be the only one that stuck and lingered in public mind, until Quartz Vein (2021) reintroduced the masses to this fascinating niche genre.
(Other) sources of inspiration when writing Quartz Vein?
The recollections of time traveler Al Bielek.
You shot Quartz Vein during the pandemic, with all the restrictions that came with it - so what were the major issues that you had to deal with because of that situation? And was the script actually conceived during or before the pandemic hit?
I started writing it early in the pandemic and didn't know casting would be such a problem. Cases ramped up. I had a lot of actors lined up to portray certain characters. We sorted through tons of video auditions. Thanksgiving came and my lead cast member was celebrating Thanksgiving with a lot of relatives, so I figured she'd be fine among others but no, she didn't feel good about it, because she lived with her Grandmother. I was dismayed that she couldn't skip one measly Thanksgiving when I'm sitting here microwaving a Marie Callender's Festive Holiday Dinner. I was always very cautious of the virus. But it's around every corner. This was pre-vax days and I was desperate to put more movies into the universe, so I ended up firing everybody and putting on the different alien and gas masks and costumes and it was madness, hot and suffocating, with no assistance. I had no crew on this picture. It was very difficult. I had to perform blindly, not even knowing if I was in focus or even in the frame. But fortunately the wonderful Elizabeth Rath [Elizabeth Rath interview - click here] stood by me and aided the production beautifully. Her and I ended up playing multiple parts but I never saw it as a setback, playing multiple roles is fun and great movies have been done like this, such as Austin Powers (1997) and The Nutty Professor (1996). When the pandemic seemed to pause I called that worried actor and cast her in my upcoming feature, Roller Junkies (2022), which we just wrapped. So it all worked out.
To put the last question on its head, what would you have done differently under "normal" conditions?
Hired a cast and crew.
What can you tell us about your overall directorial approach to your story at hand?
Remembering that all the audience sees is what's in the frame. They don't know that there's nobody behind the camera. Or is there an army of 150 crewmemebers milling about, checking their tweets and wearing lots of gadgets and gizmos on their person, with the nicest looking shopping carts you've ever seen? I go mainly by intuition. I don't storyboard or rehearse and just relied on sunlight for exterior scenes.
You also appear in front of the camera playing not only the lead but several characters - so what can you tell us about your characters, and what did you draw upon to bring each of them to life? And why did you choose these characters for yourself?
I had a lot of costumes custom tailored and masks molded for specific actors, and when that all fell through I knew I could just portray these beings. I was in all the alien costumes. The voiceover actor Jeffrey Dean Gray provided all the alien speech and grunts, etc. He really did an amazing job. Each line was done separately and specifically, so it wasn't just a bunch of mumbo-jumbo, it was done with extreme care and talent and I'm really thankful to him for that. Elizabeth Rath [Elizabeth Rath interview - click here] also kindly wore a few different irritating masks, so I could get a few specific shots I needed. Gargoya was the toughest one to play because I really couldn't see anything, and that voice I could only do once because it was so low and raspy it nearly damaged my vocal cords. Flonz was a lot of fun and Elizabeth Rath did my eyebrows, real high, thin and arched. And he's just got this ridiculous bob. His flamboyant fabulousness constasts Gargoya completely.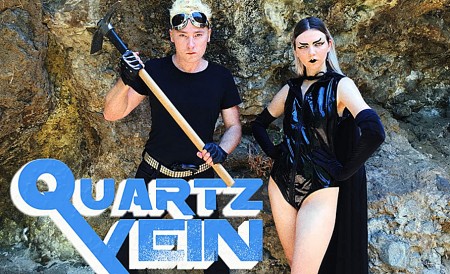 Do talk about the rest of your cast, and why exactly these people?
James F. Gregory I met at Hollywood screen test I held a few years ago. He had this rich, weathered quality and charm I really liked. He's in my next film too. Dawson Boese was willing to work and we gave her a blow torch and welding glasses and she got up under a car and got busy. Dawna Lee Heising [Dawna Lee Heising interview - click here] did voiceover work for it, and the rest was archive footage from my previous film Psychedelic Nudes (2019). Never have I had such a hard time finding good talent, willing to work during pandemic, although I wasn't all that eager to work with others either.
You of course also have to talk about your locations, and how easy or hard was it to find locations that look post-apocalyptic enough?
I found this amazing road in the San Gabriel Mountains, called The Road to Nowhere, that prisoners built in the 1950s as an escape route. It was never completed and there's two giant tunnels and it's pretty surreal. It took an hour or two out of each day just hiking to these spots, but they're beautiful and vast, and I wanted to film there. East Fork River is where Eon sluiced for gold and I've actually found some gold there. The place is very rich in gold history, with abandoned mines peppered throughout.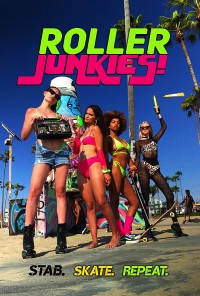 Feeling lucky ?
Want to
search
any of my partnershops yourself
for more, better results ?

The links below
will take you
just there!!!


A few words about the shoot as such, and the on-set atmosphere?
Simple, calm, quiet, dark.
Anything you can tell us about audience and critical reception of Quartz Vein?
I don't typically read reviews but the response seems to be positive so far. The DVD is flying off shelves and it just premiered on Google Play - play.google.com/store/movies/details/Quartz_Vein?id=qr-fZhvnvEc.P - and you're now able to rent it on YouTube - youtube.com/watch?v=_-DE7t1zXZo.
Any future projects you'd like to share?
Roller Junkies (2022) - imdb.com/name/nm2957915/ - rival roller skate gangs face off in Hollywood and Venice Beach.
Your/your movie's website, social media, whatever else?
frolicpictures.com imdb.me/jaredmasters
youtube.com/user/FrolicPictures
facebook.com/frolicpictures.frolicpictures/
Anything else you're dying to mention and I have merely forgotten to ask?
Thanks to all the kind people that made this picture possible.
Thanks for the interview!
Thank you, Sir!