Your new movie Lost in Terra Dimension - in a few words, what is it about?
The story line is about two sisters that lost touch for years, Spacle and Zeandra. Spacle always knew Zeandra was out there. Zeandra was kidnapped by Dom-X and his henchmen when she was a child, and a fairy rescued her. They finally reunite in a dream world that ruthless Dom-X traps them in. Eventually they get out with the guide of the fairy warriors and with the help of other characters.
What were your sources of inspiration when writing Lost in Terra Dimension?
When the movie was in development, Kat Lehto and Lizelle Gutierrez had an initial conversation about the film before they started writing and filming it. Lehto is a huge fan of Harry Potter and was able to add creative fantasy input to the film. Gutierrez had a dream and loves fairies, which was a key element to the storyline.
Do talk about your movie's approach to fantasy for a bit, and what were the main challenges of making a genre epic like yours on a budget?
The greatest challenge was the project being low budget, bringing cast and crew together, and finding locations. Lehto and Gutierrez are so thankful for the cast, crew, and to post-production who put their passion in the film! You can find additional cast- and crewmembers' names and information on IMDb. Their mothers and Gutierrez's mother-in-law were a big support system during the making of the film.
Another challenge was finding people to work on a low budget film for post-production! Gutierrez and Lehto had to put puzzle pieces together stating, " we are so thankful our post production team made it work!" Vasilios Alagiannis did the editing of the film, Kevin Morris did the virtual effects, and Ly Vui did the sound; Vui added additional editing and virtual effects. These three people worked countless hours, giving up nights and weekends, thus saving the feature film! Gutierrez and Lehto could not express the amount of gratitude to these individuals for putting the final product together during post-production.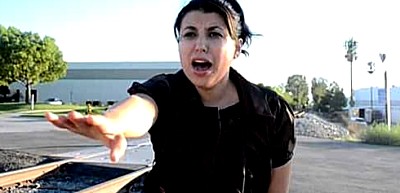 Lizelle Gutierrez
What can you tell us about your overall directorial approach to your story at hand?
Gutierrez and Lehto have been working in the movie industry for years. Both Lehto and Gutierrez were born in the theatre. They were able to direct the film from being on set and observing other directors, producers, actors, and crewmembers on various projects. Plus, as Theatre majors from the University of California, Riverside they both worked as crew, and acted in theatre productions. In the university, they studied acting, set design, screenwriting, history of dress, and Shakespeare. As you can see, some of the inspiration of Lost in Terra Dimension came from Shakespeare's A Midsummer Night's Dream. They have also worked in a variety of commercials, independent films, and short films. You can see them as featured background actors in TV shows.
You also play the two leads in Lost in Terra Dimension - so what can you tell us about your characters, what did you draw upon to bring them to life, and did you write them with yourselves in mind from the get-go?
Gutierrez and Lehto have a strong bond, not only because they share the same birthday with Harry Potter, but because they are like sisters. Lizelle had a dream that both sisters were separated near a train station, and the sister looked like Lehto, and they were trapped in another dimension.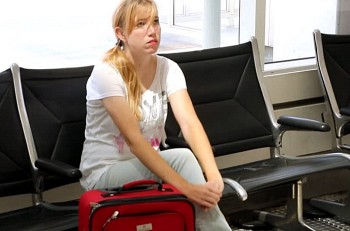 Kat Lehto
Do talk about the rest of your cast, and why exactly these people?
Lehto and Gutierrez wanted to take a different approach than to audition their actors. Being in the film industry is tough. Both have faced rejections in the film industry. They are aware of the superficiality, bias, favoritism, prejudice, and discrimination rooted in the industry. They chose the cast they felt in their heart were going to be perfect for the role and did not want to put them through the pain of the audition process. For example, when Lehto and Gutierrez met John Moamar on set, he felt perfect for the role of Dom-X. Telda, the lead fairy, Zoey Grayce was the perfect vision Lizelle had when casting a strong maternal figure who would guide Zeandra out of the dimension. And of course, there was no better role than Colin Shull for Maxion as Zeandra's love interest. Every actor fit perfectly in their vision from the fiery red hair of Mika Cigic to the tall stoic figure of Stan Divranos. The rest of the cast did amazing in getting into their roles and we are so thankful for their contribution to the film.
A few words about your collaboration on Lost in Terra Dimension, both during the writing stages and during the shoot?
Gutierrez and Lehto both provided equal collaboration in Lost in Terra Dimension on a macro level. They both directed the film, produced the film, and scouted locations. Lehto was mostly in charge of making sure the shoots were scheduled, the cast and crew were together. Lehto has been mostly in charge with the publicity, advertisement of the film, and making sure it made it to film festivals! Gutierrez wrote most of the script, cast the actors, recruited crew members, and got a significant set/location of the other scarier maze location that the sisters were sent to as punishment; and scouted other shoot locations. Gutierrez and Lehto always joked that Gutierrez was the perfectionist one, but Lehto was the one who pushed for the film to get completed and released!
Since Lost in Terra Dimension isn't the first project you've worked on together, what can you tell us about your previous collaborations? And how have you two first met even?
Their previous ongoing collaboration is the webseries Fabulous and Fabulouser. This project is more comedy-focused inspired by Dumb and Dumber! Gutierrez and Lehto are having fun with this project and hope it will continue growing. During the initial stages of production, Fabulous and Fabulouser was featured on Funny or Die!
Gutierrez and Lehto met at UCR on the set of another film project. They lived close at the time, and their love for acting and filmmaking blossomed into a wonderful friendship that is still thriving today.
Back to Lost in Terra Dimension: Where was it actually filmed, and what was it like filming there?
Filming was hard because while one acted the other filmed. They were lucky to have fellow crewmembers, family and friends help them film too! They both had to think critically not only of each other but take in account all the cast. They lucked out in shooting locations by finding several locations that allowed ample space for filming. Talking about original and guerrilla filmmaking!
Holding for sound was one of the big challenges since they would have to hold for people and other noises that would interfere with sound. Gutierrez and Lehto wanted to make this film visually appealing by proving so many locations in the Southern California area.
What can you tell us about the shoot as such, and the on-set atmosphere?
On-set was calm, however wearing so many hats with such a big cast and crew did get the better of Lehto at times; Lehto said, "shooting was hard when you were behind the camera one scene, then had to jump into acting for the next scene in the same day." They were grateful that all the cast and crew were devoted to the project and really believed in its success.
The $64-question of course, where can Lost in Terra Dimension be seen?
YouTube and Amazon Prime!
Anything you can tell us about audience and critical reception of Lost in Terra Dimension?
Gutierrez and Lehto wanted an action, fantasy and adventure epic film that was not only appealing for adults but could be watched by the whole family. This film has magic, fairies, good guys, bad guys, and a scary dimension filled with clowns! They were lucky enough to get superb reviews online. They hope with more publicity they will grab some more audience and get more valuable feedback. Lehto said "after all this is our first feature and we are looking to grow as filmmakers."
Any future projects you'd like to share?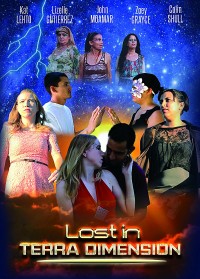 Feeling lucky ?
Want to
search
any of my partnershops yourself
for more, better results ?

The links below
will take you
just there!!!


"I'm always looking to film and collaborate with fun like-minded individuals," said Lehto.
Your/your movie's website, social media whatever else?
Website: https://lostinterradimension.com/
Amazon Prime page: https://www.amazon.com/exec/obidos/ASIN/B09WB1Z7Z7
Anything else you're dying to mention and I have merely forgotten to ask?
Lehto would like to point out, yet again, the locations. She strived to make sure they were vast and different between scenes and said, "It would have been easy to just pick one location and always shoot there, however that would have been boring for a movie this long, so I wanted to make sure we had many locations that were visually appealing."
Gutierrez made sure a diverse cast and new talent shared the spotlight. Gutierrez stated, "I want to give people from all walks of life a chance to flourish in this film because as a Latinx and woman I understand the challenges that people face in the entertainment industry. Also, as the underdogs of the entertainment industry, we cannot keep waiting around for a casting director, director, or producer to cast us. We have the right to create, to embrace our talents and to show other people's talents to this world. There are so many talented creative actors who have so much to offer in the entertainment industry!" Gutierrez's message for other actors and creative people, "do not be afraid to produce and create. Embrace your beautiful talent!"
Thanks for the interview!