Your new movie Don't Blink - in a few words, what is it about, and what can you tell us about your character in it?
To me Don't Blink is a Hitchcock-style Twilight Zone suspense thriller with touches of Tarantino madness. It's 10 little Indians in a quantum universe. My character, Alex, is a real person. He responds to the world around him and adjusts with nihilistic honesty.
What did you draw upon to bring your character to life, and how much of yourself did you find in Alex?
I was spoiled in this script because the writer, Travis Oates, is a personal friend and wrote the role for me. So, it was pretty much an honest description of how I'd deal with that situation. So... let's not go camping ;)
How did you get involved with the project in the first place, and how did you end up on the production side of things as well?
I was as a producer from inception. I had worked for years to raise capital to make a movie with no success, just a bunch of lying D-bags wanting to waste time and pretend to be in "Hollywood" while having drinks with Scut Farkus. It was heart-breakingly annoying. Fortunately my producing partners, Carl Lucas and Alan Trevor introduced me to a real investor and we moved forward. The writer/director, Travis Oates [Travis Oates interview - click here], was already a close friend of mine who had sold many scripts to the studios so it was great opportunity to bring another talented friend into the fold.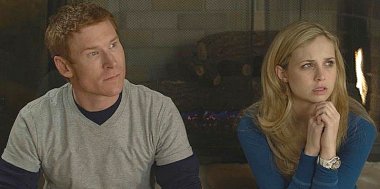 with Fiona Gubelmann
What were the main challenges of Don't Blink, production-wise?
Soooooo many! It snowed 19 inches over night in the middle of shooting and completely boned us. We had to use flame throwers, salt water machines, hair dryers, whatever we could to clear portions of the set so we could shoot. After you watch the movie, look at some of the earlier scenes and notice if my face is turning blue. IT WAS THAT COLD! And I'm a red head so it's not a sexy look on me. Travis rolled with the punches, putting the snow into the movie to raise the stakes as if it was part of the "happening" at the cabin. Indie film = roll with the punches or get knocked out.
What can you tell us about your director Travis Oates [Travis Oates interview - click here], and that was your collaboration like?
Travis had been directing the ACME Comedy Theater for a number of years, so he already had an ease on set with talent and could give short, poignant direction without wasting time which was perfect. It worked out great, everyone having each other's back.
Do talk about the shoot as such, and the on-set atmosphere?
It was awesome! We found this amazing place in New Mexico where we could have carte blanche over an entire mountain top high end housing development. So we shot and housed the director/DP & LP in the main cabin while using it's 5 car garage as our production office, make up room, camera & sound equipment storage and wardrobe room. The male actors stayed in another beautiful house 2 minutes away and their garage was used as the breakfast and lunch room for the cast/crew. The ladies were in a different luxurious house with their garage used for prop building and storage.
Even though it was low budget it felt classy because of the accommodations and camaraderie.
I stayed in a shitty cabin with Carl and Alan so we would be able to work through the night and not bother the cast.
And the cast was AWESOME! Mena Suvari and Brian Austin Green are amazing actors and fantastic people, truly leading by example to inspire everyone else to do top level work. I am so grateful to both of them.
What can you tell us about audience and critical reception of Don't Blink so far?
So far everyone really likes it. Our lowest rating has been 7 out of 10 and our highest is 9.5 out of 10. Honestly, I'm just so grateful people see the same thing I do.
Any future projects you'd like to share?
Nothing I can talk about at the moment. But I'm raising money for the next slate of pictures and it's going great. So if anyone out there wants to make movies, hit me up on Facebook :)
What got you into acting in the first place, and what can you tell us about your training as an actor?
My mother, Pam Hyatt, has been an actress for 50 odd years and was quite famous in the Canadian pantheon of talent, even likened to a "Canadian Carol Burnett" back in the day. I grew up on sets and stages watching and learning. It inspired me to try my hand and well, here I am still trying 35 years later. Training-wise my mom was the central figure, as she had studied at RADA and LAMDA (Royal Academy of Dramatic Acting, London Academy of Music and Dramatic Arts,both in England).
Can you still remember your first time in front of a movie or TV camera, and what was that experience like?
My first shot was a Jello commercial where I ate Jello and made a silly face. NAILED IT! No brilliant moment, just doing what you're told. It was fun. I wasn't intimidated as I'd spent so much time on set by the time I was 10. BTW, that commercial is still on YouTube.
You've probably long grown tired of this, but I wouldn't be doing my job right if I didn't ask you to talk about your breakthrough movie A Christmas Story for a bit ...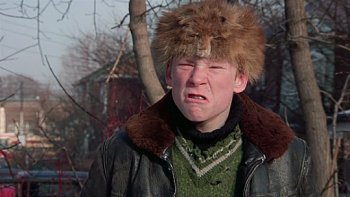 A Christmas Story
Not at all. I'm blessed to be part of an iconic film that the world loves and honestly, the people I meet and stories they tell me every Christmas is my favorite part of the holidays.
Other films/TV shows of yours you'd like to talk about, your career highlights?
Let's see, hmmm: Titus was amazing. I learned so much about comedy and live performance. Wish it could have gone on forever.
Transformers: Got to do my own stunts and have Mike Bay call me names. That's one for the bucket list.
Almost Famous: Cameron Crowe is so talented and kind, a true pleasure to work with and for. Pure class
Resident Evil: Apocalypse: Who doesn't want to train with Spaznotz and kill zombie ass? Best time
Dollhouse: Joss Whedon and his team are amazing to work with and his scripts are a constant surprise.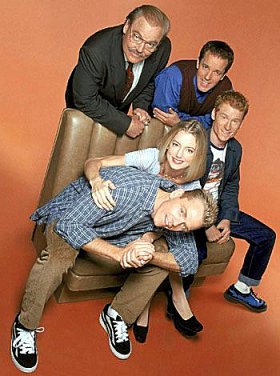 Titus
Especially of late, you have stepped behind the camera more and more - care to elaborate?
Creativity has so many avenues, there's no reason not to explore them all.
Over the years, you have been on big studio movies, indie films and TV shows - so how do these sets differ from one another, and which do you prefer, actually?
They're completely different experiences. Studio films allow you to focus soley on your process wheras indie requires a more group effort dynamic. Both are fun and frustrating.
One can't help but notice that in recent years you've been in more and more horror movies (including Don't Blink, apparently). Pure coincidence, or is horror a genre especially dear to you,and why (not)?
I love horror. It's true human drama, especially when it elevates the genre.
How would you describe yourself as an actor, and some of your techniques to bring your characters to life?
I'm a character actor. I love to fit into the role, emotionally and physically. To become that other person that is just an extension of oneself. Process wise, I like to write a back story for the character, create an underlying inner conversation beneath the dialog so that the nuance is not expected. Even by me.
Actors (and indeed actresses) who inspire you?
James McAvoy, Jessica Lange, Jeff Bridges, etc. Way too many.
Your favourite movies?

Feeling lucky ?
Want to
search
any of my partnershops yourself
for more, better results ?

The links below
will take you
just there!!!

Find Zack Ward
at the amazons ...

amazon.com

amazon.co.uk

amazon.de
Looking for imports ?
Find Zack Ward here ...
Something naughty ?
(Must be over 18 to go there !)

Highlander, Saving Private Ryan, Master and Commander: The Far Side of the World, many more.
... and of course, films you really deplore?
Crappy movies.
Your/your movie's website, Facebook, whatever else?
FB: Dontblinkthemovie
Twitter @TotalZackWard and @DontBlinkmovie
Anything else you are dying to mention and I have merely forgotten to ask?
Yes. RENT THE MOVIE ON PPV!!
We are the epitome of indie film and we DIE without your support. That would be a horror show that nobody wants.
Thank you so much for your support ,and please hit me up and tell me your thoughts. Good or bad, I wanna hear 'em.
Thanks for the interview!
Thank you!