Your new movie Night Caller - in a few words, what is it about?
It's about a telephone psychic who receives a call from a serial killer, predicting his murders before he commits them. With the help of her invalid father and clairvoyant co-worker, they try to stop him before he kills again.
Obvious question, why a psychic hotline, have you or would you ever call one, and did you do any research on the subject?
They were popular in the late 1980's and 90's with $1.95 a minute, 1-900 phone number commercials running day and night. I was always tempted to call, but I never did. Maybe I'll call one now to see what the future holds for Night Caller.
(Other) sources of inspiration when writing Night Caller?
New York Ripper, Deep Red, Blood and Black Lace, Lustig's Maniac, Don't Look Now, Cruising, The Texas Chainsaw Massacre and When a Stranger Calls would be the main cinematic inspirations.
You of course have to talk about the gruesome bits in Night Caller for a bit, and how were they achieved?
This was my 2nd time working with the GREAT Joe Castro [Joe Castro interview - click here], who did a fantastic job on the gore effects. His scalping, stabbings and mutilated penis were phenomenal! So good in fact, I just worked with him a third time on Pig Killer.
What can you tell us about your movie's approach to horror?
Nasty, gritty, bloody, unapologetic love letter to Fulci [Lucio Fulci bio - click here].
Do talk about your directorial approach to your story at hand!
Every aspect from script to screen, I let my gut instincts guide, and then embrace what befalls me. Recently, I was approached to write a script based on serial killer Robert 'Willy' Pickton. I read up on him, watched a documentary, and then I still didn't know how in the hell to make it work. Suddenly, I woke up in the middle of the night with the opening scene, and everything instantly came together. I finished the script in two weeks and it's probably the best thing I've ever written.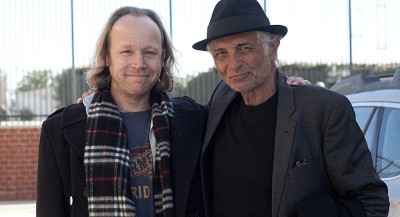 Chad with Robert Miano
What can you tell us about Night Caller's key cast, and why exactly these people?
I wrote Night Caller right after directing Exorcism at 60,000 Feet. I had such a good time with Kelli Maroney and Bai Ling, that I had them in mind for the two female leads. When I finished the script, it bounced around to my regular collaborators Robert Miano and Robert Rhine to try and secure finance to no avail, so I ended up optioning it to another production company. While waiting for that company to go into production, I went off and directed H. P. Lovecraft's The Deep Ones on the cheap. That was a success artistically and financially, so that sort of injected all of us with a dose of Roger Corman inspiration [Roger Corman bio - click here] to just get a few bucks together and crank out these modest budget, quick turn-around films. At about this time, the production company's option had run out on Night Caller, so I re-pitched it to Miano and Rhine who got behind it on that smaller budget model. Miano then pulled in Susan Priver to invest/star, and along with a few other investors we were off to the races.
A few words about the shoot as such, and the on-set atmosphere?
Lean, mean, with every penny on the screen. I'd say it was one of the tougher shoots, dealing with Covid restrictions and all, but with a ten day schedule the pain was brief.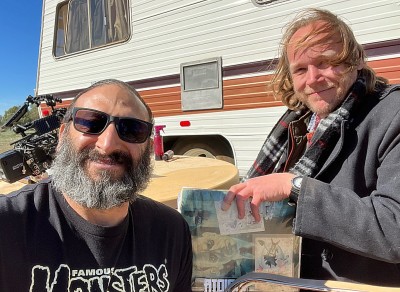 Chad with Joe Castro
The $64-question of course, where can Night Caller be seen?
Next up, it will be playing Midwest Weirdfest in March, and then 123 Go Films will give it a US theatrical release in April, followed by DVD/streaming in May - www.midwestweirdfest.com/
program#/night-caller-fri-mar-4-10pm/
Anything you can tell us about audience and critical reception of your movie yet?
It has been getting excellent reviews, winning some fests and starting to find its audience. I'm proud of it. That said, it was rejected by one festival, which said in part, "The whole purpose of horror is to provoke, to shock, to challenge. And your film does this in spades, but in the current climate, Night Caller takes such a provocative approach to gender confusion that it could generate the wrong kind of controversy." So, I'm excited to see if their fears were justified when it gets a wide release.
Any future projects you'd like to share?
We just wrapped Pig Killer with Jake Busey, Lew Temple, Bai Ling, Kate Patel, Robert Miano, Silvia Spross, Jon Budinoff, Elina Madison, Ginger Lynn, Cyril O'Reilly, Michael Paré [Michael Paré interview - click here], Robert Rhine, Jennifer Drake, Cassandra Gava, Susan Priver, Scott Vogel, Kurt Bonzell and James Russo. With music performances by Gerard McMahon and Loud Sugar. Was truly the BEST production of my career.

Feeling lucky ?
Want to
search
any of my partnershops yourself
for more, better results ?

The links below
will take you
just there!!!


Your/your movie's website, social media, whatever else?
https://www.facebook.com/chad.ferrin/
Anything else you're dying to mention and I have merely forgotten to ask?
Hope to be shooting the sequel to The Deep Ones this summer... fingers crossed!
Thanks for the interview!