Your new movie The City of Dunwich - in a few words, what is it about?
While there are spoilers throughout the interview, just in case someone is actually interested in the film, I'll be brief here so as to not reveal too much. The City of Dunwich is about a marina owner who, after finding an old coin on a beach, has a dream about a century old steamer explosion. Soon after, he experiences a series of bizarre supernatural events. It goes without saying that there is more to it than that, but that's the story in a nutshell. As with many of my films, while I have a set version of it in my own mind, it is intentionally ambiguous at times, allowing the viewer to use their own imagination to fill in the gaps.
In the end credits of The City of Dunwich, you explicitely thank Italian filmmakers Joe D'Amato [Joe D'Amato bio - click here] and Lucio Fulci [Lucio Fulci bio - click here] - so in what way have they inspired your movie?
It's no secret that Joe D'Amato and Lucio Fulci have always been my biggest influences in terms of filmmaking. Joe D'Amato's films were generally down and dirty, depicting a sort of realism in lieu of cinematic style, but D'Amato knew how to work the camera like no one else! Fulci on the other hand did provide cinematic style along with amazing atmosphere, crazy ideas, and fantastic camerawork/editing that not only showed but actually drove the narrative. Their styles were quite different, but to me they're both not only the best... they're untouchable! I gave them a nod on this one because I felt some ideas were "very Fulci" (which I'll note later) and the day-for-night scenes along the water reminded me of some of D'Amato's films (such as Erotic Nights of the Living Dead - the film with the best "zombies rising from the grave" scene of them all). Of course, The City of Dunwich can't even compare to any of their films.
(Other) sources of inspiration when dreaming up The City of Dunwich?
The City of Dunwich was an idea I've had for quite a few years, actually. It came to me after seeing the remains of a charred ticket from the City of Trenton - a real steamer that suffered a boiler explosion in 1901 close to where I grew up. With that said, The City of Dunwich bears absolutely no resemblance to the actual historical events of the City of Trenton beyond a boiler explosion (which were fairly common during the days of the steamboat). That charred ticket I saw really spoke to me and developed the story from that. As for "Dunwich", that is a nod Dunwich in Fulci's City of the Living Dead.
What can you tell us about The City of Dunwich's approach to horror?
As with most of my horror shorts, The City of Dunwich is not meant to be a sleazy gorefest filled with naked women and buckets of blood (well, there goes over half the audience), it is more about atmosphere. This one is a sort of bizarre and twisting ghost story with late-80s/early-90s flair (though yes, the mid-90s "information superhighway" appears in it's bland gray glory). As I previously hinted, this film incorporates some outlandish ideas that remind me of what one might find in Fulci's films from that same period... a coin, making steam sounds, magically turning into a steamer ticket; a rope, complete with "worm" sounds (that I proudly made myself) attacking the man; glowing eyes; etc. For me, I think Fulci could have only dreamed of such ridiculous ideas! I know those types of things can be seen as almost comical, but it is really made for a niche audience. I never really have winning an Oscar on my mind!
A few words about your overall directorial approach to your story at hand?
Everyone knows that we're our own worst critic, so permit me to trash myself. I readily admit that my style is generally pretty sloppy. Typically, I attribute that to my Jess Franco influence, but in all honesty, there's only so much I can do with a $1 budget. Don't get me wrong, I'm not complaining, but my biggest problem is my gear. This subpar gear, in conjunction with my ideas, simply produces a sloppy result because they don't exactly work together. Maybe I'm just being too harsh on myself, but I try to make it work as best as I can! In terms of direction, I have set ideas but I am flexible, so things often have to change on the spot. For the better? Sometimes. Sometimes not.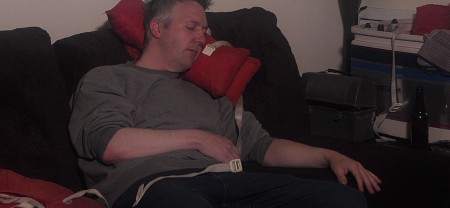 Anyway, I try to incorporate the style, movement, and techniques utilized throughout the films of yesteryear, because that's what I love and enjoy. It is what comes natural to me. I simply can't shoot in the modern style. Not because I don't want to. I just can't do it! The City of Dunwich is no different. It is worth noting that just as important to the story and atmosphere as overall direction is the music. I actually started working on the The City of Dunwich score myself, which added quite a different atmosphere than what can be found in the final product. Unfortunately, or perhaps fortunately, I hit a creative rut and recruited the legendary Carlo Maria Cordio (Fulci's Aenigma, D'Amato's Absurd, Fragasso's Troll 2, etc.) to take care of it. His synth scores from the late-80s were exactly what I was looking for. Ultimately, the end result was something a little more modern at times, but it still has Cordio's signature sound shining through.
Do talk about The City of Dunwich rather skeletal cast, and why exactly these two?
As I mentioned, I had this idea for years. Twice in the past I started gathering materials and making props for the film, but like usual, I hit too many brick walls and scrapped the idea. That happened twice! The original story had additional characters and locations that were proving to be problematic. I very much liked the idea and still wanted to do something with it. How many horror films about exploding steamboats can you think of? So, I simplified the idea and re-wrote the story for one character and fewer locations. That's not to say I took the easy way out by just making it easier to shoot. Doing this made it more likely to get finished! That's it! And because there was only one actor (Ryan Capizzi) playing all roles, we had to get a little creative with the way certain shots were filmed. This explains why the dream consists mainly of close-ups, only the zombie hand can be seen (though it was always written the man is really stabbing himself with the spike) etc. As for Wayne Camp, who previously worked on Joe D'Amato's Any Time Any Play, War Baby, and Deep Blood, he provided the dubbing only. I always make it a point to add some authentic element from those Italian films I love, no matter how big or small. Here, Wayne Camp graciously provided that part, along with Carlo Maria Cordio's score.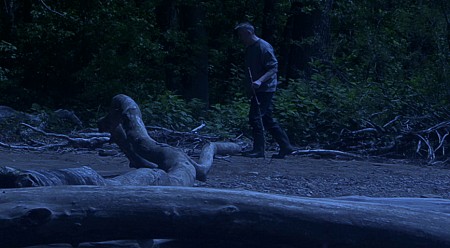 You of course also have to talk about the locations used in The City of Dunwich for a bit!
The locations weren't all too special or remarkable. We shot the film at a local boatyard/marina and a small beach along the Delaware River - incidentally, a stretch of the Delaware serviced by the City of Trenton - just outside of my hometown of Philadelphia, PA. Not surprisingly, both of these locations were somewhat problematic, but were ultimately acceptable. The interior was quite small and not conducive to any wide shots. The river was in deep shadow on one side and bright sun on the other, which limited camera movement. Even the boatyard was a headache! The owner of the original location, a different boatyard, dropped off the face of the earth after I had already planned everything! Thankfully, after a brief delay, I was able to secure another.
What can you tell us about the shoot as such, and the on-set atmosphere?
In case you haven't noticed, I talk of unending problems! I feel that's typical for everyone, but maybe it's just me? Or it's because I do everything myself, so I experience it all. For me, filmmaking is an exercise in problem solving and you can only solve those problems as best as you can. And that's what I do. I'm always saying, "I'll make it work." That's the norm, but don't get me wrong, sometimes things go according to plans. When that happens, it's quite amazing.
The $64-question of course, where can The City of Dunwich be seen?
Anyone can watch The City of Dunwich for free on YouTube at https://youtu.be/
FhtWEp7JmHY. If you dig it, give it a thumbs up and share it. If you don't, give it a thumbs down. That's fine. The film will also be included as part of a limited DVD Collection featuring most of my short films that will be released by TetroVideo.
Anything you can tell us about audience and critical reception of The City of Dunwich?
The City of Dunwich has been generally well-received though it hasn't yet spread the lengths of some of my other works. Only time will tell.
Any future projects you'd like to share?
Yes! I am currently working on a New Orleans voodoo horror short called Beyond the Lake of Tears. It is coming along nicely and as of now, I'm quite excited about it. One can expect a zoom in every shot, or at least most of them. I do not very much care for the "rules" of modern filmmaking - the world needs more zooms! With my new camera, I can do it. I know these films appeal to some people, but not others. Beyond the Lake of Tears will be no different and I'm perfectly fine with that!
Your/your movie's website, social media, whatever else?

Feeling lucky ?
Want to
search
any of my partnershops yourself
for more, better results ?

The links below
will take you
just there!!!


I have to say that for being 2023, I have little online presence. You can check my YouTube channel at www.youtube.com/c/filmiracleproductions or shoot me an email at filmiracle@yahoo.com
Anything else you're dying to mention and I have merely forgotten to ask?
Nothing beyond thank you, Michael, for your interest and support! I greatly appreciate it and I am pleased that you enjoyed The City of Dunwich! Likewise, many thanks to anyone and everyone who has helped or supported me along the way.
Thanks for the interview!