Your new movie The Headmistress - in a few words, what is it about?
CHRIS: In The Headmistress, a debt-ridden teacher inherits an abandoned lakefront inn, and she and a group of potential buyers visit the property, where they discover a sinister secret and a malignant supernatural presence determined to keep them there forever. That's basically the log line. More broadly, I think of it as a ghost story about a desperate young woman who's forced to come to grips with and pay for her family's long-hidden sins.
What were your sources of inspiration when writing The Headmistress?
JAY: The main inspiration for the concept for our film was the nunnery. We were actually pretty far along into pre-production on another film when the opportunity to use the location presented itself. We were working with our executive producers – JJ Alaily, Chad Brown, and Alex Evans – on a film set in a brewpub when Alex started blowing up my phone with photos of a nunnery that JJ just purchased. JJ, Alex, and Chad encouraged us to look at the location and consider it for a film. Chris and I made the 45-minute drive from Madison, WI to the location in Oconomowoc, WI and we fell in love with it. The place was perfect. The only catch was that we had about six months to come up with a concept, script, crew and cast as the structure was scheduled to be demolished. So, Chris, Glenn (Glenn Chung, our partner in our film production company, Three Tortured Minds) and I pitched each other on possible creative directions we could consider for the film. We knew the nunnery, the building, had to be a character in our movie, so we looked a bit at The Shining and House on Haunted Hill for some inspiration.
As for the actual writing of the script, I'll leave that to Chris as he was tasked with taking our concept and turning it into a script. I will note, however, that I think he did an amazing job. Then again, I'm a huge fan of Chris's writing. Here's a tip - if you come across anything written by him, don't pass it up.
CHRIS: Jay covered so much of it, but I'd just add that in our non-movie-making life, Jay and Glenn and I have worked for years doing consulting in Indian Country, and we've become very familiar with the United States' shameful history of these American Indian Boarding Schools. These were boarding schools set up by Christian missionaries to basically assimilate Native children into European culture, and there's a really terrible history of abuse, discovery of mass graves, and all sorts of awful things. Our movie is not about an Indian boarding school per se, but once we had this great location to build around, that's where the seed of our idea came from: Vulnerable children at the total mercy of these malignant strangers… and then, years later, the question of our responsibility for the abuse doled out by our forebears.
Do talk about The Headmistress's approach to horror? And is horror a genre especially dear to you?
CHRIS: First and foremost, yes! The horror genre is incredibly dear to me, personally. Growing up in the 1970's and '80's, I was your classic Monster Kid. The old, old horror-comedies—the
Abbott and Costello Meet … horror-comedies, in particular—were my gateway drug, leading me to the old Universal classics and the Hammer horror flix and all those old monster movies. In fact, the Monster Café at Universal Studios is still one of my favorite places on earth! And then finally I graduated to movies like Carpenter's original Halloween and the slasher films of the late-'70s and '80s… and by then I was completely hooked. I still love, love, love those super-old classics, though, and collect classic horror memorabilia to this day.
On the first question, Jay and I have very similar sensibilities as far as how we like to go about constructing horror, and our tendency is to focus on emphasizing mood, building suspense, and creating an overall sense of dread. We're not so much about shock value and gore, though we do like our jump scares! But our movies are never going to feature over-the-top brutality or gore or the misogynistic violence that I think we see too often in indie horror. Mood. Theme. Suspense. That's how we get at the horror of The Headmistress.
JAY: Yes, The Headmistress definitely focuses heavily on suspense, the anticipation of horror, and the aftermath of an encounter – not gore. As I mentioned earlier, the location is a character in the film, so just exploring the space gives off a creepy, somewhat horrific, vibe.
As for the genre of horror being dear to us, our first feature, The Nursery, was a horror film, and we also have a podcast called Indie Horror Rising that focuses on indie horror filmmakers, filmmaking, and indie horror films… so I think it's safe to say that we're a bit taken with the genre.
What can you tell us about your overall directorial approach to your story at hand?
JAY: Chris and I spent a lot of time at the nunnery prior to the shoot; as such, we were pretty well set with our approach and vision by the time production started. And once the camera started to roll, working together on the direction for the film came naturally to us. Chris and I have known each other for about thirty years, worked together for twenty-five-plus years, are best friends, and we simply share a brain. With that background and history together, I was never concerned that we'd have conflicting opinions that couldn't be overcome when working with the cast and crew on The Headmistress.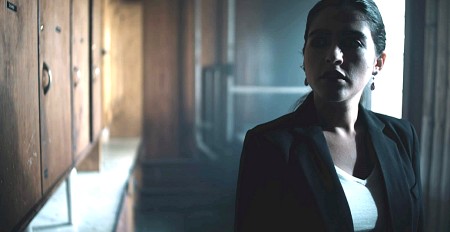 CHRIS: We're very proud of what we did with The Headmistress and feel that it is a significantly more cinematic film than our first movie, The Nursery. Even though we are substantially at one location throughout most of the movie, there is certainly more scope and scale to The Headmistress. Our camera is much more mobile. We use wider shots to more interesting effect. And our score, by talented composer and musician Tasos Eliopoulos, is quite grand and engaging. More specifically to your question, though, I'd say that our approach to the story was to focus first on the characters—engage with them, get to know them, get to understand who they are and what challenges they're facing—and then start to move them around the proverbial chessboard to create tension and horror.
In addition, I'd add that Jay was very savvy in his approach—not as director, per se, but in his role as our editor—to coloring the film and manipulating some of the darks and pools off light that help express what our characters are going through. He worked very, very hard in post-production to give the film a very specific look that not only creates tension and dread, but also expresses the creeping dread that eventually overwhelms not just Mara but the rest of the characters, as well.
You've directed The Headmistress with one another - so what was that collaboration like?
CHRIS: As Jay mentioned, he and I have been best buddies for nearly three decades now, and we've been working together for just as long. I'd say that we share a brain, but he already beat me to it! So there you go. As a result, we tend to know exactly what the other one is thinking and can anticipate each other's reactions and responses most of the time. So, when shooting a scene, for example, if an actor interprets a line in a particular way, not only do we both know almost immediately what the other one thinks about it, nine times out of ten our reaction is exactly the same. As a result, there is very little conflict or confusion when we're directing a project together. Between The Headmistress and The Nursery, I can probably count on one hand the number of times we've had a significant disagreement on a creative choice, and when it does happen, we both respect each other's visions and opinions enough to work through it collaboratively.
JAY: Chris and I have known each other since undergraduate school, have worked on countless video and commercial projects at our media firm for more than twenty-five years, and are best buddies… so it was truly an awful collaboration, and I hated every moment. Just kidding, directing the film together was a wonderful collaboration, and we thoroughly enjoyed it. And even though I'm the editor for the film, we collaborated one hundred percent on that as well.
The Headmistress isn't the first time you've been working together - so do talk about your previous collaborations, and how did the two of you first meet even?
JAY: Chris and I met in college. We were both in the Radio/TV/Film program at the University of Wisconsin Oshkosh. After graduating, we both left Wisconsin for graduate school: Chris went to Emmerson College in Boston, MA, and I headed to Miami University in Oxford, OH. With our degrees in hand, we both returned to Madison, Wisconsin, where we worked together on a few political projects. After a short time, Chris became a partner in Visuality, a media firm that I opened with Glenn Chung (Glenn is the third tortured mind in our film production company, Three Tortured Minds). That was about twenty-five years ago, and we've worked on numerous media campaigns together for clients all across the country.
CHRIS: Jay and I didn't actually know each other particularly well in college, though we were in the same program, as Jay said. Our paths crossed occasionally, but I wouldn't say we were friends. In fact, my first real memory of Jay was when my college girlfriend and I went to a local supper club to celebrate something or other, and Jay was our waiter! I remember thinking, "Hey, I know that guy!" And I'm sure he was thinking, "I can't believe I have to wait on this douche nozzle from my film class!" When we both landed in Madison, I think that someone told Jay he should look me up; so he gave me a call, we had lunch, and almost immediately we were besties.
What can you tell us about your production company Three Tortured Minds, and the philosophy behind it?
CHRIS: As we've referenced a couple of times, Three Tortured Minds is a collaboration between Jay, Glenn Chung, and me. As I mentioned, the three of us have been in business together through our media firm, Visuality, for many, many years, and over the course of those years we talked over and over about making a feature film… with even a few fits and starts along the way. Then, in 2016, with our business changing a bit, we decided that it was time to just go for it and see if it was something that we could actually do! So, we banged out a concept together, and once we had a concept, we worked on a script. Once we had a script, we started thinking about a budget. Then casting. And on and on. And I think that every step along the way, our attitude was: Let's see if we can get over this next hurdle, and if we can, let's just keep going as far as we can. And then one day we had a cast in place, a crew in place, locations… and it was, like, hey, we're gonna make this movie! And off we went.
JAY: I'll add that when we first started thinking about working on a feature film, we decided that it'd be best for us to create a new entity and not use our existing media firm for that purpose. Our media firm, Visuality, has a distinct brand and client base – we wanted to keep that separate and let Three Tortured Minds focus specifically on film and related work.
Back to The Headmistress - what can you tell us about the movie's cast, and why exactly these people?
JAY: Very happy you asked about our cast. We're so thrilled with all of them and their amazing performances in The Headmistress. We held in-person casting sessions in Milwaukee and Madison and we also used online casting services to expand our reach. Chris and I wanted to find folks who could take a character and make it their own, accept direction and feedback from us, and get along well with each other, since we knew that we'd be living with them at the nunnery all through production. The folks you see on screen met those criteria and gave us much more. We were so impressed with all of the cast for showing up on day one ready to record. They all put a terrific amount of time into developing their characters, and that absolutely comes through in their performances and how they interact with each other on screen.
CHRIS: In case you couldn't tell from Jay's response, we are extremely proud of our cast for this film. I'd really hate to focus on any one individual over another, because our entire cast gave tremendous performances… even though some—including Katie Bellantone [Katherine Bellantone interview - click here], our lead— had never worked on a feature film before! Clearly, the cast is loaded with talent, and so we were very lucky to find them, but—as Jay said—we also were very careful to find people who we could work with, direct, and ultimately live with! Jay and I ended up living at our primary location, that abandoned nunnery in Oconomowoc, Wisconsin, with the majority of the cast for just under two weeks. Ultimately, I think that experience really benefited the film, because our cast really bonded and became close, and you can see and feel some of that intimacy in the performances!
You of course also have to talk about your main location for a bit, and what was it like filming there? And how did you find it even?
CHRIS: Well, as we touched on earlier, the journey of The Headmistress really began when we were offered access to this recently decommissioned nunnery called Villa St. Joseph, which was perched on the edge of a small lake in the woods of South-Central Wisconsin. Jay told that story earlier, but it's worth repeating that we only had a short six-month window before the nunnery was to be demolished, and this phenomenal location ultimately became the foundation on which we built the story, the characters, and atmosphere of the film. It became important to us right from the beginning that the exotic location itself become a character in the story. From its seeming isolation in the middle of nowhere, its patchwork of out-of-time wallpaper and carpeting, its closets that locked from the inside, and the dingy cellar and legitimately terrifying attic: we wanted the location itself to become as much of a villain as the sinister inn of The Shining, the decommissioned asylum of House on Haunted Hill, or Psycho's Bate's Motel. Where our first film, The Nursery, was a cinematic throwback to the suburban horrors of the 1970's and 1980's—like Carpenter's Halloween and Coscarelli's Phantasm—we wanted The Headmistress to exploit the contrast between the isolated, century-old feel of our location and the film's more modern sensibilities and character conflicts.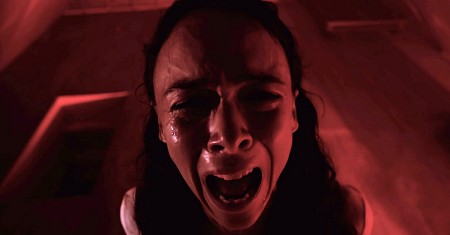 JAY: You know, if JJ Alaily, one of our executive producers, wouldn't have purchased the nunnery, and if Alex Evans and Chad Brown, our two other executive producers, wouldn't have encouraged us to seriously consider creating something based on the location, The Headmistress would not have been made. It's simply the perfect setting for a horror film: bizarre wallpaper and interior design; long, meandering hallways; bedrooms that connect in strange ways; creepy basement areas with dungeon-like spaces… perfect. That said, the nunnery is located on an incredible plot of land that is situated on a gorgeous lake. The cast and crew enjoyed the beautiful setting and all the amenities the location had to offer.
A few words about the shoot as such, and the on-set atmosphere?
JAY: While we were shooting a dark horror film in a creepy setting, I think the cast and crew will tell you that the on-set atmosphere was very fun. Our executive producers took folks out for boat rides on the lake; we didn't overwork anyone—besides ourselves—and we enjoyed some amazing meals… thanks in large part to Chris for finding food/restaurant sponsors and coordinating homemade meals from his family. We were so pleased that everyone got along so well, especially because Chris and I lived at the nunnery with the cast during production.
CHRIS: In a lot of ways, the shoot felt a bit like summer camp! We were all living together at this cool, somewhat isolated location, and so there was a lot of really terrific bonding that went on. It was a lot of fun all around. But, like any film shoot—and especially a micro-budget indie shoot—there was a lot of work all around, as well! When you're shooting an indie flick like ours, everyone has to wear a lot of hats, and so there's not a whole lot of time for rest or relaxation. Typically, my morning would start around 5:00 a.m., literally getting up to make coffee for the cast and crew and to start looking over the plan for the day. Jay and I would generally meet for an hour or so in the morning just to talk through any tricky parts of the schedule or the day, and then usually by 8:00 or 9:00 we were off and running. Depending on the day, our shooting day would end around 10:00 p.m. or so, at which time Jay and I would meet again to talk over the next day. And then I'd typically try to be in my room around 11:00 p.m. or so to try like hell to wind down and get into a state where I could rest my brain enough to sleep and try to recharge for the next day. It was exhausting but truly invigorating!
Anything you can tell us about audience and critical reception of The Headmistress?
JAY: So far, The Headmistress has been very well received. However, we're very clear-eyed about reviews, feedback, and the like. This is another area where Chris and I have the same viewpoint, so I'll let him speak for the both of us…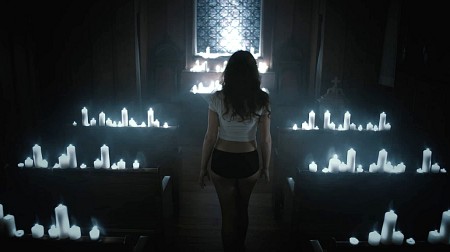 CHRIS: Well, I think that it's hard for filmmakers like us—especially lower-budget horror, but really any kind of filmmaker—to judge reactions to your film sometimes, because you really only have two ways to see it: From actually audiences at in-person screenings, and then what you see online. Now, we've been very lucky so far in that most of what we've seen from online critics and audience ratings (stuff like IMDb or Rotten Tomatoes) has been extremely positive! We have really strong audience ratings, and our reviews have been much, much more positive than negative. However, I think it's dangerous to get too caught up in what you see online, because anyone can post anything online, and there are a lot of trolls out there! What's been really encouraging, though, is what we've seen from our audiences, both in terms of film festival performance and our limited theatrical run. We won the Audience Award for Best Horror Feature at the Milwaukee Twisted Dreams Film Festival last fall, and we've sold out multiple commercial theatrical screenings of the movie, as well… so that's been very cool. And when Jay and I have been able to talk to audiences after theatrical screenings, the response has been incredibly positive!
Any future projects you'd like to share?
JAY: Not quite yet, but folks can learn more about The Headmistress, and other indie horror films, via our podcast, Indie Horror Rising, which you can find wherever you get your podcasts.
CHRIS: Yes, if folks are interested in learning more about The Headmistress, we'd definitely encourage them to check out Indie Horror Rising. Normally, Jay and I talk to other filmmakers about their projects or focus on a classic film here and there. But we also have a series of what we call IHR Film School episodes in which we focus on the making and marketing of The Headmistress. We've got about a dozen and a half episodes dedicated to all the different aspects of the making and marketing of The Headmistress: pre-production, scripting, post-production, business & finance, VFX, etc. Especially for filmmakers, these episodes are a really fascinating inside look at the process of making and marketing an indie horror feature.
Your/your movie's website, social media, whatever else?
https://theheadmistressmovie.com/
https://www.indicanpictures.com/new-releases/the-headmistress
https://www.facebook.com/TheHeadmistressMovie/
https://www.facebook.com/ThreeTorturedMinds/
https://twitter.com/3TorturedMinds
https://threetorturedminds.wordpress.com/
https://www.facebook.com/ChristopherAMicklos
https://twitter.com/chrismicklos

Feeling lucky ?
Want to
search
any of my partnershops yourself
for more, better results ?

The links below
will take you
just there!!!


Anything else you're dying to mention and I have merely forgotten to ask?
JAY: Just a big thank you for this interview and for shining a light on The Headmistress. Much appreciated.
CHRIS: Definitely. We are so appreciative that there are sites like yours that support indie horror films like ours and are so essential for us to reach our audience!
Thanks for the interview!
CHRIS: Thank you!
JAY: Thanks!