Your new movie Cold Blows the Wind - in a few words, what is it about?
When a married couple hits a jogger while driving, they think their night can't get any worse. But after heading to a remote location to bury the body, they realize their nightmare has just begun.
What were your sources of inspiration when writing Cold Blows the Wind?
Late night movies from the 80's and 90's. The stuff that would come on HBO and Showtime after midnight.
What can you tell us about your movie's approach to horror?
It's an old school approach. Full of practical effects and gross-out gags. When I say old school appraoch, I'm not just talking about VHS filters and retro fonts. It's baked in the DNA of this flick.
Do talk about your directorial approach to your story at hand?
I wanted to re-create that feeling of watching something you're not sure you should be watching. Remember the first time you saw movies like Eraserhead or Evil Dead? They felt like they came from another planet. That's what we're going for with this film. This definitely ain't one of those Conjuring movies with the big budget.
You have produced Cold Blows the Wind together with your leading lady Victoria Vertuga [Victoria Vertuga interview - click here] - so what was your collaboration like?
We've done quite a few projects together so we have a bit of a shorthand when it comes to our communication on set. It's really nice to be able to communicate with only a glance. Lol.
Cold Blows the Wind wasn't the first time you've worked with Victoria Vertuga - so do talk about your previous projects together, and how did you first meet even?
The first thing we worked on was a short that I was making called The Lady Bruins Christmas Slumber Party. After that, I reached out to her to see if she wanted to collaborate on some other projects. We've been working together for years. We did some shorts, a web series called Disgraced, and a found footage film called Lexi.
Back to Cold Blows the Wind: What can you tell us about your movie's cast, and why exactly these people?
Our cast was small but amazing! It was a lot of fun working with such a talented and dedicated group of people. We were lucky enough to bring Jamie Bernadette [Jamie Bernadette interview - click here] and Torrey B. Lawrence on board. Both of them are incredible in the film. But on top of that, they're both really great people and super easy to work with. They were game for all the craziness. It was so much fun. I can't thank them enough for coming on board.
You also have to talk about the movie's main location for a bit, and what was it like filming there?
It was cold. Lol. The entire movie takes place in one night, so it was 17 nights of shooting. Like most films, there's always craziness that happens, but the homeowner was amazing and the location was incredible. It was a great experience with lots of insane moments. A cat got stuck in the grip truck, there was rain, you name it. Good times.
A few words about the shoot as such, and the on-set atmosphere?
It was great. When you're shooting something like this, it's really important to have people on board who understand that not everything is going to go according to plan. This isn't as romantic as a lot of people think. There's a lot of problem solving that goes with it. You have to keep your cool and talk it out. Luckily, or cast and crew were always ready to dive in and problem-solve.
The $64-question of course, where can Cold Blows the Wind be seen?
We just wrapped up our festival run and we're about to take our film direct to the people! We're about to start building out the website so folks can rent it with no gatekeepers or barriers. We're attacking it in a truly grassroots fashion!
Anything you can tell us about audience and critical reception of Cold Blows the Wind yet?
The film has been nominated for about 11 or 12 awards. We've won 5 I believe. We've won Judge's Choice, the Audience Award, Best Cinematography, Best Writing, and Best Directing. So far the response has been incredible. It's been a bit overwhelming to see the love and support for our little film. I can't wait for more people to see it!
Any future projects you'd like to share?
I just published my first book! It's a horror book called The Dead Ate Cheese. Other than that, the focus has really been on taking Cold Blows the Wind out to the masses! Keep an eye out for it!
What got you into filmmaking in the first place, and did you receive any formal training on the subject?
I've always loved films. In college I took some screenwriting classes, but everything else I've learned by getting on set and making stuff.
What can you tell us about your filmwork prior to Cold Blows the Wind?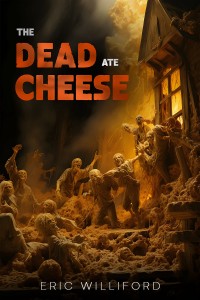 Feeling lucky ?
Want to
search
any of my partnershops yourself
for more, better results ?

The links below
will take you
just there!!!


I've made a lot of shorts, and a few features. My biggest stuff prior to this was a film that I wrote and produced called The 8th Plague, and another one I produced was called Carver. They were in Hollywood Videos and Blockbusters if you can remember that far back. Lol.
How would you describe yourself as a director?
I gravitate towards dark material with an even darker sense of humor.
Filmmakers who inspire you?
David Lynch, John Carpenter, Sam Raimi.
Your favourite movies?
Pulp Fiction, Re-Animator, Eraserhead, Dead Alive.
... and of course, films you really deplore?
Faces of Death. Everyone think that I love those movies because I make horror movies. They just aren't my jam.
Your/your movie's website, social media, whatever else?
The Cold Blows the Wind site is coming soon. You can catch me on Instagram at @defpixeric, and on Facebook at https://www.facebook.com/willifordwrites.
Anything else you're dying to mention and I have merely forgotten to ask?
Nope! But thanks for the love and support!! It's much appreciated!
Thanks for the interview!