Your new movie Cold Blows the Wind - in a few words, what is it about, and what can you tell us about your character in it?
It's about a couple that drives drunk and hits a jogger, then heads to the woods to bury the body. But it's really about a couple whose relationship is falling apart and the extra strain that the situation puts on them. I think my character, Tasha, is someone who wants to do the right thing but has become used to letting her husband kind of bulldoze over her.
What did you draw upon to bring your character to life, and how much Victoria Vertuga can we find in Tasha?
It's funny, because this is the first project me and Eric Williford [Eric Williford interview - click here] produced together that he had written before me and without me. I read the script and loved it but didn't see myself as Tasha at all. Eventually when we were looking at what project we wanted to produce next, this checked a lot of boxes for the financing we had because it was relatively contained, and a small cast, etc so we went forward with this. At that point I read it as the actress who would be playing Tasha, not a fellow writer/producer/filmmaker giving notes. I think she makes a lot of choices that I would not make, obviously we're very different people, but in the end result, I think you see a LOT of me in Tasha, probably more than any other project I've done to this point. Particularly in all the arguing scenes with Dean (Tasha's husband) I think so much of my natural Vic attitude and essence comes out. My husband would probably agree LOL As an actor, it's always you that you're bringing to the project, just different segments and facets of you. You in a different set of circumstances right? That's the fun of it. But yeah, I think there is a lot of me that came through in this role.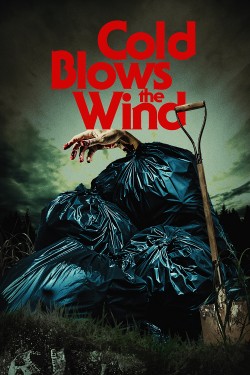 How did the project come into being in the first place, and what drew you to it?
We had an investor interested in working with us with a particular budget in mind, and this movie lent itself nicely to that. It was largely contained, small cast, and we felt confident we could deliver a solid movie on that budget. We decided it was probably the best fit production-wise versus our other scripts. Eric had written this before we started working together. He had sent it to me to read a while before and I loved the concept so off we went.
What were the challenges of bringing Cold Blows the Wind to the screen from a producer's point of view?
With indie filmmaking you're always looking to stretch a dollar and create the best project you possibly can with limited resources. We selected this project in large part because it was produce-able and lent itself to our resources and skill set quite nicely. I think on an indie project the atmosphere of the set is even more important, because usually you have people wearing multiple hats, sometimes discounting their rates, etc etc, so making sure you have an awesome group of collaborators that bring great energy to the set and the project is huge. We had a wonderful crew on Cold Blows the Wind and were very lucky in that regard. We had a lot of insane things go wrong in pre-pro and production that we were able to adapt and overcome. We lost our original location two weeks before filming to a fire, so we had to scramble and find another one. That wasn't stressful at all!!!!!! We had a cat get stuck in our grip truck over night and wreak havoc on our film set, we had thunder and lightning during our first night of filming and a flood on our last night of filming. We basically had the plagues minus the frogs. But we made it work and created something we're all really proud of. And STILL managed to have a really, really fun set.
What can you tell us about Cold Blows the Wind's director Eric Williford [Eric Williford interview - click here], and what what was your collaboration like?
Eric is a fantastic writer and director. He's a lifelong horror fan so he has the genre in his blood. He sent me this script to read and just give him notes on and it was such a quick, fun read. I loved how flawed the main characters were but that I was still compelled to find out what happened to them. I think me and Eric share a dark sense of humor and I love that about his work in general.
Cold Blows the Wind wasn't the first time you've been working with Eric Williford - so do talk about your previous projects together, and how did the two of you first meet even?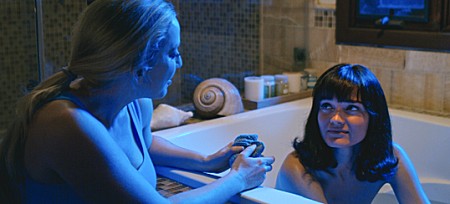 We met years back when I acted in a horror film that he wrote and directed. He called me up a few years later out of the blue, saw that I had begun writing myself and asked if I would be interested in working on something together. The rest was history. We wrote a half hour dark comedy pilot and a subsequent first season, 2 one hour drama pilots, a few shorts, a webseries, and multiple feature film scripts. I think writing can be such a lonely thing, so it's been amazing to have a partner in crime to bounce ideas off of. The ideation phase is always the most fun, when anything is possible, just feeling that creative spark, so I absolutely love having a partner in that journey. It's also just nice to look at someone and be like "Are you seeing this shit? Am I crazy????" So much wacky shit goes down that it's really nice to have that LOL.
Back to Cold Blows the Wind: What can you tell us about the rest of the movie's cast, and how much of a say did you have as a producer when it came to casting?
Because me and Eric have worked together for years now we have a good rhythm with the casting process and make sure that we're both excited about the actors we cast. It's a true partnership so we're always doing it together and having lots of discussions at every step of the journey. We generally like to cast people that we've worked with before and know and trust, but actually this project probably had the most unknown to us actors of any project we've done before. Sometimes it shakes out that way with the script, there just aren't a ton of people you know and trust that fit the specs for a certain role. I always prefer to pull from people I've worked with before just because it's a little less stressful. But we were really fortunate to work with amazing people like Jamie Bernadette [Jamie Bernadette interview - click here], who is a staple in the horror world. She was such a joy to collaborate with. She's also a producer, so she's very considerate on set and just gets it, does things to make your life easier. And as an actor I so loved sharing scenes with her. We had an absolute blast. And Torrey B. Lawrence who plays Uncle Stevie was so fun. He and I had the chance to do stunts together and he was so game and so much fun about it. He's done a lot of stunt work before so he just came to set that day, we worked with our fabulous stunt coordinator Felisha Michelle Cacho, taught him the choreo, practiced, and were off and running. I love the scenes with him and Dean squaring off and think he did such a fantastic job.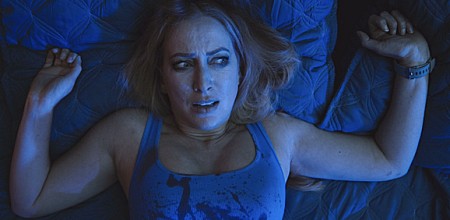 You also have to talk about the movie's main location for a bit, and what was it like filming there?
So as I mentioned that was actually a location we found very last minute after we lost our original location. But actually I think it ended up working out even better. It has a ton of cool artwork and furniture in the house, which made our lives easy as far as set design. And the outside was spacious and interesting enough for us to use it for both, so it was really fantastic. It ended up working really well for our needs and I love how the location looks in our film.
A few words about the shoot as such, and the on-set atmosphere?
One of my absolute favorite things about stepping into producing/writing/directing and being involved in that way is getting to set the tone of my sets. As an actor I have been on ALL kinds of sets and that environment makes such a huge difference in terms of the experience. I try to always lead with joy. We are all in this business because we LOVE filmmaking, we LOVE telling stories, and I try to keep that joy at the forefront. We're getting to play and do what we love. Things will inevitably go wrong, but we will keep our heads and be able to adapt and figure out solutions. I try to hire people who are like-minded, enthusiastic, and team players. That goes a really long way toward creating a great set environment. I was so happy that despite so many crazy things going wrong during filming, I had a ton of crewmembers tell me it was one of the most fun sets they've ever been on. Nothing makes me happier to hear as a producer.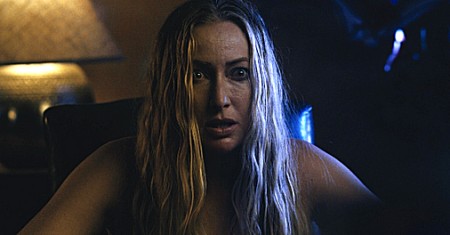 The $64-question of course, where can Cold Blows the Wind be seen?
We're going to release the movie on our website first before it ends up on streaming. We're likely going to offer it for rent, download, as well as physical media. So it will be available at www.coldblowsthe
windfilm.com early next year and on all the usual streaming places later in the year ;)
Anything you can tell us about audience and critical reception of Cold Blows the Wind yet?
We recently premiered at Horror Hound where we won a ton of awards, including Best Feature and Judge's Choice. It's been great to see the movie with an audience as it has been on its festival run. I love to see what gets the laughs and hear the people's commentary. I especially love the people who talk through it with commentary because it's just hilarious to hear their takes. So It's been a lot of fun to enjoy the movie with an audience. When we were filming the crew had very strong opinions on whether or not they liked Dean, and I love to get the audience's take on the characters, who they like, who they hate, which half of the couple they think is the worst.
Any future projects you'd like to share?

Feeling lucky ?
Want to
search
any of my partnershops yourself
for more, better results ?

The links below
will take you
just there!!!


In the works on a few things, but nothing definitive yet so you'll have to watch my PAST projects while you wait ;) Lexi and DisGraced are both available on Tubi, Amazon, and all the usual spots.
Your/your movie's website, social media, whatever else?
You can follow me at @victoriavertuga on all the socials.
www.coldblowsthewindfilm.com is where you can keep up with all things Cold Blows the Wind ;)
Thanks for the interview!
Thanks so much for having me!