You have very recently produced and starred in the movie A Killer Conversation. In a few words, what is the movie about, and what can you tell us about your character in it?
A Killer Conversation is a hilarious black comedy which really should not be funny but it is. Without giving too much away, itís about a hostage situation that should be the main point of conversation and panic, but itís actually the last thing on the characters' minds.
I play Pauline who is self-obsessed and rich but slightly dull (although she believes she is a well-informed person) - basically she was great fun.
How much of Pauline from A Killer Conversation do you see in yourself, and what/who (else) did you base your performance on?
Ha ha, well I donít think I see any of Pauline in me although her attitude of doing whatever it takes to get what she wants I can relate to on a smaller scale of course! And I think I based her character on your typical WAG and a little bit of Paris Hilton, which came a little too easy for my liking - I would have thought that playing a character so set on material things would have been a little bit harder.
As far as I know, A Killer Conversation was your first comic performance, at least on film. What sort of a challenge was that, and ... well, how did you get your comic timing down quite so perfectly?
Well, I donít know if I got it down perfectly, I will let you and the audience be the judge of that but I have done comedy before in The Flirting Club and numerous theatre productions. In fact my best actress award was for a comedy. If I did manage to pull off the comedic timing then I will be over the moon, because then I can say horror and comedy are my strengths ... and they happen to be the biggest selling genres.
How did you get in touch with the project in the first place, what convinced you to do it, and as a producer, how did you manage to push it through in what must have been record time?
It was with an interview with the wonderful Michael Haberfelner [Michael Haberfelner interview - click here] that I mentioned that I produced low budget horror films and that Iím always on the lookout for scripts that are based in one or maybe 2 locations with a max of 3 cast ... and to my amazement you actually sent me this script that has been on the shelf for 20 years - I still feel extremely privileged that you had faith in me to do it justice. When I get a script, especially one that blows me away like this one, then I have the attitude if we donít get this done now it will never happen, so straight away I found an amazing filmmaker with a like mind, David V.G. Davies [David V.G. Davies interview - click here], who is a genius and a one man band right down to editing the projects himself, which is the sort of filmmaker I look for - unfortunately they are far and few between. I then found the location and set the dates for filming and then cast it - I went through about 3 Karls before Ryan Hunter [Ryan Hunter interview - click here] due to unavailability, but wow what a find he was we had an amazing cast and crew, I think we filmed it exactly 1 month from my getting the script or there about.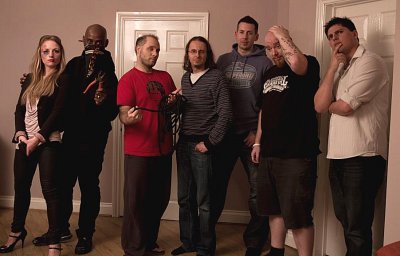 Melanie Denholme, Rudy Barrow, Ryan Hunter, Michael Haberfelner, Paul Hobday, David V.G. Davies, Adam Lanfranchi
The actual shoot of A Killer Conversation took a mere three (looong) days. How much of a strain was that on cast and crew, and what can you tell us about the on-set atmosphere?
Yes, it was 3 very long days with maybe 2-4 hoursí sleep each night, and with any other cast and crew it would have taken 10 days - but because we were all so dedicated and professional we got it done and I believe every single person involved with the shoot enjoyed every minute and felt no strain. The onset atmosphere was incredible, I have never laughed so much on a film set before in my life, one scene that should have taken 5 minutes took an hour and a half because we were in hysterics.
A few words about your director David V.G. Davies [David V.G. Davies interview - click here], and why did you choose him for the project?
I met David on a previous project and noticed straight away how creative and professional he was, and when I found out he does everything right down to the edit there was no question other than please please David make this film with me. Also this film needed a director who was experienced in horror not comedy or it would not have worked.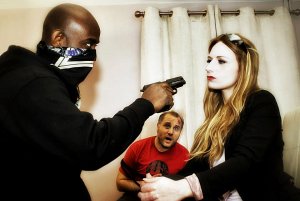 Rudy Barrow, Ryan Hunter, Melanie Denholme
What can you tell us about your co-stars Ryan Hunter [Ryan Hunter interview - click here] and Rudy Barrow [Rudy Barrow interview - click here], and how did you find them?
Rudy Barrow is an actor I have worked with before, and other than being a dam good actor he is one of those people who are great to have on set, he bought to his character more than I imagined. It was the first time I had worked with Ryan and he was recommended to me by David - and thank goodness he was, what a pro and such a nice guy to act opposite, and like me this was a very different film to do for him as we both are known for more gritty roles, and to have the opportunity to do comedy and to do it as well and as naturally as he did was quite important for him and me both as we were both keen to be seen in a different genre.
You have also pretty much insisted that A Killer Conversation's writer Michael Haberfelner (yes, that's me) [Michael Haberfelner interview - click here] is on set for the whole shoot. In a word, why, and any regrets (don't say yes ... please)?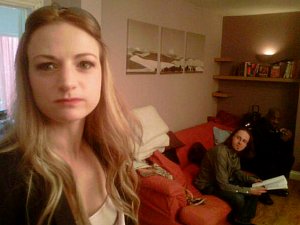 On-set snapshot: Melanie Denholme, Michael Haberfelner, Rudy Barrow
Firstly I was honoured to have been given such a genius script in the first place, secondly I knew this was your baby which had been stashed away for 20 years - and when youíre given a script for free I feel it only right to involve the person whose creation it was. I also believe a writer has a vision that when collaborated with the director only good things can happen. Apart from that you were awesome to have on set, your help and input was invaluable and if it was not for you none of us would have experienced this amazing project.
A few words about the rest of the crew?
I would like to thank Paul Hobday who acted as runner and all round Mr Helpful, he really did look after us. We had two stills photographers Chris Howley and Adam Lanfranchi [Adam Lanfranchi interview - click here], both who were amazing and goodness they took some amazing shots which I can't wait to share with everyone, and I will definitely be asking them back for future projects. We also had a very talented makeup artist, Bonnie Deponeo, who I think was a little shocked at the hours we worked but she still enjoyed every minute and her work I cannot recommend enough she was fab.
It might be way too early to ask, but when and where will A Killer Conversation be released, tentatively?
Oohh ... now thereís a question, itís still in post at the moment but Iím hoping it may be by the end of the year (a touch optimistic I agree), but fingers crossed we will be looking at early 2013 latest.
[Note from the editor: After several delays, A Killer Conversation will be released February 15th, 2015.]
You have entered the film business as an actress and have picked up producing only recently. Why in the first place, and how encouraging or discouraging is it to work on a film like A Killer Conversation?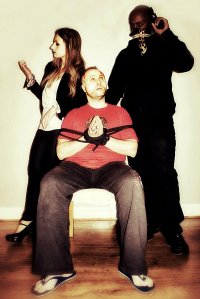 I sort of fell into producing - on the last two films that I worked on with Phillip Gardiner [Philip Gardiner interview - click here] I was put down as producer and I didnít even realise that that was what I was doing, I just thought I was helping out only to be told that that is what a producer does, ďorganiseĒ. So then Phil gave me an incredible opportunity to produce my own stuff which he would release via Chemical Burn Entertainment, something that I canít thank him enough for because if it was not for him I would not have had the opportunity to work on projects such as this one. They may be no-budget and Iím not competing with Pirates of the Caribbean, but when you have such a wonderful and talented team alongside you with the tools to do the job, and if the viewer enjoys watching the films as much as we have enjoyed making them, then in my book we are all winners.
Please do talk about a few of the other films you have produced recently!
Before A Killer Conversation I had just finished producing a film called Twisted - The Devil In Her Mind, a very gritty horror about domestic abuse - it will be a hard one to watch as Grace is put through hell (literally). This was my first production, and it was a lot harder than A Killer Conversation mainly because the script just grew and grew to include a large cast and about 15 locations, and when youíre the lead role in the same production it becomes very hard to organise everyone and everything whilst being on set 99% of the time, but again we had amazing cast and crew who pulled together to work 20 hour days, and we completed it in 2 weeks, the edit on this though will be a lot more complex, so I imagine A Killer Conversation will be released first.

Feeling lucky ?
Want to
search
any of my partnershops yourself
for more, better results ?

The links below
will take you
just there!!!

Find Melanie Denholme
at the amazons ...

amazon.com

amazon.co.uk

amazon.de
Looking for imports ?
Find Melanie Denholme here ...
Something naughty ?
(Must be over 18 to go there !)

The first film I helped to produce was Philip Gardiners One Hour to Die, which I enjoyed immensely. This I believe is out for release in August this year, and then after that I helped produce The Dark Watchers Ė Women in Black.
Any future projects beyond A Killer Conversation you'd like to talk about?
Wow, I have so many but the one Iím most excited about is the sequel to A Killer Conversation, written by you. I also have another 4 scripts that need seeing too and Iím reading one right now that is sending shivers down my spine - I wonder if David V.G. Davies [David V.G. Davies interview - click here] will have a heart attack at the amount of work Iím going to be sending his way, hahaha!!
Anything else you are dying to mention and Ihave merely forgotten to ask?
I have recently finished some pretty intensive acting training which I canít wait to bring to set - watch out film world, the new and improved version is about to rock and roll.
Thanks for the interview!