Your upcoming film A Killer Conversation - what is it about, and what can you tell us about your character?
A Killer Conversation is what I would call a dark comedy, itís brilliantly written and very funny. I was told that the script had been sitting around for about twenty odd years, but believe me, itís as fresh as the day the ink first dried. The characters bring the script to life. I play the part of a masked burglar, and I enjoyed every moment of it.
How did you get involved with the project in the first place, and what convinced you to do it?
Well I had worked alongside actress Melanie Denholme [Melanie Denholme interview - click here] before, in The Dark Watchers: Women in Black, we worked well together and became friends. Melanie sent me an email, asking me if I wanted to be in a film she was producing, she sent me a copy of the script, and within reading the first page, I was hooked, it was four yeses from me!
In classic outlaw style, your face from the nose down is covered by a bandana for the entire film. Did that at all feel odd?
Well it did feel a little strange at first but it was ok, it just meant that I had to use more body language to express my emotions - as they say actions speak louder than words.
How did you approach your role in the first place?
It was a bit of a challenge for me, as believe it or not Iím a nice guy. I did some research and looked at some video crime reconstructions of burglars and hostage situations, this helped me a lot.
With A Killer Conversation being a comedy - to what degree could you relate to the movie's a tad absurd brand of humour, and do you consider yourself a humourous person?
A Killer Conversation was funny right from the word go, itís one of those films where you laugh at things that are so wrong but you just canít help it.
There is a part of this film that should have taken a few minutes to shoot, but because the scene was so funny and had us in tears of laughter, it took up to half an hour or more to get the take.
I am a humorous person, but to it has to be funny to make me laugh - A Killer Conversation is one of those films, so donít miss it!
A few words A Killer Conversation's director Davd V.G. Davies [David V.G. Davies interview - click here], and what was your collaboration like?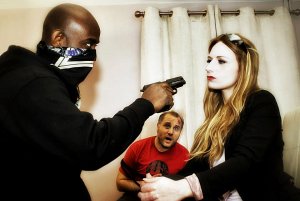 Rudy Barrow, Ryan Hunter, Melanie Denholme
This is the first time Iíve worked with Davd V.G Davis. Heís a top director and camera man, it was very easy to work under his direction. David has a passion for getting it right, he is also a very funny guy, and we got on really well, I look forward to working with him again.
What can you tell us about your co-stars Melanie Denholme [Melanie Denholme interview - click here] and Ryan Hunter [Ryan Hunter Interview - click here], and what was it like working with them?
It was a real pleasure work alongside Melanie Denholme and Ryan Hunter.
Iíve worked with Melanie before in The Dark Watchers: Women in Black - Melanie Denholme is a very talented professional actress, and producer, funny as ever, and easy on the eye too. She had so many lines and some very long monologues ... I was in awe of her stunning performance.
Ryan Hunter, another professional, oh my word! This guy is such a great actor, again lots of lines and very long monologues, Ryan puts the F into funny, the man is a star, a real pleasure to work with.
I just happen to know (as I'm talking about myself) that the writer of A Killer Conversation was on set for the entire shoot. Was this at all helpful, or just my and the director's egos clashing over every little detail?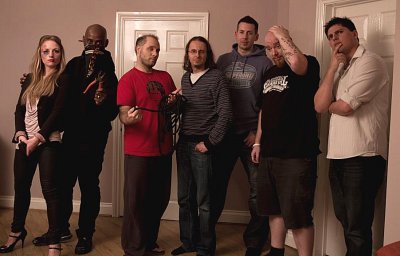 Melanie Denholme, Rudy Barrow, Ryan Hunter, Michael Haberfelner, Paul Hobday, David V.G. Davies, Adam Lanfranchi
It was indeed very handy having your good self on set, you helped us to bring the characters and script to life, your help, comments and direction were most welcome by us all, attention to detail is what makes a good film ... and as far as I could see, there were no bad clashes with the director.
A Killer Conversation was shot in a mere three days - what kind of strain did this put on you as an actor, and what can you tell us about the on-set atmosphere? And any on-set anecdotes you'd like to share?
Very late to bed and up at the crack of dawn, I remember one time we only had about 2 hours sleep in a 24 hour period ... it was indeed a tough one but not one of us moaned, we just got on with it and got the job done.
Even during the shoot of A Killer Conversation, someone (it wasn't me) suggested a sequel. Seriously, did you initially think this was a good idea or even doable?
You're right, even before the end of the shoot, we all wanted a sequel - yes it was that good, we wanted more!!!
Let's go back to the beginnings of your career: What got you into acting in the first place, and did you receive any formal education on the subject?
At school I had a choice between history or drama, guess which lessons I took?
As far back as I can remember, and thatís a long time ago, Iíve always wanted to be an actor, and over the years Iíve had more drama lessons and have attended improv classes, which has helped me achieve my high standard of acting.
Can you still remember your first time in front of a movie camera, and what can you tell us about that experience?
To coin a phrase, you always remember your first time ... yes it was back in 1987 I had a message on my cassette tape answering machine, I was to play the part of a police officer in a sci-fi movie called Split Second - I was very nervous, but got through it, the experience was like an adrenaline rush and I needed more ... hey look at me now!
During your career, you have worked with Philip Gardiner [Philip Gardiner interview - click here], a good friend of this site, quite a few times. What can you tell us about him and your collaborations with him?
Award winning director, producer, camera man and distinguished author, Philip Gardiner is the man, heís a living ledged, a visionary, one who sees what other canít, he pushes the film boundaries to the max and achieves outstanding results from everyone involved.
So far Iíve been in three of Philip Gardinerís films, The Dark Watchers: The Women in Black, Awesome Killer Auditions and Exorcist Chronicles - itís always exciting and Iíve enjoyed every moment, and I canít wait for the next one!!
Any other films of yours you'd like to talk about, any future projects?
Iím really looking forward to being in the sequel of A Killer Conversation, your second instalment of this rib tickling tale. Itís just a case of waiting until all the actors can get time off all together.
Hey keep a look out for Awesome Killer Auditions, which should be out on DVD very soon, hereís a short trailer www.youtube.com/watch?v=FxoJ-ydt9_o - itís funny, sexy and scary.
Exorcist Chronicles - donít miss this one!
This is the latest film in which I play a lead role, I play the part of father Jan. The film is about demonic possessions that are on the increase, and two specialists are brought in and uncover a dark and terrifying worldwide plot. Iím very excited about this move, check out the trailer: vimeo.com/49015872.
How would you describe yourself as an actor?
Well I would say Iím kind of cool, passionate about each and every performance, reliable and dedicated to the cause.
Actors who inspire you?
Rutger Hauer, Michael Caine, Jeremy Brett, Dawn French, Jason Statham, Samuel L. Jackson, Laurence Fishburne, Clint Eastwood, Harrison Ford and Christian Bale.
Besides acting, you are also a singer with the Rocksteady Allstars. What can you tell us about your band and your musical influences?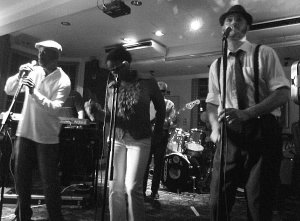 The Rocksteady Allstars
My mother use to sing to me a lot around the house (mainly opera), she introduced me to all kinds of music, and I guess it rubbed off on me. Singing and acting are my two main passions.
The Rocksteady Allstars are a 7 piece band comprising of three singers a drummer, bass guitar and two lead guitars, Iím one of the singers. Iíve been with the band since December 2011, I love rocksteady and reagge music, I grew up with it, so it was very easy for me to learn and sing the songs.
Musical influences include James Brown, Desmond Dekker, Toots and the Maytals, The Melodians, The Heptones, Phylis Dillon, Bob Marley, Janet Kay and Dennis Brown.
Your favourite movies?
Matrix, Blade Runner, Aliens vs Predators, Terminator, Equilibrium, White Chicks, Battleship, all the Die Hard-movies and Transporter.
... and of course, films you really deplore?
I canít think of any film that I really deplore, but if it canít hold my attention within the first few minutes, I just wonít watch it.
Your website, Facebook, whatever else?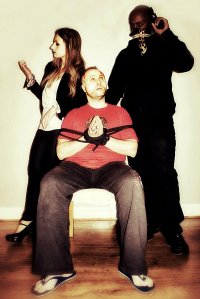 Feeling lucky ?
Want to
search
any of my partnershops yourself
for more, better results ?

The links below
will take you
just there!!!

Find Rudy Barrow
at the amazons ...

amazon.com

amazon.co.uk

amazon.de
Looking for imports ?
Find Rudy Barrow here ...
Something naughty ?
(Must be over 18 to go there !)

Check out the free Awesome online magazine, you can find me on there as well as other amazing actors, gorgeous models news, films, music, books, real life stories, competitions and lots more!
You can also find me at links below
IMDB - www.imdb.com/name/nm4753050/
Twitter - www.twitter.com/RUDY911T
Facebook - www.facebook.com/rudolph.barrow
Star Now - www.starnow.co.uk/rudolphbarrow
YouTube - www.youtube.com/user/RUDY911T
Rocksteady Allstars - www.rocksteadyallstars.com
Anything else you are dying to mention and I have merely forgotten to ask?
Iím looking for two things, I would like to sing an original song, so if there are any song writers out there, please contact me.
The other thing is, Iím dying to make an action movie where I can show off my motorbike riding skills, a sort of a cross between Terminator, Blade and Matrix all rolled into one.
Any film makers, directors, producers out there up for this?
You can contact me on
Mobile: 07865426127
Thanks for the interview!
Hey thanks for having me on here, it's a great web site!