Your new movie Genevieve Rises - in a few words, what is it about?
The official plot outline is, ďA working man's life is turned inside out when he stumbles across an ancient evil book that releases a terrifying psychotic doll named Genevieve.Ē
What were your sources of inspiration when writing Genevieve Rises?
This whole film was basically my love letter to the Evil Dead series, which is personally my favorite franchise of all time and what inspired me to make my own movies.
Genevieve Rises isn't your first film about your killer doll Genevieve - so what makes you return to her ever so often, and what do you do to keep the recipe fresh?
Genevieve is a very versatile character for me, I find myself thinking of what I will do next and how I would implement a creature in there and I go ďwait actually, Genevieve would work perfectly here.Ē Also, people love her, and she always gets a great response from people when they see her on screen, so you canít go wrong with Genevieve.
Do talk about your movie's approach to horror!
This particular film focuses on slapstick horror, thatís how I would describe it, as a tribute again to the Evil Dead series, more specifically Evil Dead 2.
A few words about your directorial approach to your story at hand?
I wanted something familiar yet different with this film, so I wanted it to be mainly story-driven until Genevieve arrives. So with this one, I wanted to go more simplistic and introduce some of my signature styles of filmmaking a little later on, such as the POV shots.
You of course also have to talk about the wonderful Book of Souls prop in Genevieve Rises, and how was it achieved, and how much input did you have in its creation?
The book itself was created by Midan Lab, but I did all of the illustrations inside the book myself so I had a little hand in its creation.
You also appear in front of the camera in Genevieve Rises - so what can you tell us about your character, what did you draw upon to bring him to life, and did you write him with yourself in mind from the get-go?
I wanted to write and play someone very different than I usually do, this guy is a working man, drunk, and his life is falling apart. He is also kind of mysterious, and I really wanted to play a character like that.
In Genevieve Rises, you once again have Alan Maxson as Genevieve's voice - so what makes him perfect for the role, and what was your collaboration like?
Alan Maxson is the perfect Genevieve in my eyes, when I hired him for the feature film I did back in 2021, he gave me two takes of him just going crazy with that role. He gave me so much to work with that I couldnít even use it all in that film, so what you hear after that from Genevieve is all stuff that he did in 2021, awesome guy to work with. Also, heís got his own feature film coming out soon that I am producing called Alien Planet, so keep an eye out for that!
Do talk about the shoot as such, and the on-set atmosphere!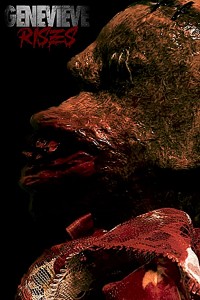 Feeling lucky ?
Want to
search
any of my partnershops yourself
for more, better results ?

The links below
will take you
just there!!!


I would describe this shoot as a breeze to be honest, not a whole lot went wrong this time around and that is a miracle in and of itself. I actually thought that it would take longer to film than it did, but I guess thatís the benefit you get when youíve worked with a character such as Genevieve for so long now, it becomes second nature to you.
The $64-question of course, where can Genevieve Rises be seen?
We are currently submitting the film to film festivals at the moment, so keep an eye out on my social media accounts for updates on that and where the film can be seen.
Anything you can tell us about audience and critical reception of Genevieve Rises?
So far it has been really well received and I am just really glad that people are enjoying it and want to see more from Genevieve.
Any future projects you'd like to share - and will Genevieve be in any of them?
We are currently still focused on this one and getting it out there to everyone but for any announcements, you should keep up with my Instagram which is what Iím on most frequently.
Your website, social media, whatever else?
You can follow me @nicholasmjacobs on Instagram, Facebook, Twitter, and YouTube.
Anything else you're dying to mention and I have merely forgotten to ask?
Hmm, I just want to say that I am really proud of this film, it is probably one of my personal favorites from my filmography and I canít wait for everyone to see it!
Thanks for the interview!
No problem.