Your upcoming movie Bunny Man Slaughter - in a few words, what's it going to be about?
Our title character The Bunny Man has been an urban legend for many years, and the story is that a man got attacked by sickly mutated bunnies in a forest. He was presumed dead, even though his body was never recovered, but did he die? A few unlucky people will find out whether the urban legend is real or not in some hilariously horrible ways.
What were your sources of inspiration when writing Bunny Man Slaughter ... and why a bunny?
Earlier this year I decided to start my own horror festival called Sarah of Horror Festival, and I also wanted to promote it in a fun way. Me and my team created three very short promo clips for the festival featuring a killer in a bunny mask, and the positive response I got was so big that I wanted to create a feature film out of this character.
Do talk about Bunny Man Slaughter's approach to horror?
Lately I've been loving the SOV (shot-on-video) style look of films such as Dude Bro Party Massacre 3, Spirit Animal and the V/H/S movies, and I though that this style will be perfect for the type of movie that I am making, which is a horror comedy that mostly takes place outside. We will also be working with some animatronics to create some rather sickly looking mutated bunny creatures, because I do love my monster creations from 80's horror movies and we will only have handmade SFX, which will be a bit tricky and time consuming but also fun.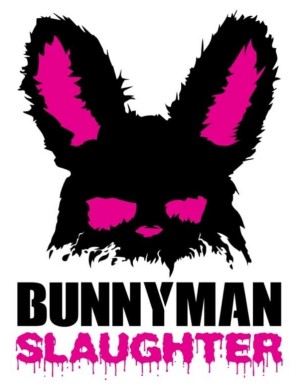 logo created by Sida Yin
Anything you can tell us about the film's overall look and feel yet?
Hopefully it will be a throwback to both 90s and 80s horror movies with the SOV-style and the use of fun gory kills and handmade animatronics creatures.
You'll also appear in front of the camera in Bunny Man Slaughter - so what can you tell us about your character, and have you written her with yourself in mind from the get-go?
In one of the promo clips we filmed, we actually see myself being dragged away by the Bunny Man before the camera cuts to black, and my character will be based on that particular character, so I already had a lot to work with while thinking about my character which made it a lot easier to write her. So yes, in Bunny Man Slaughter I have written my character with myself in mind from the get-go.
Anything you can tell us about the rest of your projected cast and crew yet, and why these people?
Everyone I have cast so far I have worked with in some form both infront and behind the camera. Andres Ramos (director of Sargad) will be back both infront and behind the camera, helping me with some of the writing, filming and directing. Jasmine Martinez (Create Your Killer) is back in a major role in this one, and then we have David Dalling who I have always wanted to work with in front of the camera, so this is a real dream come true. We also have Joakim Orrbén, who will modify the Bunny Man masks and help out with other things. More casting and crew announcements will be made as soon as we are able to reveal them.
As I understand, Bunny Man Slaughter will be a rather "outdoorsy" movie - so do you have any concrete locations in mind for the shoot yet, and why there?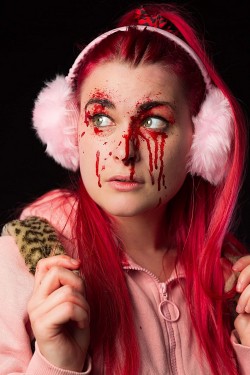 photo by Martin Gustafsson
We do have a few locations we will be testing out soon and see which one will have the best look and feel for our film, but we haven't decided on any particular location yet.
You're currently running a fundraiser for Bunny Man Slaughter - so do talk about your campaign for a bit!
We of course wanted our fans and followers to be able to contribute to our movie if they choose so, and make them involved in some way. We do offer a thank you on social media, your name in the end credit of the movie and a chance to see Bunny Man Slaughter before anyone else online. We are so thankful for all the support we have gotten for the campaign already, and without the love from our beloved fans we would not have been able to create my first feature film Sargad and my latest short horror comedy Create Your Killer, which is up on my YouTube page.
Once the budget's in place, what's the schedule? And any idea when and where the film might be released yet, however tentatively?
We are planning on shooting this in the spring of 2023, hopefully in April/May and we are currently creating the shot list and shooting schedule. We do hope it will get a release in the late summer/early fall of 2023, but you never know what migh happen and what kind of obstacles we might face.
Any future projects beyond Bunny Man Slaughter you'd like to share?
The submissions for the second year of my horror festival just opened and I am very excited - https://filmfreeway.com/SarahofHorrorFestival. I also have a few projects in mind that I can't say anything about just yet.
Your/your movie's website, social media, IndieGoGo, whatever else?

Feeling lucky ?
Want to
search
any of my partnershops yourself
for more, better results ?

The links below
will take you
just there!!!


https://www.indiegogo.com/projects/bunny-man-slaughter#/
Facebook page: https://www.facebook.com/people/Bunny-Man-Slaughter/100085251430054/
Instagram: @sarahofhorror @bloodyfierceproductions @sarahofhorrorfestival
Twitter: @sarahofhorror
YouTube Sarah of Horror: https://www.youtube.com/channel/UC6QLMaxeWYHWz4eW1Plp7Nw
Create Your Killer: https://www.youtube.com/watch?v=kgCS-DLbOUo
Sarah of Horror Festival: https://filmfreeway.com/SarahofHorrorFestival
Anything else you're dying to mention and I have merely forgotten to ask
No, and thank you so much for this interview Michael!
Thanks for the interview!