Your new movie Cult of VHS - in a few words, what is it about?
Cult of VHS is (in my opinion) the ultimate documentary covering the VHS format as well as a nostalgic look at the social and political impact it had on the public.
Now what does VHS - and tape collecting for that matter - mean to you on a personal level? And some of your favourite VHS memories?
I honestly had no idea people still collected VHS until I spoke with Rob Preciado (the director), and it blew my mind! I see a lot of people trying to shift their old tapes to charity shops, but I had no idea that there were people out there hunting them down. Itís incredible! It honestly made me wish I never threw away my collection, I used to have so many gems from classic Doctor Who to Hammer horror films. My fondest memories of VHS were Friday nights with my parents, heading down to Dannyís Videos in Mottingham to pick a movie for the night along with a bag of chips Ė absolute bliss. I still remember renting out Freddyís Dead Ė The Final Nightmare in 3D several timesÖ
My VHS diet as a kid consisted of Terminator 2, Batman (1989), Ghostbusters 1 & 2 (both on one tape with an episode of Batman, the 1943 serial, in between), Dracula AD 1972 Ė I even remember my Mum owning the James Bond VHS collection (Dr. No to Goldeneye), it became tradition to watch a Bond film every Saturday night, but I remember the pan and scan was hideous! The VHS boardgame Atmosfear also brings back fond memories.
How did the project fall together in the first place, and how did you get attached as a producer?
The documentary is the brainchild of the Preciado brothers, Rob (the director) and Gerardo (soundtrack and producer). They started this whole journey into the past. I was in post-production on (K)nox: The Rob Knox Story when I discovered their Kickstarter page and fell in love with the whole idea. It reminded me of In Search of Darkness, but with more heart and soul as it focused on the collectors, the VHS audiences etc. So I reached out to Rob and told him I wanted to help. Luckily the man is an absolute gem of a human being and he said yes.
What were the challenges of getting Cult of VHS to the screen from a producer's point of view?
Having worked on (K)nox: The Rob Knox Story for 3 years as director and executive producer, I had all this fresh knowledge and experiences that I wanted to lend to the production. I would always be on the phone to Rob and Gerardo, working through each chapter of the film and lending a fresh perspective. Rob and Gerardo are both based in Mexico, so it made sense for me to create a UK production team on my side in order to help push things along Ė we became a well-oiled machine, working 24/7.
What can you tell us about Cult of VHS's director Rob Preciado, and what was your collaboration like?
Rob Preciado is an absolute professional and Iím thrilled to be by his side on his debut feature documentary. Iíve met a lot of filmmakers over the years who tend to lose their heads up their own creative arses, but Rob is extremely humble and so much fun to work with Ė even though Iíve never met him in person! But when we got together to brainstorm ideas, it was such a blast! With this documentary, we feel like we have the same background, especially as filmmakers who grew up in the 80s/90s. Plus weíd always be recommending each other films and TV shows that weíd never heard of before.
Do talk about some of your interviewees, and why exactly these people?
This is what separates us from all other documentaries on the subject, itís international! Itís not a British or an American documentary, we talk to people from Italy, France, Australia, Canada, the Netherlands, Mexico and so on. Weíve become a global community, or Ďcultí if you will Ė but as Kevin Martin tells us, itís not a creepy kill-yourself cult! Not only do we get the views of legendary artist Graham Humphreys and Severin Films legend David Gregory Ė we speak to young collectors and filmmakers from all over the globe. Itís incredible how VHS has influenced and is STILL influencing people to this day. People who werenít even born when VHS was around are now bidding for them on eBay!
Besides producing, you also appear in front of the camera as one of the interviewees - so do talk about that experience, and which role on Cult of VHS did you enjoy more, actually?
Originally, I was only meant to be an interviewee for the documentary, but as Rob and I spoke more about the project, I became incredibly keen to get more involved. I donít mind being on camera at all, in fact it was nice to take a trip down memory (Memorex) lane. But Iím much more comfortable behind the scenes, helping on the production and making sure that Robís vision comes to fruition. Plus, I have a fat head and too many chins.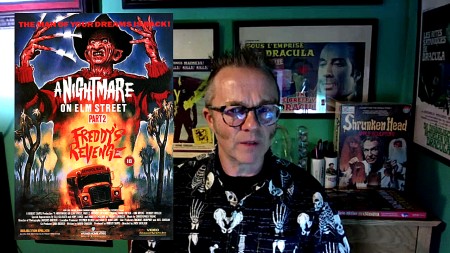 Graham Humphreys
A few words about the shoots as such?
Most of the shoots were conducted on location by the interview subjects, due to the fact we made this film during the first wave of the pandemic. I did however interview my father (Aiden Truss) for the film, it made complete sense to me as he grew up in the era of the VHS boom. It was nice to finally work with my father on something that meant a lot to both of us, heís the reason Iím a huge horror movie fan! So to bond with him on the shoot was absolutely fantastic. My brother (Dan) was also the sound recordist on the shoot too, so it became a family affair. I also interviewed Misty Moonís Stuart Morriss who was a last-minute addition to the film Ė I mean, how can we not include him in the film?!
The $64 question, where can Cult of VHS be seen?
You can check out Cult of VHS at its World Premiere at Frightfest in Leicester Square on Sunday 28th August. Weíll also be appearing at Horrorthon in Dublin, Ireland in October too.
Any future projects you'd like to share?
Iím currently in pre-production on a short film with Misty Moonís Stuart Morriss called Pareidolia. Stuart approached me earlier this year with the idea of making a short horror/thriller starring Diane Franklin (Amityville II: The Possession, Bill and Tedís Excellent Adventure), so I jumped at the chance. Itís written by my father (Aiden Truss) who wrote the novel Gape, and I have a solid production team (Q Cumber Films) behind me. Since completion of the script, Stuart has cast some absolute gems such as Carolyn Pickles (Broadchurch, Harry Potter and the Deathly Hallows), Graham Cole (The Bill), Joe Acres (The Understudy) and Sandy Johnson (John Carpenterís Halloween). We start shooting in October for a 2023 release.
Iíd also like to take the opportunity to give my team a huge shout out - Camille Cremades, James Dean, Nacho Mazuecos, James Shovlar, Toby Campen, Dan Yates, Felix Waverley-Hudson and Infra Violet.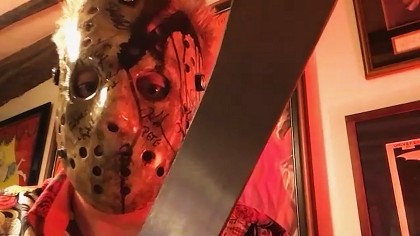 Stuart Morriss
What got you into the filmworld in the first place, and did you receive any formal training on the subject?
I think it all stems from the movies and TV shows I watched on VHS as a kid. I always wanted to be an actor and ended up doing a few stage shows and television adverts Ė but when I went to college, I realised I wanted to be behind the camera. The idea of creating a film that wasnít in the world before, something personal to me that audiences could engage with was the big hook for me. I ended up studying film and media at Thames Valley University (now the University of West London), and Iíve never looked back.
What can you tell us about your filmwork prior to Cult of VHS?
I started out as an editor for Blu-Ray, DVD featurettes and music videos. In 2018, I was approached by Colin Knox at the Rob Knox Foundation to direct and executive produce (K)nox: The Rob Knox Story. Rob Knox was a close friend and an actor who appeared as Marcus Belby in Harry Potter and the Half Blood Prince. Shortly after appearing in the film, he was murdered defending his younger brother in a knife attack. It was my debut as a feature film director and the film Iím most proud of, getting to tell the life story of my friend. We were in production for 3 years, with interviews with likes of Ray Winstone, Jim Broadbent, Tom Felton, Dani Harmer, David Yates and Blake Harrison. We eventually sold the documentary to Woodcut International in 2021. We were fortunate enough to win several film awards during the festival circuit too, but to be honest Ė Iím just happy I got to tell Robís story.
I also directed the short horror comedy, The Understudy, which oddly enough - is the reason Iím now directing Pareidolia with Stuart Morriss and Misty Moon.
Filmmakers who inspire you?
Thatís a tricky one. Iíve always been a huge fan of David Lynch, John Carpenter, Jordan Peele etc. But it varies from time to time, Iím less inspired by directors specifically and more inspired by artists in general Ė whether theyíre composers, editors, musicians and dubbing mixers. I think itís a heavy mix of everyone and everything. Since completing work on two documentaries, I feel more inspired by people in general Ė regardless if theyíre in the film industry or not.
Your favourite movies?
Ha. Another tricky one, I hate this question. My favourite movies are the ones Iíll revisit every now and again, even though Iíve seen them a million times Ė thereís something comforting about them. I love The Great Escape, Back to the Future, The Bride of Frankenstein, Tombstone, Escape from New York, I could watch those over and over. What many people donít know is that even though I love my classic horror films, one of my favourite films of all time is Toy Story - itís just the perfect film. It was also one of the first films I saw on the big screen and there had been NOTHING like a Pixar film before.
... and of course, films you really deplore?
I donít really like to bash other films or filmmakers. There are films I love that other people hate and thatís absolutely fine Ö but seeing as you asked, Antichrist by Lars Von Trier - I will never get that time back nor erase the images of that film from my brain.
Your/your movie's website, social media, whatever else?

Feeling lucky ?
Want to
search
any of my partnershops yourself
for more, better results ?

The links below
will take you
just there!!!


You can find us on social media on Facebook and Instagram, both socials are run by Rob Preciado - @thecultofvhs -, and you can also find our Frightfest trailer here: https://youtu.be/0D9OZg8y9ko
Anything else you're dying to mention and I have merely forgotten to ask?
I really want toÖ but unfortunately itís too soon to share and I might get in troubleÖ but there will be some big news regarding Cult of VHS very soon!
Thanks for the inteview!
Thank you for having me!