Your new movie The Culling - in a few words, what is it about?
Under the surface, it's about personal responsibility and the power we all have as individuals towards creating a more positive and safe world. That message is experienced and told through the inner monologues of our two survivors after an end of world event.
With The Culling being an end-of-the-world movie, is that a genre at all dear to you, and some of your genre favourites?
I'm a fan of all things horror and especially the subgenre of the apocalypse. The Culling explores the concepts of survival when all modern conveniences are no longer options. I think we take for granted the availability of basic utilities and comforts of buying food and finding shelter.
(Other) sources of inspiration when writing The Culling - and was any of the script inspired by this local pandemic of late?
I've always been an advocate of the idea that all change starts with one person. We live in a world that complicates our desires of peaceful living. By default, our lives get wrapped up in the policies, rules, and laws that can compromise putting love and compassion first. I know that all of us, exceptions being the rare psychopath, want a just and peaceful existence. And we all have the capacity to be kind, thoughtful, and lead with love, despite any governing body or corporate conglomerate whose policies may contradict those ideals. The microtransactions between us at an individual level are the most basic and effective way to achieve a more peaceful way.
Covid certainly had a bit of an effect on the script. Based on the dialogue in the film, I assumed most people would conclude that The Culling was in reference to the pandemic, but that wasn't my intent. I don't think it would necessarily take a pandemic, a war, a meteor, or whatever cataclysmic event that is often used as the backdrop of an apocalyptic film, to find ourselves in a dire situation. That's what I wanted to convey in this film. If we don't learn to do better in our individual spheres, it won't take a major event to land us all in a dystopian land.
The Culling features some fittingly moody locations - so how did you find those, and what was it like filming there?
We shot this in my hometown of Oneonta, NY. It's a small city in the middle of the state, and the landscape lends to a lot of beautiful locations. I have a great group of friends that have a film studio there so it makes such an incredible opportunity to be able to shoot with them in our hometown (www.OtsegoMedia.com).
What can you tell us about your overall directorial approach to your story at hand?
I am such an enormous fan of the show Black Summer on Netflix. It's arguably my favorite zombie/apocalyptic show. The way they film the show is simply amazing - so many one-shots, constant camera movement. They blend scenes and character perspectives seamlessly without using so many of the traditional edit points. A lot of my choices were inspired by that show and it has made me more creative when considering and composing shots.
Do talk about The Culling's cast, and why exactly these people?
I met Mattie Jo Cowsert a few years back when we acted together in the film Asteroid. I really love Mattie as a friend, and there were moments during filming that I'd watch her and appreciate the subtleness she'd bring to some emotional moments. Being that The Culling is told entirely in voiceover, I needed someone I trusted to be able to feel without speaking.
Lance was a natural. I actually had no idea of his abilities and he ended up being amazing. No one would know that he hasn't acted much before this. Originally I wrote the film with just one character, Mattie Jo's, but during the process I realized my message could be more powerful with introducing another character into the world who had the same needs as the other. It was part of showing the authentic connection we all have despite our basic human differences. Lance being a black man also adds another dynamic for consideration. Lance being a local in Oneonta was a blessing.
You appear in a cameo in The Culling - so being an actor first, has it never crossed your mind to expand your role or play a different character?
I've thought about it many times. I do think I'll eventually act in something that I've written and directed but the character or project has to be really creatively inspiring for me to do it. I love being behind the camera. It'd have to be a character that grinds their existence through a lot of suffering, or some kind of coming-of-age story. Or something I can swing a sword in and say something like, "In the land of eagles, I will rest my blade".
A few words about the shoot as such, and the on-set atmosphere?
We shot for two days in February 2022. It was obviously cold, which is always a challenge despite any preparation. But New Yorkers are used to the cold so there were few complaints and all were by me. We had all worked together before so the set was amazing. Small crew and there were only ever 5-6 people on set at any time. The learning experience is always one of my favorite parts of working with these guys.
The $64-question of course, where can The Culling be seen?
It had a great festival run in the US and a few overseas festivals. I'm going to release it on my film company's YouTube page on Earth Day this year (2023). I think it's the most appropriate day for this kind of film. You'll be able to see it at www.SalemHouseFilms.com and at Salem House Films on YouTube - www.youtube.com/watch?v=-P2cFNI8PxU. The trailer is currently on both of those sites.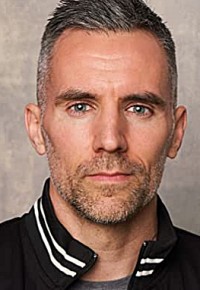 Feeling lucky ?
Want to
search
any of my partnershops yourself
for more, better results ?

The links below
will take you
just there!!!


Anything you can tell us about audience and critical reception of The Culling?
It's a mixed bag. I've had a couple folks tell me that they "didn't get it" and then others tell me that it changed their perspective. Generally more positive responses but it's hard to gauge as much of the feedback comes from your friends who aren't always honest with their authentic opinions. But most importantly, I'm proud of the film, its message, and everyone involved in creating it.
Any future projects you'd like to share?
I've been working with a great group of friends and filmmakers the last few years. We just wrapped a horror feature - Ouija Witch - which will be releasing in April or May 2023. I'm not sure where quite yet but it'll most likely be streaming on many of the familiar platforms. We're trying to produce at least one horror film every year and we've been doing that since 2019. A lot of horrific things to look forward to.
Your/your movie's website, social media, whatever else?
www.imdb.com/title/tt19245296/
www.youtube.com/@SalemHouseFilms
Thanks for the interview!
Thanks to you, Michael. Always a pleasure.